EXPOSURE TO ULTRAVIOLET RADIATION—whether from the sun or bulbs in a tanning bed—increases the risk of developing skin cancer, including melanoma. In cases of melanoma in young adults, indoor tanning appears to play an outsized role, according to a paper published in the March 2016 issue of JAMA Dermatology.
"Melanoma rates have been going up steadily since we started keeping track, which was about the mid-1970s," says DeAnn Lazovich, an epidemiologist at the University of Minnesota in Minneapolis who led the study. In the mid-1990s, rates of melanoma diagnosed in non-Hispanic white women under age 50 began to increase faster than in non-Hispanic white men in the same age group—a phenomenon researchers hypothesize resulted from the rise of indoor tanning in the 1980s.
In the U.S., about 1 in 50 people will be diagnosed with melanoma in their lifetime. Nearly 70 percent of these cases are diagnosed at age 55 or older. But even though melanoma risk rises with age, it is one of the most common types of cancer diagnosed in young adults, particularly young women.
To investigate the connection between indoor tanning and melanoma diagnosed in adults aged 25 to 49, Lazovich and her colleagues analyzed data from the Skin Health Study, a survey of tanning behavior in Minnesotans with and without melanoma. Among the 911 women studied, tanning indoors had the most dramatic effect on melanoma risk in women under 30, though it also increased risk in women in their 30s and 40s.
Restrictions on tanning bed use, coupled with increased awareness of the risks of tanning, may already be curtailing indoor tanning by minors, according to Jeffrey Gershenwald, a surgical oncologist at the University of Texas M.D. Anderson Cancer Center in Houston. In 2015, the proportion of female U.S. high school students reporting tanning indoors in the previous year in the Centers for Disease Control and Prevention (CDC) Youth Risk Behavior Survey decreased to 10.6 percent from 20.2 percent in 2013.
Restrictions on the Rise

States ban indoor tanning devices.
by Kate Yandell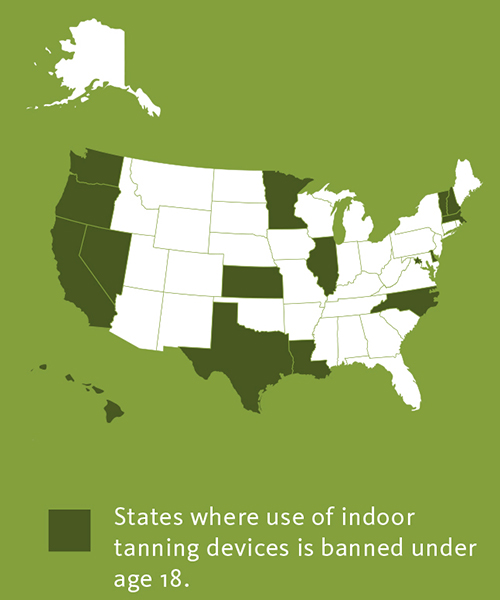 Update, May 16, 2017: Two additional states, West Virginia and Oklahoma, have passed laws banning indoor tanning for those under 18. A total of 17 states and the District of Columbia now have laws prohibiting indoor tanning for minors.
In 2011, California became the first state to pass a law banning the use of indoor tanning devices by those under age 18. As of March 2017, 15 states and the District of Columbia have enacted similar tanning bans for minors. A proposed regulation from the U.S. Food and Drug Administration could prohibit indoor tanning device use for minors nationwide.
Four percent of high school males reported tanning indoors in the 2015 survey, compared to 5.3 percent in 2013.
The falling rates of tanning in minors "could be very promising in terms of trends in melanoma going forward," Gershenwald says.
"What was so surprising to us was the fact that, among the youngest women, nearly every single one of the women who had melanoma had a history of tanning indoors," says Lazovich. All but two of the 63 women in the study who were diagnosed with melanoma before age 30 reported tanning indoors. Of the 61 women not diagnosed with melanoma, 51 reported having tanned indoors.
Just 424 men participated in the study. For men in their 40s, tanning indoors was associated with increased risk of melanoma. There were no clear associations for men diagnosed at younger ages, likely because relatively few men under 40 were diagnosed with melanoma or reported tanning indoors.
While indoor tanning is only one factor that contributes to melanoma rates in adults, Lazovich says, it's an easy source of risk to eliminate. "Indoor tanning is totally something that people can choose not to do."
Cancer Today magazine is free to cancer patients, survivors and caregivers who live in the U.S. Subscribe here to receive four issues per year.