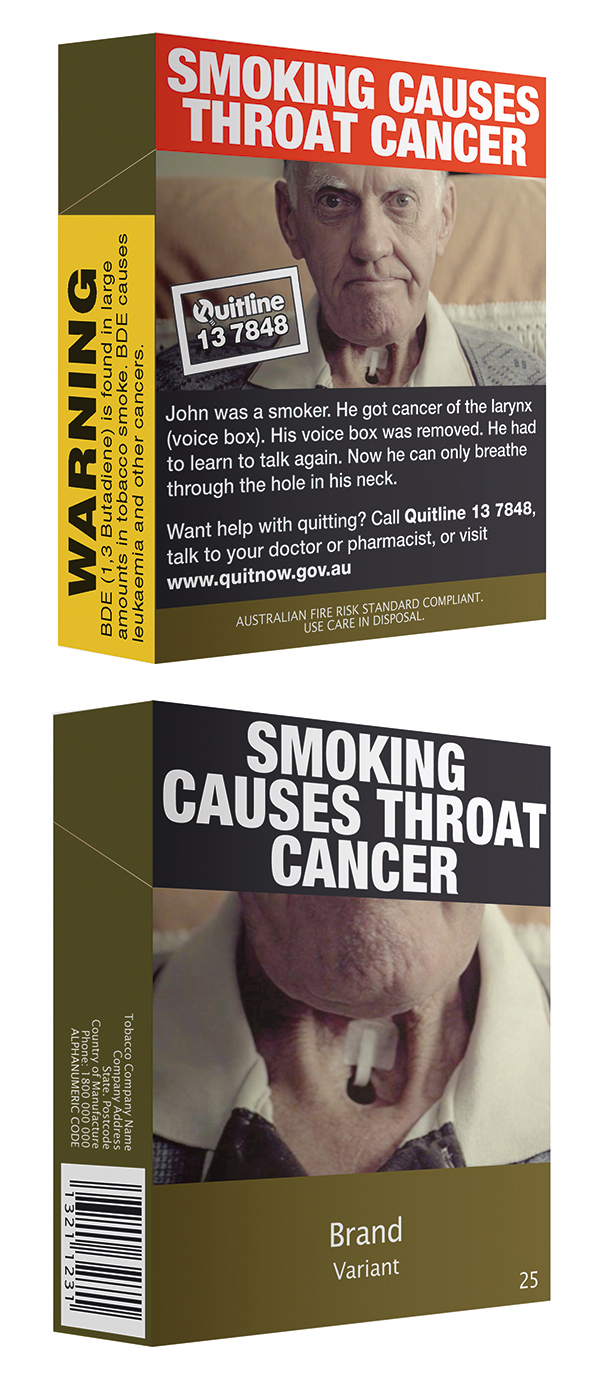 The international reaction to Australia's Tobacco Plain Packaging Act, which requires tobacco manufacturers to sell their products in packages that reduce tobacco's appeal, is heating up. Several countries that are home to tobacco manufacturers and exporters are pushing the World Trade Organization (WTO) to investigate whether Australia's law violates international trade rules and intellectual property rights.
The law, which went into effect in December 2012, requires that cigarettes and other tobacco products sold in Australia come with graphic pictures and health warnings (like those seen on the right). The images and warnings must take up at least 75 percent of the front of the packaging and at least 90 percent of the back. In addition, the brand name must be printed in a specified small size and dull color; brand logos are forbidden.
Dozens of countries have asked to be involved in the dispute settlement, with many—including India, Ireland, New Zealand, Norway and the U.K.—noting that they plan to enact similar laws.
"The tobacco industry has long claimed that plain packaging violates international trade and investment law, to try to dissuade countries from implementing it," says Kylie Lindorff, the chair of the Tobacco Issues Committee for Cancer Council Australia. "We believe that Australia's plain packaging legislation is fully consistent with the WTO agreements, and if the complaints proceed to [a] hearing, we are confident that Australia will win … and that even more countries will [enact laws]."
Cancer Today magazine is free to cancer patients, survivors and caregivers who live in the U.S. Subscribe here to receive four issues per year.