FOR THE PAST EIGHT YEARS, Michael Lawing has walked the halls of the Hospice of Rutherford County in North Carolina at least one day a week with his Martin acoustic guitar, playing and singing for patients and their families.
A kidney cancer survivor for nearly 20 years, Lawing enters a patient's room, pulls up a chair or leans against a wall, and begins strumming. He sings only gospel hymns like In the Garden or How Great Thou Art, but that's fine with his listeners. For many residents at the hospice center, located in western North Carolina, old hymns and spiritual songs offer a connection to earlier times.
Travis Smith, a chaplain at the Hospice of Rutherford County from 2006 to 2013, has witnessed the power of Lawing's singing and guitar playing. "We would see patients who were almost withdrawn, and once the music started, they would come out of their shells and they would smile," says Smith. "Time and time again, Mike would go into the room and through his talent and what he did, he would bring patien​ts back to a happier place."
Smith recruited Lawing to serve in the hospice's volunteer chaplaincy program in 2009, recognizing Lawing not only for his musical gifts, but for what Smith considers his ability to have meaningful conversations with people. Lawing, with humor, might refer to his extroverted nature as his "gift of gab." But he embraces his role as a volunteer chaplain. In 2016, he covered more than 2,900 miles to make more than 200 visits for the hospice program.
Smith notes that Lawing's music ministry has engaged patients when conversations and prayers did not. "It's the music that's literally bringing them out for a few minutes to give them a sense of life again."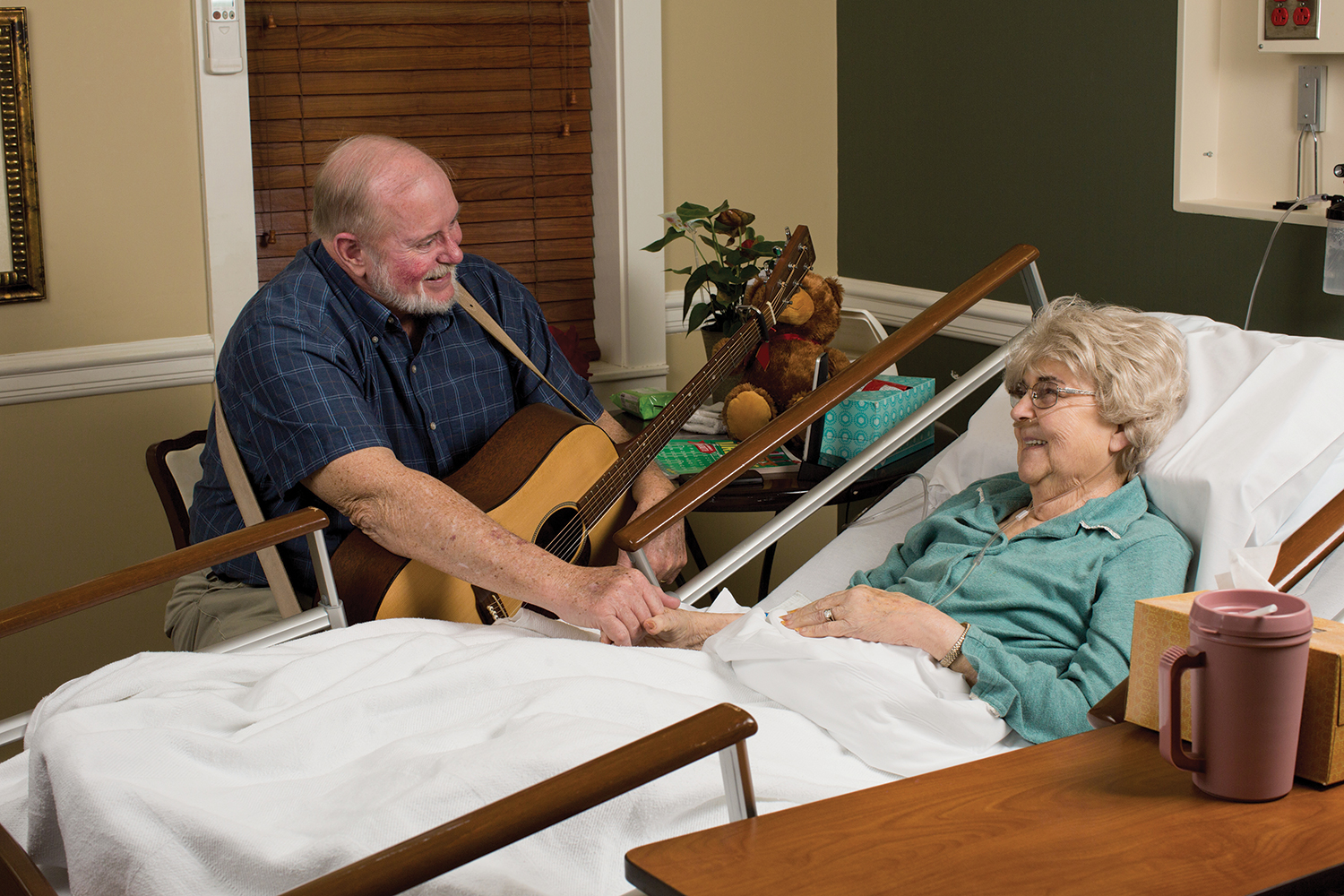 A Man With a Guitar
Lawing is modest about his talents—he considers himself an average singer and guitarist—but music is his passion. He taught himself to play the guitar at age 15 and began writing and performing songs. He served in the U.S. Army's 101st Airborne Division during the Vietnam War, in 1969 and 1970, and was awarded a Bronze Star. After returning home from the war at age 21, Lawing enrolled in a community college in Charlotte but dreamed of being a professional musician.
While completing his associate degree, Lawing began teaching adult education and continuing education classes at a nearby minimum-security prison. He designed courses covering topics like drug and alcohol abuse, and he taught inmates basic skills they would need to adjust to life in the outside world after they were released.
"I still run into people from the prison camps, and they tell me they're glad they took those classes," Lawing says. In 1986, Lawing was named Volunteer of the Year by the state's Division of Prisons for his involvement leading an inmate-run program that raised money to buy gifts for needy children and families.
Over the years, Lawing has worked long hours in various industries, including printing, textile manufacturing and pest control. With his wife, Yvonne, they raised their son, Scott, in Rutherford County. During these years, music took a back seat to Lawing's busy life, but he occasionally played guitar in his church. His life might have continued on this course had it not been for a visit to the emergency room in November 1997 with severe pain in his side. A computerized tomography (CT) scan determined the cause to be gallstones, but the scan also revealed a massive tumor surrounding his right kidney. Lawing was prepped for surgery.
During the operation, doctors removed his gallbladder and the tumor. Lawing, then 49, was diagnosed with stage III renal cell carcinoma, the most common form of kidney cancer in adults. He had never heard of kidney cancer before his diagnosis. Lawing's urologist admitted he knew little about the disease, but vowed to find out as much about it as he could and pass on what he learned to his patient. Lawing himself invested much of his time and energy in learning more about the disease, especially after his cancer metastasized in 2000. "A doctor told me, 'Don't ever think you're cured,' " he recalls. "That was sobering, but he was being honest because I was in a bad situation."
Kidney Cancer Resources
Learning About His Own Cancer
Realizing Lawing needed a specialist, his urologist referred him to surgical oncologist Richard L. White at Levine Cancer Institute in Charlotte, about 90 minutes from Lawing's home. Luckily for Lawing, White had done his research fellowship at the National Cancer Institute, where he studied an immunotherapy drug used to treat advanced kidney cancer called interleukin-2 (IL-2). He recommended the therapy as Lawing's only option. The grueling nature of IL-2 treatments—which include side effects like fever, chills, severe flu-like symptoms, nausea, low blood pressure and rash—required Lawing to stay in the hospital. During those stays, White would often visit his patient in the evening, sitting and talking about kidney cancer and answering any questions Lawing had.
"He instilled in me that the more I knew about the disease, the better it was for me," Lawing says. "Dr. White and nurse practitioner Denise Hogan provided me with a wealth of information during those weeks of treatment in the hospital."
The importance of learning more about his disease and sharing in his treatment decisions is a lesson that stayed with Lawing over the years. "I firmly believe that in today's society, people with cancer often limit their quality of life and their ability to survive because of their lack of knowledge and understanding about their disease," he says.
That conviction led Lawing to become a cancer patient advocate. As an advocate, he has spoken publicly about kidney cancer and the importance of patient education. He has been a patient representative on teams that decide who gets funding for cancer research supported by the Department of Defense. He's also created patient-friendly summaries of scientific presentations on kidney cancer research for the Kidney Cancer Association, where he is a board member.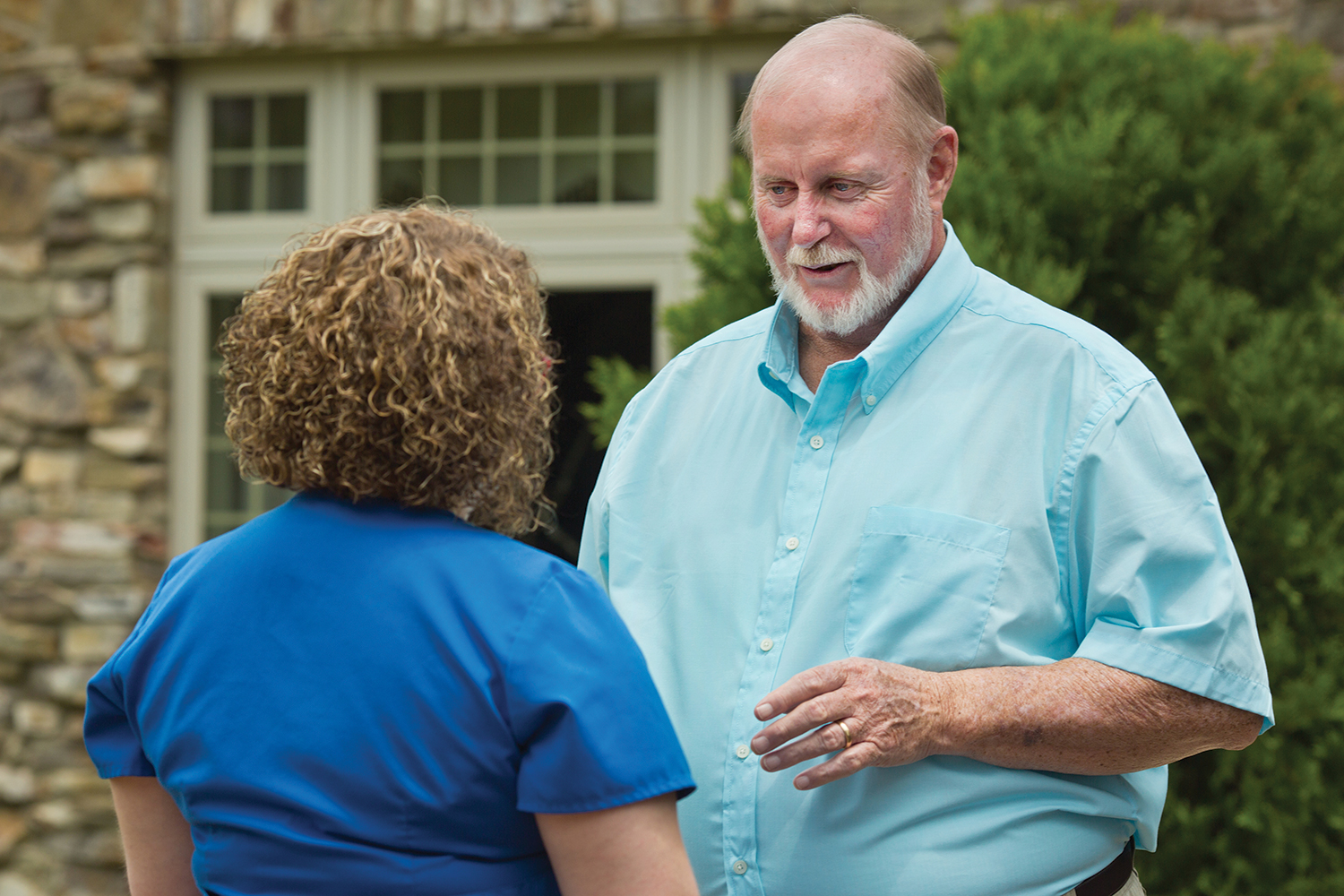 While Lawing admits to lacking the education and scientific knowledge of medical professionals, this self-taught musician learned as much as he could about kidney cancer by reading journal articles, attending scientific meetings and talking to patients. He has a voracious appetite for knowledge. While he was in the hospital, a nurse told him about a book on kidney cancer. His wife left his bedside to purchase the book and they read it together. The couple has often gone online to learn more about kidney cancer, and they have learned to distinguish good information from bad. Lawing shares what he's learned with other cancer patients: He'll provide information about financial assistance programs and recommend local medical specialists and hospitals if a person can't get to a faraway NCI-Designated Cancer Center for treatment.
Lawing's knowledge and experience with IL-2 made him the right person to answer questions about the therapy from other kidney cancer patients when he stumbled upon an online patient discussion board on the Kidney Cancer Association website in 2007. He has spent countless hours participating in online patient communities, answering questions about his disease and kidney cancer treatments. Because Lawing was such a reliable resource for patients, William Bro of the Kidney Cancer Association asked him to be a moderator of the patient forum on the organization's website.
"While I may have limited abilities and knowledge in so many areas, the simple act of sharing that knowledge with others benefits them and challenges me to learn and to try to do more," Lawing says.
An Array of Treatments
Lawing has been treated with several kidney cancer drugs since his 1997 diagnosis. The IL-2 treatments stabilized his disease, but after he spent some time off the treatment, new tumors appeared throughout his body, including in his abdomen and neck. In 2006, the targeted drug for advanced kidney cancer known as Sutent (sunitinib) was approved by the U.S. Food and Drug Administration (FDA). Beginning in January 2007, Lawing was on and off Sutent for almost a decade. The medication would shrink his tumors to a point where his doctor would stop the treatment and keep an eye on the cancer with CT scans. When the tumors showed signs of growth, Lawing would go back on the drug.
In June 2016, when CT scans showed the tumors were growing again, Lawing started on the PD-1 inhibitor Opdivo (nivolumab), which boosts a patient's immune system to attack cancer. The immunotherapy drug had been approved recently by the FDA to treat advanced renal cell carcinoma. After 10 infusions of Opdivo over a five-month period, CT scans showed his tumors were stable. Lawing and his oncologist decided to stop treatment in October 2016 and keep a close watch on the cancer via CT scans administered every three months.
"I've had over 80 CT scans, and for most people, they would be terrified about the radiation from all of those scans," Lawing says. "But there's a lower risk of developing cancer from the radiation, versus the possibility of a tumor growing for six months and not knowing."
Meanwhile, he has kept busy. In October 2015, Lawing accepted a job as a life enrichment assistant at a local nursing facility where he had volunteered for over a decade. The position requires him to work two days a week: one weekday and either a Saturday or Sunday. He organizes group activities like bingo or discussions about current events and, of course, plays his guitar and leads the patients in singing old-time hymns.
"For me it's not a job as much as it is an opportunity to interact with those residents and to enhance their quality of life," he says.
Lawing also leads congregational singing at the Church of the Exceptional, a nondenominational church for people with physical and mental disabilities, where he has been a member since 1977. In addition, he plays guitar and sings with the Shingle Hollow Community Choir, a group of senior citizens that performs at nursing homes and churches in the Rutherford County area.
Bro, Lawing's longtime friend from the Kidney Cancer Association, says Lawing's gentle demeanor is an asset when talking with newly diagnosed cancer patients. "In stressful circumstances, he is a calming influence," Bro says.
To White, Lawing's first oncologist at the Levine Cancer Institute, his former patient is an inspiration. "He's one of the people leading the charge and changing people's attitudes toward their disease and involvement in their own care," he says. "He reminds me of why I went into medicine. Every time you see him, you remember all the reasons you went into it and why you continue."
Lawing's passions, whether sharing music or advocating for kidney cancer patients, have given him a mission and a sense of purpose.
"Every day that I'm alive is a gift and a miracle," he says. "The few meager steps that I initially took in sharing my cancer experience or in playing and singing a gospel song have been so rewarding and, in a sense, life-giving to me."
Cancer Today magazine is free to cancer patients, survivors and caregivers who live in the U.S. Subscribe here to receive four issues per year.