Still reeling from the deaths of his mother and partner just months apart in 2015, Oswald Peterson vowed toward the end of 2016 that the new year would mark his comeback. Peterson decided to return to his parents native Trinidad to perform in the Trinidad and Tobago Carnival for the first time since her death. The festival, an eruption of music, movement, dance and colorful costumes, is traditionally held just before the start of Lent.
But on Jan. 1, 2017, Peterson rushed to an urgent care clinic near his home in the Brooklyn borough of New York City with shortness of breath and severe back pain. The 49-year-old was diagnosed with pneumonia and sent home with antibiotics, but his condition deteriorated over the next week and a half. The former professional dancer had to stop and catch his breath just to lift an arm or leg in the shower, so he decided to hire a car from his home in Brooklyn to NewYork-Presbyterian/Columbia University Medical Center in Manhattan an hour-long ride in traffic.
The Uber driver turned around a few times and asked me if I thought I could make it that far, that s how bad I looked, remembers Peterson, who was admitted to the hospital. After undergoing two procedures to drain fluid from his lungs and heart, he also had a positive emission tomography scan and a lung biopsy. Afterward, Peterson learned he had stage IV non-small cell lung cancer (NSCLC). Beyond the cancerous fluid around his heart and lungs, the disease was in his lungs, his spine and the lymph nodes in his chest.
NSCLC accounts for 84% of all lung cancer diagnoses in the U.S. When the cancer spreads to the other lung or distant areas in the body, as it had in Peterson s case, the estimated five-year relative survival rate, using data from 2009 to 2015, is 6%.
Almost immediately after receiving the diagnosis, Peterson, who had already been struggling with feelings of grief and loss, felt sure of his fate: I accepted that it was my time to go be with my mother and partner, he says. He picked out his burial outfit and put together a playlist of songs for his funeral. He even asked his friend of 40 years, Howard Simpson, for the phone number of a mutual friend who was a gospel singer.
Four years later, Peterson s perspective has changed dramatically. Buoyed by a favorable response to immunotherapy treatment and the support of his friends, Peterson, now 53, has recaptured what Simpson characterizes as a vivacious energy and zest for life.
Pushing Through the Symptoms
Looking back, Peterson believes his shortness of breath and pain may have started much earlier than that New Year s Day in 2017, though it s hard for him to pinpoint when. He started skipping workouts when he took responsibility for the care of his mother, Anne Peterson, who was diagnosed with advanced ovarian cancer in 2013. Prior to that, he would typically spend an hour at the gym three to four times a week to stay fit. Peterson also quit his job as an executive in the cosmetics industry to take care of his mother full-time. In 2014, his partner of nearly 25 years, Christopher Ricketts, suffered a debilitating seizure, and Peterson began to care for both of them in his home.
In April 2015, Ricketts died. Four months later, in August, Peterson lost his mother. I was worn down, in a dim place, says Peterson, who chalked up his back pain, fatigue and shortness of breath to getting older and being out of shape, or to the years he spent sleeping on the couch when he cared for his mom and partner, a habit he continued after their deaths.
Although Peterson gave up dancing professionally in 2005, his interest in dance also fueled a behavior that increases the risk of developing NSCLC. He started smoking as a teenager in performing arts high school and continued the habit until the day in January 2017 when he was admitted to the hospital. As a teen, he thought cigarettes could keep him slim and make him more competitive for leading roles in ballet. Peterson says he was like a lot of ballet dancers he knew in the 1980s and 1990s living on coffee and cigarettes. We were young, beautiful, full of energy and thought we would live forever in perfect health, he says.
Recruiting the Immune System
When Peterson was diagnosed with lung cancer, his health was too poor to receive chemotherapy a treatment that has been the first-line approach for people with advanced NSCLC for the past several decades, says Catherine Shu, Peterson s medical oncologist at NewYork-Presbyterian/Columbia. But Peterson had extensive disease in his lungs. He was really sick, and we didn t know if he would tolerate the side effects of chemo, Shu says.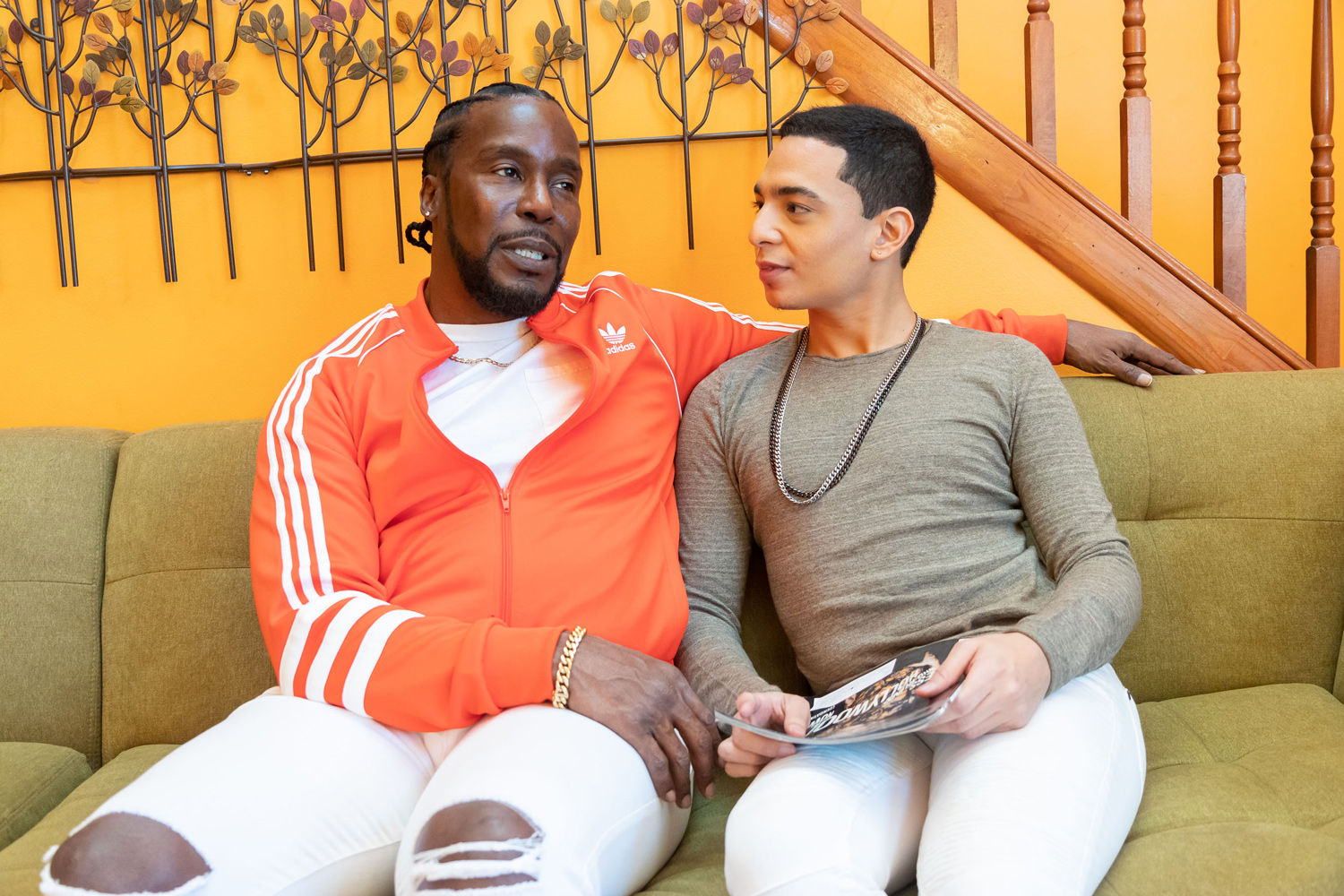 Shu wondered whether Peterson might be a good candidate for a newer type of cancer treatment called immunotherapy, which primes a patient s own immune system to kill cancer cells. She suggested treatment with Keytruda (pembrolizumab), an immune checkpoint inhibitor that had been approved as a first-line treatment for certain patients with metastatic NSCLC in October 2016. A lot of cancers work by evading the immune system, says Shu, by binding to immune checkpoint proteins on the surface of immune cells, which turns these cells off. Immune checkpoint inhibitors stop the cancer cells from binding to these proteins. They re essentially telling the immune system to wake up and look around so the immune system can start attacking foreign tumor cells, she says.
To determine who might benefit from this kind of therapy, pathologists are able to measure the amount of PD-L1 protein on the surface of cancer cells. The PD-L1 binds with PD-1 protein on immune cells and keeps them from attacking the cancer. People with PD-L1 scores greater than 50% are thought to be good candidates for PD-1 or PD-L1 checkpoint inhibitors, though patients with lower scores may also be eligible. Peterson s tumor proportion score was 80%, which made him a strong candidate for the drug.
When Shu first described immunotherapy to Peterson, she emphasized that the treatment was not a cure. With the available data at the time, she thought it might buy me another year or two, but it would not take the cancer away or be a lifesaver, Peterson says.
He remembers thinking that he had little to lose, so he started the treatment. Still, this diagnosis, coupled with the loss of his mother and partner still fresh in his mind, deepened his grief. Many of his friends, including Simpson, sensed Peterson s nagging sadness and implored him to stay positive. Another friend, Terrell Goodman, told Peterson that he couldn t leave him yet, because he still had so much to learn from him. He s like a big brother to me, says Goodman, who is 20 years younger than Peterson. The two met in 2011 at a fashion show. Peterson was instrumental in helping Goodman become a paralegal and encouraged him to pursue a master s degree in criminal justice leadership. (Goodman is slated to graduate from the program in June 2021.)
I realized there were still people here that really needed me, says Peterson. Their encouragement and care motivated him to mentally go all in on treatment. I began to think about how precious life is and how much you can do with the time that you have, he says.
Why Immunotherapy Doesn t Work for Everyone
Some cancers provide easier targets for the immune system than others.
Immune checkpoint inhibitors work better for some types of cancers than others. Scientists think that s because some tumors are more immunologically hot than others, says Catherine Shu, a medical oncologist at NewYork-Presbyterian/Columbia University Medical Center in New York City who treated Oswald Peterson for stage IV non-small cell lung cancer. Hot tumors have many tumor mutations. The cells in these tumors appear foreign, making it easier for the immune system to pick them out and target them for destruction, explains Shu. Smokers tend to have heavily mutated tumors, which may help explain why cancers that are often smoking related, such as lung or head and neck cancers, sometimes respond better to immune checkpoint inhibitors than other cancers with cold or less mutated tumors, such as pancreatic cancer.
Cautious Optimism
Peterson spent most of his days in the hospital through March 2017. After just one cycle of Keytruda, he felt encouraging signs of physical improvement. When he was first admitted to the hospital, he could barely walk from his bed to the door of his room. By the time I left the hospital, I could walk all around the hospital floor, Peterson says.
Just four days after being released from the hospital, Peterson, unhappy with his weight loss and the way he looked and felt, returned to the gym and began lifting weights again. He practiced aerobic exercise on an elliptical machine, building up gradually until he could go for an hour or more without stopping.
After seven cycles of immunotherapy, his scans showed no visible signs of cancer. For the most part, Peterson tolerated immunotherapy with few side effects. That s not the case for everyone, says Shu. Because immune checkpoint inhibitors essentially rev up the immune system, the body s defense mechanism can also attack healthy tissues. Immune checkpoint inhibitors can lead to rare but serious side effects from inflammation in various parts of the body, including the lungs, digestive tract, skin, joints, kidneys, blood cells and brain.
With his cancer under control, Peterson began to set his sights on the 2019 Trinidad and Tobago Carnival. Over time, he gradually increased his workouts, going to the gym four to six times a week for two to four hours a day. He was planning to perform the role of a major character, representing a focal point of the story that his band would act out along the parade route.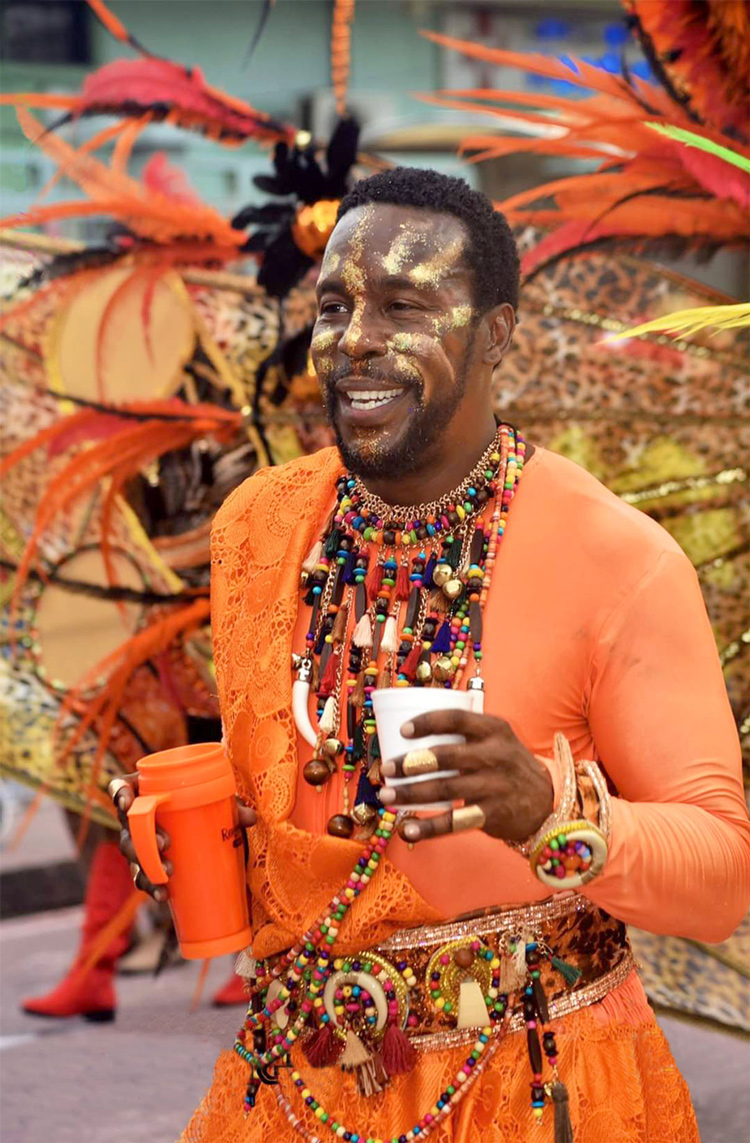 A Carnival Rebirth
Peterson s March 2019 return to the Trinidad and Tobago Carnival felt like a second birth, he says. During the two-day parade, Peterson celebrated life and what he had overcome in the previous years. Wearing a gold bodysuit adorned with an extravagant display of turquoise and yellow beads, gems and feathers, Peterson personified this hopeful new beginning as he played the major character Sunrise Over the Sea. Goodman, who was not with Peterson in Trinidad in 2019, has watched Peterson dance in other Carnivals since treatment. It s a miracle pure, infectious joy to see his friend dancing again, Goodman says.
Four years after his diagnosis, Peterson shares his experiences with cancer while serving as a patient advocate for the Cancer Research Institute, a New York City-based nonprofit dedicated to advancing immunotherapy research and clinical trials. Peterson shows no evidence of cancer, but he continues on Keytruda and has scans every six months. Peterson doesn t know if the cancer will return or how long he will continue taking the treatment. There are no clear guidelines on length of duration in his case, says Shu. For now, we will continue as he has minimal side effects, but we may opt to discontinue treatment one day and monitor with scans.
The uncertainty can be difficult, but Peterson tries to enjoy every moment he has, a pursuit made complicated by the pandemic. There s only one option and that is to move on from where you are at, he says. Life, just like a dancer, doesn t stay still.
Cancer Today magazine is free to cancer patients, survivors and caregivers who live in the U.S. Subscribe here to receive four issues per year.