The American Cancer Society estimates that in 2017 about 1.7 million people will be diagnosed with cancer. Many of these patients will be treated at community cancer centers. But for some, a National Cancer Institute (NCI)-Designated Cancer Center may be the best place to turn for care.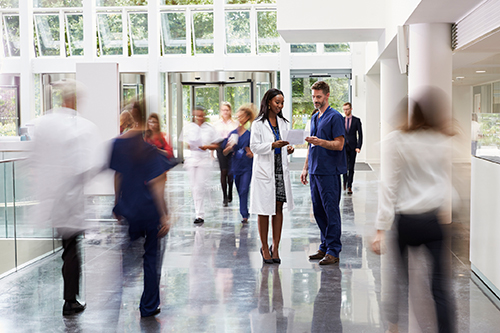 There are 69 NCI-Designated Cancer Centers—47 comprehensive cancer centers, 15 cancer centers and seven basic research facilities. (Comprehensive cancer centers conduct more research than cancer centers; basic research laboratories do not see patients.) These centers, located in 35 states and Washington, D.C., treat more than 340,000 newly diagnosed patients each year. They also see many patients who are referred for specialty care or clinical trials.
Patients who require certain complex surgeries or whose treatments necessitate having a radiation oncologist, surgical oncologist and medical oncologist work together closely would likely benefit from care at an NCI-Designated Cancer Center, says Neal J. Meropol, a medical oncologist at University Hospitals Cleveland Medical Center. Other patients who should consider these centers, he says, include those with rare cancers or advanced cancers that have no standard treatment options.
Medical oncologist Michael A. Caligiuri is the director of the Ohio State University Comprehensive Cancer Center in Columbus, an NCI-Designated Cancer Center. At centers like Ohio State, he says, you will "very likely be seen and evaluated by what I call a super-specialist—an expert in your particular cancer. They have seen everything, treated everything and know all the challenges for the particular cancer within their expertise."
Find an NCI-Designated Cancer Center
The National Cancer Institute website allows you to search for NCI-Designated Cancer Centers by state, region or name.
For additional assistance, call the NCI Contact Center at 1-800-4-CANCER. Information specialists are available Monday through Friday from 8 a.m. to 8 p.m. Eastern time.
NCI-Designated Cancer Centers can also be a good place to seek a second opinion. "Not infrequently, cancer diagnoses are modified after being reviewed by a super-specialist pathologist," says Caligiuri, who is also president of the American Association for Cancer Research, publisher of Cancer Today.
Patients don't necessarily have to go to an NCI-Designated Cancer Center to benefit from the expertise of the doctors who work there. The Seattle Cancer Care Alliance is one of four entities that make up the Fred Hutchinson/University of Washington Cancer Consortium, the only NCI-Designated Cancer Center in Washington state. Broadening its reach, the Seattle Cancer Care Alliance partners with community-based physicians serving six states, three of which—Idaho, Montana and Alaska—do not have an NCI-Designated Cancer Center.
Kristina Thomson, the senior director of hospital systems for the American Cancer Society in New York and New Jersey, says patients should talk to their doctors about the benefits of being treated at an NCI-Designated Cancer Center versus staying in the community. She also suggests that patients weigh the pros and cons of being treated potentially a long distance from home. Ultimately, she says, the most important thing is for "patients to be treated by doctors who have experience with the type of cancer they have."
Cancer Today magazine is free to cancer patients, survivors and caregivers who live in the U.S. Subscribe here to receive four issues per year.