ON ANY GIVEN DAY ​as Mark Good drives for the ride-hailing service Uber, he fully expects to meet at least one passenger with a prostate cancer connection. The 61-year-old prostate cancer survivor from the suburbs of Des Moines, Iowa, doesn't care that talking about sensitive health issues with strangers can be seen as taboo. "That's just my nature. I can talk to anybody, anywhere, about anything," he says, laughing.
The part-time Uber driver and part-time pharmacist was diagnosed with early-stage prostate cancer in 2013. Since then, he's become an advocate for prostate cancer awareness and education. He has organized cancer runs and walks, golf outings, dinners and fundraisers; spoken at public events and on television; mentored other men with prostate cancer; and even traveled to Capitol Hill in Washington, D.C., to lobby politicians for research funding.
In short, Good has become "known in Iowa as the guy you want to talk to if you have prostate cancer or someone in your family has prostate cancer," says Emily Byrne, director of the Midwest chapter of Zero – The End of Prostate Cancer, a national nonprofit where Good volunteers. "A major part of his healing process has been sharing his story and connecting with people," adds his wife, Teresa.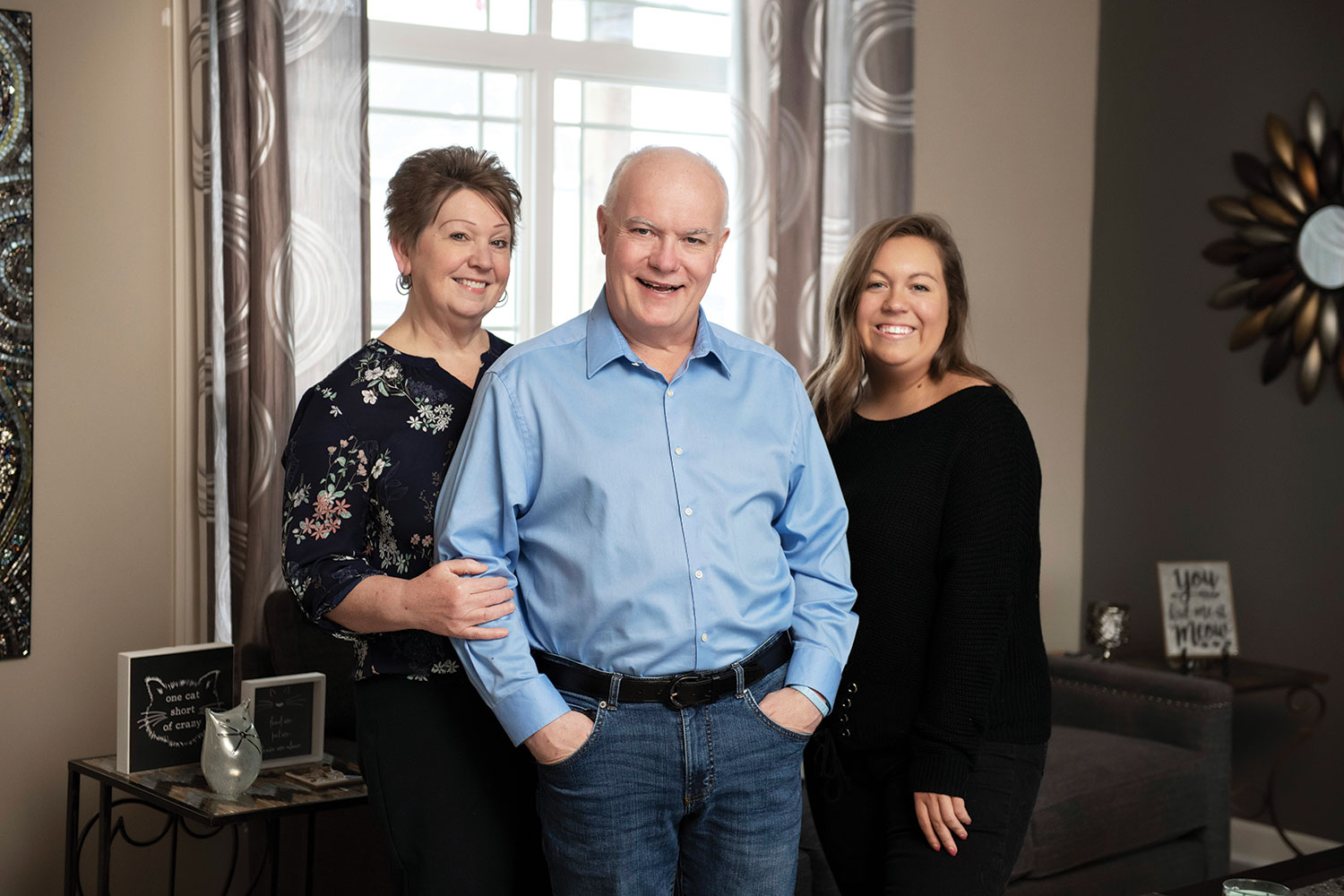 Playing the Waiting Game
In 2011, at age 52, Good went in for a routine physical examination. His doctor subsequently told him that one of his blood tests, the prostate-specific antigen (PSA) test, had come back a little high. The PSA test screens for prostate cancer. Higher-than-normal levels of PSA in the blood may indicate the presence of prostate cancer.
The U.S. Preventive Services Task Force—a panel of national experts that issues disease screening and prevention recommendations—advises​ men to talk to their doctor about PSA testing starting at age 55. Good believes his doctor offered him the PSA test at an earlier age in part because of a family history of cancer.
Good's PSA score, at 2 nanograms of PSA per milliliter (ng/mL) of blood, is usually considered normal for a man in his early 50s, but to be safe, his doctor referred him to a urologist. The urologist performed a digital rectal exam to check for prostate abnormalities but found none. (The prostate sits in front of the rectum, so abnormalities can sometimes be felt with a finger along the wall of the rectum.) A biopsy of the prostate tissue came back negative—no cancer.
Over the next two years, Good's PSA continued to rise, first to 4 ng/mL and then to 12. He had two more biopsies that came back negative. During that time, in May and December 2012, Good's two older brothers, Pat and Dan, were diagnosed with prostate cancer. Both had lower PSA scores at diagnosis than Good had. "With my PSA going up like that, I was worried there was something there, and the longer we went without finding it, the worse it was going to be," says Good of this period of uncertainty.
By November 2013, he and Teresa had moved from Fort Dodge, Iowa, to Waukee, a suburb of Des Moines. He went to another urologist in Des Moines, who took 18 different cores—or areas of prostate tissue—for a biopsy. This time, one core came back positive. Good had prostate cancer, but he was relieved to have a definitive answer. "With no diagnosis, I couldn't do anything but sit and wait. Now we knew what it was and could do something about it," he says.
A More Targeted Prostate Biopsy
MRI-targeted biopsy can improve the accuracy of prostate cancer diagnosis.​
Before he was diagnosed with prostate cancer, Mark Good estimates that doctors removed tissue from more than 50 biopsy "cores," or locations throughout his prostate. Prostate biopsies are typically done using an ultrasound probe to help the doctor visualize the organ. The process involves taking tissue from several locations in the gland through a thin needle. More recently, doctors have been able to use advanced MRI technology in tandem with ultrasound.
"We can now use the MRI to help guide the biopsy to target suspicious areas," says Brian Gallagher, a urologist who is the medical director of the Urology Center of Iowa in Des Moines. This new technology is helping doctors find prostate cancers more efficiently and with fewer needles, he adds.
Making a Fresh Start
A pathologist graded Good's prostate cancer using a measure called the Gleason score. Gleason scores from prostate biopsies range from 6 to 10, and Good's cancer had a score of 7. The higher the Gleason score, the more likely the cancer will grow and spread quickly. A score of 6 indicates a low-grade cancer, while 7 is intermediate. Gleason scores of 8 to 10 indicate high-grade cancers.
Good discussed treatment options with his urologist. He wanted the cancer removed and called his older brothers to find out more about the procedures they had undergone. Both brothers had opted for surgery to remove their prostates. One brother chose a prostatectomy performed via "open" surgery, where the doctor makes a 4- to 5-inch cut in the abdomen. The other brother had robotic-assisted laparoscopic prostatectomy, a procedure that involves making several smaller incisions, using a camera to visualize the prostate and its surrounding nerves and blood vessels, and having the surgeon work from a console to manipulate surgical instruments.
Side effects of radical prostatectomy can include urinary incontinence and erectile dysfunction. "With robotic magnification, we can see more clearly the nerves and muscles responsible for controlling erectile and bladder function, which allows us to minimize surgical impact to these areas," says Brian Gallagher, Good's urologist and surgeon at the Urology Center of Iowa in Des Moines.
Good opted for the robotic-assisted radical prostatectomy. He scheduled the surgery for December 31, 2013—New Year's Eve. "It was symbolic. I wanted to start the new year cancer-free," he says.
The surgery revealed why so many of Good's biopsy cores and the digital rectal exam had turned up no clues about his prostate cancer. His tumor was located near the front of the prostate in an area that is difficult to feel on a rectal exam and difficult to draw tissue samples from. After removing the prostate gland, the pathologist gave Good's tumor a new Gleason score of 8—high-grade cancer. That often happens after prostate removal, says Gallagher. "Probably 30% to 40% of the time when we take the prostate out, we find the cancer was more aggressive than previously thought," he says.
Good went home from surgery the next day. "I had the best home care you could ask for," says Good of the help he received from his wife, a home care nurse by training. Teresa made sure he had the right pain medicines and healthy foods to promote healing. She encouraged him to be active around the house as much as possible. Most importantly, she instilled in him a positive mindset during his initial three-week recovery and in the years since. "She helped me turn that perceived negative of having cancer into a positive by reminding me that no matter what you're facing, there's always something to be grateful for," says Good.
Getting Involved
Soon after he recovered from the prostatectomy, Good, a self-described "doer," began looking for ways to get involved in the prostate cancer community by organizing an event to raise prostate cancer awareness. "There wasn't much in the Des Moines area at the time," he recalls.
One of his brothers mentioned a prostate cancer run/walk that had taken place recently near his home in Oregon. "I'm not a jogger, but Des Moines is a running community. I thought that kind of event would be great here," says Good. The run/walk in Oregon was sponsored by Zero. Good contacted the Virginia-based group and was soon the organization's "boots on the ground in Iowa," he says.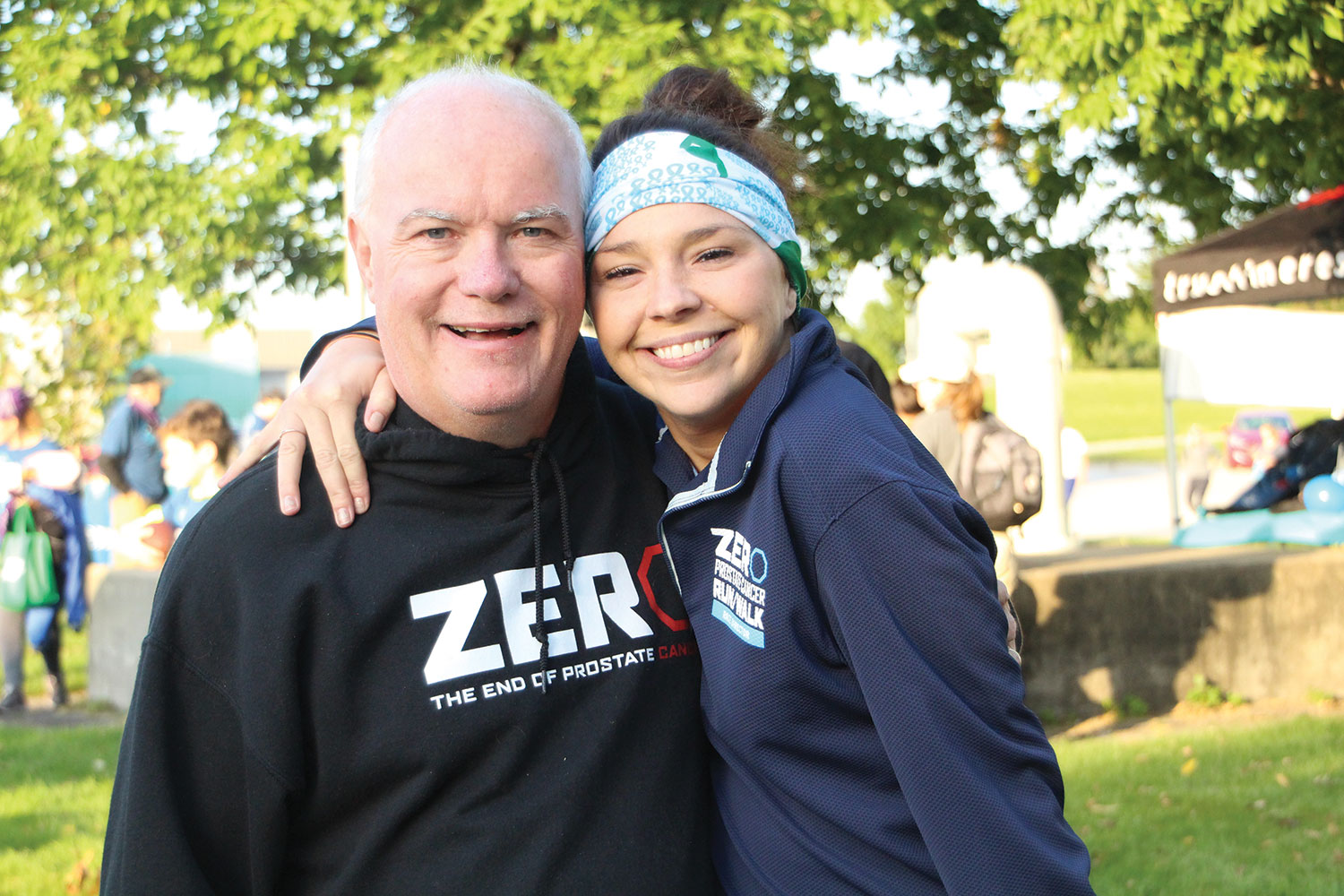 With Good at the helm, Des Moines hosted its first Zero Prostate Cancer Run/Walk in September 2015. Zero currently sponsors seven run/walk events throughout the Midwest, according to Byrne, the Midwest chapter director. Thanks to Good's efforts, the Des Moines event is the biggest in the Midwest in terms of participants and dollars raised. The September 2019 run/walk had more than 600 participants and raised $130,000 for prostate cancer advocacy and research, says Byrne.
The run/walk wasn't Good's first foray into volunteering, explains Teresa. He loved taking part in community organizations and fundraising in Fort Dodge: as a Cub Scout leader, as president of a committee that raised money for sound and lighting equipment at a local high school, and as a board member for the local humane society, where he helped raise more than 
$1 million for a new animal shelter.
"When we moved to Des Moines, it was a bigger community, and Mark wasn't as involved anymore," says Teresa. "I think he was yearning for another big project, and then this opportunity with Zero happened."
In addition to the run/walk, Good organizes an annual prostate cancer awareness golf tournament and travels throughout the Des Moines area telling his story. Each February, he heads to Washington, D.C., on behalf of Zero to ask politicians to support prostate cancer research funding. "I think the more he has reached out to others in the prostate cancer community and shared his story, the less isolated he feels," says Teresa, who is also involved in the efforts. Together they put on an annual survivors and champions dinner in Des Moines to celebrate prostate cancer survivors and their loved ones.
Good drums up support for these events while driving for Uber. He leaves fliers in the back seat of his car and finds ways to work prostate cancer into conversations with passengers. "Everyone knows someone with prostate cancer," he says.
Time to Talk
Good prizes his role as a mentor to other men experiencing prostate cancer. Friends of friends—men he has never met—contact him on Facebook or call him at home. They may be feeling anxious and are eager to talk to someone who's been through what they're experiencing. Good's outgoing personality makes talking about a difficult subject a little bit easier, Teresa says.
Good is grateful for the opportunity to help. He still gets his PSA checked each year to make sure the cancer hasn't returned. So far, he's been in the clear, although he struggles occasionally with lingering incontinence issues. "It's still not perfect. It's not what it was," he says, adding, "I've had an easy course compared to some guys."
Six years out, Good is not sure the mental and emotional recovery process is ever complete, but he's found that talking helps. "The m​ore I talk about it, the better I feel," he says. "Hopefully, the more I talk, the more other guys will talk too."
Cancer Today magazine is free to cancer patients, survivors and caregivers who live in the U.S. Subscribe here to receive four issues per year.