AT THE FOX 7 TELEVISION STATION in Austin, Texas, Loriana Hernandez​‑​​Aldama was the clean-living, fitness-loving health reporter. "When I helped people get fit or change their lives, that fueled me," she says as she sits on her back patio in Ashburn, Virginia, where she now lives.
Three years after being diagnosed with acute myeloid leukemia (AML) in 2014, Hernandez‑​Aldama,​ 44, is now even more motivated to share her passion for fitness. She learned from her doctors after her diagnosis that the amount of chemotherapy her body could handle correlated with her overall health and fitness. The advantage gave her a greater chance of survival, the doctors said. With that in mind, Hernandez-Aldama created ArmorUp for Life, a nonprofit with a mission to encourage people to eat well, exercise and improve their work-life balance so their bodies and minds are better able to face future health challenges.
"It's not about prevention; it's about preparedness," she says. "It's about preparing your body and mind for the fight."
A Year-Long Battle
In January 2014, Hernandez-Aldama, who had previously left Fox 7, was​ about to move from Texas to Virginia to be with her husband, Cesar, who was already working in the area. The couple had just bought a home in Ashburn, Virginia, about 35 miles northwest of Washington, D.C., and Hernandez-Aldama was hoping to get another broadcasting job. She was also undergoing fertility treatment to have a second child to join the couple's then 20-month-old son, Gabriel. On the day she was to hav​e an embryo transfer, her doctor decided to perform a precautionary blood test first. The next day, he told her the test result had led him to believe she had cancer.
To confirm the diagnosis, Hernandez-Aldama saw an oncologist, who performed a bone marrow biopsy that revealed she had AML, a fast-growing cancer that starts in the bone marrow and can quickly move into the blood and sometimes to other parts of the body. Hernandez-Aldama was not a typical AML patient: The average age of patients with AML is 67; she was 41 when she was diagnosed.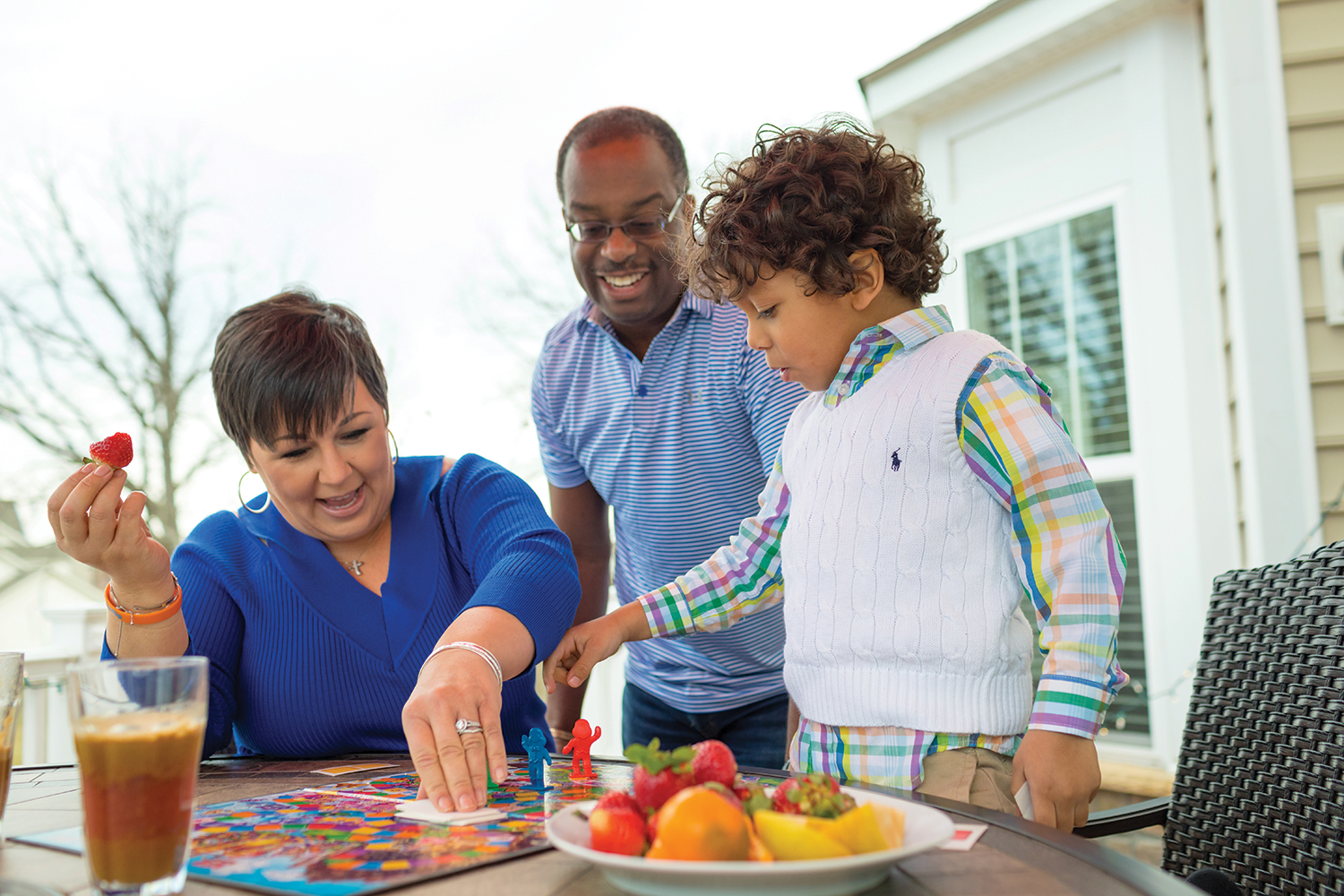 Hernandez-Aldama immediately turned her attention to finding a doctor. Through his work, Cesar had a connection at the Washington Redskins, a professional football team that works closely with the Leukemia & Lymphoma Society. A team representative told Hernandez-Aldama to contact medical oncologist Mark Levis at the Johns Hopkins Kimmel Cancer Center in Baltimore. Hernandez-Aldama made phone calls and turned to Facebook and Twitter, telling her contacts she had cancer and needed to get in touch with Levis. Less than a day after she was diagnosed, Levis called her after reviewing her test results. On the call, he made it clear just how advanced her cancer was.
"He said, 'Get on a plane, and get here right away. There's a bed waiting for you. You can't wait,' " she says. Levis said Hernandez-Aldama had cytogenetically normal AML, meaning she had a shortage of white blood cells, red blood cells and platelets, making her susceptible to infections, fatigue, weakness and abnormal bleeding. Forty to 50 percent of people with AML have this type of disease.
Hernandez-Aldama and her husband arranged for Gabriel to stay with her mother in Atlanta, but she didn't expect to be away from her son for long. After all, as a health reporter, she had interviewed people being treated for cancer who were living at home. "I thought I was going to get a little chemo, and then I'd see him in two weeks," she says of Gabriel.
When she got to the hospital, Hernandez-Aldama learned from Levis that AML is treated with multiple rounds of chemotherapy that could last up to a year. From the end of January to mid-August, she stayed at the hospital for several cycles of intense chemotherapy, each lasting 40 days or more, followed by a two-week break between each round. Side effects included exhaustion, mouth sores, muscle pain and chills. The treatments also destroyed her normal cells along with leukemia cells, which caused her to have neutropenia—low levels of the white blood cells called neutrophils that help fight infection. Hernandez-Aldama often felt too weak to get out of bed, but she forced herself to walk laps around the hospital floor.
While in treatment, she was alone for most of the day until Cesar finished work and visited in the evening. She was able to see Gabriel only during the two-week breaks between cycles. Her eyes well up with tears when she describes phone calls with Gabriel during her hospital stay. "How many more sleeps?" he would ask, meaning how many more nights before he would see his mother. Not knowing the answer, Hernandez-Aldama would simply say, "Soon, baby, soon."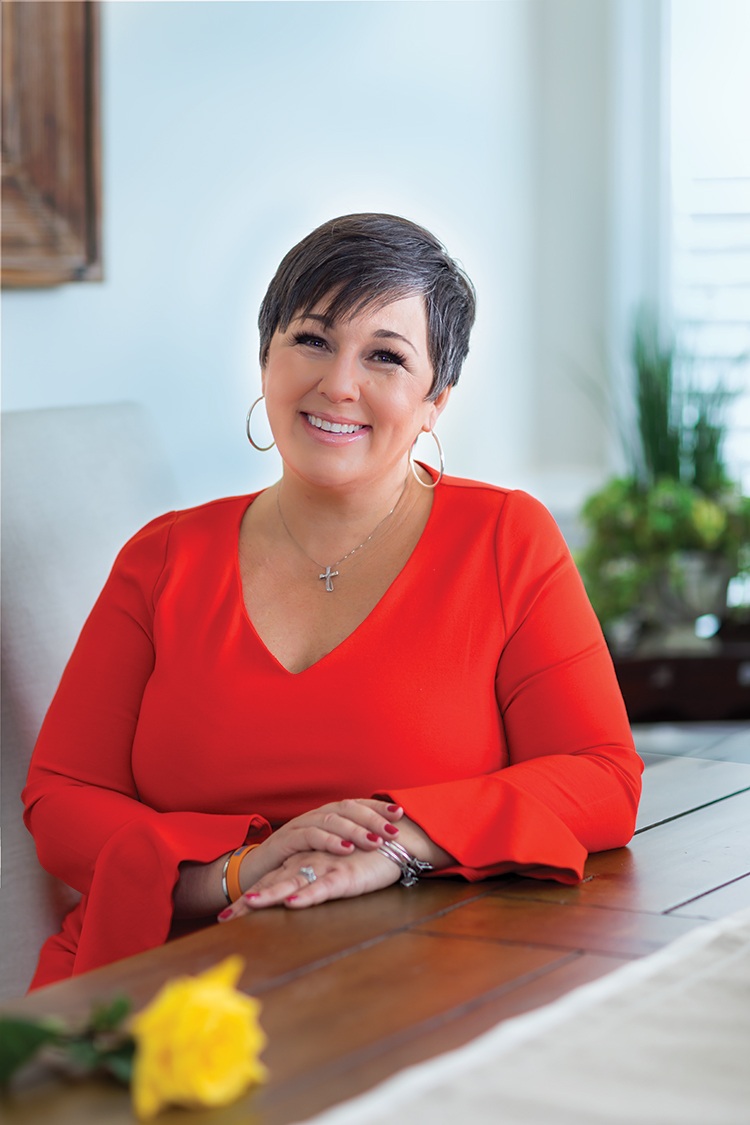 In August 2014, Hernandez-Aldama completed her fourth round of chemotherapy and went home. Her doctor told her a follow-up bone marrow biopsy would look for abnormal blood cells; if none were spotted, she would be in remission. In early September, the biopsy was performed. As part of a study she had signed up for, researchers also examined the bone marrow's stem cells, the precursors of blood cells. Three weeks later, doctors called with the news that the stem cells still harbored cancer and that a bone marrow transplant was the only way to treat it. Patients who make it through a bone marrow transplant have about a 70 percent chance of being cured, Levis says.
Hernandez-Aldama's older sister, a transplant match, went through a battery of tests to be sure she was healthy enough to donate. Once the sister's good health was established, the procedure was performed in late October. Afterward, while Hernandez-Aldama waited for the new bone marrow to graft and begin producing normal blood cells, she stayed alone in a family residential facility on the Johns Hopkins campus. For about two months, doctors gave her blood transfusions to manage low red blood cell counts, monitored her for infections and gave her antibiotics if infections occurred. Family and friends could visit, but she could only leave the facility for medical appointments or for walks and car trips in which her exposure to others would be minimal.
Just before Christmas 2014, she went home to Ashburn. On December 31, 2014, she posted a YouTube video about the results of a bone marrow biopsy taken on December 14: "I am 100 percent donor," she said. "[That] means when they extracted the bone marrow out of my hip, the fluid that came out was 100 percent my sister." Although being cured long term was not guaranteed, Hernandez-Aldama's cells were healthy and cancer-free.
A New Trial for Acute Myeloid Leukemia Patients​
Researchers explore targeted treatments for AML.
by Jennifer Walker
Patients who are 60 and older and diagnosed with acute myeloid leukemia (AML) have a five-year survival rate of less than 20 percent. Yet the standard course of treatment for the disease—a combination of chemotherapies—has not changed since 1973. "Clearly, a one-size-fits-all regimen does not work," says Louis DeGennaro, president and CEO of the Leukemia & Lymphoma Society (LLS).
LLS hopes to understand AML's genomic variations and match patients with targeted treatments to increase survival through a nationwide precision medicine trial. Unveiled in 2016, the Beat AML Master Trial​ ​uses genetic screening to find specific AML mutations in the cancer cells of newly diagnosed patients age 60 and older. (Typically, AML trials are for patients who have relapsed or who are not responding to standard treatment.) Patients who have a genetic marker that places them in a trial arm are given an investigational drug intended to target the patient's AML variation or, in some cases, an investigational drug combined with chemotherapy. Patients who do not have these markers are placed in a separate trial arm and treated with a different investigational AML agent.
"The goal of this trial is to give multiple targeted drugs [to patients] and move away from chemotherapy in as many patients as we can," says John Byrd, a hematologist at the Ohio State University Comprehensive Cancer Center (OSUCCC) in Columbus and one of the lead researchers. Chemotherapy will still be preserved as a treatment option for a subset of AML patients who can be successfully treated with it, Byrd adds.
The Beat AML Master Trial started enrolling patients in December 2016 at five leading cancer centers: OSUCCC, Memorial Sloan Kettering Cancer Center in New York City, Oregon Health & Science University Knight Cancer Institute in Portland, and Dana-Farber Cancer Institute and Massachusetts General Hospital Cancer Center, both in Boston. The trial will eventually expand to 15 to 20 sites and offer up to 10 different treatment arms, organizers say.
Along with LLS and the cancer centers, the Beat AML team includes academic researchers, a genomic testing company and biopharmaceutical companies. As many as 500 AML patients are expected to participate in the three- to five-year trial.
A New Purpose
During her year in the hospital, Hernandez-Aldama was often severely depressed. She had few visitors or distractions. But she knew from her time as a health reporter that helping others get fit and change their lives energized her. "I feed off that positive energy," she says.
Soon after arriving at Johns Hopkins for treatment at the end of January 2014, Hernandez-Aldama started the ArmorUp for Life campaign, first on Facebook, where she encouraged her connections to get healthy to fight future health challenges. She posted regularly about what she intended to do for her health, which she called "armoring up," and asked her followers to hold her to it. For Hernandez-Aldama, that meant walking as many laps as possible around the hospital floor, even on days when she was throwing up or too weak to want to get out of bed because of chemotherapy. She would also push her online connections to reach their health goals. Additionally, Hernandez-Aldama, who used her phone to film weekly segments about her treatment for Fox 7 in Austin, urged viewers to get involved with the ArmorUp for Life  campaign. "That's what got me through a whole year of loneliness," she says. "Taking my story and turning it around to help others helped me cope."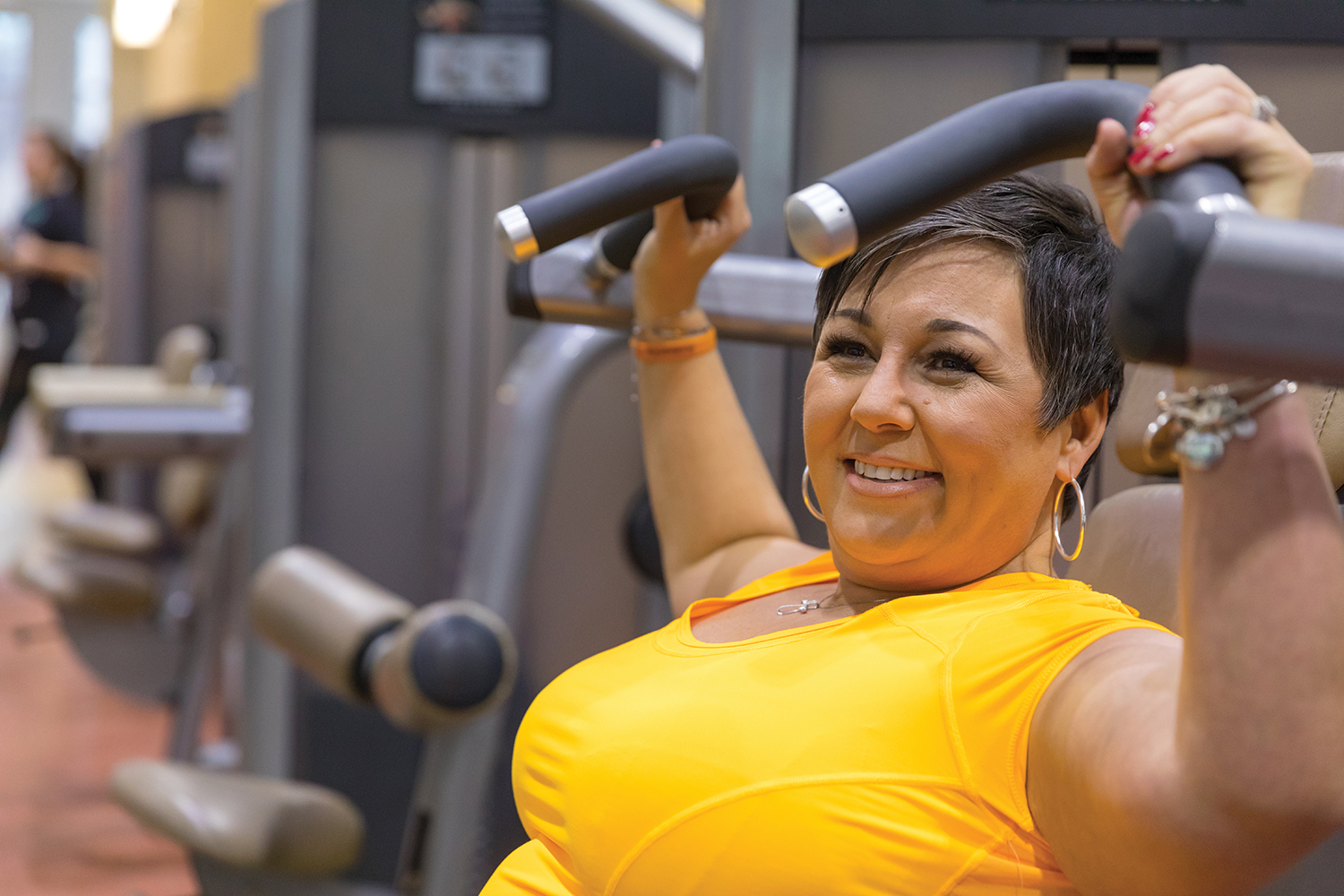 The day after her bone marrow transplant in October 2014, Hernandez-Aldama started a health challenge that coincided with her recovery. Doctors told her she would most likely know after 100 days if the transplant had been successful, so she created the 100-Day Challenge, urging others on Facebook and Twitter to take a positive step for their health every day for 100 days. Her friends on Facebook posted pictures and wrote about the important steps they had taken to improve their health.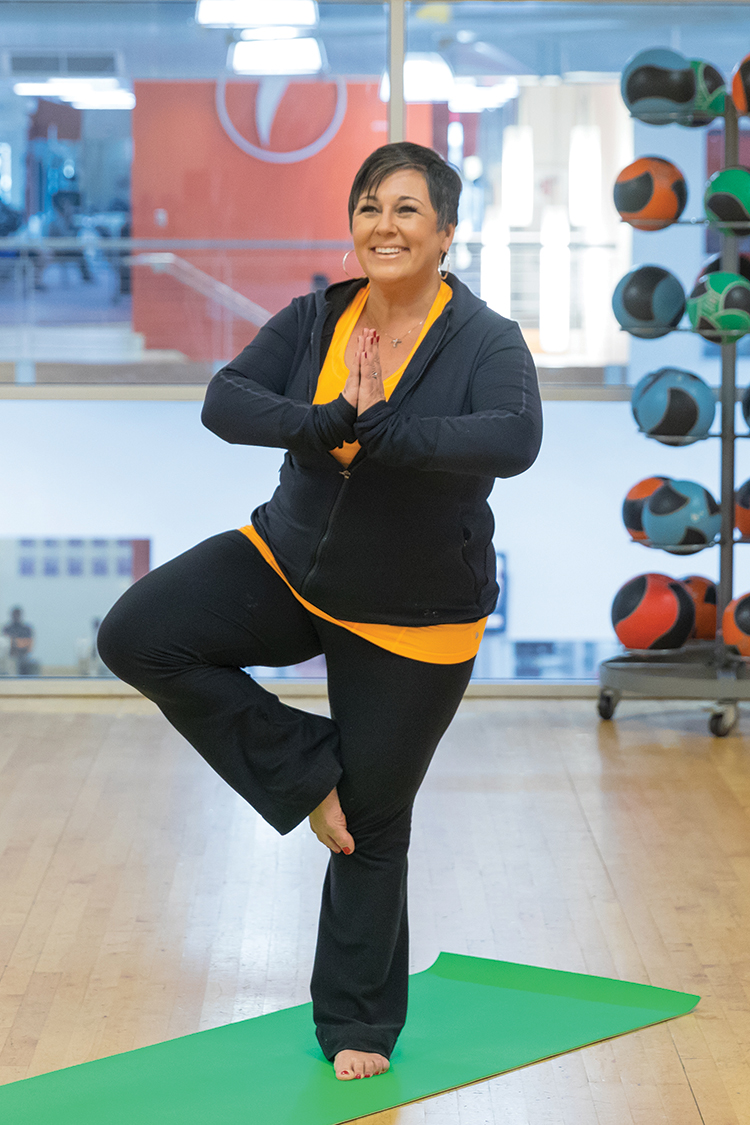 "It's just so typical of her because she was so into trying to get people fit and eating healthy," says Pam Vaught, a breast cancer survivor and news director at Fox 7 who worked with Hernandez-Aldama. "She was really in great shape and she really worked at it. She firmly believes that's what helped her survive this cancer."
Starting Over
Back home in Virginia, Hernandez-Aldama has not returned to work as a TV reporter, a job she loves, in part because she feels it would be too difficult to relate tragic news stories. She is being treated for post-traumatic stress disorder and is anxious about her future.
"You fear things that you're ashamed to admit to friends," she says. "They know you as the bubbly, outgoing person or whoever you used to be, so you don't want to tell them 'I fear death all the time.' You have to find some way of coping, because you're always looking over your shoulder to see if the shoe is going to drop again [with a cancer recurrence].
The ArmorUp for Life campaign has helped her through difficult times. "She has made it her mission to help others," says Cesar. "This campaign has given her the ability to connect with people and get her message out there, so it makes her feel good and, in turn, she can start making other people feel good."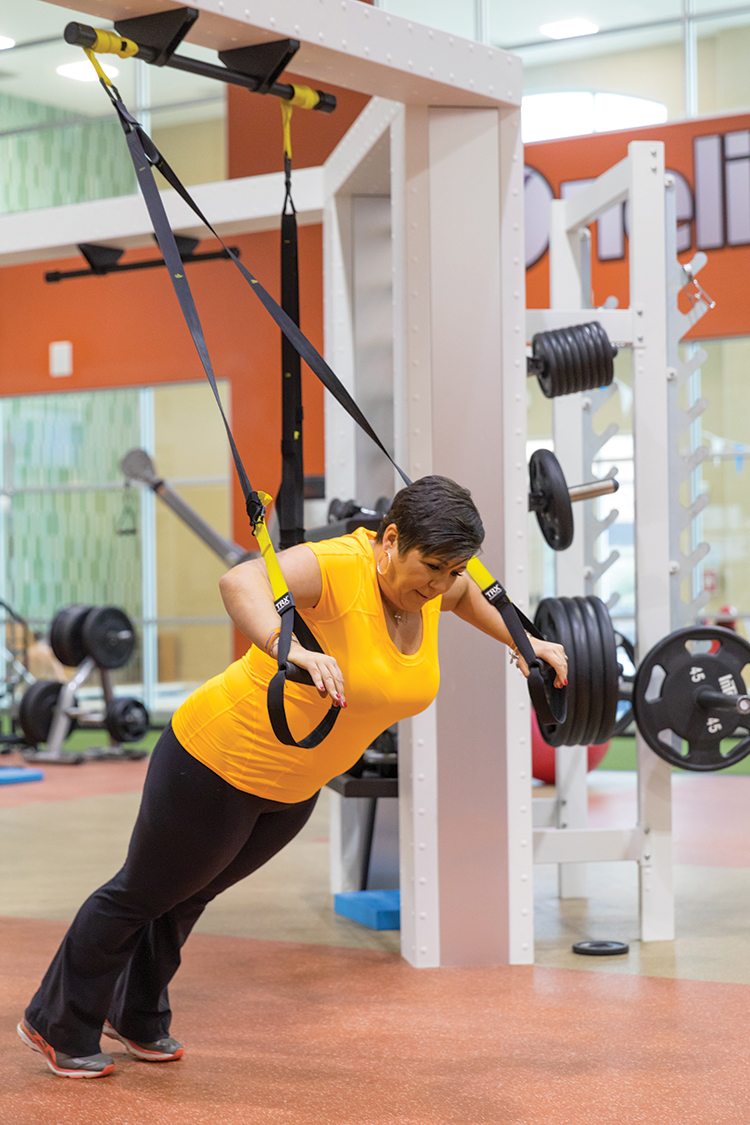 In March 2016, Hernandez-Aldama held her first advocacy campaign. She partnered with Onelife Fitness (then called Sport&Health Club) and Brambleton Soave Real Estate, both in Brambleton, Virginia, to host the ArmorUp for Life 30-Day Fitness Challenge. To join, 126 participants paid $30 each, with all funds raised donated to the Leukemia & Lymphoma Society. This year, Hernandez-Aldama will host another 30-day challenge at Onelife Fitness in May.
Hernandez-Aldama still makes her health a daily priority, particularly when it comes to maintaining balance in her life, an area where she struggled before her diagnosis. "I was always so driven [to succeed in TV news] that nothing was going to stand in my way," she says. "The day I was admitted to the hospital and they explained to me what leukemia was, I went through a very angry moment, which is normal." Then she thought, "Why didn't we take a vacation?"
In April 2016, Hernandez-Aldama and her family finally took a vacation—to Disney World. She remembers holding Gabriel to watch the Disney character parade. Gabriel was shouting at Mickey Mouse. "He was so happy," she says. "I had tears running down my face because I never thought I would get [there]. It was just amazing."
Cancer Today magazine is free to cancer patients, survivors and caregivers who live in the U.S. Subscribe here to receive four issues per year.