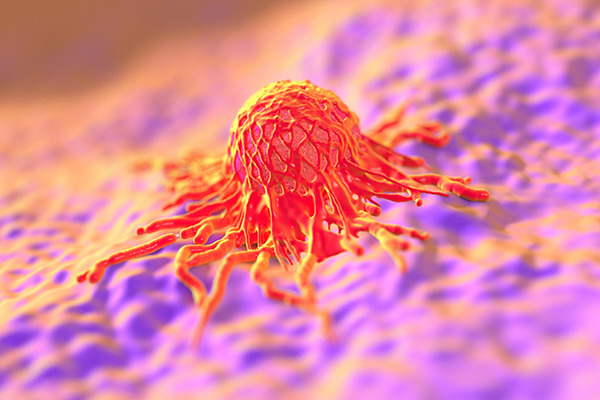 Many breast cancer patients receive a targeted therapy or a hormone therapy to treat their cancer. But up to 20 percent of breast cancer patients have triple-negative breast cancer, a subtype best known for what it doesn't have: the hormone receptors and extra HER2 proteins that allow these treatments to be effective. What these tumors often have, though, is a good response to chemotherapy. Now, researchers are fine-tuning how to best use chemotherapy drugs to treat triple-negative tumors as well as searching for new types of treatments for this breast cancer subtype.
At the 2015 San Antonio Breast Cancer Symposium in December, two research groups presented results from clinical trials that added carboplatin—a platinum-based chemotherapy drug that is used for other types of cancers—to standard chemotherapy regimens used to treat triple-negative breast cancer.
One of these groups, led by William Sikov, a medical oncologist at Women and Infants Hospital of Rhode Island, in Providence, presented updated findings from a study in which triple-negative patients received standard chemotherapy with or without carboplatin before surgery (referred to as neoadjuvant treatment). The group had previously reported that the patients who received carboplatin and standard chemotherapy were more likely than those who received standard chemotherapy alone to have no cancer cells found at the tumor site during surgery. The updated results showed that three years after treatment, women who had no evidence of cancer during surgery were less likely to have had a recurrence.
The study wasn't large enough to determine whether carboplatin was responsible for the lower rates of recurrence. But German researchers who used a similar chemotherapy regimen with and without carboplatin reported at the San Antonio symposium that their study showed patients who had received carboplatin were less likely to relapse three years later than those who had received standard chemotherapy alone.
Oncologists in Europe often use platinum-based chemotherapy to treat triple-negative breast cancer, Sikov says, but more studies will be needed before it is routinely used in the U.S. "I hope that if additional studies show a benefit [to using carboplatin], that this becomes more of a standard." For patients who have a large tumor, in particular those whose cancer has spread to the lymph nodes, shrinking the tumor with platinum treatments could lessen the need for extensive surgery, he adds.
Health Care for Breast Cancer Survivors
New guidelines help primary care providers address needs.
The American Cancer Society and the American Society of Clinical Oncology recently released guidelines aimed at helping primary care providers offer high-quality follow-up care for breast cancer survivors.
The new guidelines give information about cancer screening for women who have had a breast cancer diagnosis and breast cancer treatment-related side effects. They also discuss healthy lifestyles that can ease side effects, improve quality of life and possibly reduce cancer recurrence. The guidelines emphasize the importance of primary care providers asking patients for their survivorship care plan. The care plan, which is completed by the oncology care team, offers specifics about the cancer treatments a patient received, the type of follow-up care she should receive and possible side effects she may develop.
If a woman is experiencing any symptoms following her cancer treatment, "she should feel empowered to ask her health care providers about them," says Corinne Leach, a gerontologist at the American Cancer Society's Behavioral Research Center and co-author of the guidelines. Working closely with a primary care provider can ensure that a woman "is getting the care that is right for her."
The full guidelines are available here.
A downloadable patient page explaining the guidelines is also available here.
Researchers are also studying how triple-negative tumors respond to new types of targeted therapies like PARP inhibitors, which slow cancer growth by preventing tumors from repairing their DNA, as well as mining previous research for clues as to why some triple-negative tumors do not respond as well to chemotherapy or radiation.
Ultimately, discovering effective new treatments will require a deeper understanding of triple-negative breast cancer. Right now, triple-negative is a catchall term, says Priyanka Sharma, a breast oncologist at the University of Kansas Medical Center in Kansas City. But recent research has shown there are different types of triple-negative tumors, and not all respond the same way to the same treatments. "I don't think one new drug will work for all triple-negative breast cancer patients," Sharma says. "The key for us to make progress is really going to be" finding the biological markers that separate one type of triple-negative tumor from another.
One of the more positive aspects of research into triple-negative breast cancer has been the encouraging evidence showing that women with triple-negative tumors who haven't had their cancer recur within three years have high rates of survival. In contrast, hormone-sensitive tumors have the potential to come back a decade or more after treatment. If triple-negative breast cancer "doesn't come back in the first three or so years," says Sikov, "the likelihood is that it won't."
Cancer Today magazine is free to cancer patients, survivors and caregivers who live in the U.S. Subscribe here to receive four issues per year.