WE'VE ALL HEARD that laughter is the best medicine, and research has now backed it up scientifically.
In September, a study published online in the Proceedings of the Royal Society B found that laughing increased patients' pain thresholds, probably due to increased production of endorphins—hormones in the body that relieve pain.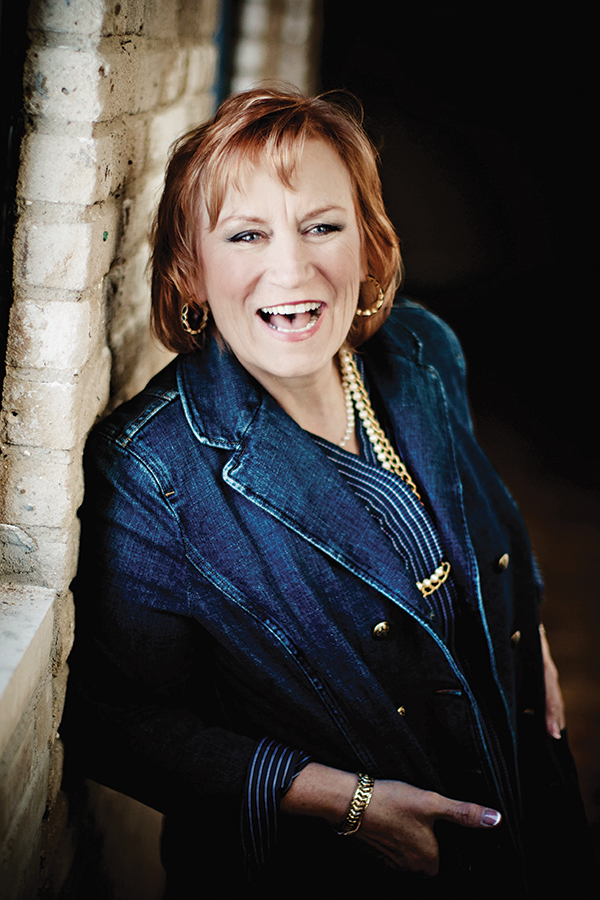 Building on a history of attempts to understand the science of laughter, the researchers inflicted pain on 206 volunteers by placing a freezing wine sleeve over their forearms or tightening a blood pressure cuff as they watched comedy videos, non-funny documentaries or live performances. The scientists tracked volunteers' laughter, with results suggesting that people who had been laughing had a higher tolerance for pain.
Comedian and cancer survivor Brenda Elsagher, 55, has witnessed the benefits of laughter firsthand. She sees it in the faces of the people laughing when she gives speeches or performances, and she knows its impact from her own experience.
The Burnsville, Minn., resident was diagnosed with colorectal cancer at 39 after feeling extreme pain in her rectal area. She thought her hemorrhoids were flaring up and was shocked at the diagnosis.
"I thought, 'Who has that?' " she says. "At first I said I had an 'inconvenient' tumor. Then someone asked, 'Is there a convenient tumor?' " And the process of acceptance began.
Her diagnosis was followed by two years of surgeries, including the removal of her rectum, the creation of a permanent colostomy, a hysterectomy and vaginal reconstruction. She developed repeated problems with her stoma—the opening in her abdomen where stool exits into an external pouch—and needed it moved twice.
When she was diagnosed, Elsagher and her husband had two young children, then 3 and 5. A hairstylist, she worked many hours at the salon she owned near their home in the Minneapolis suburbs.
During four months of recuperation after her first operation, Elsagher re-evaluated her priorities. She began working part time, and followed a childhood dream by taking a comedy class, where she learned the power of telling stories. She then enrolled in college, where she discovered a love of writing.
She has since written four books, starting with If the Battle Is Over, Why Am I Still in Uniform?, followed by I'd Like to Buy a Bowel Please, Bedpan Banter: Funny & Inspiring Medical Stories, and It's in the Bag and Under the Covers.
As a cancer survivor, Elsagher performs comedy and travels around the country talking to health care professionals, other survivors, people with ostomies, and caregivers.
Cancer Today talked with Elsagher about her views on laughter's role in easing pain and the way humor can help people grow more comfortable with taboo subjects.
Q: What was it like when you were going through multiple tests at the start of your cancer treatment?
A: There was little humor at this point. I had been spending a lot of time crying. Then a nurse made me laugh out loud. I saw eight or nine doctors in 10 days, and I started coping using sarcastic humor. I was very overweight: 310 pounds at 5 feet 5 inches. [She weighs 185 pounds now after a three-year weight-loss program.] I had to lay on a table that tilted with my head down and butt up. I wasn't worried about the cancer so much as "Was the doctor going to be traumatized looking at this big butt?" Then in my mind, I imagined other doctors filing in. I thought: "The more the merrier. Let's charge them a quarter to have them all go through."
Q: How did laughter help you with your pain?
A: Well, for example, I was in the hospital in pain from my colostomy. My husband and I were playing with the bed and laughing, and when a nurse came in with a hypodermic needle, I never felt it. Any time the nurses made me laugh, it helped me with my pain. My psychological pain, too.
Q: In your first book, you write, "I knew it would be a challenge, and yet I didn't want to be silenced by shame or the unpleasant topic of having cancer of the rectum." So how do you get audiences comfortable with this topic?
A: I tell everyone to say rectum three times. We laugh about it and then we can move on. I tell them about how I started thinking of my surgeon as the Rear Admiral, and that gets them laughing too.
Q: When did you first find the humor in having a colostomy?
A: I did not make jokes publicly about ostomies or cancer for a year. Then I got involved with an ostomy support group and met people who were comfortable with themselves. They were laughing, smiling. There was some dark humor.
Q: And what did you learn from them?
A: There are many different aspects of the ostomy world. Some people with ostomies have been through hell. I certainly would not want to imply that going through a colostomy was a laugh a minute. But you have to look for the positive stuff. The positive stuff is that you get to live.
Q: What are the psychological effects of having a stoma that is not working as it should?
A: When it's not going well, it affects your self-esteem, your confidence, your desire to be sociable. After you hit the right combination of ostomy care products, you begin to feel like everyone else. And then you move forward, one day at a time.
Q: Do you stress a particular message when you give talks about cancer?
A: For people with ostomies, I let them know it's liberating to hear about the subject or talk about it. People have been so hushed about it. I have been unstoppable in letting everybody know that an ostomy is not shameful, gross, or the worst thing in the world. And for everyone, surround yourself with funny people. Look for the funny in life. Also, one of my missions is to get people screened using colonoscopies. And I want people to remember, hope is all around you.
Cancer Today magazine is free to cancer patients, survivors and caregivers who live in the U.S. Subscribe here to receive four issues per year.