After decades of laboratory research, immunotherapy is now making its mark on the cancer field. A series of studies presented at the 2015 American Society of Clinical Oncology (ASCO) Annual Meeting, followed by expanded drug approvals, have illustrated immunotherapy's potential. But the drugs have side effects and their high costs have raised concerns.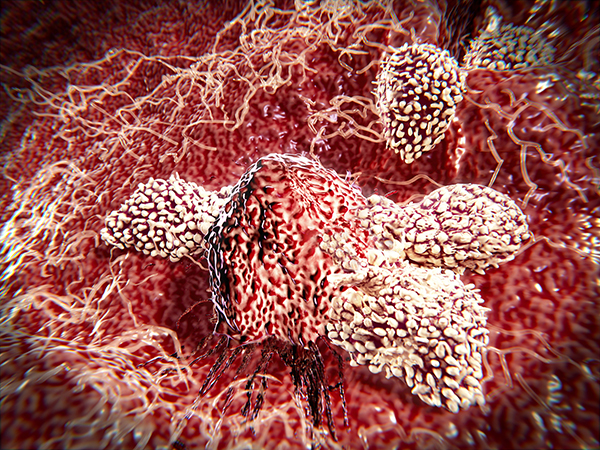 So far, the U.S. Food and Drug Administration (FDA) has approved three checkpoint inhibitors—Yervoy (ipilimumab), Opdivo (nivolumab) and Keytruda (pembrolizumab). These immunotherapy drugs bind to specific proteins on immune cells that normally act as brakes on the immune system. The inhibitors release the brakes, allowing the immune system to attack the cancer. Researchers are trying to determine which cancers respond to these therapies and whether there are tumor biomarkers that can predict which patients will benefit.
All three drugs were initially approved for the treatment of metastatic melanoma, but 2015 saw myriad expanded approvals. Opdivo was approved for treating squamous and non-squamous non-small cell lung cancers, which make up about 85 percent of all lung cancers. It was also approved for treating metastatic kidney cancer in patients who have already tried an angiogenesis inhibitor. Keytruda's approval was expanded to include patients with metastatic non-small cell lung cancer whose tumors express the protein PD-L1 on a companion diagnostic test. The combination of Yervoy and Opdivo was approved for metastatic melanoma. And Yervoy was approved for patients with stage III melanoma, making it the first immunotherapy that will be used after surgery to prevent recurrence.
"This is indeed an exciting time," says Jedd Wolchok, a medical oncologist and immunologist at Memorial Sloan Kettering Cancer Center in New York City, who presented data at ASCO from the study that led to the approval of the Yervoy-Opdivo combination therapy. "We're really seeing another treatment approach emerge that provides hope for our patients." (Wolchok is a consultant for Bristol-Myers Squibb, which makes Yervoy and Opdivo.)
Wolchok also presented data from an analysis of PD-L1 level and tumor response. In general, patients whose tumors had a PD-L1 protein level of 5 percent or greater responded better to Yervoy and Opdivo than patients whose tumors had a PD-L1 protein level below 5 percent. Yet the patients taking the drug combination experienced more side effects than those taking either drug alone. More than half of patients taking both Yervoy and Opdivo developed serious side effects, such as a rash, diarrhea, liver problems, and damage to hormone-producing glands, and 36.4 percent in the drug combo group had to stop therapy altogether.
Another team of researchers reported a phase II study that showed patients with metastatic cancer whose tumors had a mismatch repair deficiency responded better to Keytruda than those who did not have the deficiency. (In this study, 38 patients had metastatic colorectal cancer and 10 had other types of cancer.) The study found that 62 percent of colorectal cancer patients whose cancer cells had this defect responded to the treatment. In colorectal cancer patients without the mismatch repair deficiency, the drug did not work at all. A similar response was also seen in patients who had endometrial or certain gastrointestinal cancers that had the mismatch repair deficiency.
Luis Diaz, a medical oncologist at Johns Hopkins Kimmel Cancer Center in Baltimore and the phase II study's lead investigator, says the deficiency causes cancer cells to develop a large number of genetic mutations, which makes it easier for the immune system to recognize the tumors. "This finding could have a tremendous impact on a large chunk of the cancer population around the world," says Diaz.
However, Leonard Saltz, chief of gastrointestinal oncology at Memorial Sloan Kettering Cancer Center, has expressed concerns about the high costs of the new drugs, a topic he addressed at the ASCO Annual Meeting. A one-year course of Yervoy combined with Opdivo will cost about $256,000 for the first year, according to Bristol-Myers Squibb, the drugs' manufacturer. Keytruda runs about $12,500 a month, or $150,000 if used for the full year, according to its manufacturer, Merck.
The prices of these drugs, Saltz says, will impact Medicare and other insurance programs, which pay the bulk of the cost. The high prices also have the potential to lead to disparities in care. Since many patients have to pay out of pocket a certain percentage of a drug's cost, Saltz says, some patients could end up forgoing therapies that could benefit them.
Cancer Today magazine is free to cancer patients, survivors and caregivers who live in the U.S. Subscribe here to receive four issues per year.