When she was in her 20s, Lisa Niemi Swayze, now 57, was timid. "I had trouble calling to make an airline reservation," she recalls. Niemi Swayze worked to overcome her shyness in little steps, first starting conversations at checkout counters and then building up courage for acting auditions in Los Angeles.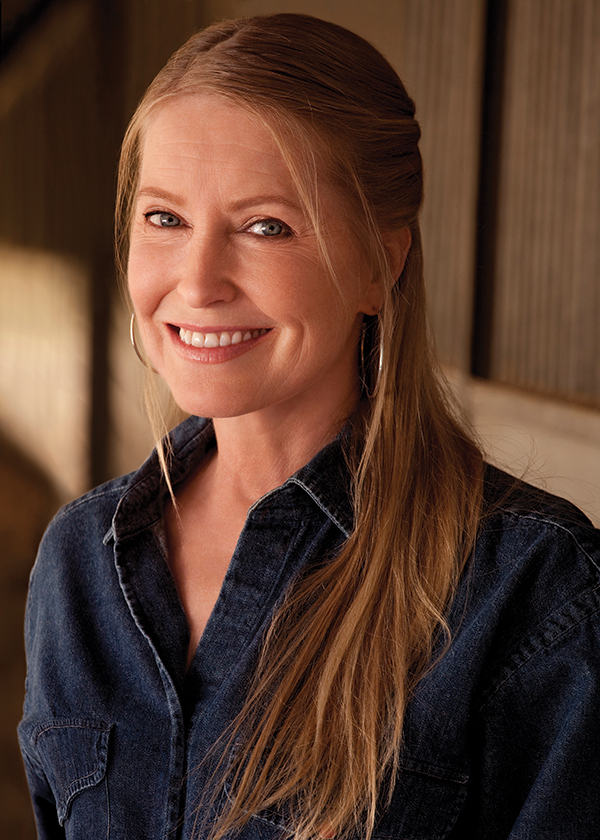 She eventually went on to act in, write, produce and direct films and television shows. Her husband, Patrick Swayze, who starred in movies such as Dirty Dancing, Roadhouse and Ghost, was a force pushing her forward. "He always expected me to do things beyond what I thought I was capable of doing," she says, when thinking back over their 34-year marriage. "He didn't like it if I was afraid."
After Niemi Swayze lost her husband to stage IV pancreatic cancer on Sept. 14, 2009, she vowed to raise awareness about the disease. In fall 2010, she became a Chief Ambassador of Hope for the Pancreatic Cancer Action Network (PanCAN), a nonprofit group that helps patients and promotes pancreatic cancer research. In 2012, Niemi Swayze also published Worth Fighting For: Love, Loss and Moving Forward, a memoir about caring for her husband for 21 months and her experiences after his death.
Niemi Swayze and PanCAN representatives celebrated when President Barack Obama signed the Recalcitrant Cancer Research Act into law on Jan. 2, 2013. The legislation charges the National Cancer Institute with building a framework to accelerate research and treatment efforts for cancers with five-year survival rates below 50 percent. Pancreatic cancer's five-year survival rate is about 6.5 percent.
"It's really just now that I'm starting to see the person [my husband] saw," Niemi Swayze says, referring to herself. "It's taken every bit of strength possible in recovering from his death, but I've defined how strong I really am. That's an amazing gift."
Niemi Swayze, who recently became engaged to jeweler Albert DiPrisco, sat down with Cancer Today to discuss caregiving, grief and the need for pancreatic cancer research.
CT: Why did you decide to write your book?
Niemi Swayze: There is a lot of material out there from the cancer patients' point of view, but not so much from the caregivers' point of view. The process was tremendously cathartic for me. I always said, "I'll cry later, but for now, I need to be there for Patrick." For the most part, that's what I did. Writing the book was helpful in unclogging a lot of the stuff that I was hanging on to for that whole time he was sick.
CT: Is there any advice that you can give to somebody who is caring for a loved one who has cancer
Niemi Swayze: It's almost impossible to do, but you have to try to do the best to take care of yourself too. You're in there for the long haul.
CT: Do you feel like you provided enough time for yourself when he was sick?
Niemi Swayze: Never. But I did my best. Especially in the second year of his illness, I started getting savvy about time. If somebody was over visiting him, I would take those opportunities to go and do things and take breaks. It's hard to do.
CT: How would you describe your own grieving process?
Niemi Swayze: I never imagined how hard grief would actually be. And in going through it, I am amazed that people survive it at all. Something really happens and it happens on a cellular level. And what I found about grief is that you do your best. There is no way but the hard way.
CT: What helped?
Niemi Swayze: I knew that other people managed, and if they managed, so could I. Also, I was able to reach out and talk to other widows who lost their husbands to pancreatic cancer. I would encourage people going through grief to talk to other people who are in a similar situation.
CT: What are your feelings on the state of research and treatment since Patrick's death?
Niemi Swayze: Since passage of the Recalcitrant Cancer Research Act, there has been a glimmer of hope that something can actually happen. Up until that point, it had been grim. Still, six months ago, I asked about the cutting-edge drugs for treating pancreatic cancer, and I was given the same list that my husband had over four years ago.
That's one reason why I continue fighting, because I know how precious Patrick's life was to him. I know how all those other people feel about their own lives when they're faced with this. I want to make sure that, at some point, they have the hope that he fought so hard for.
CT: These days, what brings you the most joy?
Niemi Swayze: Coming into my fourth year since he's passed, I'm happy to say that there is a lot of joy that I can feel where there was none for so long. I thought I'd never feel happiness again. I lost a lot of faith. Now I am moving into an area where I have faith again. I believe in life and that good things can happen. And that's the big thing for me.
Cancer Today magazine is free to cancer patients, survivors and caregivers who live in the U.S. Subscribe here to receive four issues per year.