"More progress, more hope, more life."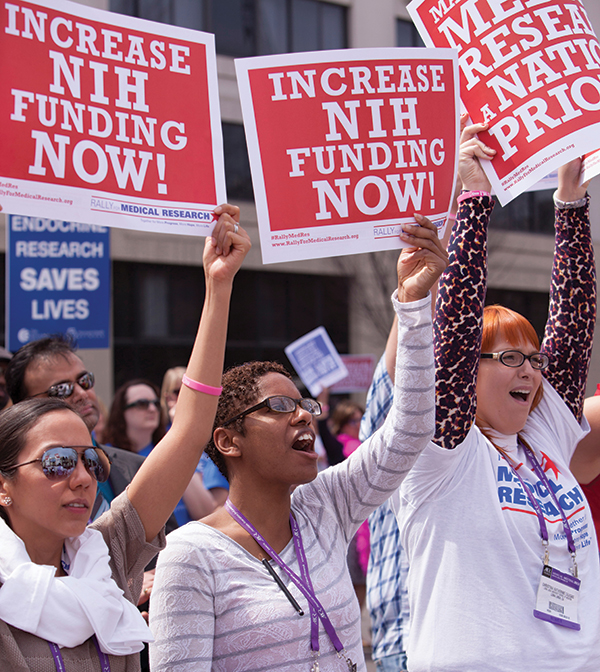 That was the rallying cry of the thousands of researchers, patient advocates and cancer survivors who attended the Rally for Medical Research, held April 8 in Washington, D.C. Their goal was to draw attention to the devastating impact that across-the-board federal spending cuts—slashing approximately $1.5 billion from the National Institutes of Health (NIH) budget—will have on medical research.
Held during the American Association for Cancer Research (AACR) Annual Meeting 2013, the rally was sponsored by a coalition of 200 groups led by the AACR. Journalist and breast cancer survivor Cokie Roberts emceed the event. Speakers included the AACR's Chief Executive Officer Margaret Foti; Congresswoman Rosa DeLauro of Connecticut, an ovarian cancer survivor; and actress Maura Tierney, a breast cancer survivor.
Leslimar Rios-Colon traveled to the AACR meeting from Southern California, where she is earning a doctorate in pharmacology at Loma Linda University School of Medicine. "It is really hard not to … be anxious about my future because, if these funding cuts continue, there is no future in medical research," says Rios-Colon (pictured with Loma Linda University students Whitney Evans, center, and Christina K. Cajigas).
As a follow-up to the rally, hundreds of advocates will gather on Capitol Hill Sept. 18 to urge Congress to make funding for the NIH a national priority.
To learn how you can get involved, go to RallyForMedicalResearch.org.
Cancer Today magazine is free to cancer patients, survivors and caregivers who live in the U.S. Subscribe here to receive four issues per year.