IN THE SPRING OF 2016, CICI ROJAS HAD JUST CREATED HER DREAM JOB. She and her husband had started a marketing company focused on Latino consumers. That year, the company was hitting its stride in professional and collegiate sports, helping teams engage with a growing Latino audience. The company, Tico Productions / Tico Sports, provided a natural outlet for the Kansas City, Missouri, native, who had spent nearly three decades advocating for Latino communities in various leadership roles and who also had a lifelong love of sports. Rojas landed two National Football League clients in quick succession: the Kansas City Chiefs and the Oakland Raiders (now known as the Las Vegas Raiders).
Her role as president of the marketing agency meant she had to fly back and forth between Missouri and California several times a month, which is why Rojas, then 52, chalked up the exhaustion she was feeling to overwork. Mysterious bruises started to appear on her forearms and shins, followed by night sweats, leg pain and a rash from exposure to poison ivy that would not heal. She felt a lump in the upper part of her abdomen. "That's when I knew something was really wrong," recalls Rojas.
The lump turned out to be her spleen, enlarged by an accumulation of abnormal white blood cells. In July 2017, Rojas was diagnosed with diffuse large B-cell lymphoma—a form of blood cancer in which healthy white blood cells, called lymphocytes, change into rapidly proliferating cancer cells. The news "hit like a ton of bricks with cold water," says Oscar Monterroso, Rojas' husband and business partner at Tico Productions / Tico Sports. "It's not something that you ever expect to happen to you."
Rojas, known in business for her tenacity and resilience, would need to draw on deep reserves of personal strength as she made her way through treatment. Her cancer would come back twice, teaching Rojas to accept life's uncertainty and to focus on things that brought her joy in the moment: her family, her advocacy for Latinos in her community, and her media company.
A Difficult Diagnosis
Diffuse large B-cell lymphoma (DLBCL) is the most common form of lymphoma, comprising more than 25% of all lymphomas reported in the U.S., according to the Leukemia & Lymphoma Society. It starts in the lymphocytes, which are specialized white blood cells that fight off infections and can be found throughout the body—including in the lymph nodes, blood and organs.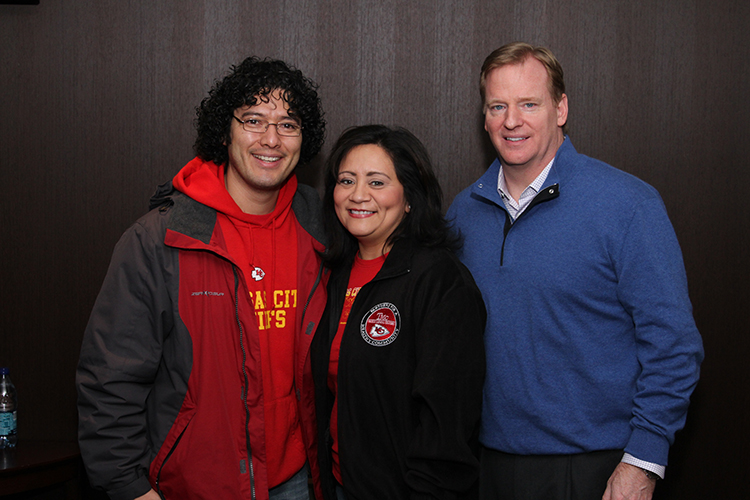 DLBCL has a reputation as an aggressive, fast-growing cancer. About three in five people diagnosed with DLBCL will survive five years or longer. Rojas' cancer was high grade, meaning it was particularly quick to spread. Rojas had a CT scan that showed cancer in the spleen and in the bone marrow—the spongy tissue found inside the hip, thigh and other bones. Bone marrow makes blood cells, including lymphocytes. This meant the cancer was the highest grade, stage IV. Finding lymphoma cells in the bone marrow can mean a greater risk of relapse or even failure to respond to standard chemotherapy treatments, says Joseph McGuirk, a medical oncologist at the University of Kansas Cancer Center in Kansas City, Kansas. And since lymphoma infiltrates the immune system, "it's not uncommon for these patients to present with life-threatening infections [in addition to cancer]," he explains.
Before she started treatment, Rojas developed extreme nausea and vomiting, losing 20 pounds in two weeks. She was diagnosed with a severe intestinal infection. In cases where a patient presents with an infection, doctors almost always delay chemotherapy since some chemotherapy drugs can further weaken the immune system, but Rojas' doctors at the University of Kansas Cancer Center decided to start treatment right away. "Sometimes, we don't have the luxury of waiting to see if the infection clears," says McGuirk, who was Rojas' doctor. He acknowledges that the "rapidly proliferating, very active nature" of Rojas' cancer would likely have ended her life in "weeks to months" if doctors did not start treatment.
Rojas' medical team treated the intestinal infection aggressively with intravenous antibiotics. On Aug. 31, 2017, Rojas received her first round of treatment from her hospital bedside. It was a combination chemotherapy-immunotherapy regimen called R-CHOP, containing five drugs: rituximab, cyclophosphamide, doxorubicin, vincristine and prednisone. Ongoing nausea and vomiting, a common side effect of R-CHOP, further weakened Rojas, whose body was already reeling from the infection.
Achieving Remission
Rojas tackled treatment with her typical resolve. Her 34-year-old son, Nickalas Collins, an eighth-grade science teacher in Kansas City, Missouri, recalls that same tenacity as she rose to leadership positions throughout her career. She started her professional career selling cars as the only Hispanic woman doing that job at a local dealership. Her strong work ethic set the tone as she moved on to leadership positions, including as the CEO of the Hispanic Chamber of Commerce of Greater Kansas City and the vice president of strategic alliances and special projects for the United States Hispanic Chamber of Commerce, with headquarters in Washington, D.C. "She's just always had this mentality that you are the one responsible for your own journey," Collins says. "My mom is a problem solver and a fighter. She's driven to make things better."
After she finished six rounds of chemotherapy, Rojas' cancer went into remission. While Rojas had maintained a fairly active lifestyle before cancer, she now started a wellness plan that included eating healthier food and incorporating strength training into her workout routine. "I became far more thoughtful and intentional about my commitment to my own health," says Rojas. By September 2017, she was starting to feel like herself again. "I just had a healthier outlook on life. When you start feeling your body coming out of something so traumatic, it's hard not to feel positive," she says.
But in April 2018, Rojas felt a lump on her neck as she was on a flight to the NFL draft in Dallas. After the trip, she learned that the cancer had returned, which occurs in approximately 40% of patients with DLBCL after initial therapy, says McGuirk.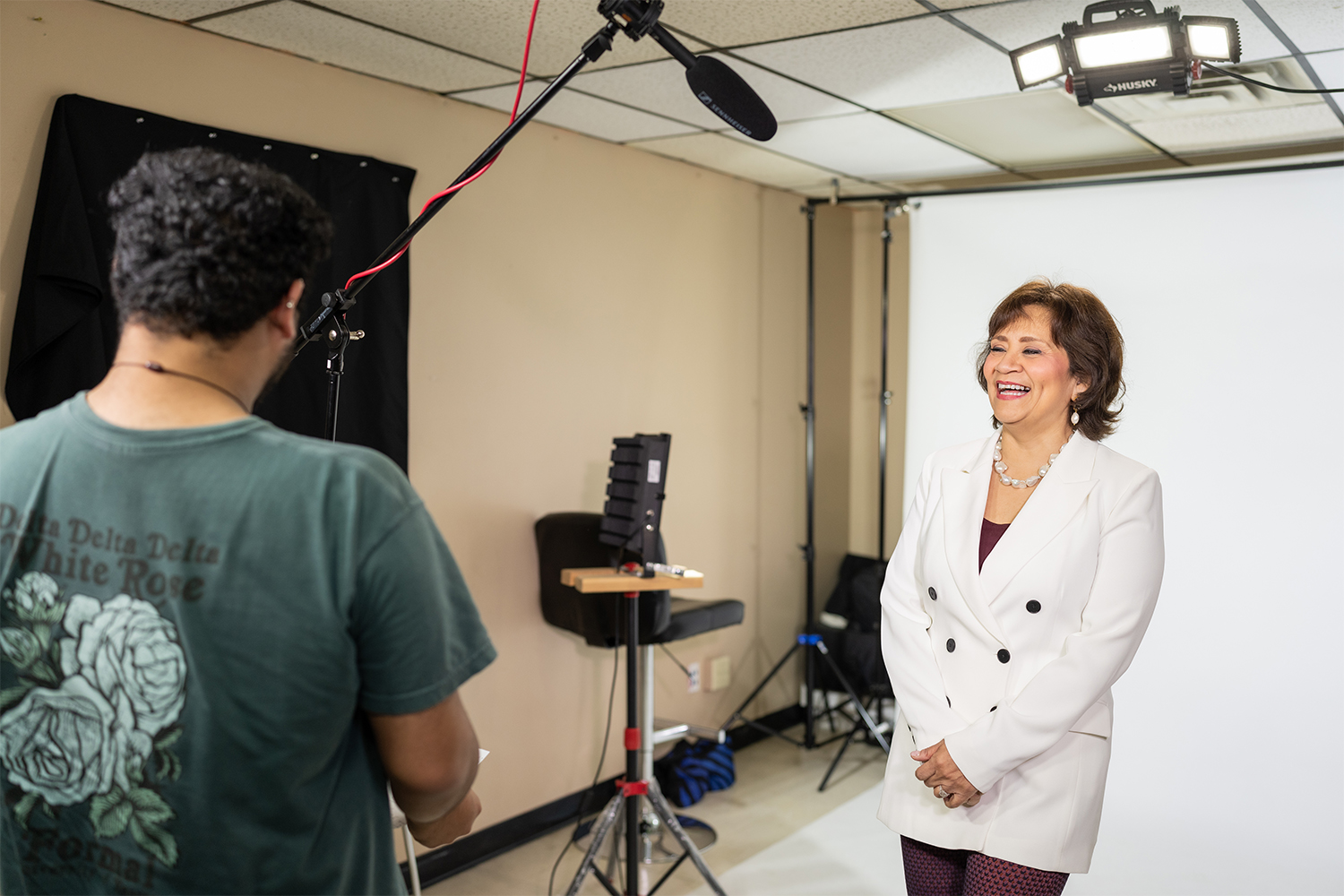 A Chance to Be Represented
Historically, second-line treatment for relapsed DLBCL has included removing stem cells from the bone marrow of the patient and giving the patient a high-dose chemotherapy with a different set of drugs, followed by a stem cell transplant with the patient's own cancer-free cells. But only 30% to 40% of patients who receive stem cell transplants after a recurrence go into remission. For the 60% to 70% of patients whose cancer comes back after the transplant, few options offer the possibility of long-term disease-free survival.
In 2017, the Food and Drug Administration approved CAR T-cell therapy for people whose B-cell lymphoma comes back two or more times after treatment, providing another option for them. In CAR T-cell therapy, immune cells called T cells are taken from a patient's blood and genetically modified in a laboratory to attack cancer cells. These modified cells are then infused back into the patient's body in large numbers. In clinical trials, more than 40% of patients with DLBCL and two or more recurrences were still in remission 15 months after completing treatment. These people would have had little hope of long-term survival less than a decade ago, McGuirk says.
When Rojas' lymphoma relapsed the first time, McGuirk mentioned that he was enrolling patients for a clinical trial to test the efficacy of CAR T-cell therapy as a second-line treatment alongside the standard high-dose chemotherapy regimen. Rojas enrolled in the trial without hesitation. "I felt like I had nothing to lose at that point," she says. Rojas and her husband, Monterroso, saw the trial as an opportunity for a potentially better shot at survival and to help ensure that Latinos, who are historically underrepresented in clinical trials, would be part of this study.
Rojas received CAR T-cell therapy in July 2018. Patients undergoing CAR T-cell therapy often are hospitalized for a week or two following the infusion of modified T cells. This is so that doctors can monitor for any severe or life-threatening side effects. She experienced nausea, disorientation and insomnia—all common side effects of the treatment. "It was like the flu times 100," says Rojas. But after nearly a month of intense treatment, Rojas' tests showed no traces of cancer.
Could CAR T-Cell Therapy Be Used Earlier in Treatment?
New research is changing how CAR T-cell treatments are used. Clinical Trial Participants like CiCi Rojas play an important role.
On Feb. 17, 2022, the New England Journal of Medicine published findings from the phase III clinical trial in which CiCi Rojas participated. The trial, called ZUMA-7, compared the efficacy of CAR T-cell therapy to the current standard of care for second-line treatment in patients with diffuse large B-cell lymphoma that had relapsed or wasn't responding to treatment.
ZUMA-7 looked at CAR T-cell therapy with the drug Yescarta (axicabtagene ciloleucel). It found that after 24 months, 41% of patients on Yescarta had not experienced progression of the disease, start of new lymphoma therapy or death, compared to 16% of patients receiving standard second-line care.
According to Joseph McGuirk, a medical oncologist at the University of Kansas in Kansas City, Kansas, the findings from ZUMA-7 were in line with those of the TRANSFORM trial presented in 2021 at the American Society of Hematology annual conference. TRANSFORM, which compared CAR T-cell therapy with the drug Breyanzi (lisocabtagene maraleucel) to standard second-line care, found patients receiving Breyanzi survived for approximately 10 months without experiencing cancer progression or starting new lymphoma treatment, compared to roughly two months for patients receiving standard treatment.
A flurry of new research leaves McGuirk feeling optimistic about recent advances in care for relapsed lymphoma patients. "As we learn more about the immune system, we're leveraging that knowledge to design new therapies," he says. McGuirk acknowledges the importance of patients like Rojas who choose to participate in clinical trials to test those new therapies. "We can't do the kind of studies that seek to move treatment forward without them," he says.
A Shift in Perspective
Her relapse in 2018 forced Rojas to reshape how she viewed her disease. She had to accept that she couldn't control whether the cancer would go into remission and stay that way, but she could control how she spent her time and energy.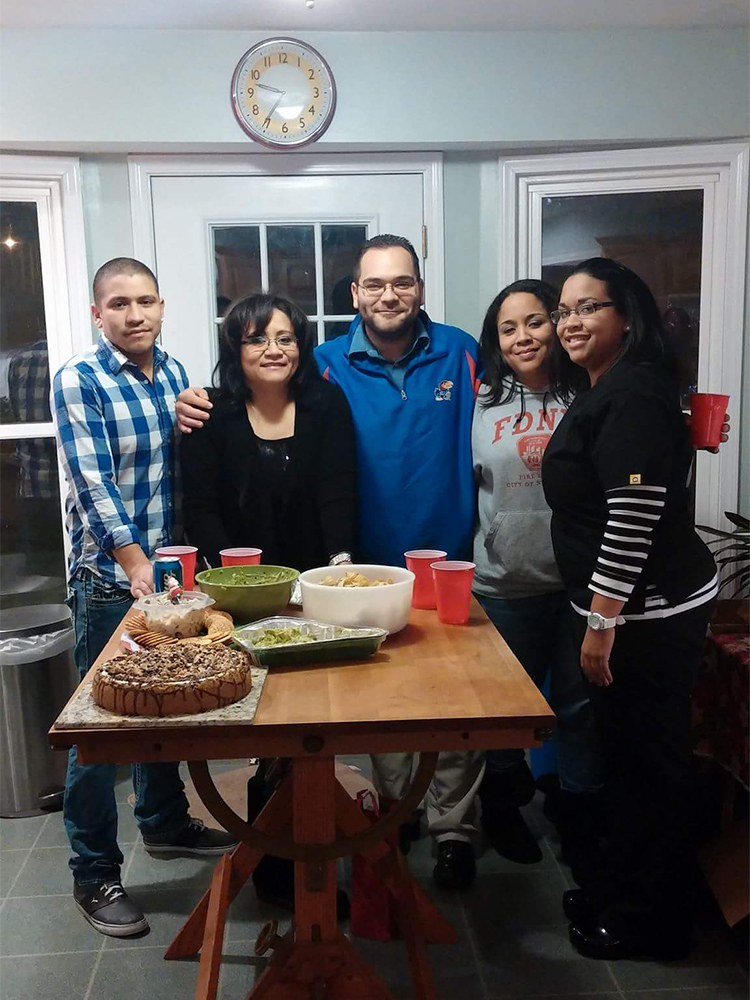 In late 2019, Rojas and her family learned the cancer had returned yet again. This time, she would undergo another round of CAR T-cell therapy followed by a bone marrow transplant. Often, patients will receive a transplant of their own healthy stem cells after chemotherapy treatment to wipe out the cancer cells. But since Rojas responded poorly to the initial chemotherapy treatment and cancer was already present in her bone marrow cells, her team believed that another round of CAR T-cell therapy followed by a transplant of stem cells from a healthy person would offer her the best shot at a cure. A bone marrow transplant using the stem cells of another person carries substantial risk. A life-threatening immune system reaction can occur if the bone marrow cells from the donor attack the patient's organs. Yet Rojas opted to proceed. Her son, Nickalas Collins, was the bone marrow donor.
Both Collins and Rojas checked into the University of Kansas Cancer Center. Doctors extracted stem cells from Collins' hip bones while he was under anesthesia. When he awoke from the procedure, he walked down the hallway to watch his mother receive the cells.
Recovery after the bone marrow transplant was grueling—the hardest thing Rojas had ever done. She was hospitalized in isolation for 60 days. She experienced debilitating nausea. She was down to just 98 pounds, after weighing about 135 pounds before the procedure. "I had no muscle," she says.
Patients who undergo a bone marrow transplant essentially build a new immune system with the donor's cells, explains McGuirk. This process takes several months. During this period, the patient must be extremely cautious about avoiding exposure to germs. When Rojas returned home from the hospital in January 2020, everyone around her, including family members, had to wear masks, keep a distance and sanitize their hands constantly. Her two dogs were not even allowed on the same floor of the house.
On rare trips outside the house, people would stare at Rojas and Monterroso for wearing hygienic masks and latex gloves, behaviors that would become normal months later when safety measures were put in place in response to the COVID-19 pandemic in the U.S. in March 2020.
Through it all, Rojas continued to work on expanding her business—even if some days she had the energy to spend only five minutes at a time sending an email. That included helping to secure a contract with the NFL for Tico Sports to provide the Spanish language broadcast for Super Bowl LIV in 2020. The work helped her feel productive and kept her mind busy. "The business was her tether to reality," says Collins.
Lessons to Live By
Rojas has been cancer-free since March 2020. She's back to traveling several times a month for her sports media company and fills leadership roles in civic organizations across the country. Rojas is the chair of the YMCA National Board of Directors and is president of the Latino Coalition, a national nonprofit that advocates for policies to support Latino businesses.
She has applied the lessons she learned as a cancer survivor to leadership. "In a way, having cancer sharpened my decision-making skills and clarified my values," she says. "I don't waste time anymore. I shed the things that aren't important and amplify the things that are." Rojas focuses only on what leaves her feeling energized and inspired. That includes creating opportunities for people of color in sports business and broadcasting. One intern went on to work for the NFL, for instance, while another has taken on leadership roles for the University of Kansas football and men's basketball broadcasts.
Rojas goes for scans every six months and acknowledges that the cancer could come back. She admits it's stressful but says she has learned not to live in fear. "I'm trying to see the positive in all of it," she says. "If it comes back, I will fight it again."
Cancer Today magazine is free to cancer patients, survivors and caregivers who live in the U.S. Subscribe here to receive four issues per year.