"I'M A RABBI, so I'm biologically wired to be the one providing comfort and support," says Ben David, 42. But in January 2016, sitting in an oncologist's office just a day after his 39th birthday, he faced a cancer diagnosis that would change his life and teach him how to accept help from others.
David—an avid runner, husband, father of three and the senior rabbi at congregation Adath Emanu-El in Mount Laurel, New Jersey—was diagnosed with a fast-growing cancer called diffuse large B-cell lymphoma (DLBCL), and he would need to start treatment immediately.
"A Bolt of Lightning"
Even before his diagnosis, David had an inkling it could be cancer. He had noticed a lump on his neck the previous fall, but it hadn't bothered him too much. At the time, David had already completed 17 marathons and more than 20 half-marathons. He was logging more than 30 miles running each week and felt great. "I ran, went to the gym, ate healthy, lived healthy. It seemed like I was doing everything right," he says.
Video Exclusive

Rabbi Ben David talks about life after a diagnosis of stage I diffuse large B-cell lymphoma. In this video, learn more about how he juggled his roles of husband and father, rabbi and marathon runner
But when the lump hadn't gone away by December 2015, David scheduled an appointment with his primary care doctor, who referred him to an ear, nose and throat specialist. The look of concern on the specialist's face and the urgency in his voice when he recommended David get the lump biopsied struck him "like a bolt of lightning."
David spent the next six weeks in diagnostic limbo as he met with specialists and underwent biopsies and other tests. The uncertainty was agonizing, remembers his wife, Lisa. They knew something was wrong, but not what. Having a diagnosis was in some ways a tremendous relief, he says. "We had a name for it and we could treat it. I had a plan and a path forward."
DLBCL starts in white blood cells called B lymphocytes. It is the most common type of non-Hodgkin lymphoma. There are roughly 125,850 new cases of non-Hodgkin lymphoma diagnosed in the U.S. each year, and DLBCL accounts for about 22 percent of them. While more than half of patients with non-Hodgkin lymphoma are 65 or older at diagnosis, DLBCL is also diagnosed in younger people, even those in their teens or 20s, says Daniel J. Landsburg, who treated David. Landsburg is a medical oncologist and hematologist at Penn Medicine Abramson Cancer Center in Philadelphia.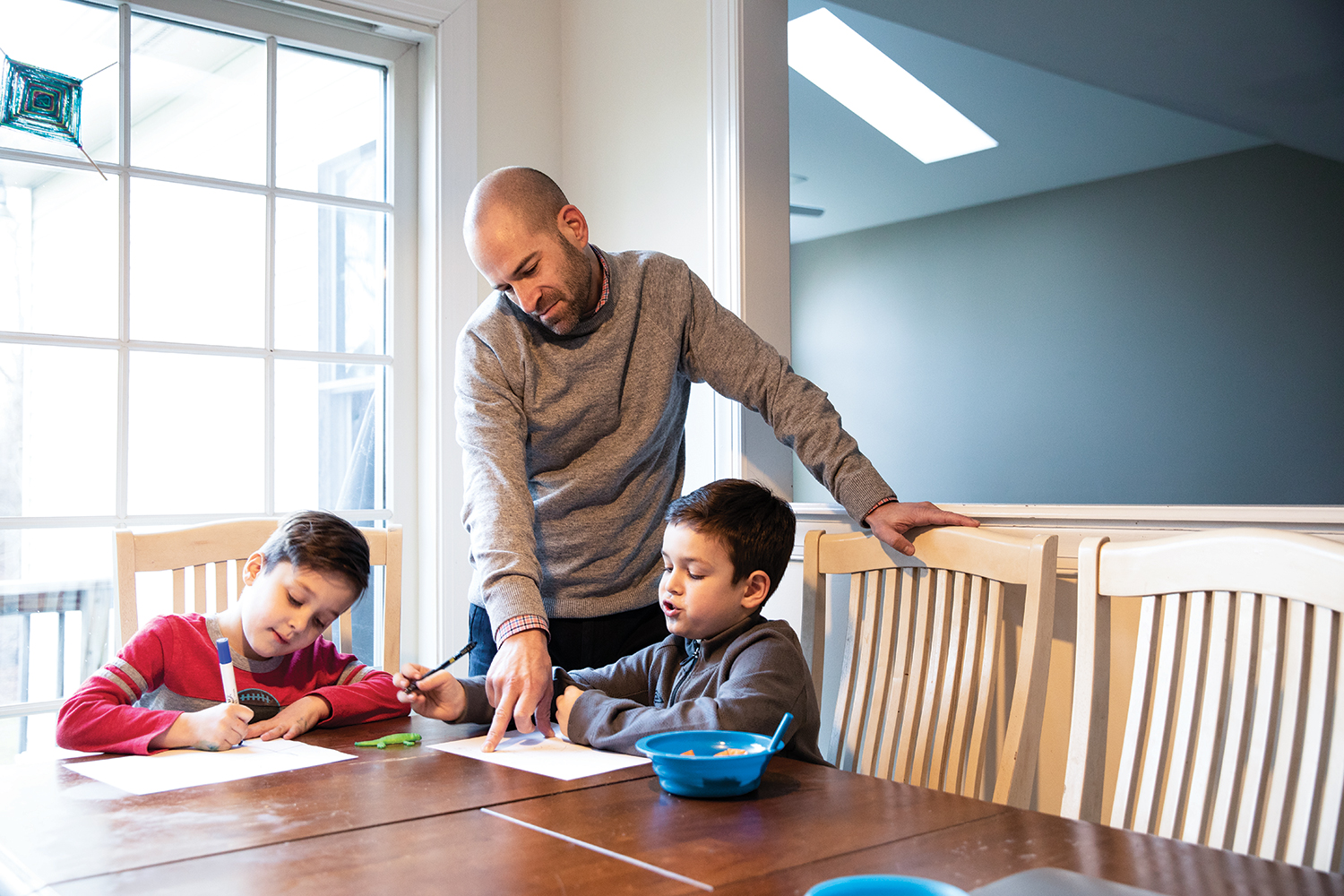 An Aggressive Treatment Plan
David's prognosis for stage I DLBCL was good from the outset. About 90 percent of patients with his stage of DLBCL and other features similar to his cancer can be cured with the standard therapy for DLBCL, called R-CHOP, a chemotherapy regimen of five drugs: rituximab, cyclophosphamide, doxorubicin, vincristine and prednisone. However, R-CHOP doesn't work equally well for everyone with DLBCL. Landsburg had reason to suspect it might not work well for David because of an abnormality in a gene that indicated a less favorable outcome from standard treatment.
Armed with this molecular information, David, on the recommendation of his doctor, opted for a more intensive treatment that could offer better odds for a cure, but the regimen would put him in the hospital hooked up to a continuous chemotherapy drip for several days at a time. The five-day infusion, called R-EPOCH, consisted of six drugs: rituximab, etoposide, prednisone, vincristine, cyclophosphamide and doxorubicin. "It's similar to R-CHOP in some ways," says Landsburg, but "exposes lymphoma cells to chemotherapy over a longer period of time."
Humor and Hope
David started the R-EPOCH infusions in February 2016. Despite spending almost every hour of the day in the hospital lying in bed or sitting in a chair, he remembers feeling good during his first week of treatment. Friends visited him. Lisa spent most days by his side, keeping him company while working on her laptop. He took comfort in following his usual routine: sending emails, reading a page of the Talmud every day and watching the Philadelphia Flyers play hockey on TV. "There were moments that felt strikingly normal," says David.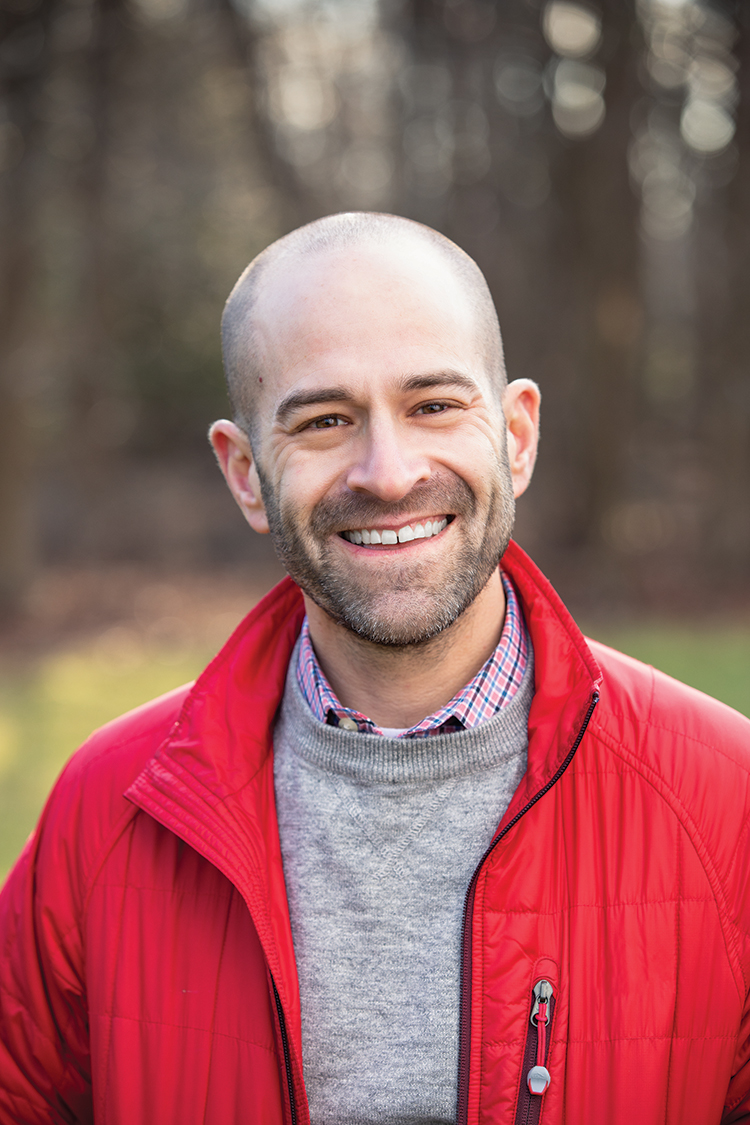 The three weeks of recovery at home between each week in the hospital proved to be a struggle. "I thought that on some level, I could still be present as a rabbi, but that illusion quickly went out the window," he says. He could barely lift himself out of bed for the first few days at home after a hospital stay. His appetite suffered—the only food he could stomach was scrambled eggs. As for running? No way.
Gradually, over the three weeks at home, David started to feel better. As he recovered, he would take short trips to the synagogue—staying an hour or two, teaching a little if he could manage it. He continued to lead a class for teens on Wednesday nights. "With the kids and teens, I didn't feel like a patient. That gave me so much hope and reminded me of my purpose," he says.
He finished four cycles of chemotherapy by the end of April 2016 and had 17 sessions of radiation therapy between April and June. A PET scan later in the summer confirmed the cancer was gone.
"In some ways you're living this impossible burden, but there's also an ironic sort of humor to be found in the whole thing," says David of his treatment. "When you're in the hospital, they tell you to take it easy, yet [they] wake you up every hour to take blood pressure and vitals. They ask if you're comfortable, when obviously you're not. The doctors and nurses get it; they're in on the joke."
Laughing often helped him focus on finding joy in small ways and in unexpected places throughout treatment. For example, in the hospital, he was expected to drink the nutritional beverage Boost to keep his calorie intake up. "It tasted terrible. Lisa and I used to joke about what it was actually boosting. My nausea? My overall sense of frustration?" remembers David. "Choosing to laugh helped me to realize that just because I was a cancer patient, I didn't need to resign myself to a lack of happiness. I could still be a major player in pursuing my own happiness," he says.
David began to look forward to all the races he would run and the sermons he would write after treatment. He felt hopeful.
Genetic Subtyping Helps Direct Treatment
Doctors have come to understand that diffuse large B-cell lymphoma is a collection of distinct cancer subtypes.
B-lymphocytes are white blood cells that help fight infections. They develop in the body's lymph organs, including the bone marrow, spleen and lymph nodes. In diffuse large B-cell lymphoma (DLBCL), B-lymphocytes grow bigger than normal. They don't respond to the molecular signals that typically tell cells in the body that it's time to stop growing and dividing. Rapidly growing tumors appear in the lymph nodes and other organs. DLBCL is just one type among the blood cancers known collectively as non-Hodgkin lymphoma.
In recent years, doctors have come to understand that DLBCL is itself a collection of distinct cancer subtypes, each with its own genetic profile. Certain DLBCL genetic subtypes point to a poorer response to standard chemotherapy treatments. Ben David, for instance, is in a minority of DLBCL patients whose cancer tested positive for an abnormality in a gene called MYC, which can occur in up to 15 percent of patients with DLBCL. This MYC variant indicates a poorer response to the standard treatment. Genetic typing of DLBCL tumor cells is beginning to help doctors identify patients who may benefit from a more aggressive chemotherapy regimen.
Learning to Receive
As the senior rabbi of a congregation of more than 400 families, David had officiated at countless bar and bat mitzvahs, weddings and funerals. He and his family were accustomed to the spotlight that comes with a community leadership role. Nevertheless, the focus on his cancer and the feelings of vulnerability that came with it were foreign to David. He found the outpouring of support from community members overwhelming at first. "I was the one accustomed to being in that position of support," he says. "I wasn't really ready to be on the other end of it. I didn't know what to do with that."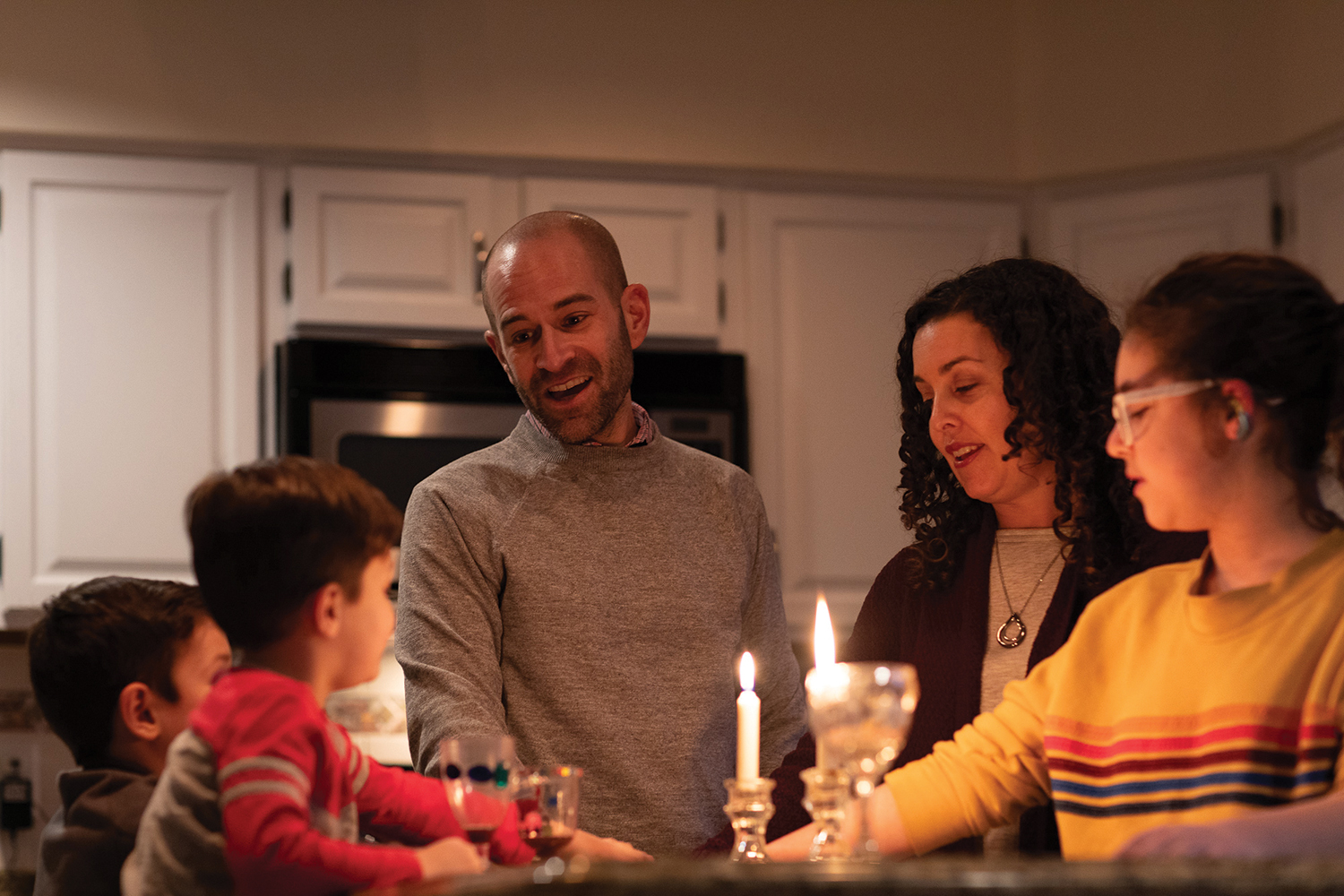 There were cards, meals, blankets and offers to help in any and every way imaginable. "We had people picking the kids up from karate or waiting for them at the bus stop when I was at the hospital with Ben," remembers Lisa. Their children were 3, 5 and 8 at the time, and the Davids were grateful for the assistance. "It was really reaffirming to have such tremendous support from the community," says Lisa. And the offers of help with the kids allowed the two of them "to spend some uninterrupted, quality time together, which was really comforting," she says.
Eventually, the couple began to realize that accepting help and support from others is just as important as giving it. Letting others help you in their own way is a form of generosity, explains David. By stepping into the role of receiver, the Davids allowed others to fulfill their need to be givers.
Moving On After Treatment
On a June day in 2016, David completed his last radiation appointment and arrived home to an unusually calm house. Lisa and their children were away in the Pocono Mountains of Pennsylvania at a Jewish summer camp where Lisa is director. One of the first things he did was go for a jog, but the once-adept distance runner lasted a mere five minutes. "I was wrecked. I couldn't believe how far I had fallen," says David. "You think you'll deal with treatment and then just go right back to who you were, but your body has faced a major trauma."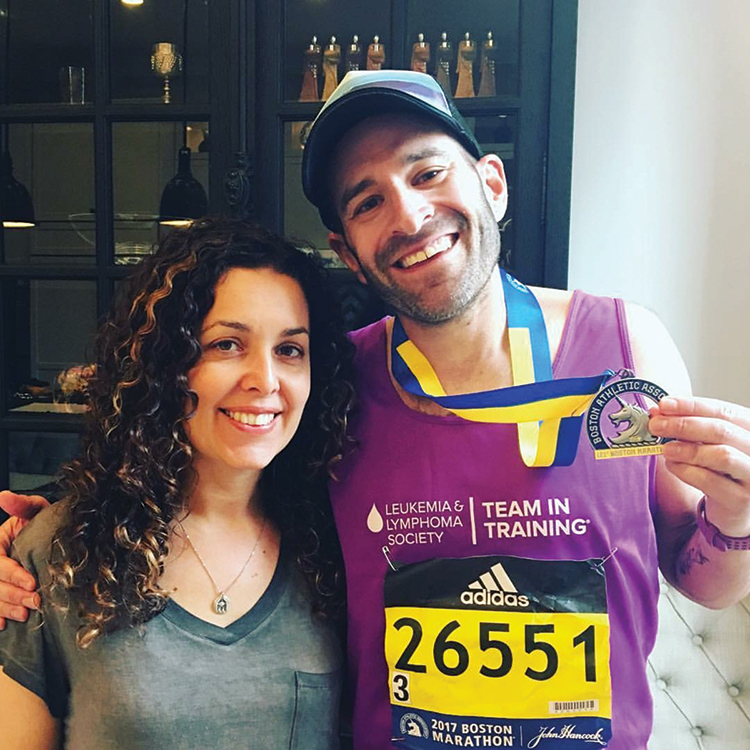 David didn't stay discouraged for long. He started a slow comeback, increasing his mileage a bit each week. He set his sights on a new goal: running in the 2017 Boston Marathon, which held special significance for him. He had last completed the race in 2013, less than an hour before two bombs exploded near the finish line, killing three and wounding hundreds. While training for the 2017 race, David raised more than $10,000 for the Leukemia & Lymphoma Society.
In April 2017, he completed the 26.2-mile event in just under 3 hours and 47 minutes, nearly half an hour slower than his previous Boston Marathon. But David wasn't comparing the times. "I felt so happy being out there, feeling like myself again," he says. Now, nearly three years out from cancer treatment, he's graduated from checkups with the oncologist four times a year to once-yearly checkups and scans. Though David has put considerable miles between himself and lymphoma, he says he lives with some fear in the back of his mind that the cancer could come back one day. But it's not keeping him up at night.
He adds that living through cancer has given him a greater sense of understanding and respect for those in his congregation who are hurting for any reason. When speaking with cancer patients and their families, he avoids clichéd responses—"that you're a warrior fighting a battle against cancer, and that being sick makes you some kind of a hero. I certainly didn't feel like a hero," says David.
If there was a victory over cancer for David, it was simply getting to be himself again—a dad and husband, rabbi and runner. "I think that's all most people want. To get back to their lives and who they were," he says.
Cancer Today magazine is free to cancer patients, survivors and caregivers who live in the U.S. Subscribe here to receive four issues per year.