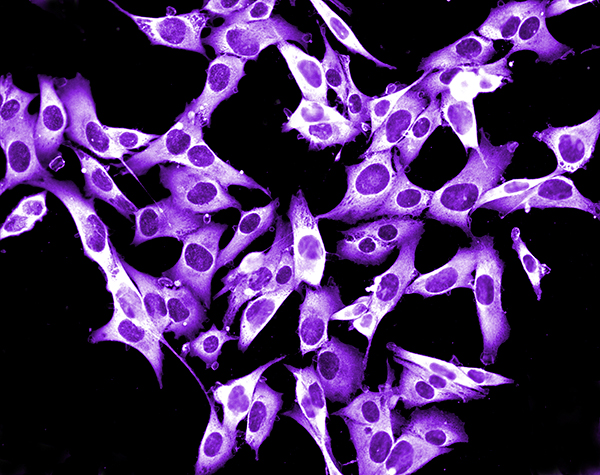 Cancer survivors often worry that their cancer will recur. But some also need to be aware that their cancer and its treatments may put them at risk for developing a second type of cancer. If doctors can identify which survivors are at risk for which second cancers, close monitoring can potentially catch these cancers early. To that end, a new study has pinpointed several risk factors that put older survivors of non-Hodgkin lymphoma (NHL) at risk for melanoma, a potentially deadly type of skin cancer.
For the study, published in the Oct. 1, 2015, Journal of Clinical Oncology, researchers crunched numbers from the Surveillance, Epidemiology and End Results (SEER)-Medicare database, which tracks cancer diagnoses, treatment and survivorship in Medicare patients. They looked at close to 45,000 people between the ages of 66 and 83 diagnosed with non-Hodgkin lymphoma from 1992 to 2009.
The study found patients who had chronic lymphocytic leukemia (CLL) or small lymphocytic lymphoma (SLL)—two closely related subtypes of NHL—were at the greatest increased risk for melanoma. Treatment profiles suggested the increased risk might be linked to the chemotherapy drug Fludara (fludarabine), which is often used to treat these types of NHL. Risk of melanoma was also increased among CLL and SLL survivors who had certain types of autoimmune diseases (Graves' disease, psoriasis and asthma) before their cancer diagnosis or who developed one (chronic rheumatic heart disease, skin-related autoimmune conditions and asthma) after cancer treatment.
This study was exciting because "although we'd long known that NHL survivors had increased risk of melanoma, no one had previously had the data to investigate specific risk factors," says Lindsay Morton, an epidemiologist with the National Cancer Institute's Division of Cancer Epidemiology & Genetics who co-led the study.
The American Cancer Society estimates that about 72,000 people will be diagnosed with NHL in 2016. Each year, about half of all new diagnoses are in individuals over age 66. The two subtypes, CLL and SLL, made up about a third of NHL diagnoses in the current study.
Morton cautions that the findings from her study directly apply only to patients in the age range studied. Whether younger CLL or SLL survivors are also at increased risk of melanoma will need to be determined in a future study.
This paper sends the message "that older NHL survivors, especially those with CLL or SLL who were treated with fludarabine or who have a history of autoimmune diseases, may benefit from regular full-body skin examinations," Morton says. She suggests concerned survivors consult a dermatologist for individual recommendations.
It's not only melanoma that NHL survivors should be on the lookout for, adds Richard Ambinder, a medical oncologist with the Johns Hopkins Kimmel Cancer Center in Baltimore. "Skin cancers are a big problem for CLL and SLL patients, so they ought to have a low threshold for getting [medical] attention for new spots on their skin," he says.
Cancer Today magazine is free to cancer patients, survivors and caregivers who live in the U.S. Subscribe here to receive four issues per year.