"Cancer—Did you know?" That's the question the Union for International Cancer Control (UICC), based in Geneva, posed across the globe on World Cancer Day on Feb. 4.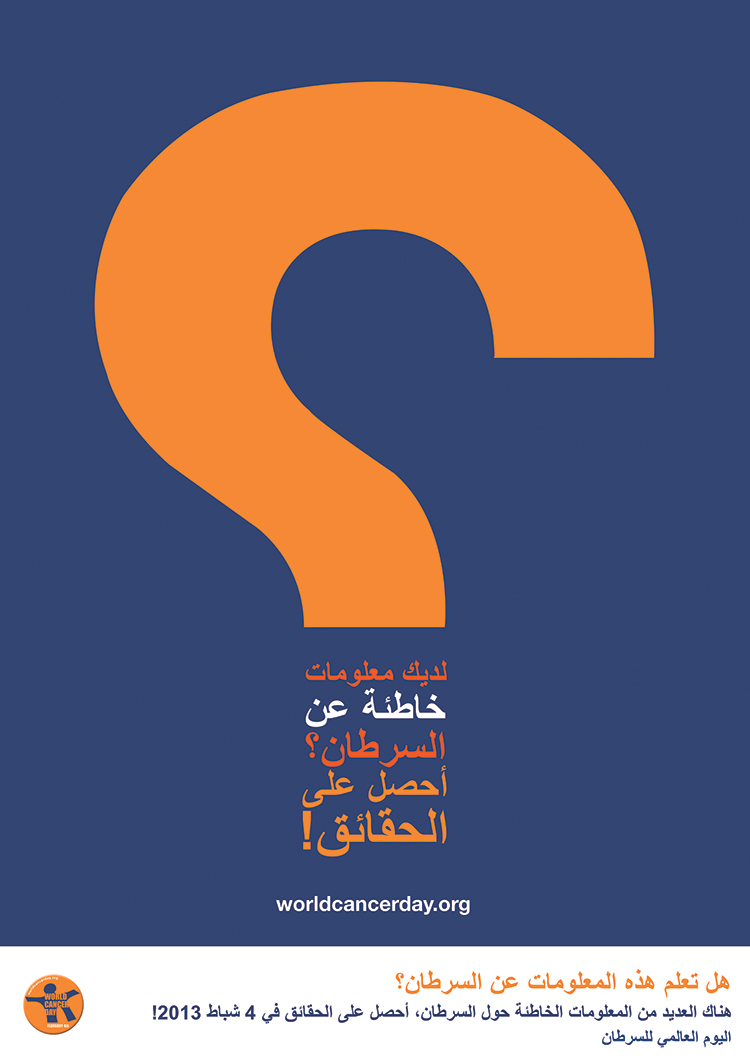 Established in 2006 by the UICC, the annual event draws attention to a stark fact: Cancer is a leading cause of death worldwide, responsible for more deaths than AIDS, malaria and tuberculosis combined. In 2008, the most recent year for which global statistics are available, 12.7 million people learned they had cancer, and 7.6 million people died of the disease.
Promoted by posters in 15 languages (like the one in Arabic at right), World Cancer Day encouraged people to dispel myths and get facts about cancer. The campaign featured close to 580 events, ranging from an awareness program in Jakarta, Indonesia, which included health care providers and cancer survivors in yellow shirts standing in public places handing out materials about cancer, to free cancer screening tests at each of Kazakhstan's regional cancer centers and the Kazakh Research Institute of Oncology & Radiology. Combined with social media campaigns, the day's events are estimated to have increased the cancer awareness of at least 285 million people.
"It doesn't matter where you live, what your financial position is, or what kind of health or education level you have," says Vanessa Von der Muhll, the UICC's head of communications, marketing and web. "Cancer is generally misunderstood across the world."
To learn more, visit www.worldcancerday.org.
Cancer Today magazine is free to cancer patients, survivors and caregivers who live in the U.S. Subscribe here to receive four issues per year.