When state attorneys general won more than $200 billion from cigarette companies in the 1998 landmark Tobacco Master Settlement Agreement, a smoke-free America appeared closer to reality, with states finally able to allocate enough money to fund significant antismoking programs.
But a report issued in December by a coalition of public health groups, led by the Campaign for Tobacco-Free Kids, suggests Americans shouldn't hold their breath. According to the report, hardly any of the almost $26 billion that states receive each year from the settlement and state tobacco taxes is funding programs that stop kids from smoking or help current smokers quit. The problem: The attorneys general allowed the money to enter state coffers with no restrictions.
"Unfortunately, there was no mandate about how the settlement money should be spent, so there has been a lot of lip service paid to these programs and not a lot of action," says Pete Fisher, the vice president of state issues at the Campaign for Tobacco-Free Kids.
Where Does Your State Stand?
Learn how much your state is allocating for tobacco prevention programs.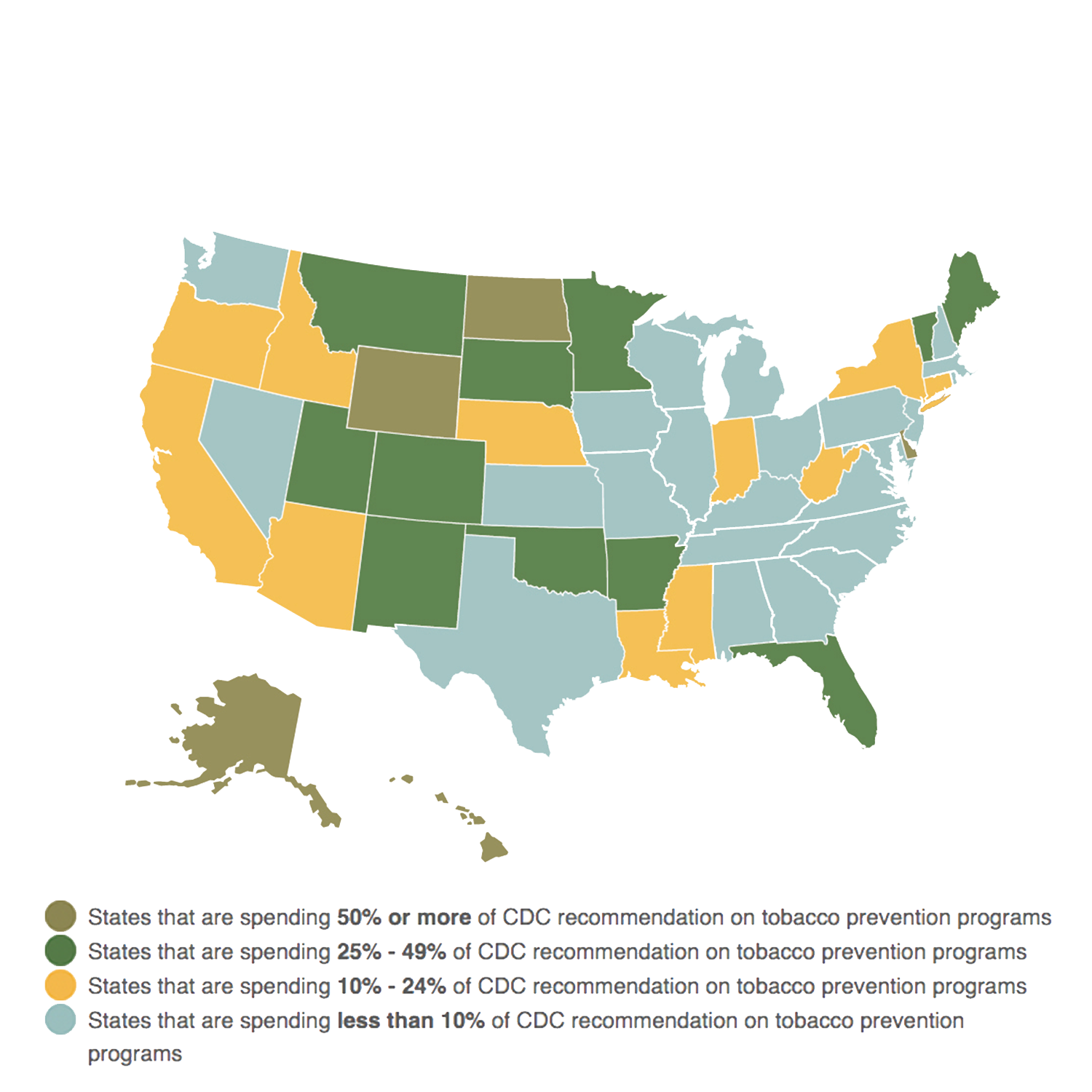 Visit the Campaign for Tobacco-Free Kids for an interactive version of this map to see where your state spending ranks.
The report estimates that states in 2013 will use just $459.5 million—less than two cents of every dollar received in settlement money and tobacco taxes—to fund antismoking efforts. In 2010, the last year for which figures are available, tobacco companies spent about $8.49 billion on U.S. marketing alone, outspending tobacco prevention efforts by more than 18 to 1.
There are a couple of success stories—Alaska and North Dakota are both funding tobacco prevention programs at or near the levels recommended for those states by the Centers for Disease Control and Prevention (CDC). But most states' report cards are dismal disappointments, with four states—New Hampshire, New Jersey, North Carolina and Ohio—not planning to allocate any of their tobacco monies toward antismoking efforts in 2013.
So what will it take to stop shortchanging antismoking programs? "People need to demand that their state policymakers step up to the plate," says Fisher. "Studies suggest that for every dollar of prevention, the states will save five dollars in future health costs, so it's really a case of legislators being penny-wise and pound-foolish."
Cancer Today magazine is free to cancer patients, survivors and caregivers who live in the U.S. Subscribe here to receive four issues per year.