FOR NEARLY TWO YEARS, Albert Khoury had been sick on and off. His doctor thought his coughing and difficulty breathing were symptoms from bouts of pneumonia. Just three days into the new year in 2020, the lifelong Chicago resident felt feverish and had unbearable back pain. He started sneezing and coughing up marble-sized clumps of blood in his mucus. His doctor again suspected pneumonia, prescribed an antibiotic and ordered a CT scan—his second scan in the span of a year.
Khoury felt nervous as he got weaker over time. A fitness enthusiast who typically ran three miles a day, Khoury found himself struggling to catch his breath just a quarter mile into a run. "I thought I had COVID," says Khoury, who was 52 at the time. COVID-19 had started to garner national headlines, but most Americans remained unsure about its symptoms and how it spread. On Feb. 14, he had a CT scan, which showed a mass in his lung. His doctor referred Khoury to a pulmonary specialist, who suspected a fungal infection. He suggested Khoury take an expectorant to clear mucus, but he also referred him to an oncologist for further testing.
But with the nation hunkered down as COVID-19 infections soared, Khoury couldn't get in for an appointment. His visit was delayed until late June—more than four months after the CT scan revealed the mass. A bronchoscopy, which examines the bronchial passages of the lungs, revealed he didn't have COVID-19, pneumonia or a fungal infection, but a form of cancer called invasive mucinous adenocarcinoma in one lung.
Khoury underwent four rounds of chemotherapy. In September, further tests revealed the cancer had spread to his other lung, making it stage IV cancer. Doctors told him he only had months to live.
Khoury began seeing another oncologist, who continued treatment with 12 more rounds of chemotherapy. Still, the cancer continued to grow—causing his lung to collapse.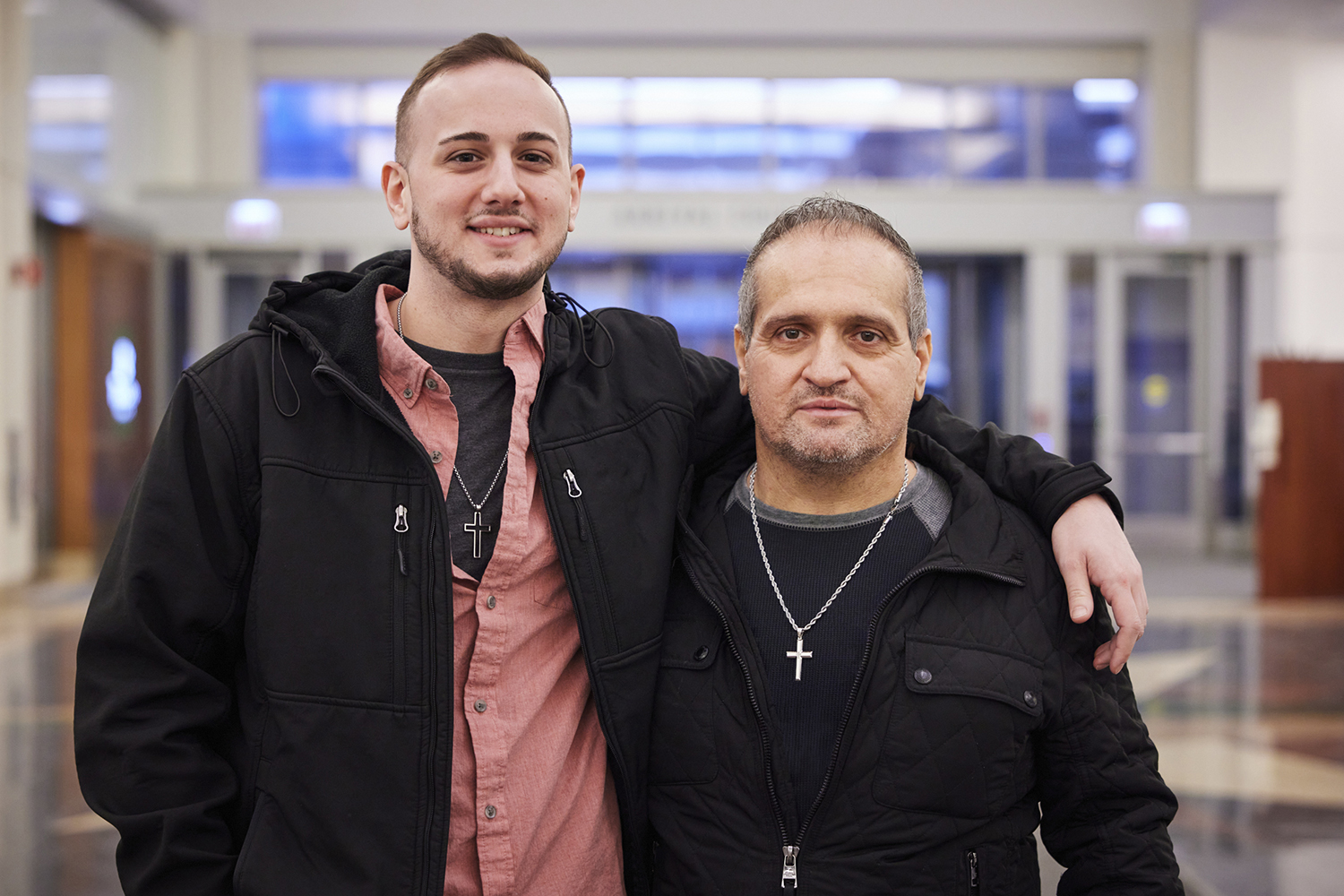 An affable man with a quick and easy laugh, Khoury remembers prioritizing his usual routine—while continuing to look for other treatments. "I said, 'You know what? I'm not going to let this cancer stress me out,'" he says. He went to the gym, hung out with friends and family, and continued to frequent the local pizza joint with his oxygen tank in tow. During treatment, he reported to work with the Chicago Department of Transportation, where he has been a cement finisher for 22 years. His coworkers were "amazing," he says, donating to cover medical expenses and making work accommodations.
With the cancer still not responding to chemotherapy, Khoury's doctors recommended stopping treatment and offered him hospice care. This time, he was told that he had just weeks left to live. Even with the news, Khoury, same as always, got up and went to work the next day. He was determined to explore other treatment options, eventually convincing doctors to take a chance on a rare transplant surgery that would save his life.
Could This Work?
Looking back on his experiences, Khoury tears up at the thought of how his family, including his three siblings and his nephew, put their lives on hold for him. His nephew Joseph Khoury, his brother Sam Khoury, and his sister Samantha Accairi accompanied him to doctors' appointments. He also lived with his brother Sam and his sister Salwa Khoury during treatment. His siblings pitched in to run errands, get medications and make calls to doctors' offices. "They would support me no matter what," he says.
In late 2020, Accairi saw a news story about a woman in her 20s who received a double lung transplant after she had been hospitalized with a severe case of COVID‑19 and placed on a ventilator for two months. Accairi immediately wondered if the disease that had delayed her brother's diagnosis could now lead to a treatment for his cancer.
Khoury's nephew set up an appointment for him at Northwestern Medicine, where Khoury met oncologist Young Kwang Chae. He asked about the possibility of a lung transplant. "I initially told him no," Chae says. "Having advanced cancer is a contraindication for any—not just lung—organ transplantation in general."
People with stage IV cancer typically have cancer in other parts of the body, so an organ transplant would not lead to remission, according to Chae. Additionally, cancer patients are not preferred recipients since immunosuppressants that reduce the chances that the body will reject the new organ can also limit the body's ability to fight the cancer if it returns. In fact, all transplant recipients are at an increased risk of developing cancer.
Chae suggested a clinical trial for a drug that inhibits EZH2—a protein often overexpressed in non-small cell lung cancers—but after two months on the trial, Khoury's condition kept deteriorating. His oxygen levels dropped so low that he had to be placed on a ventilator. He developed sepsis, a life-threatening condition that results from an infection, and his doctors feared his organs would start to shut down. Once again, he was told he had only weeks left to live.
But Khoury kept pressing Chae for a lung transplant. "I said, 'The only hope I have is you. Can you make this happen?'" Khoury recalls.
With no other treatments left to consider, Chae began to contemplate the feasibility of a double lung transplant for his patient. Khoury's tumors remained confined to his lungs, so the surgery could work in theory.
A Daunting Diagnosis
Cases of mucinous adenocarcinoma are rare and difficult to treat.
Mucinous adenocarcinoma of the lung is a form of cancer that begins in the cells lining the lungs. As the tumor grows, it causes excessive mucus production. Patients end up unable to breathe, drowning on their own mucus.
Invasive mucinous adenocarcinoma of the lung—typically found in deeper lung passages—makes up less than 4% of non‑small cell lung cancers. This type of cancer in the lung was first described in a case report in 1989, but the World Health Organization didn't classify it as a lung cancer subtype until 2015. Because this subtype is so rare and has only been studied in recent decades, long-term survival data are limited.
In one study, nearly 60% of invasive mucinous adenocarcinoma cases occurred in women, but men were more likely to die from the disease. Patients with this cancer subtype are often smokers, but Albert Khoury, who was diagnosed with the disease in 2020, did not smoke.
In early stages, invasive mucinous adenocarcinoma is often misdiagnosed as pneumonia or tuberculosis. If the cancer is caught while it's isolated to one lung, the standard treatment typically includes combinations of surgery to remove the tumor, radiation and chemotherapy, according to Young Kwang Chae, an oncologist at Northwestern Medicine in Chicago who started treating Khoury in 2021. This rare cancer tends to not respond to chemotherapy. In addition, while immunotherapy has shown promise in some people with non-small cell lung cancer, studies suggest invasive mucinous adenocarcinoma expresses low levels of PD-L1, a protein on cancer cells that, when found in abundance, can predict response to immune checkpoint inhibitors. "We're talking about a very refractory cancer to existing and also developing medical therapies," Chae says.
Leaving Khoury's hospital room one day in July 2021, Chae bumped into Ankit Bharat, the chief of thoracic surgery and director of the Canning Thoracic Institute at Northwestern Medicine, in the hallway. "It was really a pure coincidence, which now I don't interpret as a coincidence," Chae says. He brought up Khoury's situation, and Bharat was open to performing the transplant. He suggested Chae present his case to the committee that reviews lung transplant requests the next day. "To my surprise, everyone said, 'Well, let's try it,'" Chae says.
An Unconventional Surgery
Khoury began to take Lenvima (lenvatinib), a targeted medication that blocks several enzymes involved in cancer growth. His condition improved enough that he was able to come off the ventilator and move out of the ICU. This bought time that allowed doctors to conduct scans to confirm his cancer had not spread beyond the lungs and complete needed pre-surgery examinations. They added Khoury's name to the lung transplant waitlist, where people typically remain for months to years—time doctors weren't sure Khoury had. Two weeks after going on the list, Khoury's lung collapsed again, and he went back on a ventilator. But then, as Khoury describes it, "a miracle happened." After just 17 days on the waitlist, he had been matched with donor lungs.
A double lung transplant is one of the most complex surgeries, Bharat says, but Khoury's condition made the Sept. 25, 2021, operation even more complicated. "Our predominant goal was to make sure that we didn't spread the cancer," Bharat says. "There were a lot of technical changes that we had to think through to make sure that there was no cancer dissemination [into] the body because that can be a catastrophic event."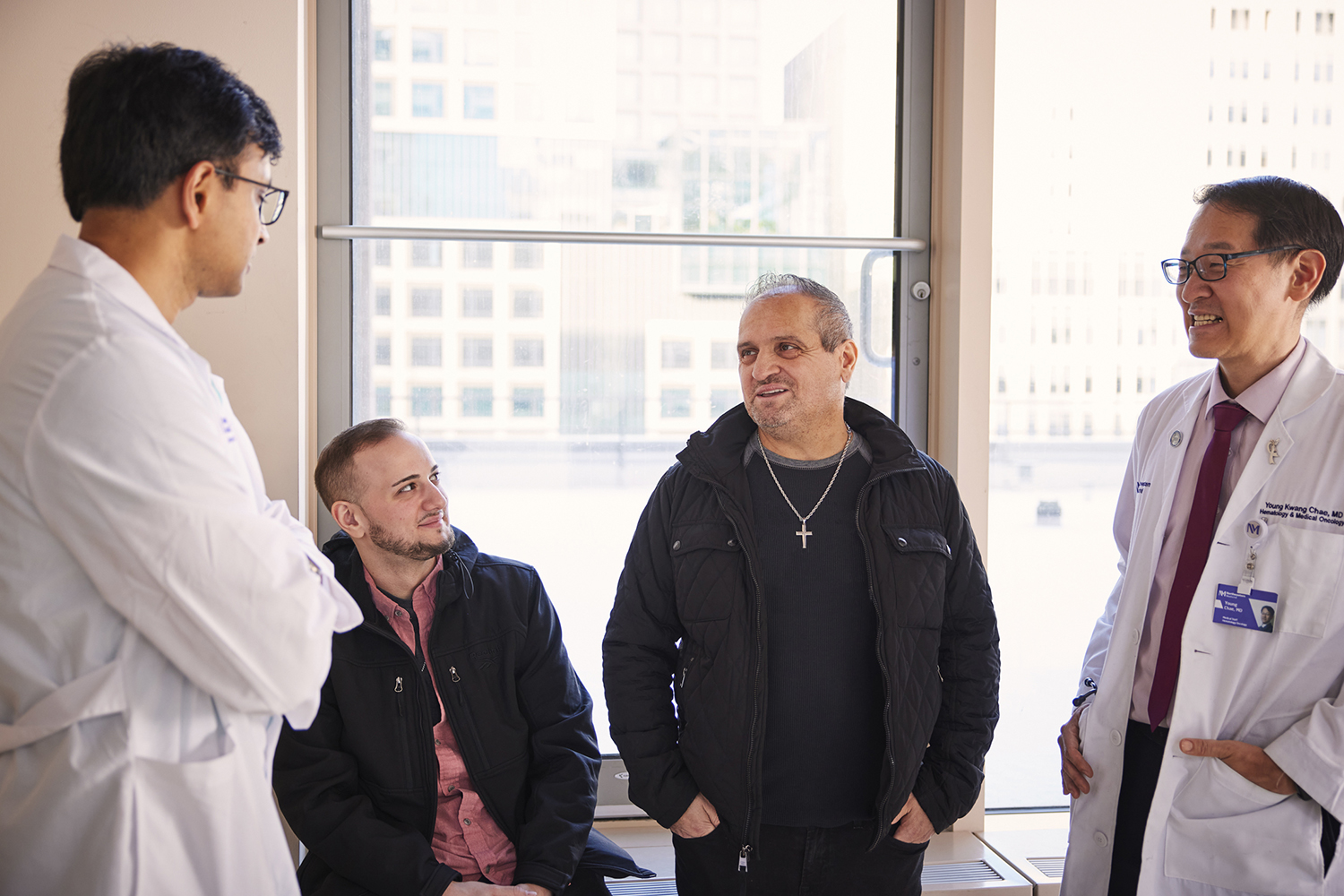 During a double lung transplant, surgeons typically remove one lung and place the replacement lung in the chest cavity. They then repeat the process for the second lung. With Khoury, however, they couldn't risk the chance of the cancer spreading by having a donor lung in the chest cavity at the same time as one of his cancer-riddled lungs. Instead, the surgical team put Khoury on a cardiopulmonary bypass machine, which circulates blood and oxygen in the body, during the eight-hour surgery. Surgeons removed both of his lungs before introducing the two donor lungs in a successful operation.
Khoury recalls his amazement and disbelief when he awoke in his hospital room and saw his family members clapping for him.
"He didn't believe he had lungs when he woke up," says Joseph, who recalls showing Khoury a photo of the X-ray displaying his uncle's new lungs to convince him that the surgery had been a success.
After the operation, doctors used genetic sequencing to analyze the tumors' molecular features, according to Bharat. Every three months, they perform liquid biopsies, or blood tests, to check for these biomarkers in his blood, but more than a year later, there is no sign of his cancer returning.
While a double lung transplant has been used as a treatment for some early-stage lung cancers, Bharat says, he is not aware of previous cases where it was performed on someone with stage IV cancer.
"Transplant and cancer don't go hand-in-hand by conventional teaching," he says. "As we are learning more about cancer biology, what we've realized is that not all cancers are the same, and we cannot just have this kind of cookie-cutter approach and thought process for every cancer."
Chae notes Khoury's specific subtype of mucinous adenocarcinoma is unique in that it only spreads through airways, such as the trachea or bronchus, instead of through the bloodstream or lymph nodes, which is how most cancers travel to distant parts of the body. This kept his cancer contained to his lungs, making him a good candidate for transplant surgery.
"In carefully selected cancer cases, this could be quite a transformative intervention," Bharat says.
"Messing With the Wrong Person"
Being on a ventilator for so long prior to surgery weakened Khoury's diaphragm and made his rehabilitation more difficult. He recalls he could barely walk a few feet at first. After six weeks at the hospital, he went to Northwestern-affiliated Shirley Ryan AbilityLab for another six weeks before moving home and continuing rehab at an outpatient facility for three months.
"Believe me, it wasn't easy. It was very, very rough, but you want to live, you got to deal with it. That's how it is," Khoury says.
Joseph praises his uncle's determination and positive outlook. "Even when things were looking grim or certain hospitals or doctors didn't have any options for him, he still had hope and belief," he says.
"I said, 'I'm going to give the cancer a hard time. I'm not going to let it take advantage of me. You're messing with the wrong person,'" Khoury says.
Khoury, now 55, is getting back to his normal life. He plans to return to work this summer. He goes out to dinner and watches Cubs games on TV with family and friends. He's also back at the gym, and while he's not lifting quite as much weight as he used to and has traded running for walking, he isn't complaining. "I'm not like before, but you know what? That's good enough for me," he says.
Part of his new normal is sharing his story in hopes that others with his type of cancer can benefit from transplant surgery. Northwestern has updated its protocols for treating patients with mucinous adenocarcinoma of the lung. It also has launched a registry to track outcomes of other patients who undergo a double lung transplant. The registry includes patients with Khoury's rare cancer subtype, along with those with any type of cancer currently confined to the lungs. Chae and Bharat report that others with the same disease have come to Northwestern to explore getting the procedure—something that makes Khoury incredibly happy. Northwestern has also shared information with other hospitals that are exploring double lung transplants for people with mucinous adenocarcinoma of the lung.
When offering advice to other people with lung cancer, Khoury stresses that it takes perseverance to keep seeking new treatment options, especially when so many doors seem to be closing. "I just tell everyone, 'Just be strong,'" he says. "You never know. Miracles could happen to anybody."
Cancer Today magazine is free to cancer patients, survivors and caregivers who live in the U.S. Subscribe here to receive four issues per year.