WHEN LAUREN CURWICK WAS A CHILD, she read a book about a young girl with cancer and instantly knew she wanted to be a doctor. She also inherited artistic talents from her mother, Mardel, an interior designer.
In 2011, the mother and daughter had an idea to marry these two interests by forming an organization that designs and creates beautiful, relaxing bedrooms for children with cancer. "It just brought together my passion for medicine and my creative side," says Curwick, who was a sophomore at the University of Minnesota at the time.
Curwick recruited some friends at college to raise money for the first bedroom transformation. She heard about a 13-year-old from her hometown of Beaver Dam, Wisconsin, named Jessie Helmbreck, who had Ewing sarcoma, a bone cancer that mainly affects children and young adults. Jessie loved the color pink and butterflies, so Curwick's mom incorporated those elements into the makeover, which took place in 2014. Curwick still recalls Jessie's reaction when she walked into her renovated room. "She opened the door, and she immediately said, 'This feels like a dream,'" says Curwick, who is completing her surgical residency at the University of Alabama at Birmingham Hospital.
The Science of Personal Space
Increase natural light and remove clutter to improve mental health.
Plans for Designing Dreams' makeovers are grounded in research on ways to modify one's environment for better mental health, according to executive director Kelly O'Donnell. Designs focus on increasing natural light and decreasing clutter, which can improve a person's emotional state. "Treatment is part of the fight against cancer, but the other part is [addressing] the social-emotional impact it has, and it's often overlooked," O'Donnell says.
Shortly after the first project, the mother and daughter registered Designing Dreams as a nonprofit organization. To date, the "Dream Team" has completed 34 transformations for children with cancer ages 3 to 14, who are recommended by hospital social workers.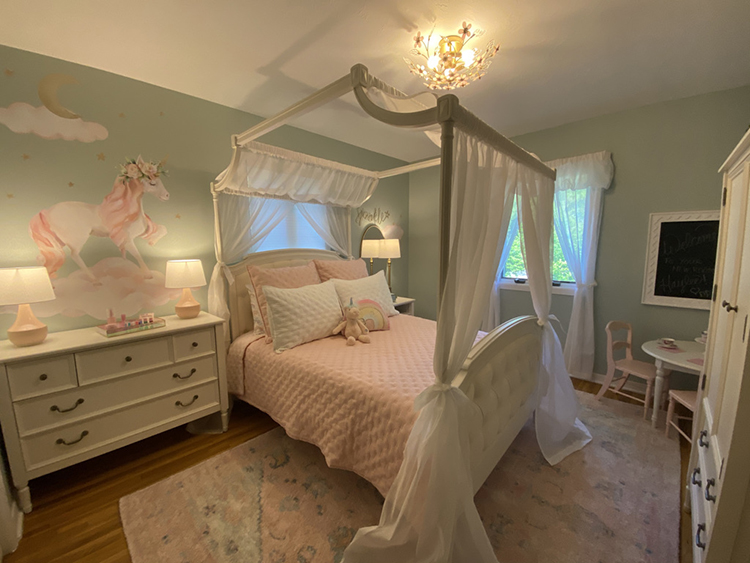 Expanding the Dream
Designing Dreams has chapters in Wisconsin-Minnesota, Nebraska and Arizona, with a fourth set to open in San Diego. The nonprofit completed 10 projects in 2022—its most active year to date—but the requests still exceed what it can currently accommodate. The organization recently launched a $1 million fundraising campaign with the goal of never having to turn down a child.
A professional designer meets with each child and their family to learn the child's interests. Past makeover themes have ranged from unicorns to Star Wars. Each bedroom renovation costs about $10,000 and can include new carpeting, custom-built furniture and even a mural. Additionally, rooms generally feature an activity component, such as a ballet bar or a karaoke machine. "It's far more than just paint and new bedding; it's a complete transformation of the space," says Kelly O'Donnell, Designing Dreams' executive director.
The goal is to provide children with their own spot where they can have fun on their good days and heal on their bad days during treatment, O'Donnell says. "Hopefully every time they open that bedroom door, they feel the love and support."
Cancer Today magazine is free to cancer patients, survivors and caregivers who live in the U.S. Subscribe here to receive four issues per year.