SCHOOLS ARE USUALLY ​quiet places on weekends. But on a Saturday morning in June, an elementary school in Brooklyn is at the center of a whirlwind of activity. Three teachers and a handful of volunteers have set up shop in a classroom to prepare for an annual rite of passage for many of the school's fourth- and fifth-grade girls.
For the past 11 years, the auditorium at Purvis J. Behan Elementary School has been the site of a special event for the girls' families that features choreographed dancing, a fashion show and a formal tea ceremony. The activity marks the culmination of an after-​school program called A Sister's Circle, where Diane Nathaniel, the school counselor and program organizer, regularly meets with the girls to provide a safe and open place to discuss coming-of-age challenges such as bullying, domestic violence, feminine hygiene and issues related to self-confidence.
Wearing jeans and a red T-shirt imprinted with PS11, the public school's number, Nathaniel swiftly moves in and out of the classroom. Teachers fill goodie bags and cut thorns from roses for the girls to give to their parents. Nathaniel checks microphones and tracks down a screwdriver to help secure the tent rented for the tea. But she still finds time to greet each person arriving as if she is running into an old friend—and indeed, many people in this tight-knit African American community have known Nathaniel for a long time.​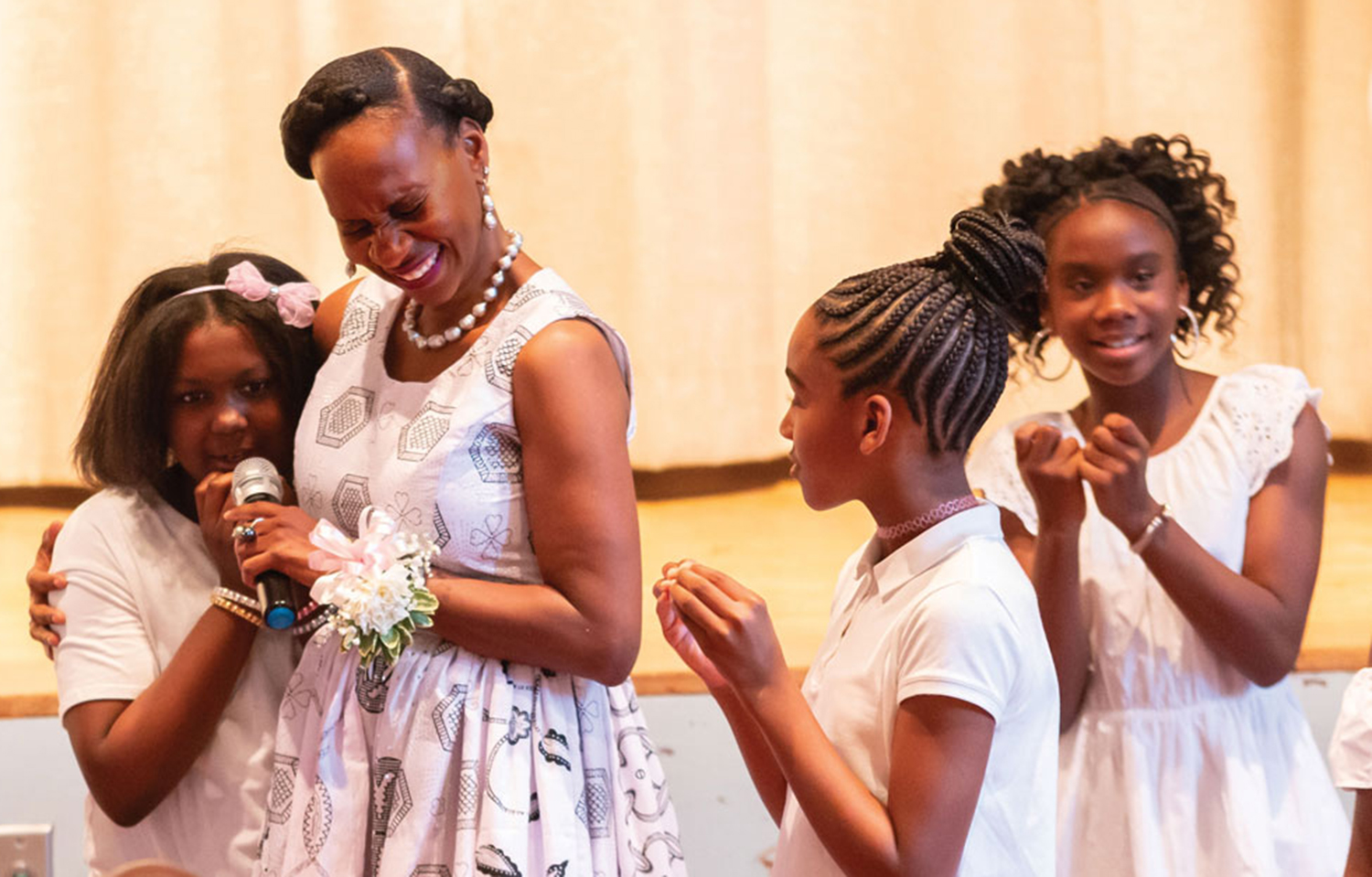 Beverly Kirkland, a volunteer whom everyone affectionately calls "Mama" Kirkland, stands at the front of the classroom, ironing sashes to be tied around the chairs at the tea. K​irkland, who has a granddaughter in the show, describes how Nathaniel uses her talents to give back to the community, including directing the dance ministry for youth and adults at nearby Cornerstone Baptist Church, where both women are members.
"This thing she is doing today, this is extra," says Kirkland. "I think it will make a difference in these girls' lives. They may not know it now, but I think they will realize it one day."
Nathaniel puts it simply. "I like helping people see that, even in a bad situation, they still have power," she says. "That they can fix it within if they dig deep."
Digging Deep
Nathaniel draws inspiration from days in her own life when she had to dig deep. None was more gut-wrenching than on March 7, 2014, when she was diagnosed with colon cancer at age 44. Prior to that day, which was also her son Joshua's 12th birthday, Nathaniel was doing her best to push through symptoms that included anemia, constipation, weight loss, achiness and fatigue. She had finally scheduled medical appointments to find out what was wrong with her when she noticed bright-red blood in the toilet. She called a gastroenterologist, who fit her ​in for an appointment the same day and scheduled ​a colonoscopy.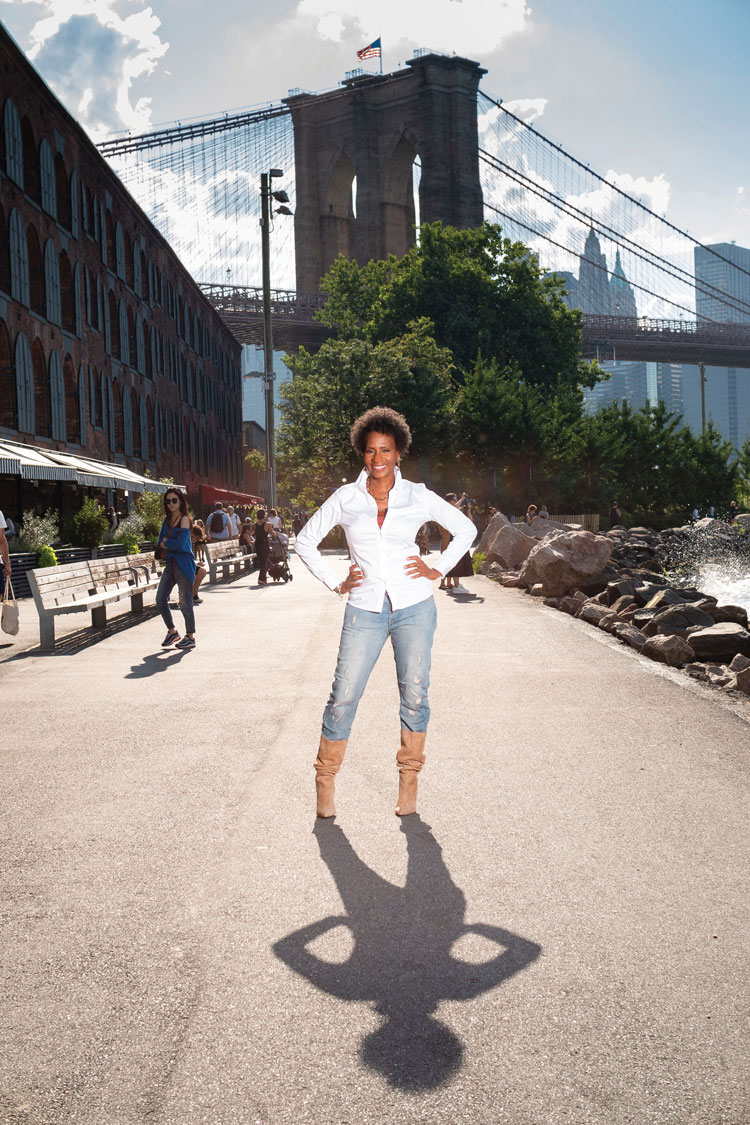 Her daughters, Jazmyn and Jaelyn, who were 19 and 16 at the time, accompanied their mother to the colonoscopy appointment. Jazmyn will never forget hearing the news of her mother's cancer diagnosis. "I had to leave the room and go vomit. It overtook my brain," says Jazmyn, who is now 25. "But even then, and throughout the whole treatment, my mother was just like, 'What's next?'"
Looking back, Nathaniel admits she felt a strong need to set the tone for her husband and children. "I was like, 'You all just need to follow my lead,'" she says. Still, she cried in the dressing area after getting her colonoscopy. "All these people are waiting for their colonoscopy and here's this woman sprawled on the floor totally losing it," she says, laughing as she remembers the day.
Nearly three weeks after her diagnosis, Nathaniel had surgery to remove the cecum, a pouch that connects the small and large intestine where the tumor was located, as well as her appendix. The surgeon also removed 14 lymph nodes—four of which had cancerous cells. Nathaniel had stage III cancer and required 12 rounds of a chemotherapy combination called FOLFOX. Typically, the FOLFOX protocol lasts six months, but Nathaniel's treatment extended over eight months to space out her final treatments from once every two weeks to once every three weeks to give her body time to recover between rounds.
Nathaniel returned to school in May 2014 while still undergoing chemotherapy, although she had to take medical leave for her final chemotherapy treatments. She describes having a supportive network on the job, noting how the school principal allowed her to work in her office away from people because her treatment compromised her immune system. Staff members at the school donated their days off to cover Nathaniel's pay for the six weeks she took to recover from surgery. In addition, teachers dropped off food and other gifts at her home. "It took her some time, but she's got a village," says Salisha Jackson, a third-grade teacher at the school who helps coordinate the tea each year and who also belongs to Nathaniel's​ church.
Colorectal Cancer on the Rise
Cases of colorectal cancer in young adults have increased.​
Colorectal cancer is the fourth most common cancer and the second leading cause of cancer death in the U.S., according to recent data published by the Surveillance, Epidemiology, and End Results (SEER) cancer registry. However, data suggest colorectal cancer is the second most common cancer in people between 20 and 49 and the No. 1 cancer among men in that age group.
The incidence of colorectal cancer in people over 55 has lessened, thanks in part to increased screening in this age group. Colorectal cancer has been on the rise among those under 55, however. Noting a 51% increase in the incidence of colorectal cancer from 1994 to 2014 and an 11% increase in mortality from 2005 to 2015 among people under 55, the American Cancer Society updated its recommendations in 2018 to suggest screening using a stool-based test or visual exam, such as a colonoscopy, for patients starting at age 45.
The U.S. Preventive Services Task Force (USPSTF), which measures evidence for preventive screening measures that generally become accepted practices, supports​ colorectal cancer screening every 10 years for people between ages 50 and 75 with no family or personal history of polyps. The USPSTF is currently reviewing evidence for screening people 40 and over.
African American men and women continue to have the highest incidence of colorectal cancer and the shortest survival of all racial and ethnic groups, according to data published by SEER. African Americans have historically been diagnosed with colorectal cancer at a younger age and later stage—a finding that spurred the American College of Gastroenterology to recommend in 2005 that colorectal cancer screening, preferably colonoscopy, begin at age 45 for African Americans.
Never Quit
A week after her diagnosis, Nathaniel attended an already-scheduled luncheon to be recognized with an award for her tenacity in overcoming personal challenges. These included the death of her mother from Alzheimer's disease and her unsuccessful efforts to learn the identity of her biological parents after her mother's death. (At age 14, Nathaniel learned from a neighbor that she had been adopted, although her parents denied it. When her father died 10 years later, she found her adoption certificate among family papers. The identity of her birth parents remains a mystery.)
The luncheon was held at Mott Hall Bridges Academy, a middle school in Brooklyn where Nathaniel had helped with She Is Me, a program similar to A Sister's Circle. Nathaniel hadn't told many people about her diagnosis yet, but when she accepted her award, she shared her health status with the parents and middle school students attending.
"Her testimony was really important," says Nadia Lopez, the founding principal of the school. Lopez and Nathaniel had become friends when Nathaniel was researching middle schools for her daughter Jaelyn. "She talked about colon cancer screening and described how she had been walking around not knowing what was wrong. It was eye-opening to everyone in that room."
By opening up, Nathaniel found another purpose—a chance to share her story to help others take charge of their health and take better care of themselves. "Every time I am able to do an event, to speak about cancer or the value of a colonoscopy, it reminds me that I am alive to do it," she says.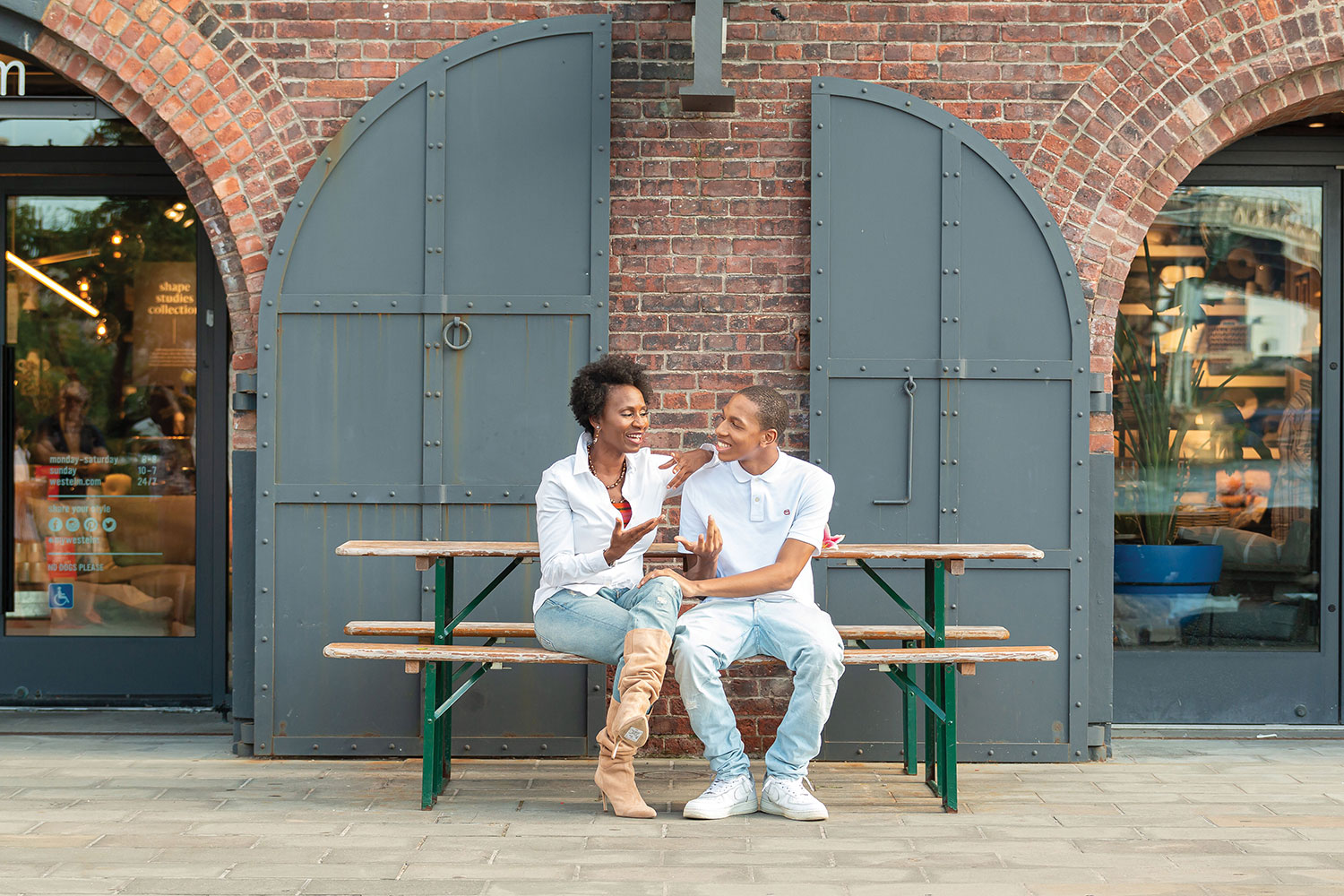 Even before her cancer diagnosis, Nathaniel felt compelled to keep pushing forward. She describes how her appreciation for education was inspired by her adoptive parents, who were born in the 1920s and picked cotton in Orangeburg, South Carolina. Neither parent finished high school. "My parents couldn't have an education, but they always told me I had a choice. And there was no sitting around, not taking advantage of the opportunity to go to school," she says.
Nathaniel started college but had to leave and get a job after her parents were victimized by a predatory lending scheme. In 2000, she earned her bachelor's degree while raising children and working at a law firm. Realizing she had a knack for navigating middle school choices for her daughter Jazmyn, Nathaniel decided she wanted to be a school counselor and earned a master's degree in school counseling in 2007. Now she is working on an advanced certificate in public health from the State University of New York (SUNY) Downstate Health Sciences University in Brooklyn. Upon completion, she hopes to enroll in the doctoral program there. The work is challenging, but Nathaniel is determined to reach her goal.
"Every time I speak, I hear how my vocabulary changes," she says, describing how her public health coursework has helped her articulate the scope of health barriers in various communities, especially for African Americans. She uses her knowledge to educate her peers and medical professionals. "The doctors listen to an advocate who speaks their language. That is empowering," Nathaniel says.
Closing the Medicare Colonoscopy Loophole
Some patients on Medicare are still paying a portion of the cost of their ​colonoscopies.​
In 2010, the Patient Protection and Affordable Care Act (ACA), popularly known as Obamacare, established that health insurance would cover the cost of evidence-based preventive health screenings. But some patients on Medicare are still paying a portion of the cost of their colonoscopies. The "colonoscopy loophole" stems from the way the screening procedure is coded. When a screening colonoscopy finds polyps, they are removed. Thus, the procedure is coded as diagnostic and therapeutic under Medicare, which requires a copay or coinsurance. Legislation introduced in 2017 to remedy the situation continues to languish in the U.S. Congress.
"It's a detriment," says colon cancer survivor Diane Nathaniel, who has advocated for a change in the law as part of her efforts with the American Cancer Society Cancer Action Network. "If you get the screening, you might find something. Then, you might get a bill for $300, so a lot of people will just say, 'If it's not bothering me, I'm going to leave it alone.'"
A Ripple Effect
Along the way, friends and family, teachers at school, members of her church, and people she grew up with have been sources of support. Throughout her treatment, Nathaniel posted social media updates using the hashtag #ibeatstage3 to share her progress. Beat Stage 3​ became the name of a nonprofit organization she launched with a friend, Helen L. Collen, a photographer from Orange County, California. The nonprofit, which continues to evolve, seeks "out-of-the-box" and "image-consciou​s" ways to educate and raise awareness about cancer prevention and survivorship in African American communities. For example, Nathaniel is planning an event inspired by the Black Lives/Black Lung movement that sprang from the 2017 documentary of the same name. The event will feature a showing of the film and is intended to educate parents and students about the dangers of vaping and how African Americans have historically been targeted by tobacco companies.
Learn More
In this vid​eo​, Diane Nathaniel discusses her stage III colon cancer diagnosis and her advocacy for others with cancer.
It's been five years since Nathaniel's surgery, a significant benchmark for cancer survivors. In that time, she has hosted luncheons for cancer survivors, spoken at a health disparities symposium at SUNY Downstate Medical Center in Brooklyn and addressed medical students at SUNY Stony Brook. She also works with the American Cancer Society Cancer Action Network (ACS-CAN), sharing her story with elected officials in Washington, D.C., and Albany, the capital of New York. On those occasions, she advocates for policy changes, including expansion of Medicare coverage for colonoscopies.
"She is making an impact in so many circles, there is just a ripple effect," says Lucy Miller, the grassroots manager at ACS-CAN in New York City. "Her advocacy bleeds into her work with kids, her church bleeds into her advocacy work, which bleeds into her family life. Everything is this beautiful Venn diagram, where all these circles overlap."
Of her many roles, Nathaniel says advocacy for cancer patients continues to bring her the greatest fulfillment. "I promised God that if I lived, I would give back in a big way," she says. "It's OK to be sad, but you can't stand there. I don't have that kind of time."
Cancer Today magazine is free to cancer patients, survivors and caregivers who live in the U.S. Subscribe here to receive four issues per year.