Editor's Note: While ​this issue of Cancer Today was being completed, we learned that Lori Marx-Rubiner had died of her illness. Before her death, she and AnneMarie Ciccarella asked that we publish the story of their friendship and patient advocacy partnership as it was originally written.
ANNEMARIE CICCARELLA sat inside her home in Long Beach, New York, and got ready to flip a coin. It was a Saturday afternoon, she had a lot on her mind and more than 48 hours of Memorial Day weekend 2017 stretched out before her. From her home in Los Angeles, Lori Marx-Rubiner texted Ciccarella one word, "Heads." Ciccarella tossed a quarter in the air. It landed heads up on the carpet. Luck had sealed the deal: She would spend the rest of the weekend in L.A. with her best friend.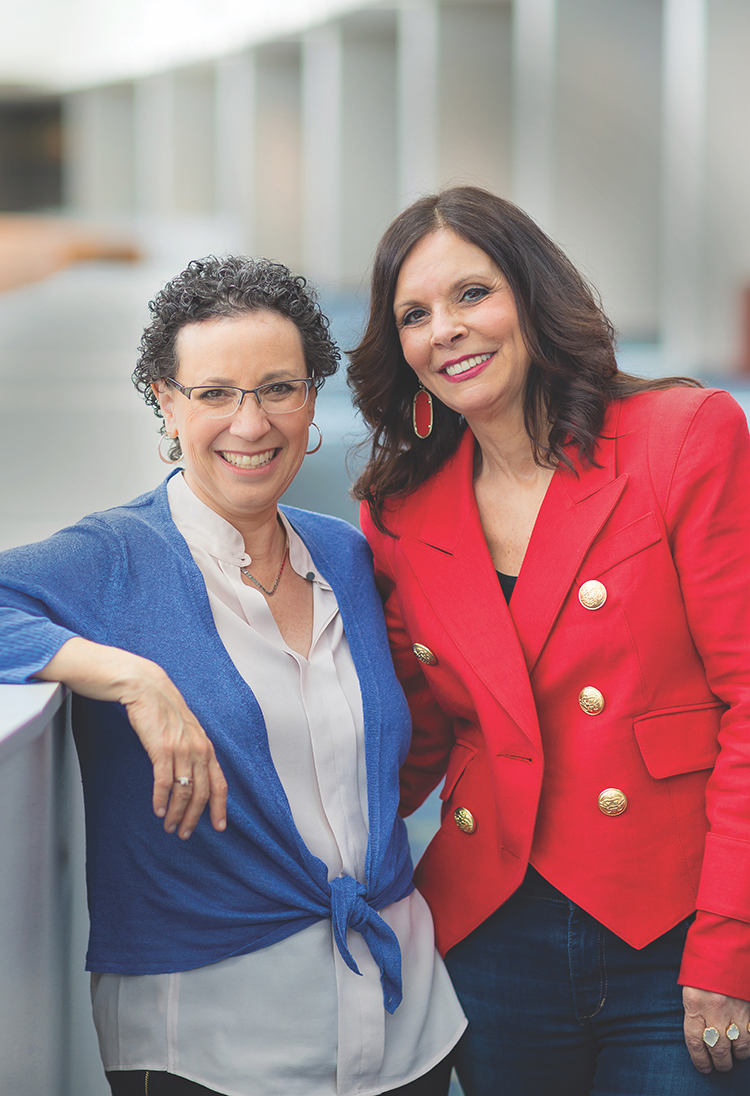 Welcome to the crazy, passionate world of two widely loved and admired breast cancer research advocates. While living on opposite sides of the country, they have each other's backs. In conversation, their sentences intersect and their words overlap with a shared understanding. There is no question, says Ciccarella. "Together, we are better."
A Social Media Connection
On Monday evenings, the Twittersphere is home to a unique one-hour conversation that flows under the hashtag #BCSM (for Breast Cancer Social Media). Neither Ciccarella, 61, nor Marx-Rubiner, 51, had expected to find the person they'd been missing in their life on Twitter, but when the #BCSM chat launched in July 2011, they did.
Tweeting with the same hashtag evolved into emails, phone calls and FaceTime. Ten months after those initial tweets, in May 2012, the two met in person for the first time at Dulles International Airport in Chantilly, Virginia. They had synced their arrivals for the National Breast Cancer Coalition (NBCC) Annual Advocate Training Conference in Washington, D.C., where they would be live-tweeting to the #BCSM community. "We clicked immediately," says Marx-Rubiner. "It's like having a best friend from forever ago, but you forget that they don't know everything."
The two women initially connected in part because each had been diagnosed with lobular breast cancer, Marx-Rubiner in 2002 and Ciccarella in 2006. While most breast tumors start in the breast ducts, lobular breast cancer starts in the breast lobules. It makes up only about 10 percent of all breast cancer diagnoses, so it's easy to be part of a group where no one else has that type of tumor. Both were also drawn to #BCSM because it focused on evidence-based education and support for anyone affected by breast cancer. "The #BCSM hashtag gave us a vehicle," says Marx-Rubiner. "For both of us, it was about science and how to move research forward and how to help people know how to turn to the research."​
Neither expected to be drawn to science. When Marx-Rubiner was diagnosed at age 35, she says, "I knew nothing about breast cancer. But I had a 3-year-old son and I knew I was way too young and that this was unacceptable." Her tumor was hormone sensitive, and she was treated with chemotherapy given before surgery, bilateral mastectomy and five years of tamoxifen to reduce the risk of the cancer returning. At the time, it was more common for doctors to recommend routine scans and blood tests to check for cancer recurrence. Marx-Rubiner's blood markers rose over a two-year period, but her scans were clear. Then in August 2011, six weeks before her son Zachary's bar mitzvah, scans showed the cancer had spread to her bones. Unacceptable took on a new meaning.
When Ciccarella received her breast cancer diagnosis in 2006 at age 49, she already knew the basics: Her mother had been diagnosed with stage II breast cancer in 1987, also at age 49. Ciccarella's treatment included a bilateral mastectomy, eight rounds of chemotherapy, and close to 10 years of hormone therapy. She had her ovaries removed to further reduce her risk of a cancer recurrence. In August 2007, while Ciccarella was undergoing treatment, her mother was diagnosed with a second primary tumor in her other breast. When she learned her mother had metastatic disease in January 2013, the first thing she did was text Marx-Rubiner, who replied that she was ready to get on a plane and fly to New York if needed.
Creating a CancerBase
A data-sharing project helps patients understand their options.
CancerBase is a data-sharing project that aims to help patients get information from others with similar diagnoses about their treatments, outcomes and side effects. Based at the University of Southern California Convergence Science Initiative-Cancer (CSI-Cancer) in Los Angeles, CancerBase is staffed by a volunteer group of cancer survivors, students and scientists.
CancerBase collects information from cancer patients throughout the world and displays the data on a global map. "The goal is to show people options in a way they can understand," says patient advocate AnneMarie Ciccarella, who is part of the CancerBase team. "We want patients who are at a fork in the road in their treatment options to be able to use CancerBase to see others who were at the same fork and what options they chose and what they experienced."
To learn more about CancerBase or share your experience, visit cancerbase.org​.
Research Advocacy
Over the past six years, the two friends have propelled one another forward in the research advocacy arena. Marx-Rubiner got her start in 2010 through Project LEAD, a science course for breast cancer advocates run by the NBCC. After that, she was invited to be a patient reviewer for the Department of Defense Breast Cancer Research Program. The experience of reviewing scientists' research proposals led her to nominate Ciccarella for the program. "Lori pushed me to do it," says Ciccarella. "I was like, 'I'm not qualified'—she was way ahead of me—and she said, 'You're going to have to trust me.' " Ciccarella was selected to be part of the program and sat on a review panel in October 2012. "That changed my life," she says. "I realized research was really where I wanted to be focused."
Two months later, as research advocates, the duo attended the 2012 San Antonio Breast Cancer Symposium (SABCS). The five-day conference draws researchers, doctors, other health care professionals and patient advocates from more than 90 countries. Both had received scholarships for the Alamo Breast Cancer Foundation's (ABCF) Patient Advocate Program, which is held in conjunction with SABCS and includes presentations by leading researchers designed to help advocates better understand the science being presented at the meeting.
ABCF board member Sandi Stanford, a 22-year survivor of stage III breast cancer, mentored Ciccarella and Marx-Rubiner at that meeting. "They were both always one of the first to ask questions," says Stanford, "and they asked intelligent questions that showed they really knew what they were talking about." Since that meeting, Stanford's friendship with the women—whom she calls "the twins"—has grown. "I think of them as two of my kids," says Stanford, who recently turned 73. "They call me their Margarita Mom because San Antonio is known for their margaritas."
From there, things picked up speed. Both women got involved in the American Association for Cancer Research (AACR) Scientist↔​Survivor Program (SSP), which provides opportunities for patient advocates to learn from and interact with researchers, doctors, health professionals and other advocates at AACR meetings. (The AACR is the publisher of Cancer Today.) Ciccarella took part in the program in 2013, Marx-Rubiner was accepted in 2014, and they attended together in 2015. At the AACR Annual Meeting 2017 in Washington, D.C., both served as mentors for new patient advocates.
"They are both smart, savvy women, and they are both all about cancer research and teaching and helping others," says Karen Russell, who oversees SSP. "You can see and feel the passion they have, and because of that, it makes them totally bond. Whenever I talk to one, I feel like I have to talk to the other."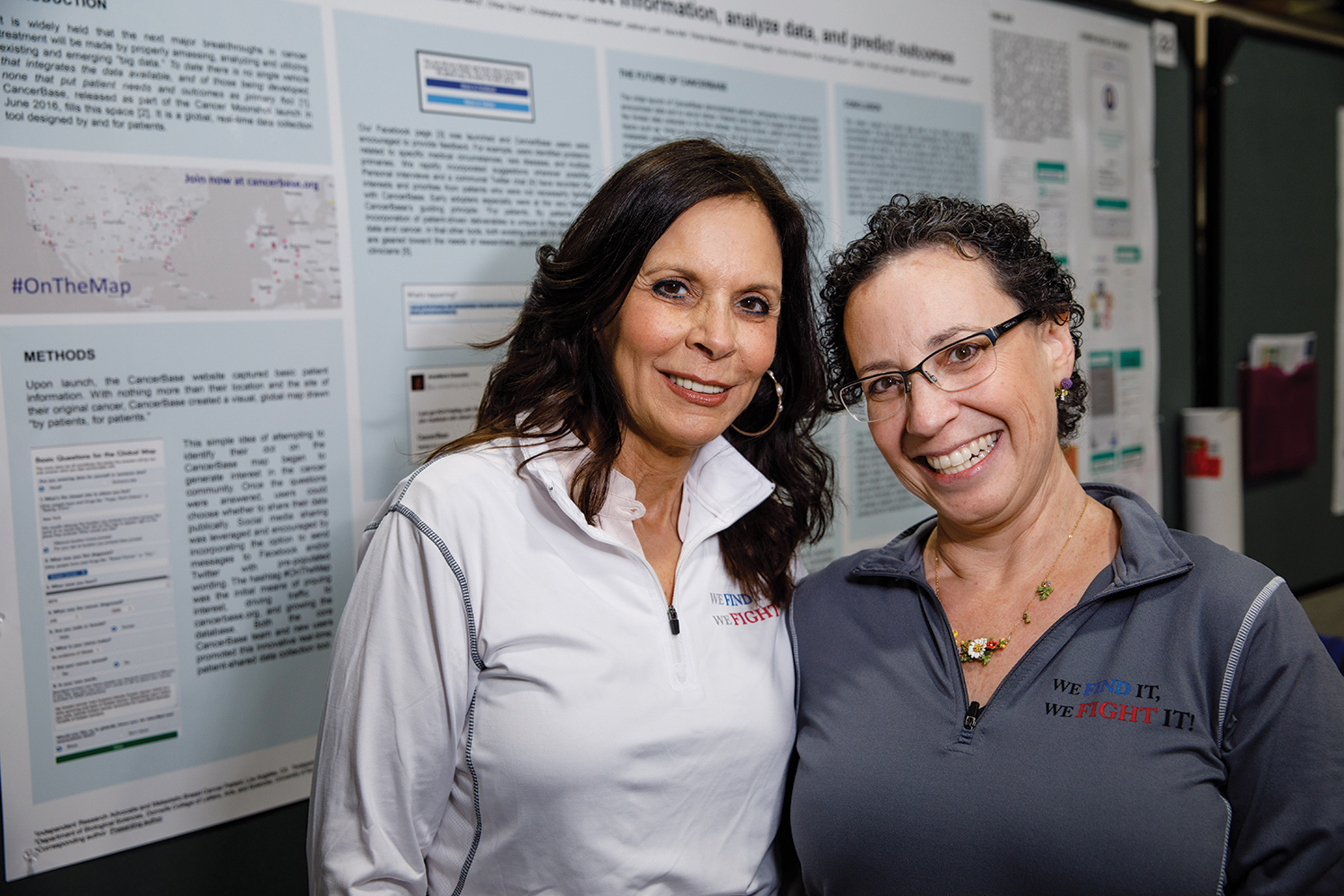 The AACR Annual Meeting marked another achievement for the pair: They presented a poster in a scientific session about CancerBase, a project of the Convergence Science Initiative-Cancer (CSI-Cancer) at the University of Southern California (USC) in Los Angeles. Led by physicist Peter Kuhn, CSI-Cancer project teams include patients, doctors, scientists and students. When Kuhn launched CancerBase, a global effort to collect information from patients about their cancer experiences, in April 2016,​ he asked Ciccarella and Marx-Rubiner to join the team. ​
Better Together
In this video, Lori Marx-Rubiner and AnneMarie Ciccarella discuss their friendship and advocacy.​
It's not unusual for patient advocates to present posters at an AACR Annual Meeting—in ​a section set aside for them. "The really big part," says Jeremy Mason, a postdoctoral research associate at USC, who coordinates the CancerBase team, "is that it was not in the patient advocate section. It was in the science section. So they got a whole different crowd of people walking by them, which is really cool."
As Marx-Rubiner puts it: "Who does this? I don't have a science bone in my body, and I'm presenting a poster in a science section? It's crazy."
Ciccarella and Marx-Rubiner worked on the poster together, frequently writing simultaneously across time zones. Their joint editing was no surprise to Mason. (The two women refer to him as their "adult supervision.") "The best way to describe working with them is they are essentially one person," says Mason. "Whenever one of them is thinking something, the other one is also thinking the same way. Their friendship is like nothing I've ever seen."
Alicia Staley, a co-founder of #BCSM, hoped the Monday night Twitter chats would help breast cancer patients feel less isolated. The connections have exceeded her expectations. "Meeting both Lori and AnneMarie in person, after years of interaction on social media, felt like meeting a long-lost family member in person," says Staley, 46, a three-time cancer survivor. Staley says due to Ciccarella's encouragement, she has expanded her advocacy and gotten involved with the AACR and the National Coalition for Cancer Survivorship Cancer Policy and Advocacy Team. Meanwhile, Marx-Rubiner and Ciccarella helped her develop #BCSM's strategic plan. "Between the two of them," says Staley, "there is a skill set and a level of compassion and empathy for those who are trying to do work in this community that is almost infinite. They are true collaborative advocates." ​
A New Urgency
As research advocates, both Marx-Rubiner and Ciccarella aim to help hundreds of thousands of breast cancer patients they will never meet. But as Marx-Rubiner's metastatic disease has advanced, the two have also turned inward to help one another. In June 2017, Marx-Rubiner began her ninth line of treatment—her fourth new treatment in 12 months—before opting to stop treatment and focus on quality of life when her cancer advanced rapidly. At each step along the way, Marx-Rubiner has contacted Ciccarella for information, support and advice. She also gave Ciccarella access to her medical records so her friend would have her history of past drug regimens, status of her tumor's biomarkers and most recent test results when she talked to doctors and researchers about potential new treatment options.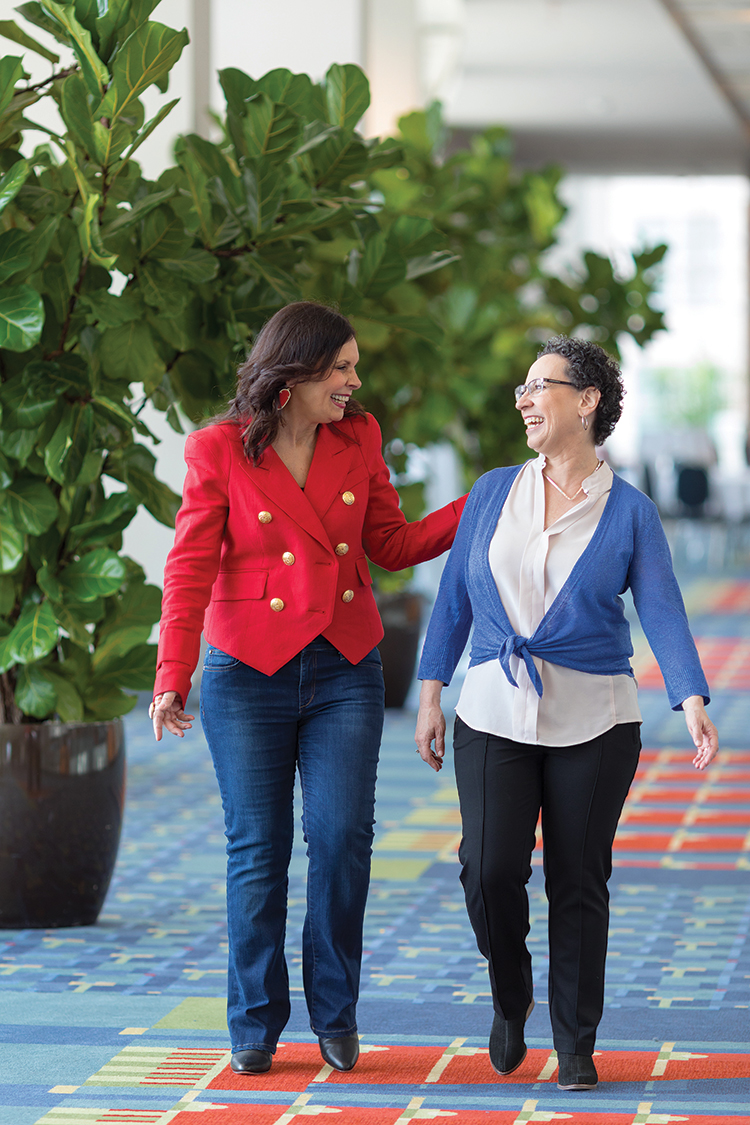 At the same time, Marx-Rubiner has tried to protect the woman she calls "the third love of my life"—after her husband, John, and their son. They do it, in part, by joking about the ways Ciccarella violates the cardinal rule of being a cancer friend, which stipulates that the friend without cancer shouldn't discuss her fears and emotions with the friend who has cancer. But for Marx-Rubiner, best-friend status trumps cancer-friend status, and she's been by Ciccarella's side offering support and advice through many hard moments and difficult decisions.
"If not for her, I can honestly say I wouldn't be standing," says Ciccarella, who is currently getting a divorce. "I'd be rolled up in a ball and unable to function. She is a sounding board and a voice of reason and she gets my vibe. I'll be having a crisis and I'll get a text from her or the phone will ring and I'll think, 'How does she know?' "
From Marx-Rubiner's perspective, that's how it should be. "It's as real with AnneMarie as it is with anyone in my family," she says. "In the #BCSM community, we created the hashtag #fearlessfriend for those who would stick with us when it gets ugly." Ciccarella embodies that fearlessness. "She is one of the people who can sit with me and hear it," says Marx-Rubiner. "She is such a blessing. I know if I called her today, she'd be on the next plane."
Just a few weeks after Marx-Rubiner spoke those words, Ciccarella was buying a plane ticket. She had one more weekend with her friend.
Cancer Today magazine is free to cancer patients, survivors and caregivers who live in the U.S. Subscribe here to receive four issues per year.