IT'S HARD TO IMAGINE taking the long view when facing stage IV non–small cell lung cancer, but 28-year-old Emily Bennett Taylor did just that after her June 2012 diagnosis. She knew that chemotherapy could take away her and her husband's dream of having children, so she wanted to explore fertility treatment.
"I remember my husband was very reserved about it," Emily says, because it could mean delaying her treatment for cancer. "We've always talked about having kids, but in this case he said, 'No, I want you, and I don't want you to do anything else to your body that will put that in jeopardy.' "
"A life without children was fine with me as long as I had Emily," says her husband, Miles, now 32. But it didn't take long for Emily to bring her husband around to her point of view. "She said she needed it, that mentally it gave her something to fight for," he says. "When she sat me down and said that, it was a no-brainer for me."
Before chemotherapy, Emily's eggs were harvested and fertilized in a process called in vitro fertilization. Within three weeks of her diagnosis, the couple had nine frozen embryos stored for later use. They framed four images of their potential progeny and hung them on their bedroom wall. The Taylors then turned their energy to Emily's cancer treatment, the first step in getting to their goal.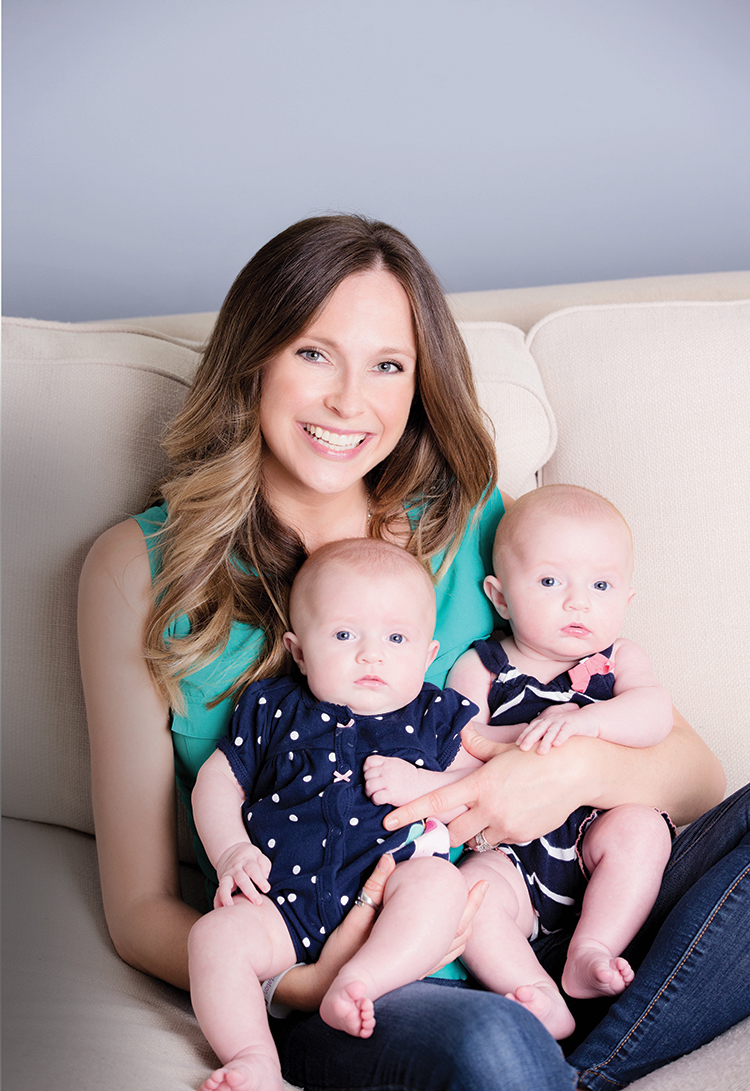 Too Young for Cancer?
​In 2012, Emily went to her primary care doctor after she developed a persistent dry cough and shortness of breath. Her doctor thought it might be asthma, but he referred her to a pulmonologist for a chest X-ray to be certain. Films from the test showed some haziness in her right lung, but the pulmonologist was reassuring: Emily's youth and good health made lung cancer unlikely, she said.
Within days, a follow-up CT scan and biopsy told a different story. Emily had cancer in her right lung that had spread to the surrounding lung lining, which meant the cancer was stage IV. She didn't know it then, but statistics show that just 1 percent of people diagnosed with stage IV non–small cell lung cancer live five years or longer.
"I don't think I really, honestly conceptualized what [my diagnosis] meant," Emily says. "For me, it was just, 'OK, it's worse than it could be.' " She had a second biopsy, and the tumor was sent for genetic sequencing. The tissue tested negative for genetic alterations that could have made her a candidate for targeted therapies. These treatments have extended the lives of some metastatic lung cancer patients whose tumors have these alterations. Chemotherapy seemed to be her only option.
In July 2012, Emily underwent treatment with carboplatin, Alimta (pemetrexed) and the monoclonal antibody Avastin (bevacizumab) every three weeks over the course of six months at City of Hope in Duarte, California, about 45 miles from her home in Los Angeles. She then started on a round of maintenance therapy with Alimta and Avastin and later a round of Alimta alone, though her doctors explained it was only a matter of time before the cancer would start growing again.
"The chemo was only going to last so long and then resistance would develop," says Karen Reckamp, Emily's thoracic medical oncologist at City of Hope. "So the only way to effectively give her a chance at long-term survival was to think outside of the box and think about something pretty radical, like surgery."
Lung Cancer Under 40
​Study examines characteristics of cancer in young adults.
To better understand the special traits of lung cancer in younger adults, the Addario Lung Cancer Medical Institute, an international nonprofit consortium of more than 20 research institutions with headquarters in San Carlos, California, is running a study for people under 40 who have been diagnosed with non–small cell and small cell lung cancer.
The study, called the Genomics of Young Lun​g Cancer​, is enrolling patients at the University of Southern California (USC) Norris Comprehensive Cancer Center in Los Angeles, Northside Hospital in Atlanta, the Dana-Farber Cancer Institute in Boston and the University of Turin in Italy. Patients can also participate in the study remotely.
"The genomic alterations that are driving lung cancer seem to be so prevalent in these young people," says Barbara J. Gitlitz, a medical oncologist at the Keck Schoo​l of Medicine of USC, who presented preliminary findings from the study at the World Conference on Lung Cancer in Denver in September 2015. At the time, 68 people had participated in the clinical trial. Seventy-six percent of the 50 people in the trial who had stage IV adenocarcinoma, a type of non–small cell lung cancer, had tumors that harbored an ALK rearrangement, EGFR mutation, or ROS1 fusion—which all can be treated with targeted therapies.
Participants in the study who had a diagnosis of stage IV adenocarcinoma of the lung and whose tumor tested negative for the most common lung cancer genetic alterations also had their tumor tested for additional genetic abnormalities—which could lead to alternative targeted treatments not previously considered. (Since Emily Bennett Taylor's initial genetic testing came back negative, she underwent more testing through this study, though it did not result in an alternative targeted treatment.) Gitlitz is hoping further research uncovers new genetic mutations and that new therapies will result.
Searching for a Surgeon
Surgery on patients with stage IV lung cancer generally 
does not succeed in ridding the body of the disease. However, Emily and her family asked friends and advocacy organizations for the names of surgeons with experience who might be willing to do the operation. After four surgeons said no, Raja Flores, chairman of the thoracic surgery department at the Icahn School of Medicine at Mount Sinai in New York City, said he'd consider it.
"You can get many surgeons who wouldn't agree with doing this procedure," says Flores, who believed Emily's age and the fact that the cancer hadn't yet spread beyond the chest cavity made her a candidate for surgery. Flores also thought her drive and positive attitude would help her make it through the grueling recovery. "This is definitely pushing the envelope, and if I did not see that fight in Emily, I would not have done the surgery, because it takes a lot to get through," Flores says.
Every six weeks, Flores received Emily's scans from her hospital. When it appeared the tumor was not spreading, he contacted the Taylors. "He called us and said, 'I think if we're going to do it, now is when we do surgery,' " she recalls. The couple booked a flight to New York City, arriving on Jan. 30, 2013.
In early February, Flores did video-assisted thoracic surgery to confirm that the cancer was in the lung's lining. After confirmation, he performed an extrapleural pneumonectomy, removing Emily's diseased right lung, the linings of the chest cavity and lung, a portion of her diaphragm, and lymph nodes. He also removed and rebuilt the membrane surrounding her heart. After surgery, Flores told the couple he was confident he had removed all the cancer he could see. Two days later, the couple posted to their blog a video of Emily slowly dancing down the hall while steadying herself with her walker.
But her treatment wasn't over. In an attempt to eliminate any trace of disease, she underwent 28 rounds of high-dose radiation to her chest cavity over a six-week period. The side effects included nausea—Emily was vomiting six or seven times a day—and tiredness. When the couple returned home to California in April, she couldn't move from one side of the couch to the other without feeling exhausted.
Not having her strength was difficult for Emily, a former high school and college athlete. She built it up gradually, first walking around the block and then farther. She did breathing exercises to expand her remaining lung and measured her progress in small increments, for instance, picking up one of their dogs without losing her breath.
"Having been an athlete, I always felt … that I could push myself and do anything I wanted to do, and that just got stripped away from me," she says. "That was really frustrating, but I didn't let it be a big focus in my life because I knew there were more important things to focus on."
That focus, during chemotherapy, surgery, radiation and recovery, never wandered too far from the four framed photos on their bedroom wall. During chemotherapy, she would meditate, visualizing scenes of a future with her husband and children. Each morning and night throughout her treatment, Emily imagined her body fighting the cancer cells in order to "internally rev up that engine," she says. "I would end with a few minutes of just picturing a scene of my life in the future, and Miles and I were doing something with our children. I would imagine teaching them to drive or their first birthdays," she says. "I would imagine them riding their bikes."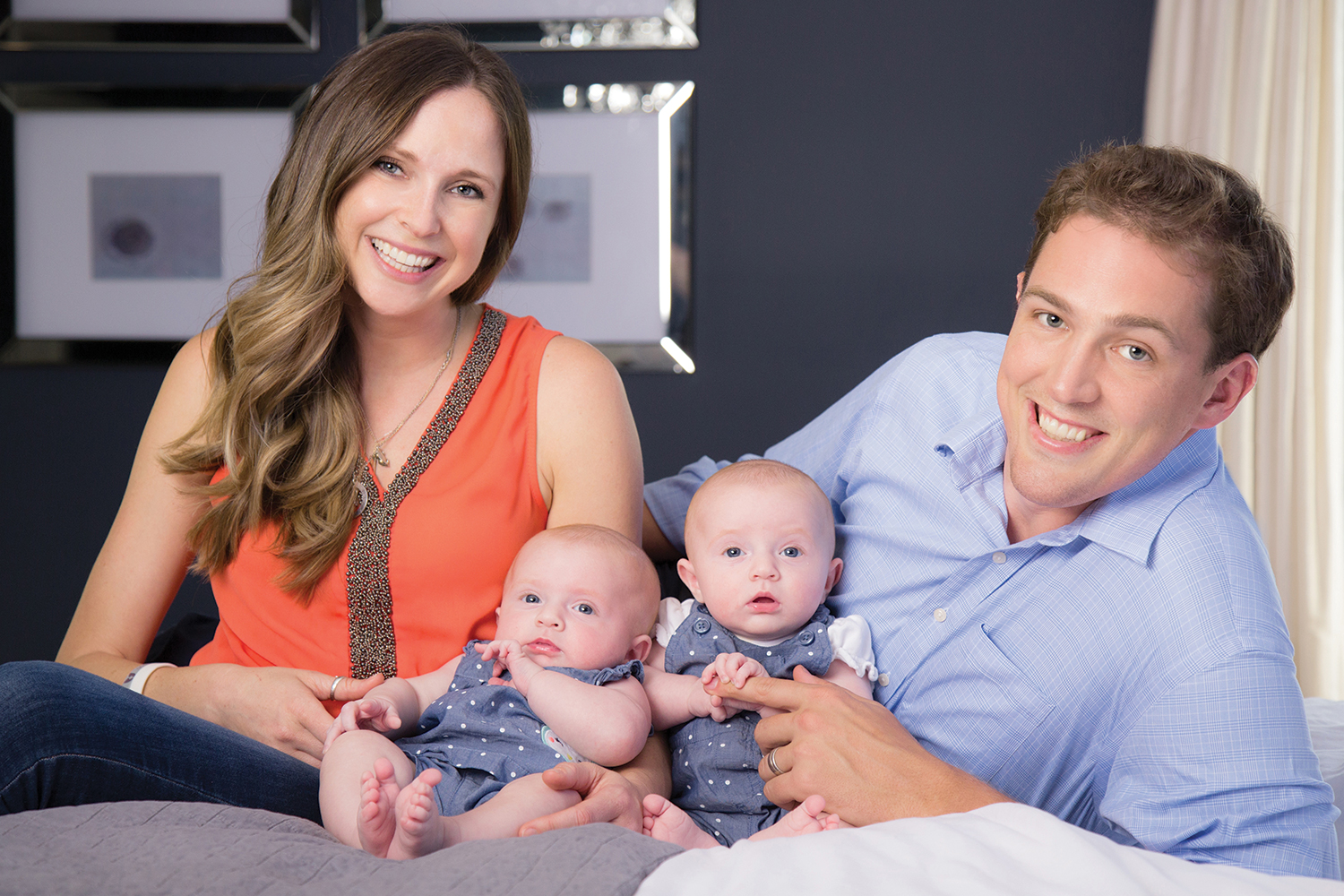 Hope (and Maggie) Realized
The couple decided to wait two years after completing treatment to start a family. Miles' research showed that if cancer comes back, it is most likely to happen in that time frame. It took Emily almost that long to build up her strength.
Doctors also advised Emily that carrying and delivering a baby might be too much for her body, so in April 2015, she celebrated two years with no evidence of disease by updating the couple's blog with a call to anyone who might be willing to carry and give birth to the Taylors' baby.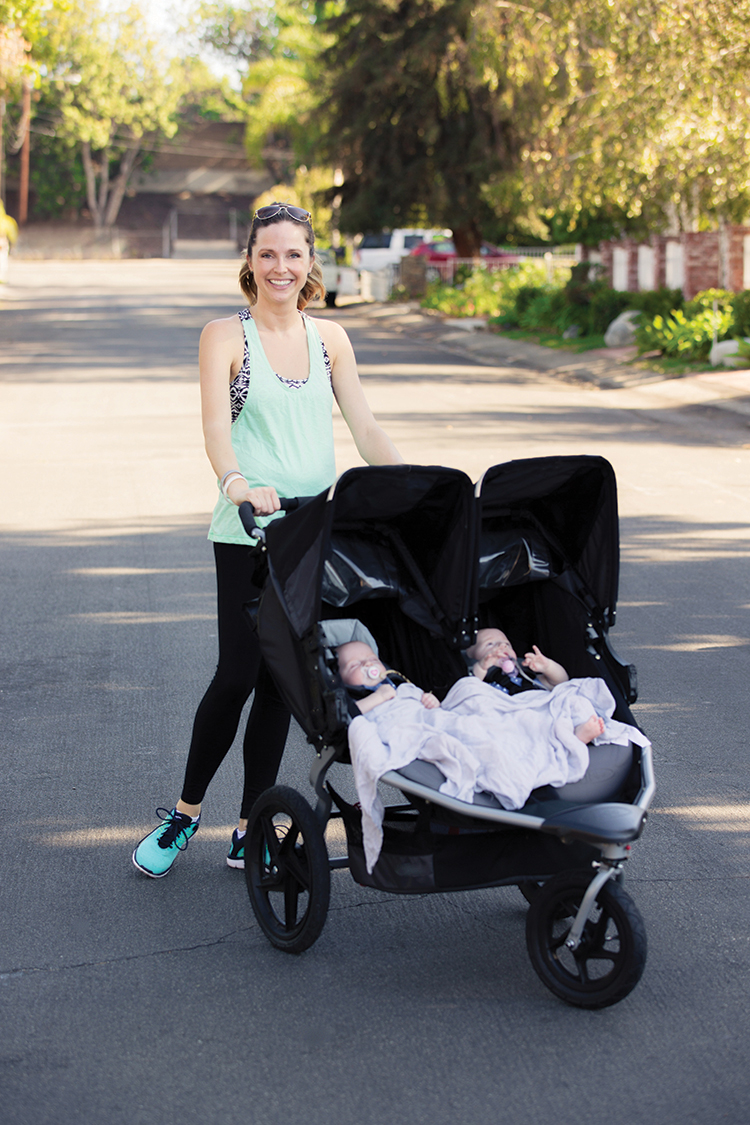 In Lexington, Kentucky, Angela Stark, a mother of three boys, had followed the couple's blog posts since Emily's diagnosis. Stark remembered Emily's strong work ethic from her days coaching the high school track-and-field athlete in Moscow, Idaho, where Emily lived from 8 to 18 years of age.
"There was never a picture of her struggling," says Stark of the blog. "There was celebration. It was inspiring to follow her story." Stark, who is now 39, knew her body handled pregnancies well. She talked with her husband, Aaron, about being a surrogate for Emily, whom he knew from coaching distance running at the same high school. Stark, always the coach, sent an email with the subject line: "Let's Do This!!"
A month later, Stark went to Los Angeles for screening to ensure she was healthy enough to be a surrogate and then, in July and August 2015, underwent embryo transfers at USC Fertility, a program of the Keck School of Medicine of the University of Southern California (USC) in Los Angeles. (The first transfer did not lead to a pregnancy.) Stark received regular prenatal care from her obstetrician in Lexington and kept the Taylors informed with texts and photos of her expanding belly. At her first ultrasound at six weeks, Stark asked the doctor if she could use Skype to give the Taylors a glimpse of the pregnancy, which would reveal they were expecting not one baby but two. Two weeks later, the Taylors flew to Lexington to be at the next ultrasound, where they heard and saw movement on the screen from two strong heartbeats.
On April 20, 2016, Stark delivered two healthy baby girls by cesarean section at Baptist Health Lexington. Emily, who was in the room for the delivery, had come to Lexington for the final weeks of Stark's pregnancy. Miles, who waited down the hall, had arrived the week before Stark's delivery. Emily says she will always remember walking down the hall with both babies tucked in the crook of her arms to meet their father. An entourage of nurses followed them taking pictures.
After the babies were born, the Taylors stayed in a hospital room next to Stark's and settled on which baby would be Hope and which would be Maggie, names they had chosen years before. "Hope was a big word for us during treatment," Emily says. (Maggie is the name of Emily's grandmother. The couple had chosen the name while on vacation in Ireland.) Ten days after the babies' birth, they flew home to California with their new family.
These days, Emily, now 32, spends a lot of time on the couch trying to get the babies to smile, a behavior they mastered at two months. She still works on overcoming lingering physical limitations. For example, getting up and down is difficult for her, so she keeps the babies on the couch, which is lined with a diaper caddy, television remotes, toys and anything else the new mom might need for herself or her little ones. Emily's parents, Kevin and Shelley Bennett, who live in Memphis, Tennessee, and Miles' parents, Michele and Rich Taylor, from Sacramento, California, stay with the couple for weeks at a time to help care for the babies in their Woodland Hills, California, home. In addition, the couple had a night nurse to handle overnight feedings five nights a week. The arrangement allowed Emily to get the 10 to 12 hours of sleep a night she needs.
The difficult decision to conserve energy is at odds with Emily's natural desire to be with her babies. "I know that by taking care of myself, I am ultimately putting them first," she says. "In the long term, I think it means that I am going to be here a lot longer for them, but emotionally, it's a lot harder than anything."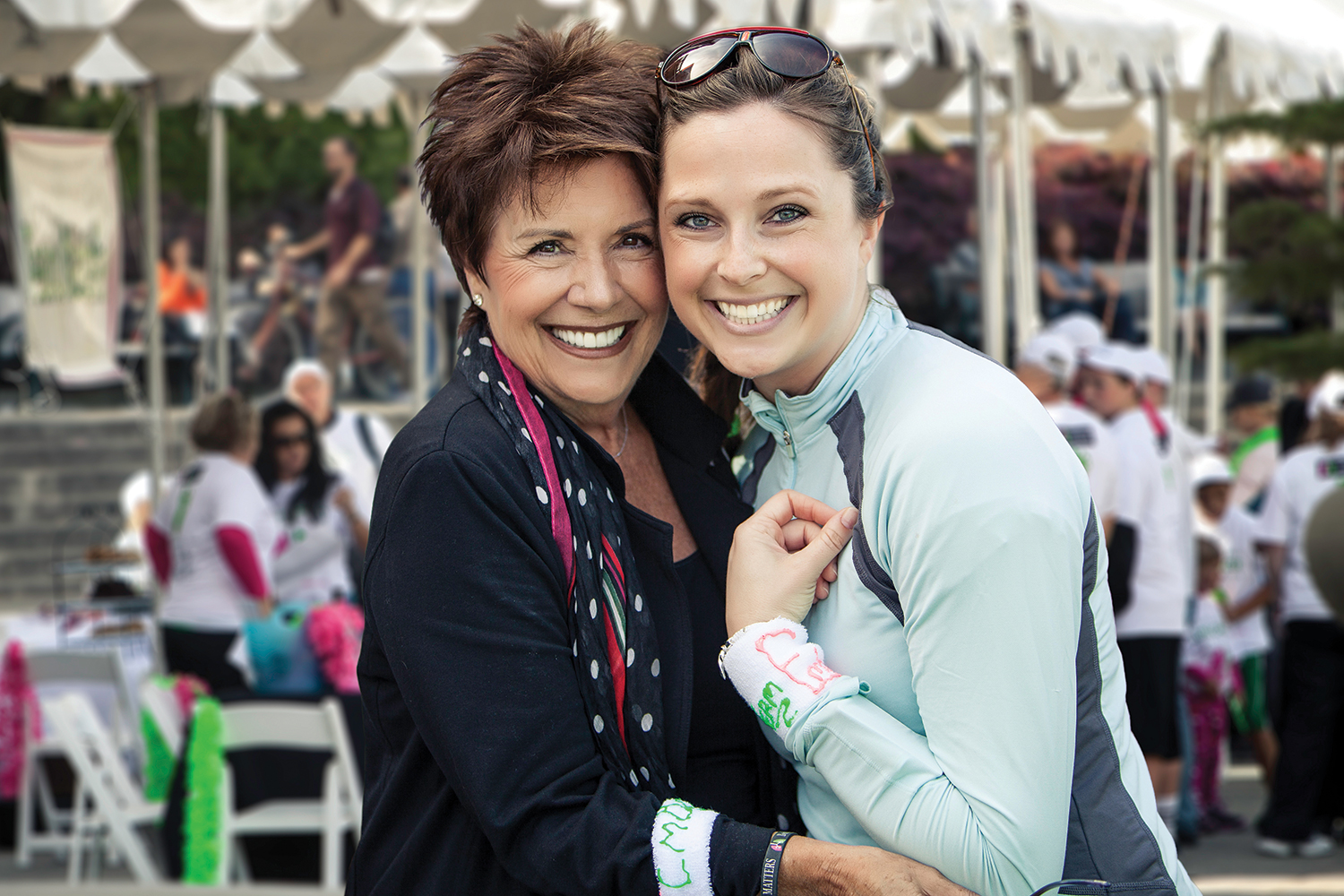 Changing Lives Through Advocacy
Emily continues to share her story on the Taylors' blog and by speaking at lung cancer conferences. "When I was first diagnosed, one thing that motivated me was the idea that, when I was done [with treatment], I was going to help other people and pass along all the wonderful information that people had given to us," she s​ays.
She fulfills that goal as a speaker and patient advocate for the Bonnie J. Addario Lung Cancer Foundation, based in San Carlos, California. Emily became fast friends with Addario, the organization's founder and a 12-year stage IIIB lung cancer survivor.
"Emily is really the poster child for being her own advocate and not letting a cancer diagnosis define you," says Addario. When talking to young adults with lung cancer, Emily urges them to sign up for the Genomics of Young Lung Cancer study​ and to explore fertility preservation as an option before their cancer treatment. "It's a personal choice, obviously, but if it's possible, I want people to at least have that in their minds," she says.
Emily's energy in facing adversity astonishes her husband. Of her work as a patient advocate, he says, "I don't know if I could do that, but she knows what she needs to do, and advocacy is important to her."
Asked if he believed four years ago, when his wife was diagnosed, that they would be where they are today with two children, Miles pauses. "If I'm going to be honest, I probably didn't," he says. "I really didn't believe it, but I believe in Emily. I hoped it would be true."
Cancer Today magazine is free to cancer patients, survivors and caregivers who live in the U.S. Subscribe here to receive four issues per year.