Grief is inevitable for many caregivers. But for caregivers of family members with cancer, a new study suggests the overall grieving process can linger for years.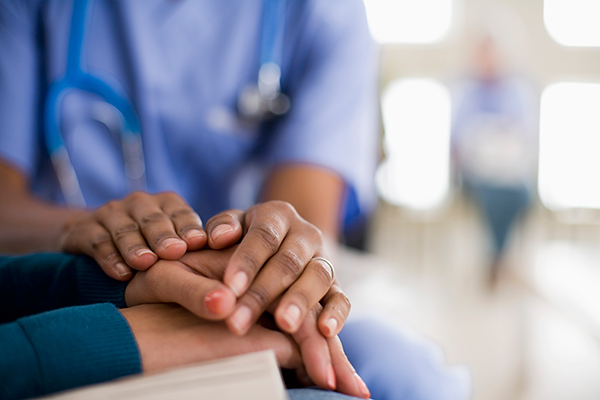 The study, published online May 15, 2015, in Psycho-Oncology, analyzed data from the American Cancer Society National Quality of Life Survey for Caregivers, a long-term study of more than 1,000 caregivers—mostly female, educated and middle-aged. Participants were asked questions two, five and eight years after their family member's diagnosis about their own mental and physical health, psychological adjustment and spirituality.
At eight years, about 13 percent were still actively providing care, 66 percent had a relative in remission, and 21 percent had their relative die. The caregivers who had experienced a death reported difficulty in overcoming feelings of depression and psychological distress.
Resources for Caregivers
"Intellectually, cancer caregivers know that they're going to lose their loved one, but they are often still actively engaged in caregiving until the loved one passes," says John Schall, chief executive officer of the Caregiver Action Network (CAN), a nonprofit organization based in Washington, D.C. "Then all the difficult emotions like guilt and relief come into play."
Although the grieving process varies from person to person, studies have found that for most people, intense feelings of grief, which may include difficulty concentrating, sleep problems and loss of appetite, typically begin to lessen after about six months. But there are issues unique to cancer that may impact these caregivers differently. "The public talks about curing cancer, but the reality is that about one-third of patients die," says Youngmee Kim, a research psychologist at the University of Miami, who led the study. "People don't want to share stories of losing their loved one, so they can end up feeling alone and isolated," which can extend the grieving process.
Compounding the problem, there are few programs and websites specifically designed to address the emotional needs of cancer caregivers. To try to fill this gap, in May 2014, CAN co-launched a new website, helpforcancercaregivers.org, which provides information on such topics as caregiver burnout, medication management and self-care strategies.
Help Researchers Learn How to Best Help Caregivers
Researchers need cancer caregivers to enroll in studies evaluating caregiver support programs. To learn more, visit clinicaltrials.gov and type in "cancer caregiver psychosocial." Click the "On a Map" tab and then on the image of the U.S. to find studies open in your area.
A number of studies now underway aim to identify the best ways to help cancer caregivers. Hoda Badr, a health psychologist at the Mount Sinai Hospital in New York City, for example, is conducting two studies testing the effectiveness of a six-week telephone-based support program for caregivers of patients with advanced lung cancer. One study is evaluating the potential benefit of providing caregivers with opportunities to discuss self-care, stress management and training for an emergency. The other is looking at whether working with the patient and caregiver simultaneously improves communication and coordination of care.
If the programs are successful, Badr says she hopes they can be implemented widely. "Our goal is to help family members as they transition through the cancer journey, empowering them early on so that they are prepared for what lies ahead."
Cancer Today magazine is free to cancer patients, survivors and caregivers who live in the U.S. Subscribe here to receive four issues per year.