Cancer survivors in the thick of treatment might easily downplay problems like tingling fingers and numb feet. But these symptoms shouldn't be ignored. They can be early signs of peripheral neuropathy, an often-painful nerve damage that cancer treatments can cause.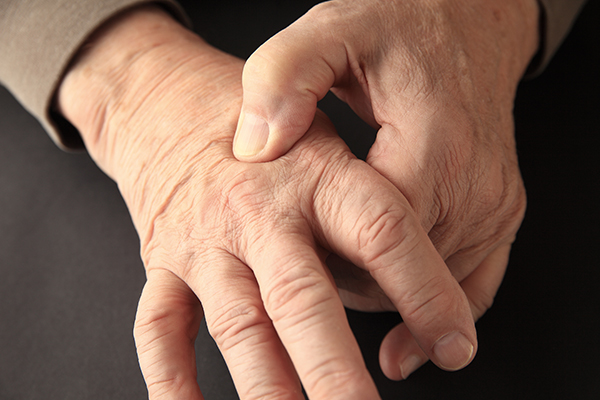 Some studies have found that up to 40 percent of cancer patients who receive chemotherapy develop peripheral neuropathy. Currently, treatment options for neuropathy are limited. But new research suggests that the widely used antidepressant Cymbalta (duloxetine) could ease symptoms in some patients, and studies evaluating other newer options are under way.
In the study of the antidepressant, published April 3 in the Journal of the American Medical Association, researchers explored whether the drug—shown to ease neuropathy in diabetics—might also be an effective treatment for chemotherapy-induced peripheral neuropathy. The phase III trial found that 59 percent of the 87 patients who took Cymbalta reported decreased pain compared with 38 percent of the 94 given a placebo. The patients who took Cymbalta were also more likely to report an improved quality of life.
"Traditionally, neuropathy has been very difficult to treat," says Stewart B. Fleishman, a palliative care physician and the founding director of services of Continuum Cancer Centers of New York, in New York City, who co-led the study. But with Cymbalta, he says, patients functioned better, reporting less pain and feeling more like their regular selves.
Clinical Trials Explore New Options
Researchers are currently recruiting volunteers for more than 30 peripheral neuropathy clinical trials. These include studies investigating the effectiveness of:
Topical menthol for treating chemotherapy-induced neuropathy
Acupuncture to prevent peripheral neuropathy and avoid chemotherapy dose reduction
Strength and balance training for patients with neuropathy caused by Eloxatin (oxaliplatin)
To learn more, go to ClinicalTrials.gov..
Although the study followed patients for only five weeks, Carin van Zyl, a palliative medicine physician at the City of Hope in Duarte, Calif., says that Cymbalta is a good starting point for cancer survivors with peripheral neuropathy who, like most of those in the study, had previously received Taxol (paclitaxel) or Eloxatin (oxaliplatin). "The good news," she says, "is that for a painful problem that really affects quality of life we're starting to learn about therapies to target it better."
Linda McIntosh, a retired nurse in Groton, Conn., whose existing neuropathy worsened after chemotherapy treatments for Waldenström macroglobulinemia, a rare form of non-Hodgkin lymphoma, encourages others with neuropathy to find a supportive neurologist, investigate clinical trials and join a support group. "The hardest part is getting your family and friends to understand—because [people] can't see pain," she says.
Cancer Today magazine is free to cancer patients, survivors and caregivers who live in the U.S. Subscribe here to receive four issues per year.