ONE GOAL OF the S​cientist↔Survivor Program (SSP), which is held each year during the American Assocation for Cancer Research (AACR) Annual Meeting, is that cancer survivors and patient advocates learn from scientists. (The AACR publishes Cancer Today.) To this end, the survivors and advocates taking part in SSP create posters explaining their work, and hang them alongside the posters produced by the thousands of scientists who are there to describe their latest research. Like the scientists, the patient advocates must be ready to talk about their work with any passerby who shows interest, which accomplishes another SSP goal—scientists learning from survivors and advocates.
At this year's meeting, held March 29 through April 3 in Atlanta, many advocates came prepared to speak the language of science by filling their posters about their advocacy efforts with da​ta. For instance, Stacie Lindsey, founder and president of the Cholangiocarcinoma Foundation, showed results from surveys asking patients with cholangiocarcinoma, a rare cancer that begins in the bile duct, whether they had been tested for genetic mutations. The surveys were conducted before and after the launch of an awareness campaign called Mutations Matter. Prior to the launch, 48 percent of cholangiocarcinoma patients who responded to the survey had been tested for mutations, and 52 percent had not. After the awareness outreach, 71 percent of survey respondents said they had been tested and 29 percent had not.
Other posters described advocates' efforts to fill an unmet need for cancer patients and survivors. Katie Parker, a nine-year breast cancer survivor in Rapid City, South Dakota, who received her diagnosis when she was 36, became involved in advocacy because she felt there was a lack of support and community for young women with breast cancer. She became involved in the Young Survival Coalition (YSC), a national organization established to support young breast cancer survivors, and is currently the group's only representative in South Dakota. She is also active in Bright Pink, a group that promotes prevention and early detection of breast cancer, and Living Beyond Breast Cancer, which provides information and support to breast cancer patients.
Of her advocacy work in her rural state, Parker said, "I'm creating something in my community that didn't exist."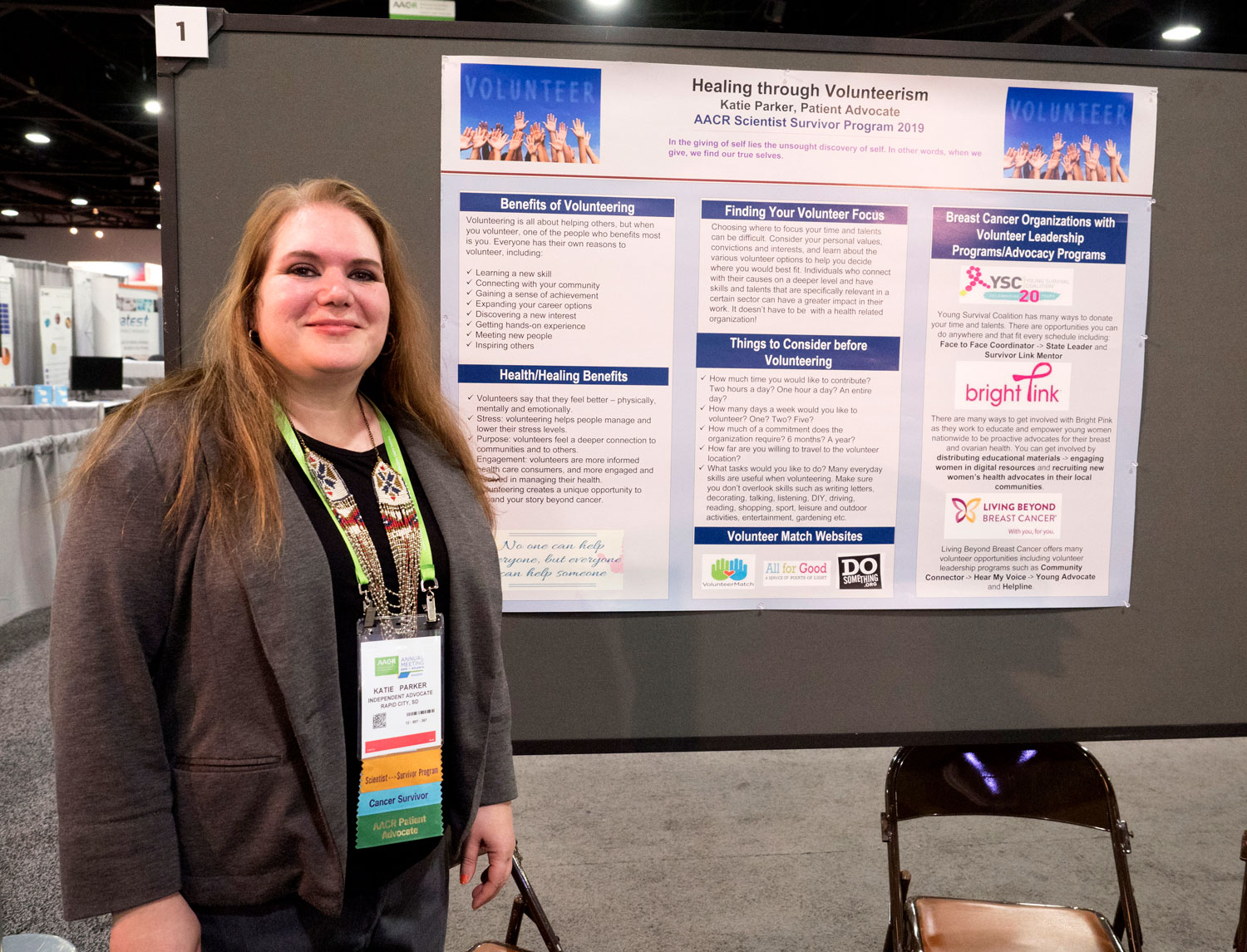 Another SSP participant, David Makumi, is chairman of the Kenyan Network of Cancer Organizations (KENCO), a consortium that allows 30 separate cancer groups that are active in the East African nation to work together on areas of common interest. Education about cancer is an important mission for KENCO, and Makumi wants advocates to fully understand ​the science of cancer and its treatments. "It's not enough to be passionate," said Makumi. "To get results, you need to be evidence-based."
Membership in KENCO acts as a seal of approval, an indicator that a cancer group in Kenya is responsible and serious, Makumi said. Most KENCO members are nongovernmental and community-based organizations. According to Makumi, KENCO's advocacy has an impact on the Kenyan government when it is determining health care policies. "When we talk, the government listens," he said.​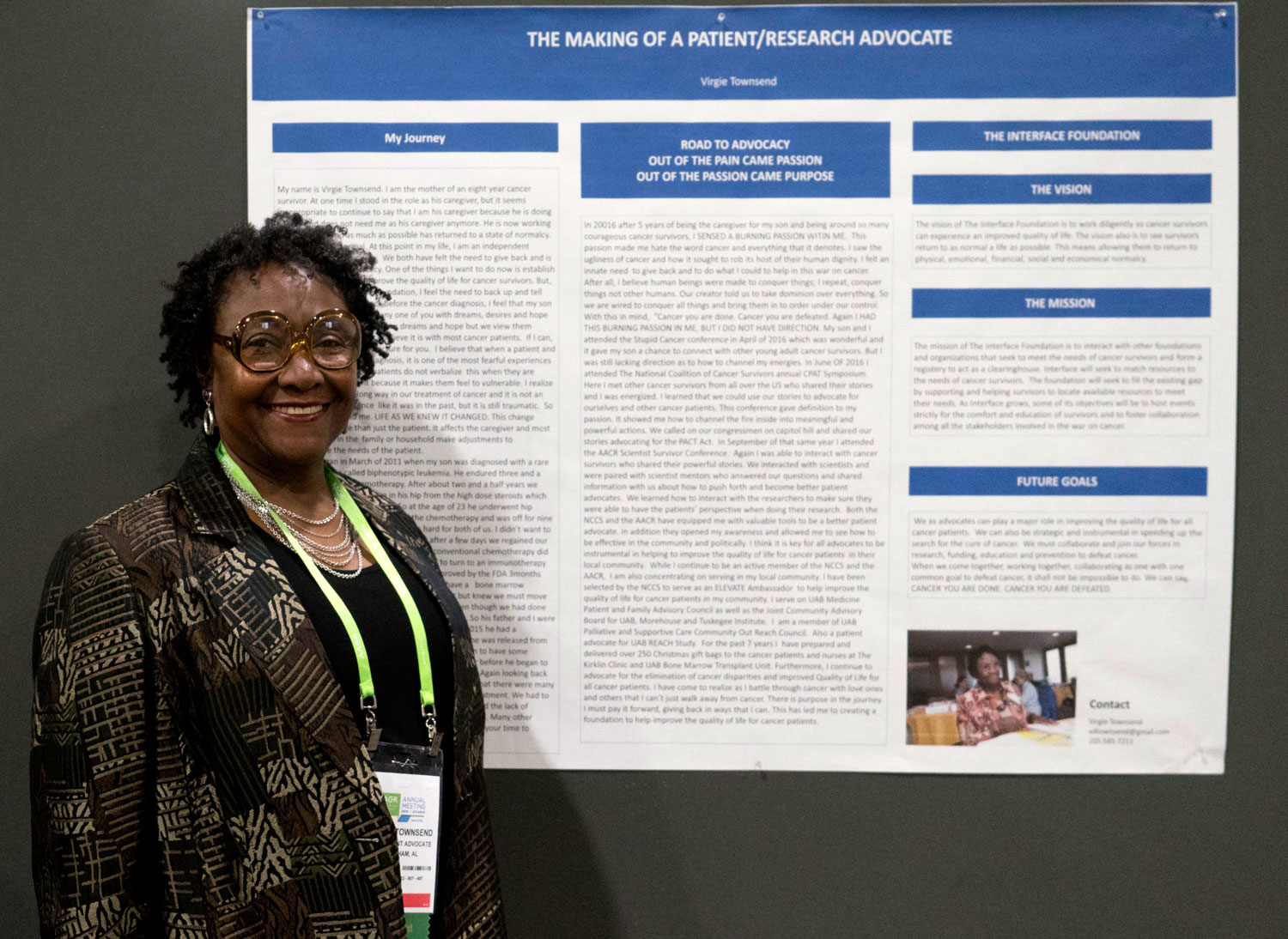 Many posters detailed personal stories of people affected by cancer. Virgie Townsend of Birmingham, Alabama, told the story of her son Martin, who was diagnosed with leukemia at 19 and, after years of treatment, recovery and relapse, has been in remission since his treatment ended more than two years ago. Townsend said she wants to use her experience caring for her son to establish a foundation that will help patients access resources that meet their needs.
Another patient advocate, Denis Raymond described his determination to keep moving forward despite an aggresive brain cancer. Diagnosed with glioblastoma in 2013 at the age of 26, the Ottawa, Canada, resident persevered through surgery, radiation and chemotherapy. His condition has been stable for more than five years, during which time he earned a master's degree in social work from the University of Ottawa. His research centered on recording his experiences as a young adult with a life-threatening cancer. Throughout the process, Raymond sought to maintain his identity and remain engaged with the world around him, and he has held workshops on the methods he developed to help other people with cancer.​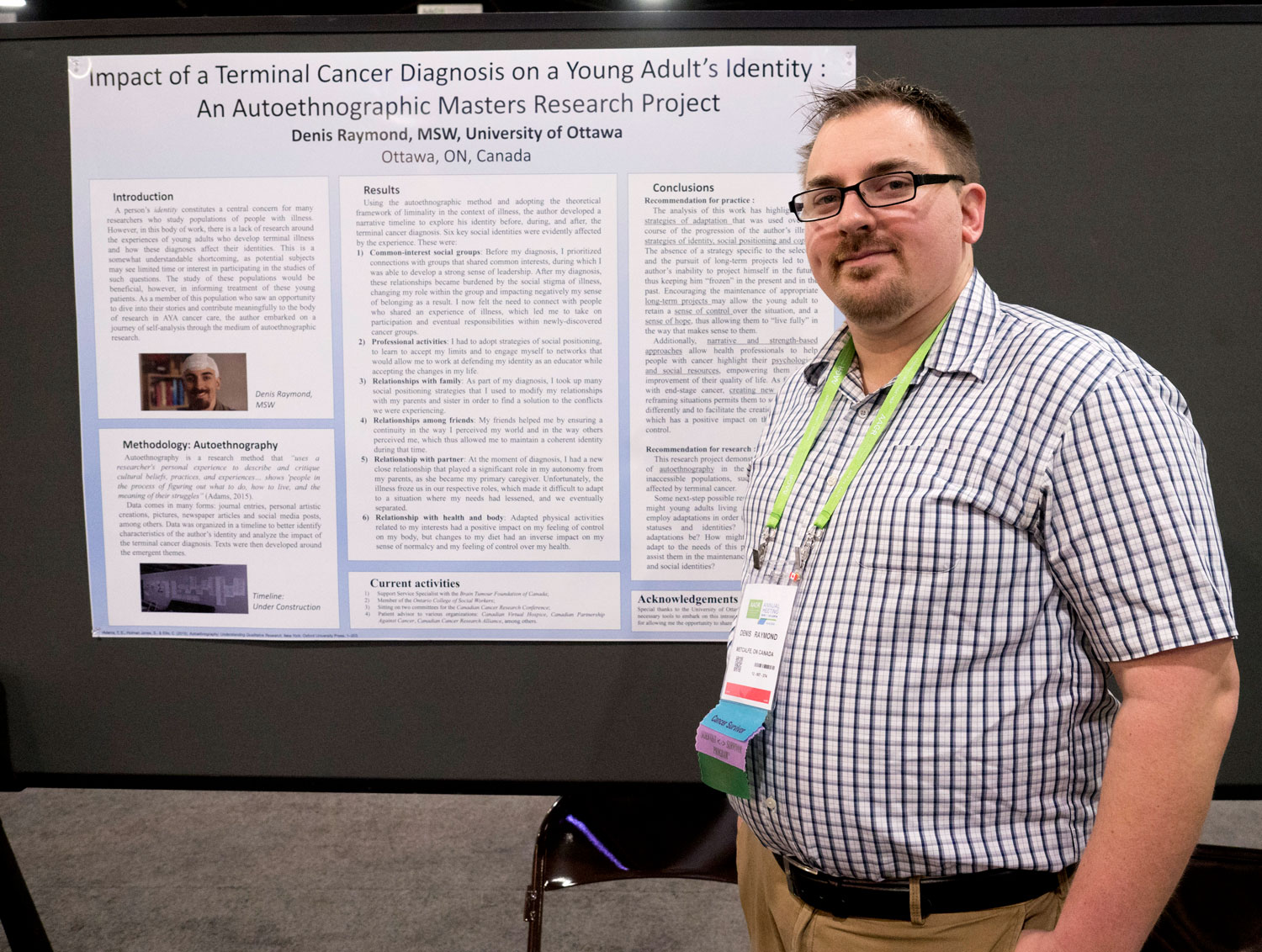 "I had to adjust to move forward," R​aymond said of his life after diagnosis. Now, newly engaged to be married and with a master's degree in hand, he added, "I'm regaining control of my narrative."
Cancer Today magazine is free to cancer patients, survivors and caregivers who live in the U.S. Subscribe here to receive four issues per year.