COVID-19 complicates ​an already-complex situation for cancer patients. The coronavirus brings new fears of illness, policies that separate patients from loved ones, and difficult scheduling decisions. Through it all, patients and their families are discovering creative ways to cope.
Here, four cancer patients share stories about COVID-19's effects on their lives.
​In Sickness and in Health
Kelly Conner — Missouri City, Texas
When Kelly Conner learned she had stage II breast cancer in January, her husband, Albert, said he'd stay by her side during her appointments at the University of Texas MD Anderson Cancer Center in Houston. Then came COVID-19, and with it, a no-visitor policy to reduce exposure risk to patients.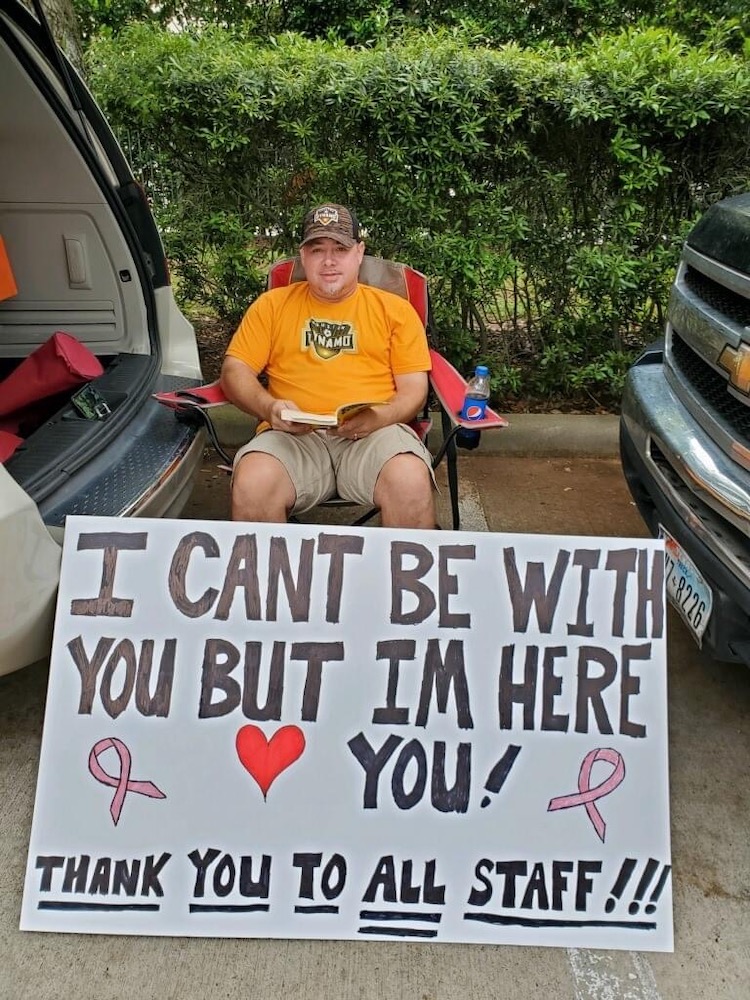 "It's not like [Albert] can really do anything while he's there, but it's nice having someone there," Kelly says. "It can feel lonely when you're there by yourself."
Kelly left for her March chemotherapy appointment alone. She didn't know that Albert left in his car a moment later, following her to MD Anderson. When her infusion began, she looked out the window to find a surprise. Sitting in a camping chair in the parking lot was Albert and a homemade sign: "I can't be with you but I'm here [loving] you! Thank you to all staff!!!"
"I just teared up and was really excited to see him," Kelly says. "I felt a lot of love for him to do that for me."
During her next appointment in early April, he waited outside her window again with a new sign counting down Kelly's chemotherapy appointments: "Thank you MDA for taking care of our loved ones! Five to go!"​
Kelly's last chemotherapy infusion will be in May, the day after the couple's 18th wedding anniversary. Albert plans to be there, too, with a new sign in hand.
What Does This Mean for Lung Cancer Patients?
Jill Feldman — Chicago
"With this crisis, all we hear about is how we flatten the curve. [Lung cancer patients] understand that, but we're still vulnerable to what happens next. How do we integrate back into society? How do we re-enter and stay safe? As lung cancer patients, it's especially eerie," says Jill Feldman, a stage IVA lung cancer patient and a cofounder of EGFR Resisters.
For More Information
Read more coverage here​ from Ca​ncer Today on the various impacts of the coronavirus on people with​ cancer.
​Through her advocacy work, Feldman hears from lung cancer patients all over the world who face this pandemic as a high-risk group, often with decreased lung capacity and suppressed immune systems. COVID-19 is top of mind for many. So is research. "There is a worry that [COVID-19] will set [lung cancer research] back years, whe​n there are so many of us depending on that next promising treatment," Feldman says.
As hospitals shift resources to prepare for COVID-19 surges, nonessential care often gets delayed. For the past year, Feldman has had stable disease while taking Tagrisso (osimertinib), an oral medication, and she gets scans every three months. In early April, Feldman's oncologist and radiation oncologist let her decide if she wanted to delay her scheduled scans. She chose to wait.
"If I go for the scans and, God forbid, there's progression, then what the hell are we going to do about it? Am I going to go for a biopsy right now? … They're not really doing surgeries, they're not really doing biopsies, they're trying to keep us out of hospitals," Feldman says. "[Knowing] would just provoke more anxiety."
In the meantime, Feldman and her husband stay home with their four children. "It's been both extremely difficult and extremely wonderful. We take the dog on walks. … We've been playing a lot of games, and that's been fun," she says. "When do you really get to do that?"
A Double War
Sheila McGlown — Swansea, Illinois​
Sheila McGlown was diagnosed with stage IV breast cancer in 2009, but her appointment in March at Siteman Cancer Center in St. Louis felt different from the others. It was the first time her doctor didn't greet her with a hug.
"Me and my doctor have a 10-year relationship, and I can't even remember the last time when I haven't hugged her," McGlown says.
That wasn't the only change COVID-19 brought, of course. There was the temperature check when she entered. The no-visitor policy meant that her daughter couldn't swing by with dinner, as she often does during McGlown's nine-hour clinical trial appointments, which combine infusions with Enhertu (fam-trastuzumab deruxtecan-nxki) and testing in one long day. And, of course, new worries emerged.
"If I'm going into the hospital, and someone coughs on me, will I get it? It's a fear of the unknown," she says. "[Cancer patients] are fighting a double war. We're fighting cancer, but we're also fighting an invisible virus, and we don't know if our immune systems can stay strong enough to kick it off."
McGlown's strength during stress comes from supporting other patients. She accepts calls for the Living Beyond Breast Cancer help line, and she reads grants for Metavivor​.
"I'm just trying to maintain what I was maintaining before this virus came along," she says. "It's [added] another layer of worry and fear."
A Different Kind of Wedding
The Cunningham Family — Palm Springs, California
The first time Lexi Cunningham changed her wedding plans, she did so in honor of a special guest: her dad, Craig Cunningham, who has st​age IV colon cancer. Craig's doctor encouraged the family to move up Lexi's August wedding to ensure that Craig could be there. The new date was March 22. ​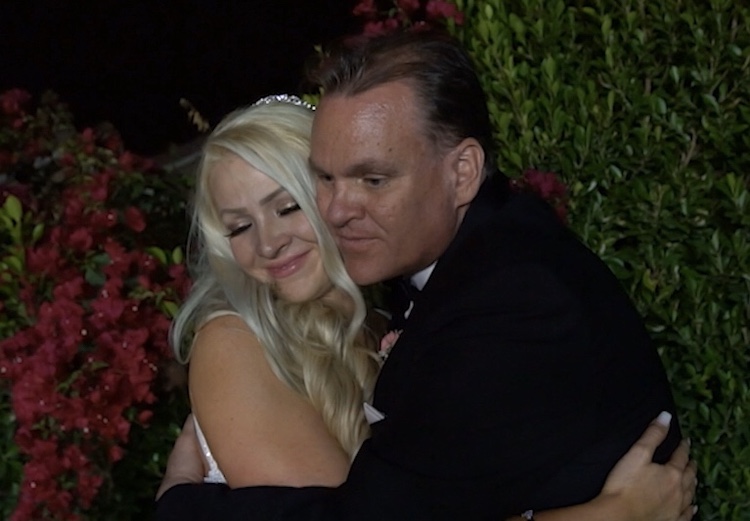 On March 17, the resort they had chosen for their wedding canceled the 200-guest oceanside event to comply with restrictions on social gatherings. Postponing the wedding was not an option. In just two days, Lexi and her mom, Tricia, planned a third version of the wedding—this one, a small backyard celebration with family.
Craig walked Lexi down the aisle. Guests watched the couple exchange vows, then enjoyed a night of dancing. Tricia will never forget one dance in particular.
"From the time my daughter was little, [Lexi] and her dad always talked about how he would sing 'Butterfly Kisses' at her wedding," says Tricia. "My husband sings amazingly well, and a few days before the wedding, he recorded it. Then we played it so they could dance to him singing 'Butterfly Kisses' to her at her wedding. It was really meaningful."
Cancer Today magazine is free to cancer patients, survivors and caregivers who live in the U.S. Subscribe here to receive four issues per year.