MANY PATIENTS WITH METASTATIC BREAST CANCER learn to take one day at a time, hoping that new treatments will keep pace with their disease progression. Two studies presented at the opening session of the San Antonio Breast Cancer Symposium (SABCS) Dec. 11 may encourage those patients with HER2-positive metastatic disease.
HER2-positive breast cancer, which is categorized by an abundance of HER2 proteins on cancer cells that cause the cells to grow out of control, makes up approximately 15% of U.S. breast cancer diagnoses, and several treatment strategies are effective. However, when the cancer recurs, it can often become treatment-resistant.
The two studies presented at SABCS were published simultaneously on Dec. 11 in the New England Journal of Medicine. One of them, called DESTINY-Breast01, looked at an investigational agent called trastuzumab deruxtecan (DS-8201), an antibody drug conjugate that uses an anti-HER2 antibody similar in structure to Herceptin that also delivers the cytotoxic drug deruxtecan directly to the cancer.
Patients participating in the study had previously received a median of six different treatments for advanced HER2-positive disease, including HER2-targeted treatments. The overall response rate in the 184 patients who received DS-8201 was 60.9%, with 6% complete responses and 54.9% partial responses. The median progression-free survival was 16.4 months.
These response rates are "roughly double or triple" those found in other studies of patients who had received three or more treatment lines, said Ian Krop, a breast oncologist and researcher at Dana-Farber Cancer Institute in Boston. Krop noted that studies in patients receiving multiple lines of treatment typically show a median progression-free survival in the range of four to five months. "Having new drugs that are active in this heavily pretreated population is really helpful for our patients."
The treatment can carry significant risk. Of the 184 patients who received DS-8201, 25 patients developed interstitial lung disease (ILD). Four patients died as a result of these adverse effects. Based on analysis of this study, the recommendation is to closely monitor patients who receive DS-8201 for symptoms of ILD, and to discontinue the drug and administer steroids if symptoms arise, Krop said.
"Why we have this particular risk is unclear, and we need to do more in terms of research to identify those patients who are at risk for getting the most severe cases of ILD and mitigate that risk," said Krop, who added that oncologists have learned to manage other toxicities of newer treatments with research, including the cardiotoxicity of trastuzumab, and immune-related toxicities of checkpoint inhibitors. "I think we can learn how to better deal with this, but clearly more research is needed."
Another presentation at the general session highlighted findings from the HER2CLIMB study, which looked at tucatinib, an investigational oral small molecule tyrosine kinase inhibitor that is highly selective for HER2. One study arm added tucatinib to Herceptin (trastuzumab) and Xeloda (capecitabine), resulting in a 34% reduced risk of death compared to taking Herceptin and Xeloda with a placebo. The treatment arm that included tucatinib showed a median overall survival of 21.9 months, compared to 17.4 months in the placebo arm, and 45% of patients were alive after two years compared to 27% in the group that was not treated with tucatinib.
The study included patients who had active brain metastases, a population that is typically excluded from clinical trials, even though up to half of patients with this type of cancer develop brain metastases. In both study arms, 15% of patients had an active presence or history of brain metastases.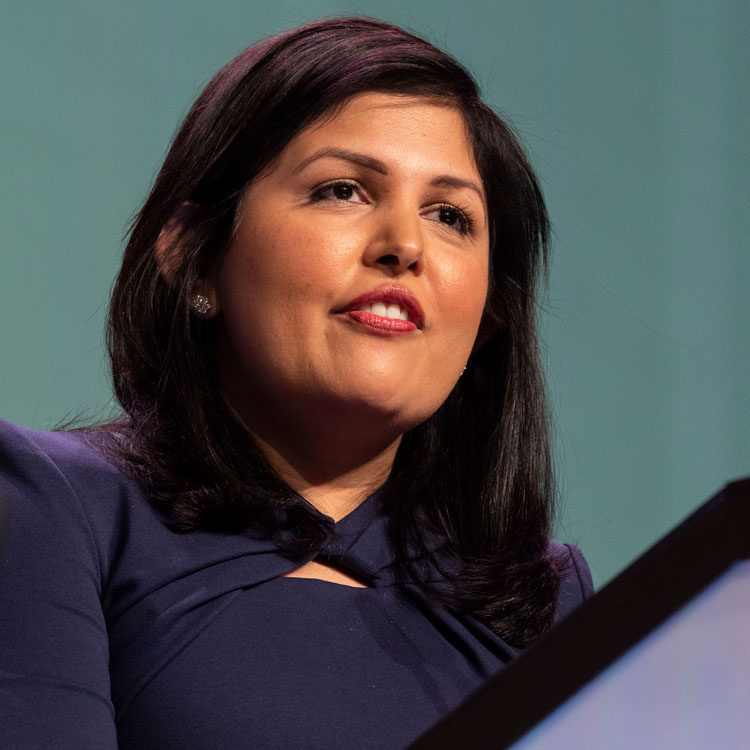 "Tucanib reduced the risk of death in all patients, including those with brain metastases," said Rashmi K. Murthy, a breast oncologist at the University of Texas MD Anderson Cancer Center in Houston who presented the findings. "This presents a unique population for further studies and to understand key details, such as, for example, intracranial response or progression rates, which we plan to study in the future."
The inclusion of these patients with brain metastases in the trial was encouraging, but not nearly enough, for patient advocate Lianne Kramer, 43, a metastatic breast cancer survivor who has 12 tumors in her brain but none anywhere else in her body. She believes scientists have an obligation to go even further. At the general session, she stood up to ask why patients ​with active brain metastasis were not included in the DS-8201 trial of the drug. If the tucanib goes on to receive approval, as expected, Kramer would not be a candidate for the drug since her cancer is hormone-receptor positive.
"I'd like to see more of this," Kramer said, during a special advocate meeting, sponsored by the Alamo Breast Cancer Foundation, with representatives of the U.S. Food and Drug Administration. "Women with brain metastasis are living longer now, and we need trials. We're not the liability we used to be. What do we need to do get them? It is way past time…So what is it going to take?" Kramer was one of approximately 300 patient advocates who attended SABCS, many of whom made their voices heard by asking questions of presenters.
SABCS brings together clinicians, scientists and patient advocates to highlight the latest advances in understanding breast cancer and breast disease, and is supported by UT Health San Antonio, the American Association for Cancer Research (AACR) and Dan L Duncan Comprehensive Cancer Center at Baylor College of Medicine in Houston. The AACR publishes Cancer Today.
Cancer Today magazine is free to cancer patients, survivors and caregivers who live in the U.S. Subscribe here to receive four issues per year.