JUST WEEKS BEFORE I met Agnieszka Mitręga in August 2016 at Holy Cross Cancer Center in Kielce, Poland, the 41-year-old mother of six learned that her estrogen receptor-positive breast cancer, first diagnosed in the spring, had metastasized to her bones and lungs. I asked Mitręga, whose children range in age from 4 to 22, how she was coping with the news.
"I have no time to think about it," says Mitręga, who lives in the town of Pińczów, about 25 miles south of Kielce. Between growing vegetables and rye, tending to the household, and caring for her husband and children on her family's 32-acre farm, Mitręga admits that, though she worries about the future, she remains "very active" and has "no time to dream about lying around, resting."
Mitręga assured me that she was "not feeling any pain," and that her doctor believed "she was in a good place" following a mastectomy, six rounds of chemotherapy and one treatment of radiotherapy. I was in awe of her calm strength and her belief that she would get through her experience with cancer, even though the disease had spread to many parts of her body, including her spine, ribs and likely her pelvis.
"I am a believer in God," Mitręga says. "I am Catholic."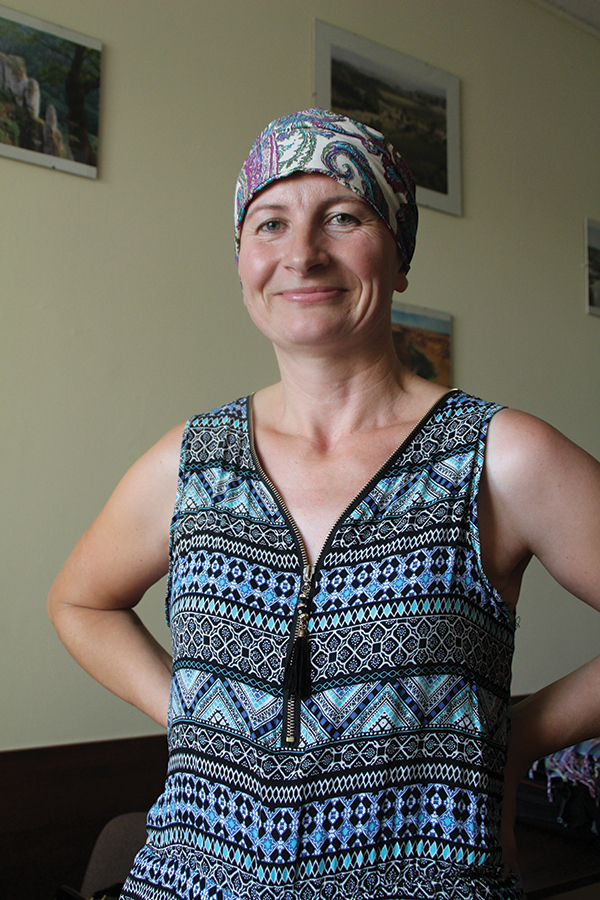 Spirituality and Survivorship
As I learned in conversations with others at Holy Cross Cancer Center, one of 16 regional public cancer centers in the country, Mitręga's fortitude in the face of a frightening diagnosis and uncertainty about the future was a common theme among both cancer survivors and those who treat them in Poland.
I traveled to Poland in July 2016 to attend World Youth Day with my teenage daughter and other members of her church youth group from Birmingham, Alabama. Begun by Pope John Paul II in 1985, the international celebration of World Youth Day is a biennial event for Catholic young people from around the world. The 2016 celebration was in Pope John Paul II's home country of Poland and culminated in an outdoor Mass celebrated by Pope Francis before an estimated 2 million people at Campus Misericordiae (the Field of Mercy) in Brzegi.
As a lifelong Catholic whose faith was tested by breast cancer diagnoses in 1993 and 2004, I met many Catholic believers in Poland. More than 94 percent of Polish citizens self-identify as Catholic. The country's landscape reflects this with a multitude of religious sites, including the monastery containing the image of the Black Madonna at Częstochowa, a revered icon that survived damage to the church during World War II and is a favorite destination for pilgrims.
Following the World Youth Day events, I stayed in Poland to learn about cancer care and survivorship. With a population of more than 38.5 million people, Poland is located between Germany to the west and Belarus, Ukraine and the Baltic states to the east. Its eastern neighbors were once part of the former Soviet Union, and for much of the 20th century, Poland suffered at the hands of its more powerful neighbors. After occupation by Nazi Germany ended in 1945, Poland endured 45 years of communist rule. As I would learn, decades of communism and isolation from the West had a significant influence on Poland's infrastructure—including the health care system.
Institutions devoted to caring for Poland's people had to be reoriented once the country was no longer governed by the communists. Decades of government oppression had left too few trained physicians, so waiting times to get medical attention in the public health care system were lengthy. Treatments were frequently inaccessible. Poles were understandably distrustful of the government and other social institutions long controlled by the communists. While private health care facilities are available in Poland, most citizens can't afford them.
My examination of the current state of cancer care in Poland began with a visit to the Polish Cancer Patient Coalition in Warsaw, the nation's capital. On the third floor of a communist-era concrete building on Piękna Street, I sat with several members of the coalition, including the organization's president, Szymon Chrostowski, and the office director, Beata Ambroziewicz, who served as our translator. Also present were Joanna Bogusz and Dorota Dudek-Godeau from Poland's National Institute of Public Health–National Institute of Hygiene, who would accompany me for three days as I conducted research.
My hosts explained that, as a result of long delays in diagnosis and treatment of Polish cancer patients, a new "waiting time and oncology treatment package," called the oncological package, was signed into law in January 2015 by then-health minister Bartosz Arłukowicz. The plan authorizes general practitioners to evaluate patients for cancer and, if they show symptoms of the disease, issue a "green card" giving them access to the cancer care system. Patients issued a green card are guaranteed to be tested and diagnosed in eight weeks or less. Within two weeks of receiving a green card, patients see a cancer specialist for an initial diagnosis and are assured a second opinion within six weeks.
Visiting Holy Cross Cancer Center
In Kielce—a city of roughly 200,000 and the capital of Świętokrzyskie Voivodeship (Holy Cross Province) in the southeastern part of Poland—I visited Holy Cross Cancer Center, established 26 years ago to care for cancer patients and promote research in the region. The center is the only comprehensive cancer care facility in the province, boasting 368 hospital beds and treating about 22,700 patients in 2015. One of 16 cancer registries in the country is housed there—part of a national effort to keep accurate records of cancer incidence, survival and mortality. Holy Cross Cancer Center offers several specialty areas: clinical oncology, radiation and surgical services; a bone marrow transplant division; and departments devoted to brachytherapy and hyperthermia, urology, endocrinology, gynecology and palliative care, among others.
Bogusz, Dudek-Godeau, translator Ewa Brdak and I were invited to visit Holy Cross Cancer Center by gynecologic oncologist Leszek Smorąg on behalf of Stanisław Góźdź, a clinical oncologist who helped start the center and was its first director. It was at Holy Cross Cancer Center that I spoke with Mitręga and other cancer survivors, and with health care providers like Michał Żyła, an otolaryngologist, and Góźdź, who was born and raised in the area and returned there after completing his training in medical oncology. In addition to treating patients, the center conducts cancer research, provides cancer education to communities in the province and offers patient counseling.
"People laughed at first, but we have built all of this," Góźdź said, pointing to a model of Holy Cross Cancer Center in his office. Over a cup of coffee, Góźdź shared his story of the center.
Góźdź said that when he was working as a young doctor in the 1970s, he noticed the increasing mortality rate of individuals affected by cancer in Świętokrzyskie Voivodeship. Without an oncology center in the region, patients had to travel long distances to receive diagnostic and treatment services. Góźdź initially worked with an oncology specialist to establish an oncology clinic at the Regional Hospital in Kielce, but more advanced treatments and technologies were located farther away, in cities such as Warsaw (112 miles from Kielce), Kraków (75 miles), Gliwice (112 miles) and Lublin (106 miles). Góźdź was determined to build a cancer center in Świętokrzyskie Voivodeship that would allow people from the region to receive the care they needed without having to travel elsewhere.
Though he is a practical man, praying for guidance and strength are central to Góźdź's philosophy. He views the center as a success in research—international journals have published results of studies done at Holy Cross Cancer Center—and in treating patients.
"We treat the whole person," Góźdź says. "Nothing is enough for my patients, and if we do [all that we can] and our patient dies but has hope, we know they are going on to God."
Góźdź's office reflects not only his deep connection to Holy Cross Cancer Center, which he calls his "second family," but also his Catholic faith and concern for patients. Religious paintings and sculptures decorate the office. Hanging from the wall is a photograph of Góźdź shaking hands with Pope John Paul II, another of him next to Pope Benedict XVI, and a certificate of appreciation for Góźdź's work signed by Pope Francis. Many of these same images line the corridors of Holy Cross Cancer Center, serving as a constant reminder of the spirit of the place, even though patients of any religious faith or none at all are welcome.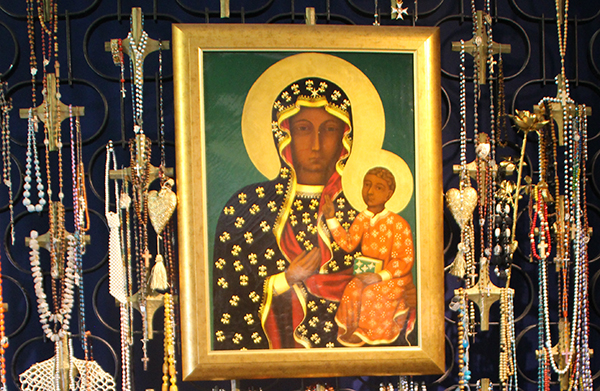 A prominent feature at the center is a chapel where Mass is celebrated daily and patients and visitors can pray at any time. Among the religious items in the chapel are a reproduction of the Black Madonna and small relics and images of Pope John Paul II, recently declared a saint by the Catholic Church, and St. Maximilian Kolbe, a Polish Catholic priest executed in the Nazi concentration camp at Auschwitz in 1941. The week prior to my visit to Kielce, I stood before the buildings at Auschwitz where St. Maximilian Kolbe was imprisoned before being put to death. These patron saints are recognized and respected throughout Catholic Poland.
While Góźdź showed Bogusz, Dudek-Godeau, Brdak and me the chapel, patients and family members approached him with updates about their own or a loved one's health. Góźdź is more than an oncologist to these people—he is a compassionate member of the community who knows patients by name and is personally invested in the well-being of their families.
During my final afternoon at Holy Cross Cancer Center, I spoke with Father Jan Iłczyk, a 68-year-old Catholic priest from Kielce who had returned for surgical removal of a benign lump that remained after earlier treatment for cancer of the larynx. As we talked about his bouts with cancer—kidney cancer in 1992 that left him with one kidney, prostate cancer in 2014 and laryngeal cancer in 2016—the priest shared details about his life in Kielce.
Born in Wilgoszcza, a rural area about 60 miles from Kielce, Iłczyk came to the city to attend seminary for six years. After ordination, he served in three parishes before assuming his current position as the head priest of St. Joseph Catholic Church in Kielce. When Iłczyk talked about the people at Holy Cross Cancer Center, tears welled up in his eyes.
"One in six of the inhabitants of Kielce attends my parish," he told me. "We have around 24,000 members, and 10 priests work with me."
Unsurprisingly, a sizable number of his parishioners are either patients or staff at Holy Cross Cancer Center, including his otorhinolaryngologist (ear, nose and throat specialist), Sławomir Okła. Iłczyk shares a story to illustrate how often the Catholic community and the cancer center intersect. Following his surgery for laryngeal cancer, Iłczyk addressed his parishioners about the excellent care he had received from his doctors, especially Okła.
"As I looked out," Iłczyk said with a smile, "I saw the very people I was speaking about. I could thank them in person."
From Iłczyk's perspective, his spiritual life and his role in the community came together in the care he received at the cancer center. Even the hoarseness that Iłczyk experienced, which led him to see a doctor, began when he was celebrating Mass at St. Joseph's.
According to otolaryngologist Michał Żyła, who has been at Holy Cross Cancer Center since 2008, Iłczyk's promptness in seeing a doctor is not typical of patients in the region.
"We see many patients with stage III or IV cancer," he said. Many "lack knowledge" about cancer, because they "haven't been educated about health" and the warning signs of cancer.
"Many people in small villages don't want to go to a doctor, because traditionally, there is no culture of going to a doctor for checkups," Żyła continued. "Fortunately, the culture is beginning to change and more young people are aware" of the importance of maintaining a healthy lifestyle and getting checkups.
As Bogusz, Dudek-Godeau, Brdak and I thanked Żyła and were leaving Holy Cross Cancer Center, I thought about something Mitręga had said. Though she was the first cancer patient at the center I had interviewed, her words resonated with me.
"I think that all will be well if I continue to feel like breast cancer is parallel to my life … but won't affect all of my life," Mitręga said. Since she "[had] her family and friends to live for," it was important to continue living her life as she always had—caring for her children and working on her family's farm.
Mitręga might represent one of the more health-aware patients Żyła described, but her words also revealed amazing fortitude, faith and insight. Mitręga knew that, when the changes she discovered in her breast didn't disappear as they had after breastfeeding her older children, she needed to see a doctor. And while she admitted she hasn't taken advantage of some of the counseling services provided to patients at Holy Cross Cancer Center, she has followed through with all of her doctors' advice. Soon, she told me, she would be undergoing genetic testing to see if her daughters might face a hereditary risk for getting breast cancer. For Mitręga and many others who come to Holy Cross Cancer Center for care, Góźdź's vision and hard work have made a difference in their cancer experience. Both the location of the center and the range of services offered to address the needs of body and soul are appreciated by cancer patients and survivors in the region. The place that Góźdź calls his "second home" has become a beacon of comfort, hope and faith for those in need.
Cancer Today magazine is free to cancer patients, survivors and caregivers who live in the U.S. Subscribe here to receive four issues per year.