When Jane Moore's radiologist told her the lump in her right breast was almost certainly an aggressive cancer, she felt the room spin. An oncology nurse helped set her back on course.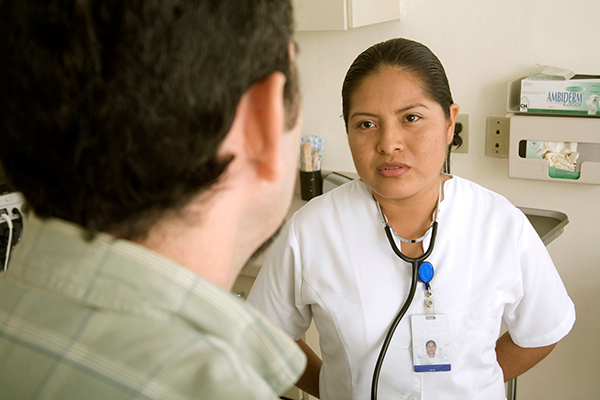 The nurse at the Froedtert & the Medical College of Wisconsin Westbrook Primary Care Clinic in Waukesha explained the details of what would come next, from the upcoming biopsy and MRI to the types of doctors Moore, then 65, would have on her medical team. She also gave Moore, who lives in Milwaukee, her mobile phone number and encouraged her to call with questions or concerns. In short, says Moore, the nurse "was our anchor."
Oncology nurses are an increasingly valuable resource during all stages of cancer care. They are equipped to discuss a diagnosis, walk patients through their treatment plan, help manage symptoms and side effects, offer resource options, and provide all-around support, says Shelly Brown, an oncology nurse in the Hematology and Transplant Clinic at the Ohio State University Comprehensive Cancer Center in Columbus.
Yet, not all patients know they can tap into this expertise. "I find that patients are very aware that doctors have limited time, and they are hesitant to bother doctors with questions," says Lillie Shockney, an oncology nurse and administrative director at Johns Hopkins Breast Center in Baltimore. She says patients are often relieved to discover she is not only capable of answering their questions, but also generally more available than their physicians.
Shockney helps patients understand the specifics of their pathology reports and what to expect after surgery. Patients "often want to know how the decision will be made about whether they will need chemotherapy or radiation, and whether there are things they can do for themselves to reduce the risk of possibly getting cancer again," she says.
Brown, who works with leukemia patients, says she does everything from answering questions about what types of social settings are safe when white blood cell counts are low to filling out disability paperwork.
Questions for Your Oncology Nurse
Be prepared with questions for your nurse.
Some oncology nurses focus on specific aspects of cancer care. Others are oncology nurse navigators trained to support patients throughout treatment. Oncology nurse practitioners have additional training that allows them to prescribe certain medications. You can ask oncology nurses:
What do my biopsy results and pathology report mean?
What am I going to look like when I wake up after having surgery?
How much pain will I have, and how will it be managed?
Can I work while getting my treatments?
What can I do to decrease my risk of a recurrence?
Are my children at risk of getting this same type of cancer?
What side effects should I be aware of, and how can they be managed?
How will the doctors taking care of me communicate with one another?
What happens if I can't afford my treatment?
How will I know if I am really cancer-free?
Oncology nurses are also versed in clinical trial options as well as medication side effects, says Emily Gentry, an oncology nurse and division manager at the Sarah Cannon Cancer Network. In addition, they know how to help patients overcome barriers to treatment, such as financial difficulties and child care problems.
Moore says oncology nurses guided her through 10 months of treatment, which included chemotherapy, surgery, radiation and now a clinical trial for triple-negative breast cancer patients. "Nothing was too small to ask the nurses during each stage of treatment," Moore says. "I honestly could not have gotten through it without their expertise, support and compassion."
Cancer Today magazine is free to cancer patients, survivors and caregivers who live in the U.S. Subscribe here to receive four issues per year.