HEARING FRED ROGERS sing those welcoming words as he donned his trademark cardigan sweater and blue tennis shoes signified a comforting kind of children's television programming. Parents could be sure a visit to Mister Rogers' Neighborhood would be educational and age-appropriate. For children, hearing the familiar song meant they were about to spend time with a man who understood their hopes and fears, never talked down to them, and always reassured them that "I like you just the way you are."
For Rogers, children's television was more than a job. "I don't think Fred ever thought the work was about him," says Elizabeth Nadas Seamans, who wrote scripts with Rogers for the program. "It was service and it was a calling."
Rogers' dependability and dedication brought him to the halls of Congress to testify before the U.S. Senate in support of sustained funding for the Corporation for Public Broadcasting and the children's television programming that aired on the Public Broadcasting Service (PBS). And it lives on today on PBS Kids' programs like Daniel Tiger's Neighborhood and Peg and Cat that continue to honor his ideals, more than a decade after his death in 2003 at the age of 74 from stomach cancer.
Feelings Matter
Fred McFeely Rogers was born on March 20, 1928, in Latrobe, a small town in southwestern Pennsylvania about an hour outside of Pittsburgh. His parents, James Rogers and Nancy McFeely Rogers, were devout Christians, and they raised their son in the Presbyterian tradition they revered.
Rogers was named after his grandfather, Fred McFeely, and many of the life lessons McFeely taught his grandson were echoed on Mister Rogers' Neighborhood. In an interview for the Television Academy Foundation's Archive of American Television, Rogers explained: "[My grandfather] was the kind of person who would say to you, 'You've made this day a special day. I'm glad you're here.' And it is wonderful for me to be able to pass that kind of thing on to others."
Rogers named the neighborhood's "Speedy Delivery Person" Mr. McFeely to honor his grandfather, and he paid tribute to other family members as well. The cardigans Rogers wore had been knitted by his mother, who made every family member a sweater each Christmas. His sister, Elaine, was included when he named a puppet Lady Elaine Fairchilde.
Amy Hollingsworth, the author of The Simple Faith of Mister Rogers, became friends with Rogers after she interviewed him in 1994 and 1996 for a program on a Christian television network. A pivotal point in Rogers' life, she says, occurred when he was only 8 years old. Shy and overweight, Rogers was frequently bullied by other kids, she explains, "and one day, a group of boys chased him home from school, taunting, 'We are going to get you, Fat Freddy!' The experience was emotionally devastating. But even harder was when adults in his life told him, 'Just pretend what they say doesn't bother you and act like you don't care.' Even at age 8, he knew it wasn't right to not acknowledge the hurt and anger a child can feel."
As an adult, he drew upon such memories when he composed the music for Mister Rogers' Neighborhood. "The music is a huge part of my work and that was always my way of saying who I was and how I felt," Rogers says in the archive interview. "I was always able to cry or laugh or say I was angry through the tips of my fingers on the piano. I would go to the piano even when I was 5 years old and start to play how I felt. I feel as if that's one of my gifts to children: Here is a way that doesn't hurt you or anybody else to say who you are and how you feel."
Stomach Cancer: Signs and Symptoms
Stomach cancer signs are often confused with other stomach problems.
Stomach cancer is the third most common cause of cancer deaths worldwide, responsible for about 723,000 deaths each year. In the U.S., it is much less common. The American Cancer Society estimated that in 2014 there would be about 22,220 stomach cancer diagnoses and about 10,990 deaths.
Screening for stomach cancer can be done with an endoscope, which allows a doctor to see inside the stomach. In the U.S., screening is performed only in adults who have a family history of stomach cancer or a genetic mutation in the CDH1 gene that increases stomach cancer risk.
Early-stage stomach cancer often doesn't cause any symptoms. But the best treatment outcomes occur in those who are diagnosed early. The signs and symptoms of stomach cancer include:
poor appetite;
weight loss;
abdominal pain or discomfort;
a feeling of fullness in the upper abdomen after eating a small meal;
heartburn or indigestion;
nausea and vomiting;
swelling or fluid buildup in the abdomen; and
low red blood cell count (anemia).
These symptoms are associated with other common stomach problems, like a virus or an ulcer. But if any of these problems persist, experts recommend a visit to a doctor.
A Calling
Rogers grew into a well-liked, self-assured high school student who was elected president of the student council. He began his freshman college year at Dartmouth in Hanover, New Hampshire, as a language major, but then transferred to Rollins College in Winter Park, Florida, to study music. There, he met Sara Joanne Byrd, called Joanne, a piano performance major whom he later married. "He was always interested in the welfare of children," says Joanne, who became a concert pianist. "I thought he might either go into the ministry, which he had said he was interested in, or that maybe he'd be involved with helping children in an orphanage. But I also thought: How is he going to use his music? And he picked a field where he could use everything—all of his talents—and it worked out well."
After graduating from college in 1951, Rogers moved to New York City. Intrigued by the budding field of television, he worked as a producer's assistant and floor manager for NBC. Joanne moved to New York City the next year, after the pair had wed. In 1953, they moved to Pittsburgh after Rogers was offered a position at WQED, the first community-supported broadcasting station in the country. There, Rogers developed The Children's Corner, which aired from 1954 to 1961. The program was similar to Mister Rogers' Neighborhood, with one notable exception: Rogers acted out the puppets' movements and voices and composed and played music, but he never appeared on camera. That job went to Josie Carey, who wrote the lyrics that accompanied Rogers' music.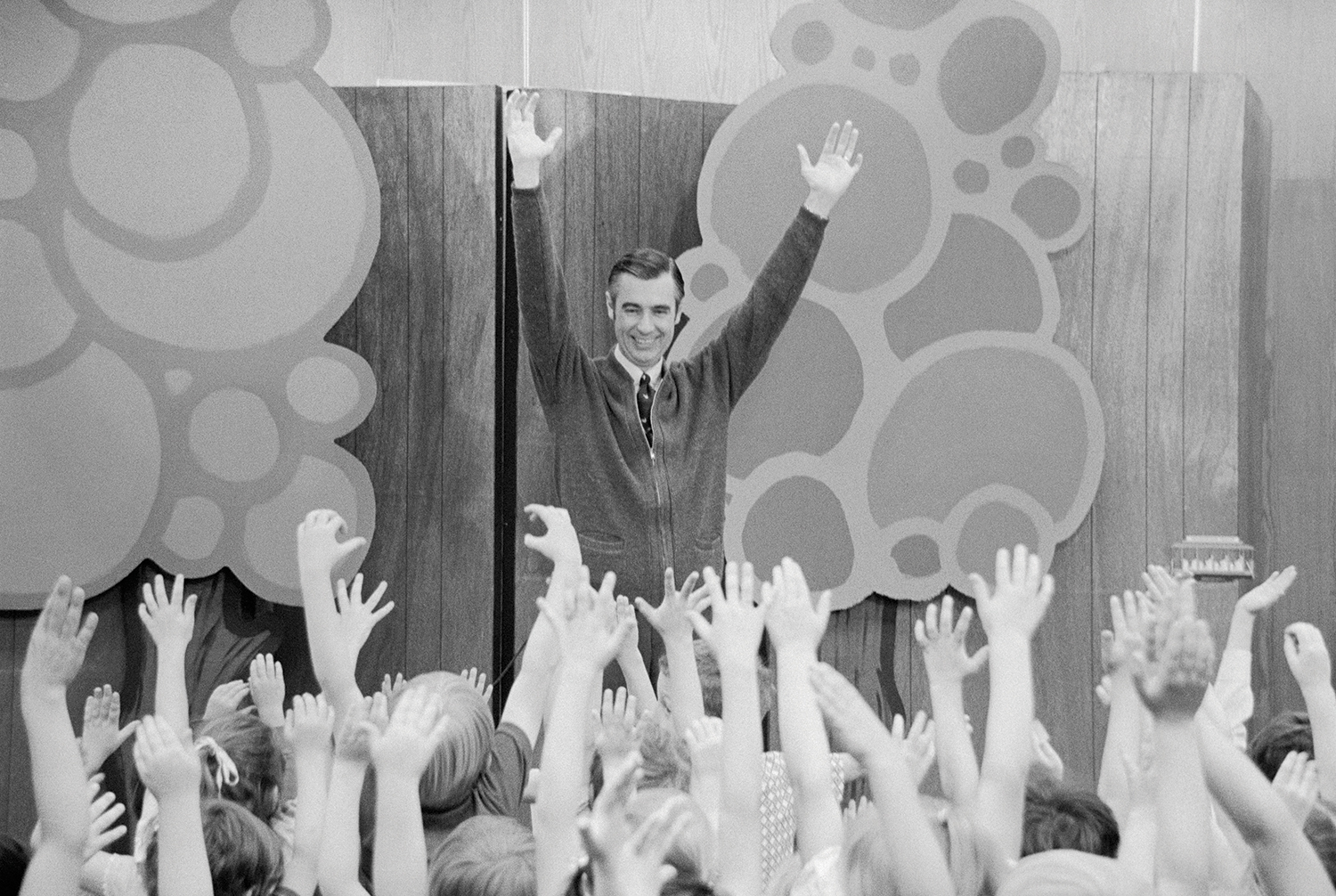 While working on The Children's Corner, Rogers pursued a master's degree at Pittsburgh Theological Seminary and studied with child psychologist Margaret B. McFarland, who co-founded the Arsenal Family & Children's Center at the University of Pittsburgh School of Medicine with pediatrician Benjamin Spock and psychologist Erik Erikson. After receiving a master's degree in divinity in 1962, Rogers was ordained by the Presbyterian Church. His ministry was children's television, and he pledged to use the medium to develop programming that would encompass and respect the emotional lives of children.
After graduation, Rogers and his family, which now included two sons, James and John, moved to Toronto to develop a program for the Canadian Broadcasting Corporation. The program, called Misterogers, featured Rogers, for the first time, on-screen. Misterogers aired from 1963 to 1964, when Rogers and his wife returned to Pittsburgh and WQED to be closer to their family and friends.
Creating a Neighborhood
In October 1966, WQED began airing Mister Rogers' Neighborhood in the Pittsburgh area. Two years later it was picked up by National Educational Television—the precursor to PBS—and could be seen on public broadcasting stations throughout the country. Mister Rogers' Neighborhood, which aired until 2001, catered to the routine that preschoolers between the ages of 2 and 5 thrive upon, and each episode addressed a specific aspect of a child's social, emotional or educational development.
"He was very demanding in his gentle way," says Joe Negri, a jazz guitarist who played Handyman Negri on Mister Rogers' Neighborhood. "He wrote the scripts and he wanted them done exactly as he wrote them. … He wanted to be an advocate for kids and he hated commercials. He wanted to be on public broadcasting because he didn't want to have a show that companies could use to sell products."
Some of Rogers' favorite episodes, says Seamans, who in addition to writing scripts played Mrs. McFeely, involved the operas he would create with his college friend John Reardon, an accomplished singer with the Metropolitan Opera in New York City, and Johnny Costa, the program's music director. "He loved writing those," Seamans recalls. "It was so fun to have an opera for a 3-year-old—and it was really good music."
By the time he retired in 2001, Rogers had filmed 895 episodes of Mister Rogers' Neighborhood and received myriad honors, including the Presidential Medal of Freedom in 2002. "What we see and hear on the screen is part of who we become," Rogers once said, and he was committed to ensuring that every image children saw in those episodes would help them to become the best person they could be.
A Late Diagnosis
Until the late 1930s, stomach cancer was the leading cause of cancer deaths in the United States. But over the past eight decades, diagnoses and deaths from stomach cancer have decreased dramatically. Today, it is the 16th most common cancer in the U.S., representing 1.3 percent of all new cancer diagnoses. Lifestyle changes—such as increased use of refrigeration, and, in turn, less need to salt or smoke foods to preserve them—are partially behind the decrease. A declining prevalence of infection by Helicobacter pylori (H. pylori), a common bacteria that scientists believe is the cause of most cases of stomach cancer, has been an important factor as well.
Although the number of new stomach cancer cases and deaths each year has fallen, one aspect of the disease hasn't changed: Most cases are still not diagnosed until the cancer has spread—and that was Rogers' experience as well.
In retrospect, says his wife, Joanne, there were unrecognized symptoms. "He was having a good deal of indigestion," she recalls. "He was very careful about what he ate … but it wasn't until it became painful" that he addressed it, "and then when the doctor did an endoscopy and learned it was stomach cancer, it was already too late."
Doctors say this is common. "One of the problems we face is that the symptoms are very similar to heartburn and other typical gastrointestinal problems," says Martin Karpeh, a surgical oncologist at Hackensack University Medical Center in New Jersey who specializes in gastric cancer. "And the over-the-counter drugs people take for indigestion or these other problems are good at mitigating symptoms, which can further delay the diagnosis."
Even when stomach cancer is diagnosed early, the survival rates are not as high as those seen for many other cancers, says Adam Bass, a gastrointestinal oncologist at Dana-Farber Cancer Institute in Boston whose lab studies gastric and esophageal cancers. "The chance of there being metastatic disease later is much higher than it is with [an early-stage] breast or colon cancer. … So I think there is something inherent to the biology of the disease that makes it prone to spread early and that makes it aggressive."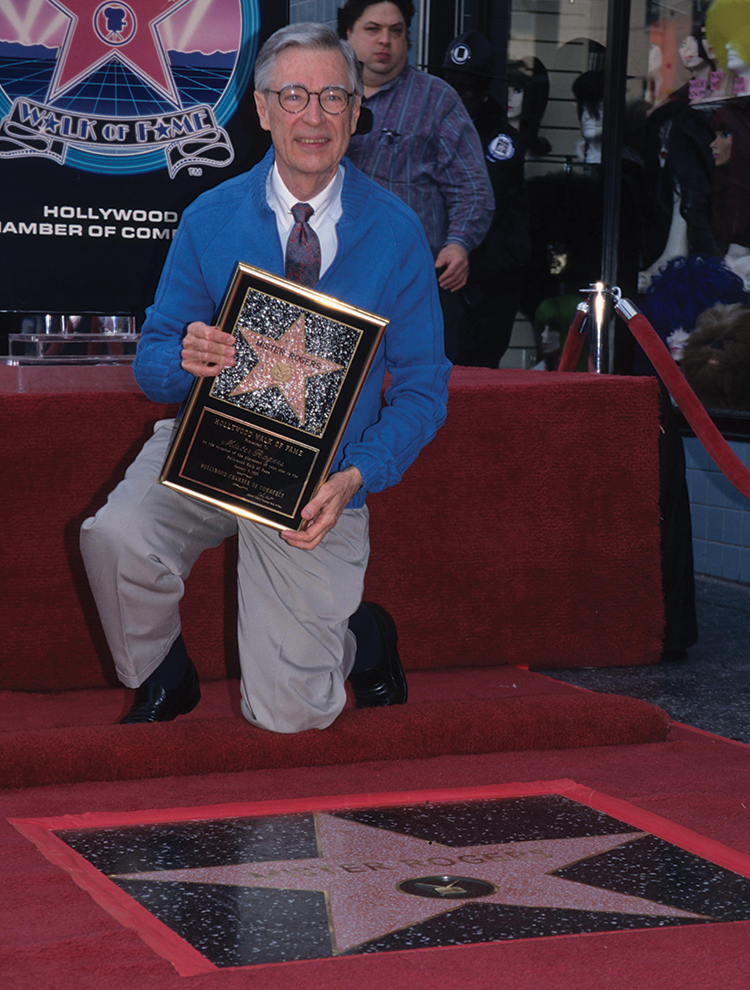 Incremental Advances
The primary options available to treat stomach cancer have changed little since the time of Rogers' diagnosis: surgery, chemotherapy and radiation. In the past, however, stomach tumors typically developed in the antrum, the lower part of the stomach, says Karpeh. "Now, we are seeing an increase in the number of cancers in the first part of the stomach and lower esophagus—what we call gastroesophageal (GE) junction cancers." Depending on their location, these tumors are treated either like an esophageal cancer or a stomach cancer.
Only two targeted therapies are currently used to treat stomach cancer. Herceptin (trastuzumab) was approved in 2010 by the U.S. Food and Drug Administration (FDA) for use along with chemotherapy to treat HER2-positive metastatic stomach and GE tumors. (About 20 percent of stomach and GE tumors are HER2-positive.) Herceptin was approved after a randomized trial showed a median overall survival of 13.5 months in patients receiving Herceptin and chemotherapy compared with 11 months for those receiving chemotherapy alone.
The angiogenesis inhibitor Cyramza (ramucirumab) was approved in April 2014 for advanced stomach or GE cancer. Cyramza slows or stops cancer growth by preventing tumors from developing the blood vessels they need to grow and spread. It was approved as a single-agent treatment after a randomized trial found a median overall survival of 5.2 months in patients receiving Cyramza compared with 3.8 months in those receiving a placebo. In November 2014, it was approved for use in combination with the chemotherapy drug Taxol (paclitaxel) after a randomized trial showed a median overall survival of 9.6 months in patients receiving Cyramza and Taxol compared with 7.4 months in those receiving Taxol and a placebo.
Immunotherapies—treatments that get the immune system to go after cancer cells—are also showing promise in stomach cancer. Researchers recently reported that a phase I study found that Keytruda (pembrolizumab) shrank tumors in 12 of the 39 people enrolled in the study. Keytruda blocks a protein called the programmed death-1 receptor (PD-1) that helps cancer cells avoid the immune system. It also targets a protein on the tumor called PD-L1—and all of the patients enrolled in the study had tumors that tested positive for this protein. A phase II study of Keytruda is expected to get underway in 2015.
Bass believes there will be more promising treatments. But first, he says, "there is a lot of work to do in the lab to get a better sense of the underlying biology of these tumors and the DNA changes that drive the disease. … In truth we are years behind other tumor types where the research is more developed, so we need to build an infrastructure that will allow us to develop effective therapies."
A Legacy Lives On
In January 2003, Rogers was in pain while appearing in the New Year's Day Rose Parade in Pasadena, California. Late in 2002, he had been diagnosed with stomach cancer, but was committed to attending the event. After returning to Pittsburgh, Rogers had surgery to remove his stomach. He spent about 10 days in the hospital before returning home. Rogers died on Feb. 27, says Joanne, the day after his grandson's birthday.
Following his death, Rogers was recognized by the U.S. Senate and House of Representatives, which passed resolutions in tribute to his life and work. The Presbyterian Church honored him in a General Assembly, and an asteroid was named in his honor. Two organizations, the Fred Rogers Center at Saint Vincent College in Latrobe and the Fred Rogers Company in Pittsburgh, are dedicated to advancing his philosophy and values and fostering education in early learning and children's media.
During her second interview with Rogers in 1996, Hollingsworth asked him, "If you had one final broadcast and one last opportunity to say anything, what would it be?" Rogers replied, "I would want those who were listening somehow to know that they had unique value. That there is not anyone in the whole world who is just like them, and never has been and never will be."
Cancer Today magazine is free to cancer patients, survivors and caregivers who live in the U.S. Subscribe here to receive four issues per year.