ABOUT TWO AND A HALF YEARS AGO, Brandon Hora, a young father of two, couldn't shake a cough. A trip to the doctor ended with an antibiotics prescription for what his physician thought was pneumonia, but a month went by without relief. That's when a CT scan revealed what was soon diagnosed as stage IV non–small cell lung cancer.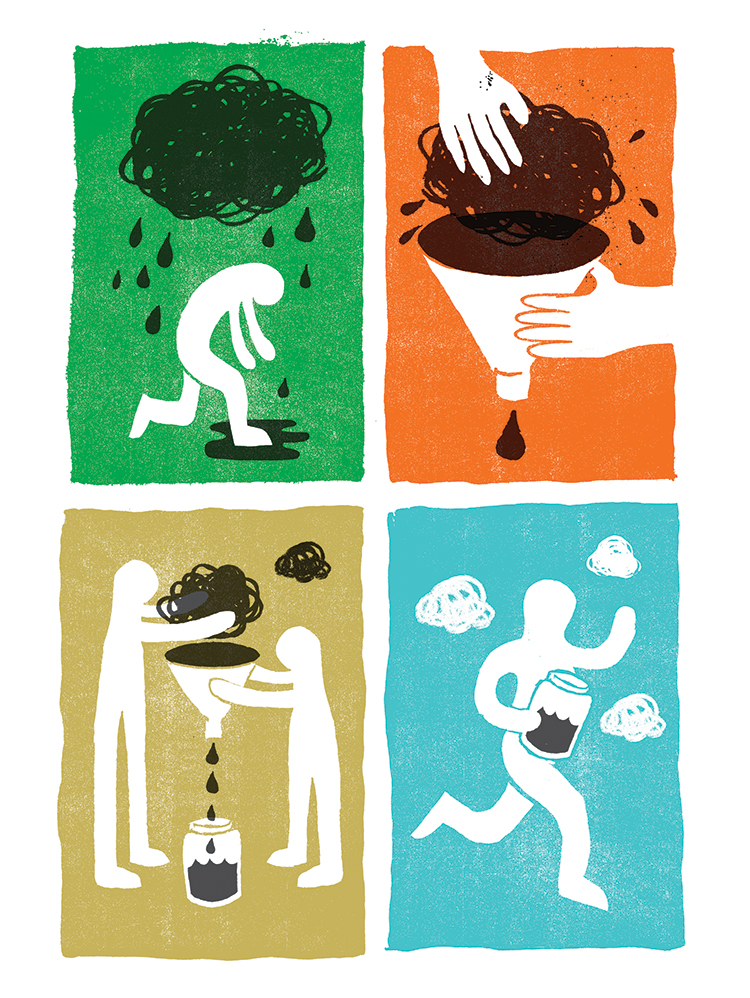 Doctors never shared Hora's prognosis, but he says he knew from his own research that it wasn't good. "I was in the mind frame of, 'Let's get going.' I wanted to start fighting it now," says Hora, 31, of New Carlisle, Ind.
Chemotherapy plus the targeted drug Avastin (bevacizumab) put the brakes on the cancer's growth. Then, in an effort to lengthen that response, doctors kept Hora on Avastin long-term—a strategy called maintenance therapy. And it worked. For six months, the drug kept his aggressive cancer in check.
Typically, doctors give treatment for a limited time to stabilize a cancer and its symptoms or to put it into remission, and treatment resumes only if the cancer gets worse or comes back. Maintenance therapy, on the other hand, delivers one punch after another to fight off any cancer cells that might remain in the body after the initial therapy. It is being used or studied in numerous cancers, including lymphoma, multiple myeloma, and lung, colorectal and ovarian cancers.
For patients like Hora who have advanced cancer, maintenance therapy may help delay the reappearance of the disease. And ongoing treatment can have the added benefit of controlling certain disease-related symptoms, such as bone pain and shortness of breath.
"If you can't eradicate the disease with your primary treatment, at least you're doing something to exert pressure on that residual disease to try to control it," says medical oncologist Andrew Zelenetz, the chief of the lymphoma service at Memorial Sloan-Kettering Cancer Center in New York City. In follicular lymphoma, for instance, initial therapy can leave some cancer remnants behind, Zelenetz says. "Even if you can't find it on the scan, even if you can't find it in the bone marrow biopsy, you know it's there."
Old Approach, New Drugs
Although the concept isn't new, maintenance therapy is gaining momentum thanks to the availability of newer, less-toxic drugs. Depending on the type of cancer, the maintenance regimen may include one or more of the same drugs used in the initial, or first-line, therapy. Or it may introduce a different drug.
In the last couple of years, the U.S. Food and Drug Administration (FDA) has given the green light to the targeted drug Tarceva (erlotinib) and the more-traditional chemotherapy drug Alimta (pemetrexed) as maintenance treatments for advanced non–small cell lung cancer. Rituxan (rituximab), a targeted drug used to treat certain lymphomas and leukemias, is the latest to join the list of FDA-approved maintenance drugs, following its approval in January 2011 as a maintenance therapy for advanced follicular lymphoma.
What Are Targeted Drugs?
Learn more.​
Unlike traditional chemotherapy, which kills cells indiscriminately, targeted therapies interfere with specific molecules that are involved in the growth and spread of a person's cancer. (These drugs are often called "molecularly targeted drugs" or "molecularly targeted therapies.") These drugs may deliver lethal toxins to cancer cells, impede the formation of blood vessels that feed a tumor, block the biochemical signals cancer cells use to communicate, or prod the immune system to attack tumors. Compared with regular ch​emotherapy, these drugs may have fewer side effects and kill fewer healthy cells, and they may improve a patient's quality of life.​​
Read more: cancer.gov​
Not every patient is a good candidate for maintenance treatment. Doctors typically do not recommend ongoing treatment for patients whose cancer isn't aggressive, or for patients whose bodies cannot tolerate a barrage of drugs.
Instead, a break from therapy may be more appropriate, particularly for patients who respond well to treatment and who aren't experiencing problematic symptoms related to their disease.
Chemotherapy can leave patients "a little beat-up," says lung cancer specialist Mark Socinski, a medical oncologist and researcher at Lineberger Comprehensive Cancer Center in Chapel Hill, N.C. "I don't think it's wrong to take a break to let side effects resolve," he says.
But for patients who decide against a treatment holiday, maintenance therapy may offer peace of mind. The tradeoff: more trips to the doctor, higher costs for treatment, and the potential for side effects.
The maintenance Avastin didn't cause any problems for Hora, whose only complaint is lingering nerve damage from his initial chemotherapy.
Even so, for Hora's wife, Tiffiany, ongoing treatment became a reminder of what they face. "You wake up some days and you're extremely angry that you have to live with this disease every day. And then you get to a point where you don't really care. If this is what it takes to keep him alive, then this is what we will do," she says.
Keeping patients with metastatic lung cancer alive boils down to drug exposure, Socinski argues. Patients can't benefit from available therapies if they don't get them. Waiting until patients' cancers progress means that up to half of them won't get second-line therapy, because they get too sick to tolerate the medicine and its side effects. "Why don't we give second-line therapy earlier, call it maintenance, and lo and behold, the survival is improved," Socinski says. "In my mind, maintenance is a strategy to improve exposure and to improve the use of multiple lines of therapy. If you do that, you're going to see more patients survive longer."
But those improvements in survival are small, cautions medical oncologist Roy S. Herbst, the chief of medical oncology at Yale Cancer Center and Smilow Cancer Hospital at Yale-New Haven in Connecticut. In the SATURN trial—the study that led to Tarceva's approval in 2010 as a maintenance drug—patients who received Tarceva immediately after chemotherapy lived only one month longer than those who didn't take Tarceva: a median of 12 months as opposed to 11 months. The drug, which caused some patients to develop a rash, worked best against tumors with a mutation in a specific gene, known as the epidermal growth factor receptor gene.
Alimta turned in a better performance, extending survival by about five months in patients with advanced nonsquamous non–small cell lung cancer. Patients on maintenance Alimta, which can cause anemia and worsening fatigue, lived a median of 15.5 months compared with 10.3 months for those not receiving Alimta.
Although the findings convinced the FDA to clear Alimta as a maintenance therapy in 2009, Herbst says it's unclear whether waiting to give Alimta until a person's cancer worsens would have the same effect on survival. "The one thing we don't know is whether maintenance is any better than just waiting and giving therapy when patients recur," he says.
The FDA's recent stamp of approval for another maintenance therapy, Rituxan, endorsed an approach some doctors were already using to treat follicular lymphoma. The FDA based its decision on a study, nicknamed PRIMA, that found two years of maintenance Rituxan after successful first-line therapy resulted in 75 percent of patients remaining free of disease progression after a median of three years of follow-up. Compare that with 58 percent in the non-maintenance group who were progression-free after three years. Side effects, particularly infections, were more common in the Rituxan group.
​Follicular lymphoma grows slowly, and about 95 percent of patients in both treatment groups were still alive at three years, the PRIMA investigators reported. They will continue to track the two groups to determine whether adding the two years of maintenance Rituxan to initial therapy improves overall survival. "If we do see a survival advantage, most—if not all—oncologists will then find a more compelling argument to use maintenance Rituxan," says Zelenetz.
But, he says, until there's proof it extends survival, maintenance Rituxan after chemotherapy should not be considered the standard of care. Combining Rituxan with other agents, such as the myeloma drug Revlimid (lenolidomide), may be even more effective than Rituxan alone, Zelenetz adds.
For patients with inoperable stage IV colorectal cancer, medical oncologist Axel Grothey, of the Mayo Clinic in Rochester, Minn., has been offering Avastin with either the chemotherapy pill Xeloda (capecitabine) or fluorouracil (5-FU) as maintenance therapy for the past five years. "Giving a patient a complete break of therapy is probably not a good idea as a default," says Grothey. He acknowledges, however, that the maintenance approach in colorectal cancer is currently based on circumstantial evidence.
Providing some clarity, Grothey hopes, will be CAIRO3, an ongoing Dutch study that's comparing maintenance therapy of low-dose Xeloda plus Avastin against no maintenance treatment.
Is Maintenance Therapy Right for You?
It's​ important for patients to talk to their doctors if they're​ wondering whether this longer treatment approach may be right for them.
Although maintenance therapy has been used for decades in the treatment of leukemia, today it is being used and studied in a growing number of cancers, including lymphoma, lung cancer and colorectal cancer.
Here's​ a list of questions to start a conversation with your doctor about whether it might suit your needs:​​​
Is maintenance therapy an option in my situation?
Do you recommend maintenance therapy or do you recommend a break from treatment? Will you take my preference into consideration?
What would be the purpose of maintenance therapy?
If I take a treatment break instead, how do you plan to monitor my cancer for progression?
What are the possible side effects of maintenance therapy?
For how long and how often would I receive treatment?
What has the latest research found about using maintenance therapy to treat my type of cancer? What questions still need to be answered about which patients could benefit from maintenance therapy?
Am I eligible for a clinical trial of maintenance treatment? (Find trials at ClinicalTrials.gov and www.emergingmed.com/networks/AACR-SU2C.)
Will my insurance cover the cost of maintenance treatment? Do I qualify for programs that assist with the cost of cancer treatment?
Primary source: www.cancer.net
A Chronic Disease
The goal of maintenance therapy is to turn cancer into a chronic disease—akin to beta blockers for heart disease or insulin for diabetes. Hora welcomed the idea of treating his lung cancer chronically, describing it as "just a matter of staying ahead of the game."
As is typical for advanced lung cancer, when one treatment stops working, patients move on to the next. After multiple lines of therapy, Hora is now back on chemotherapy and hopes to enroll in a clinical trial testing a new drug combination.
But life hasn't changed much. He still works full-time as a home appraiser and continues to participate in the active lives of his 4- and 8-year-olds. "It's just that we've got this thought in our head," says Hora. "But I'll take whatever it takes to keep moving forward."
Herbst predicts personalized maintenance therapy will become a mainstay in the treatment of advanced cancers such as lung. He says if doctors can understand a particular tumor's biology, they can understand which biochemical pathways are still active in the tumor following initial chemotherapy. "Then," he says, "we can target the maintenance in an even more effective way."
For Whit Scoggin, of Mount Pleasant, S.C., maintenance therapy has beaten back two different types of lymphoma. Diagnosed more than six years ago with diffuse large B-cell lymphoma, Scoggin, 74, received Rituxan plus a chemotherapy regimen called CHOP (cyclophosphamide, doxorubicin, vincristine and prednisone). Two years of maintenance Rituxan put the cancer into remission.
Then last spring, doctors found follicular lymphoma in Scoggin's intestine. After surgery to remove the tumor, he's back on maintenance Rituxan. "The Rituxan does what it is supposed to do—to get in there and kill any cancer cells that pop up," he says.
Being back on Rituxan for another go-round doesn't bother Scoggin. "If it keeps the cancer away," says Scoggin, "I'm 100 percent for it."
Cancer Today magazine is free to cancer patients, survivors and caregivers who live in the U.S. Subscribe here to receive four issues per year.