BEHIND THE FAME, money and glamour of major league baseball is the years-long struggle that countless young athletes face trying to make it to the big leagues. The path from minor league baseball, where young players hone their skills, to the majors is often bumpy. Just 10% of players drafted by major league teams actually get to be on a major league roster.
Testicular Cancer Resources​
Testicular cancer is the most common cancer in men between ages 15 and 45. Check out these resources to learn more about the condition:
The Testicular Cancer Awareness Foundation provides peer-to-peer support as well as links to research trials that are recruiting testicular cancer patients to better understand the disease.
The Testicular Cancer Society offers a forum where patients can share their experiences, as well as one-on-one support.
Stupid Cancer provides resources for adolescent and young adult cancer survivors, including meetups and a discussion series on topics like intimacy, dating and fertility preservation.
Things looked promising for Connor Joe, who was drafted in the first round by the Pittsburgh Pirates in 2014 after playing his junior year at the University of San Diego, where he hit .367 and led the team in home runs and runs batted in for the 2014 season. But as often happens in professional sports, Joe suffered an injury that put him on the sidelines. A strained back just two days before he was set to play his first minor league game led to a summer of rehabilitation. For the next five years, he bounced around the farm systems of five major league teams as he tried to regain his stride. In 2019, Joe finally made his major league debut with the San Francisco Giants, but a disappointing stint of one hit in 15 at-bats for a .067 batting average resulted in him losing a spot on the big league club. He ended up back in the Los Angeles Dodgers' minor league system, where he had played for the 2018 season.
Still, Joe had a strong 2019 se​ason with the Dodgers' Triple-A Oklahoma City team, which earned him an invitation to spring training 2020 in Glendale, Arizona. During a routine team physical in February, however, the doctor felt a lump in Joe's right testicle. A follow-up ultrasound and lab tests revealed he had testicular cancer, although the doctor at the Mayo Clinic in Scottsdale, Arizona, who broke the news to him emphasized that it was treatable and curable.
The young ballplayer was alone when he received the diagnosis. Joe's wife, Kylie, had helped him set up his Arizona apartment a few days earlier—a routine the couple had fine-tuned over the years as Joe started spring training in various ballparks around the country. Kylie was home in Orange County, California, when Joe called to tell her the news. On the six-hour drive back home from Arizona, Joe called his parents and sister to let them know about his diagnosis. Once again, his dream had been sidetracked. "It was really crazy because I had no symptoms, and I was in the best shape of my life," Joe says.​​
Establishing a Rapport
Testicular cancer is highly curable. There were an estimated 9,470 cases of testicular cancer in 2021 in the U.S.—making up just 0.5% of all new cancer cases that year. In the same year, an estimated 440 people died from the disease—just one-tenth of one percent of all cancer deaths in the U.S. The five-year relative survival rate for testicular cancer is roughly 95%. Even if the disease has spread to distant parts of the body, the relative survival rate is high at 73%.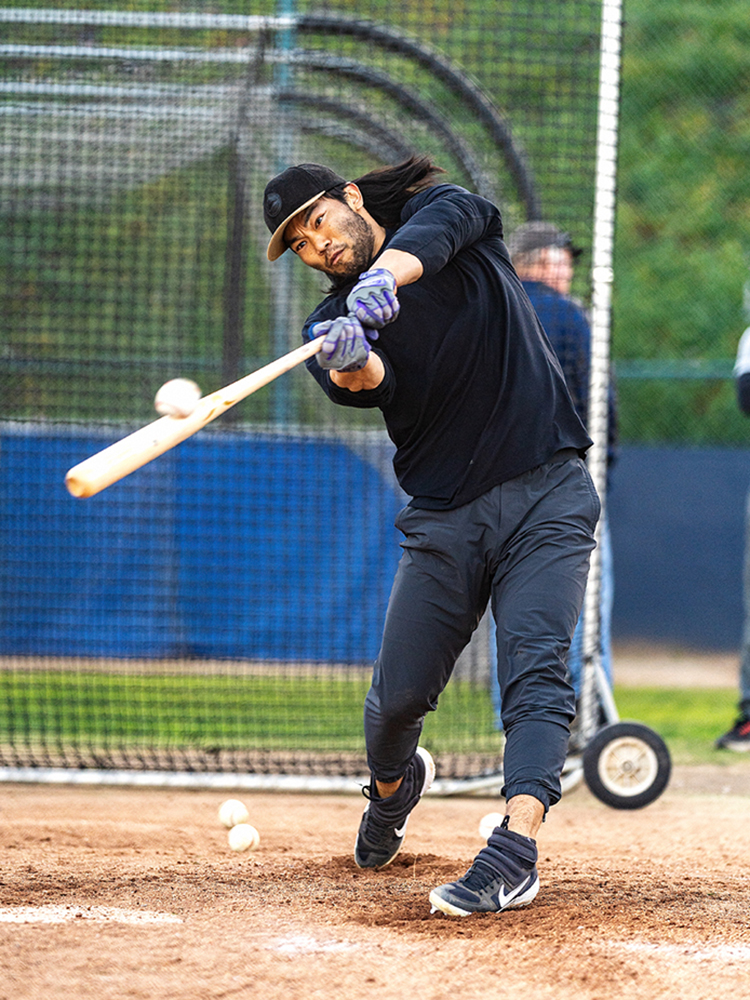 Known for his patience at the plate and waiting for the right pitch, Joe took a similarly calculated approach to his cancer diagnosis and treatment. He started "interviewing" physicians who were within a few hours' drive of his house. When he met urological oncologist Mark Litwin at UCLA Urology in Los Angeles, he knew he was in the right place. Litwin, who had been diagnosed with testicular cancer when he was 18 years old, spoke directly to Joe's experience.
"When we met Dr. Litwin, he could relate to where I was at. We were most comfortable with him. He talked to me as a person, not as a patient," Joe says. "He told me the truth, that it wasn't going to be easy, but he assured me that there's life after the cancer diagnosis. And he was a living example of that, so that was really encouraging to me."
Litwin advised Joe to bank his sperm to ensure that he could have a family, although it's possible to have children naturally after surgery, as had been the case with Litwin. On March 16, 2020, the urologist surgically removed the tumor and Joe's right testicle. However, scans before Joe's surgery had shown a mass in his lung, which would require a biopsy.
The biopsy revealed bad news. The cancer had spread to Joe's lung, which meant he would need to undergo chemotherapy. His medical oncologist, Alexandra Drakaki at UCLA, recommended treatment with two chemotherapy drugs, etoposide and cisplatin—leaving out a third chemotherapy drug called bleomycin that can damage the lungs, which could be devastating for a professional athlete. As a result, Joe needed to extend his treatment for an extra cycle.
"She went through the whole process with me and my wife and made sure we felt comfortable with it," Joe says of Drakaki. "Her biggest thing to me was that I maintain my workout routine. It obviously wasn't going to be as rigorous as an off-season training program, but she wanted me to move. If I wasn't feeling spectacular, she wanted me to get up and go walk my dog."
When describing Joe, both Drakaki and Litwin refer to his strong drive and work ethic. "He was infusing the positive energy into the conversation, which is atypical for these kinds of exchanges [when a young adult is first diagnosed with cancer]," says Litwin. "He just kind of set his mind to it, and he was going to work on it. He had a set of tasks and a goal, and he was going to achieve it." Drakaki adds, "He is an athlete. He delivers. He gets the job done."​​​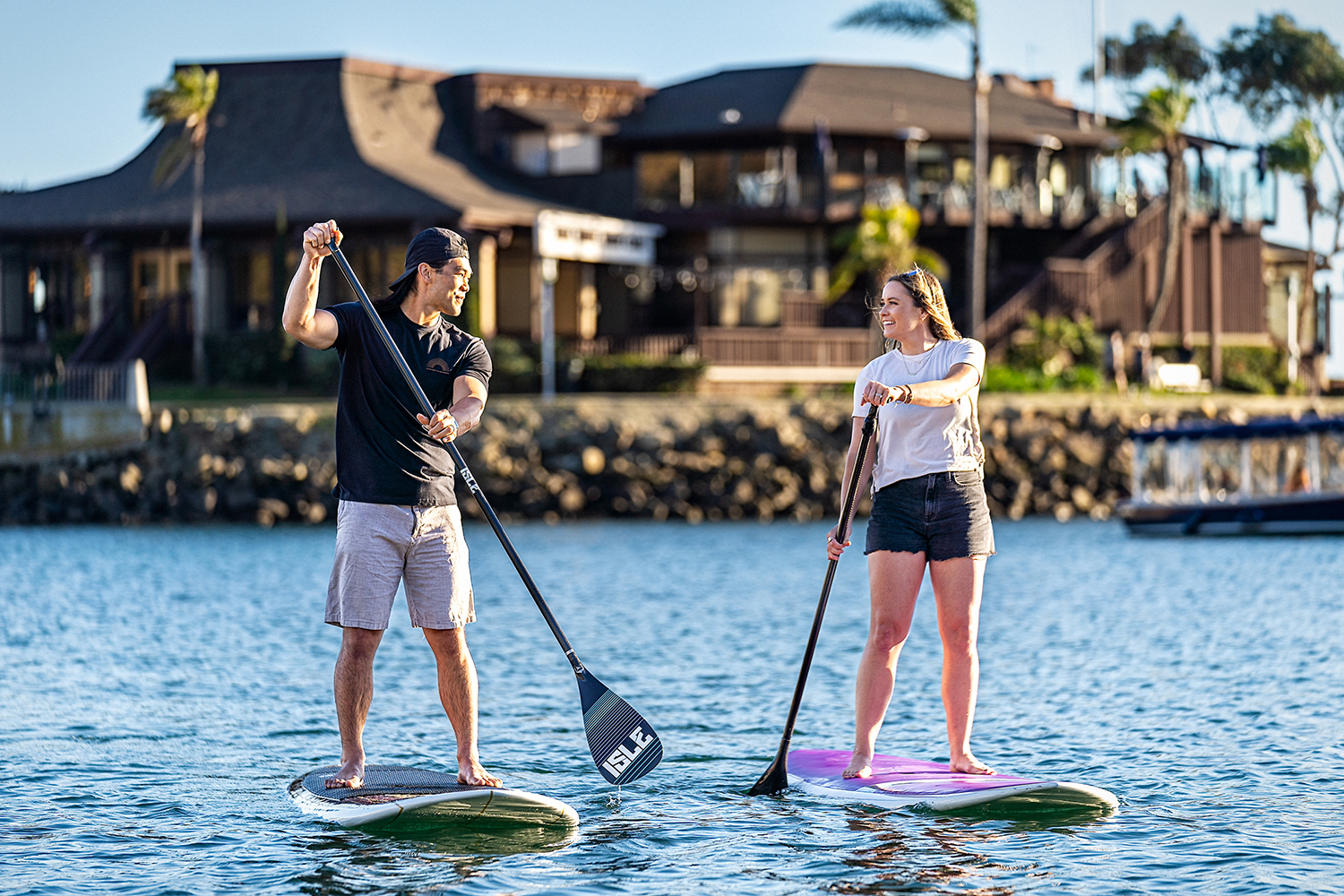 Piling On: The Pandemic Hits
In March 2020, Kylie remembers sitting with Joe's mother in the waiting room at UCLA as her husband was undergoing the lung biopsy. As they waited, Kylie and her mother-in-law were asked to leave the room so hospital staff could rearrange the chairs six feet apart to reduce people's risk of infection from COVID-19.
"It's weird to think back on that and think that was the beginning of what we're still living now," Kylie says. "[For the biopsy], they go in at different points with needles, so it takes forever, and then they have to wait to monitor him to see how air is staying in his lungs. That was also when we were starting to realize, COVID is a thing now, and if he gets sick, he's in LA, which is an hour away from our house, and none of us can see him or go back there if anything were to happen [because of COVID-19]."
While Joe went through his chemotherapy treatment, the couple limited their contact with others. Luckily, Joe, who is an outdoor enthusiast, was able to find respite in nature through kayaking, fishing and paddleboarding at nearby parks and at the beach. Even when he was confined to the house, he found ways to stay active.
"We live in a two-story place, and it was when COVID first hit, and I think he did the stairs up and down like 100 times, because he wasn't sure at that point if we could go outside. But he needed to move and do something," Kylie says.
Their limited social life excluded even Kylie's parents, who both have jobs that require working with the public. "They couldn't work from home and they had to work, so that was tough," says Kylie, whose parents live just 10 minutes away. Eventually the couple met Kylie's parents outdoors. Joe's mother was able to accompany Kylie and Joe to most appointments, while his father watched the family dog, a boxer named Ellie.
At first, health insurance was a worry due to the reduced major league schedule and cancellation of all minor league games in 2020 due to COVID-19. Eventually both Joe and Kylie received health benefits through major league baseball.
"It was really stressful trying to figure out what our health insurance coverage was going to be and what it would be like—whether it was going to be on big league insurance or minor league insurance, or if they were going to just drop us altogether and then we'd be stuck paying the bills ourselves," Kylie says.
After four rounds of chemotherapy and exactly five months after his diagnosis, on July 20, 2020, Joe's blood work and scans indicated he was cancer-free—news he received via a Zoom call with Drakaki on the same day he was scanned. Joe posted a picture on social media of him and his family holding signs announcing their good news. Three days later, on July 23, major league baseball began a 60-game schedule, shortened from the typical 162 games. The minor league season had been canceled at the end of June without a single game played.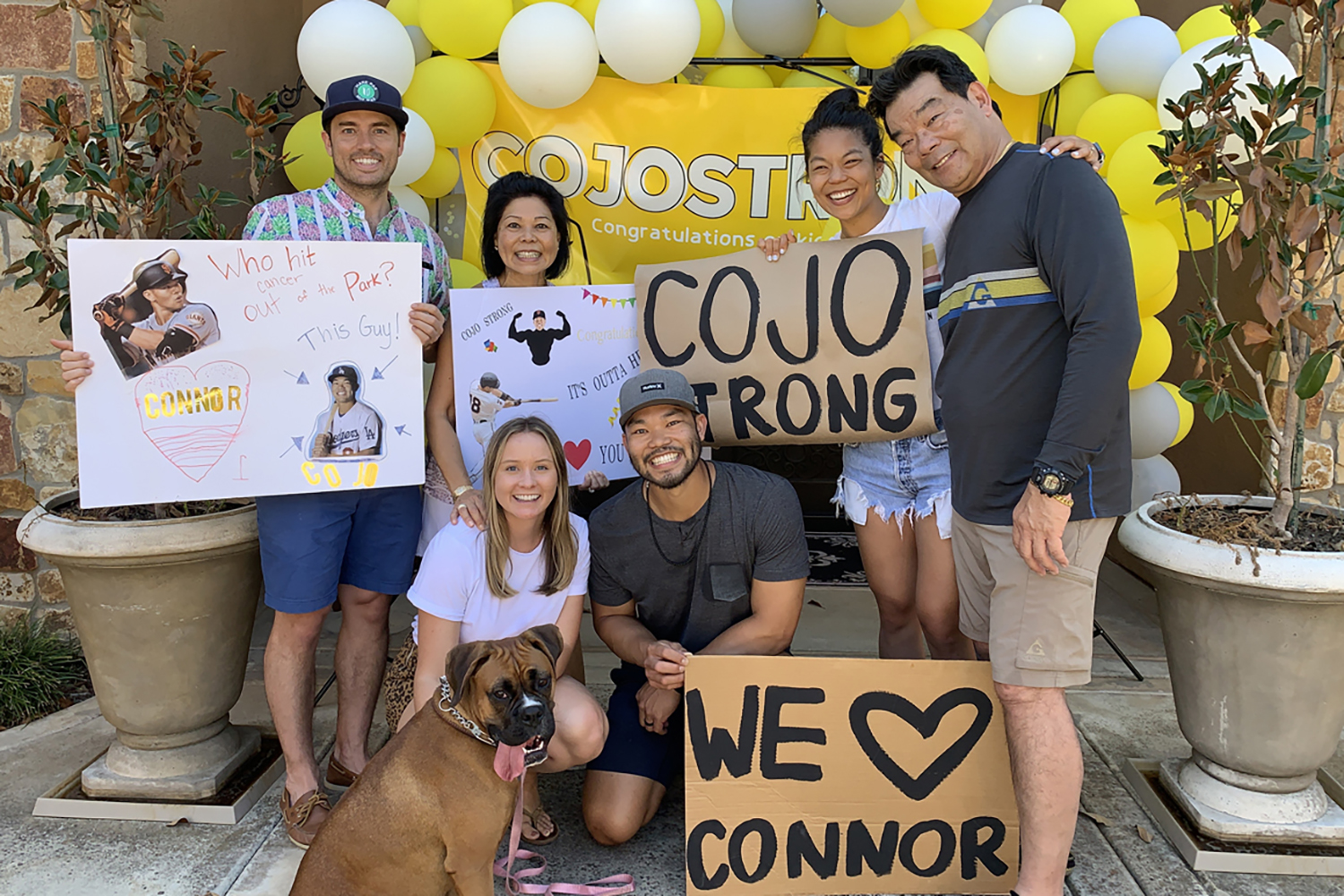 Back to the Ballpark
On Nov. 15, 2020, Joe signed a minor league deal with the Colorado Rockies as a free agent and was invited to their 2021 spring training camp in Scottsdale, Arizona. "They were very much aware of what I went through in 2020, so for them to offer me a contract after not playing all of 2020 and not knowing how my body was going to recover from treatment was amazing," he says.
With chemotherapy behind him, Joe shifted his focus and energy to baseball with what he calls his personal two- to three-month spring training program. He enlisted the help of coaches he trusted—some of whom were not working due to the pandemic—and they met outside, or inside wearing masks, to go over hitting and fielding. When Joe reported for spring training in February 2021, he felt in good shape physically, and his mindset had shifted. He says he was better able to separate his identity from baseball, and that allowed him to appreciate even the mundane parts of spring training. "I would say mentally I was in a way better place than ever in my career, and that's because of the treatments and fighting cancer," he says. "I felt like I was in a place of gratitude, so that every little thing in spring training I was grateful for. Having baseball taken away from me really put things into perspective."​
Staying Ahead in The Count
Connor Joe urges others to check in with their physician.
Connor Joe of the Colorado Rockies admits it was baseball—where annual physicals are required—that likely led to his cancer being discovered sooner and potentially saving his life. The 29-year-old admits he didn't think much about going to the doctor prior to his experience with cancer. Looking back, though, he remembers feeling irritation in his right testicle in August 2019, six months before he was diagnosed. He dismissed the irritation as being caused by his protective cup. "It was like three days and then the discomfort went away, so I thought I was wearing my protective cup the wrong way," he says.
Alexandra Drakaki, a hematologist-oncologist who specializes in genitourinary malignancies at UCLA Urology in Los Angeles, sees many young patients with testicular cancer who ignore a lump or other symptoms. Sometimes these concerns, when they are brought up, are even downplayed by primary care doctors, she says.
"Maybe one teaching point here is that if you feel something is different in your body, don't be ashamed. Ask and check with your doctor to make sure it is OK. And get a second opinion," Drakaki says.
Still, he finished spring training in 27th place for a major league roster with room for only 26 players, so once again he was sent to the minors, first to the Rockies' alternate training site for minor league players and then to their Triple-A team in Albuquerque, New Mexico. He says the experience of being sent down was tough, but he resolved to use the opportunity to become a better player. During the 2021 season, Joe was called up to the Rockies three times. His performance during the first call-up was disappointing, but he still celebrated because he had achieved one of his goals. He had made it back to the majors.
His third call-up to the Rockies occurred on July 19, 2021. Joe was scheduled to start the game for Albuquerque that day, but his manager called him into his office to tell him he was going back to the majors. Joe jumped on a flight to Denver the next morning and started the game in left field for the Rockies that night. After two at-bats he was hitless, but on his third opportunity he drove the ball out of the park for a home run, his first in the major leagues. He added a double later in the game. After much celebration with his teammates, Joe received a congratulatory call from Kylie, who reminded him of the date on the calendar: It was July 20, exactly one year after he was told he was cancer-free.
In early 2022, Joe was preparing for spring training and the start of the season despite the lockout of players by major league team owners. Joe will again compete for a spot on the Rockies' roster and has high hopes of making the team. He finished the 2021 season with more than 200 plate appearances, a .285 batting average and eight home runs. "I still have to earn it. There's nothing given in baseball," he says. "But because of my performance last year, I have a great chance of competing for an opening day roster spot."
Like many athletes, Joe is accustomed to visualizing his goals and putting in the work to achieve them. "Minor leagues in baseball are not glamorous, and the lingo thrown around is we're just grinding, trying to get to the big leagues," Joe says. "So, it's funny, but when I got diagnosed, it's like I just thought, 'All right, well, I'm going to grind through it.' That was my motto."
Cancer Today magazine is free to cancer patients, survivors and caregivers who live in the U.S. Subscribe here to receive four issues per year.