KIM HALL JACKSON planned her first event—a surprise birthday party for her mother and stepfather—when she was about 10 years old. She saved her allowance of 50 cents a week, washed cars and braided hair for three months until she collected $25. Then she enlisted her Aunt Norma to fry chicken and buy a case of beer and invited family members to the celebration. Jackson, now a professional event planner, remembers the joy she felt when the party was a success.
"I was just thrilled that they were surprised," she says. "It was my first opportunity to do something that I planned, controlled and executed."
Jackson, now 52, came to event planning in a roundabout way. In the early 1990s, she worked in billing for a large chemical company, but she always volunteered to plan staff gatherings. She also was a part-time waitress at a Philadelphia restaurant and jazz club, where she eventually handled events, marketing and promotions full time. Later she worked for the African American Museum in Philadelphia and the Pennsylvania Convention Center, also in Philadelphia. Today, she runs her own event management, publicity and promotions business: KHJ Enterprise. ​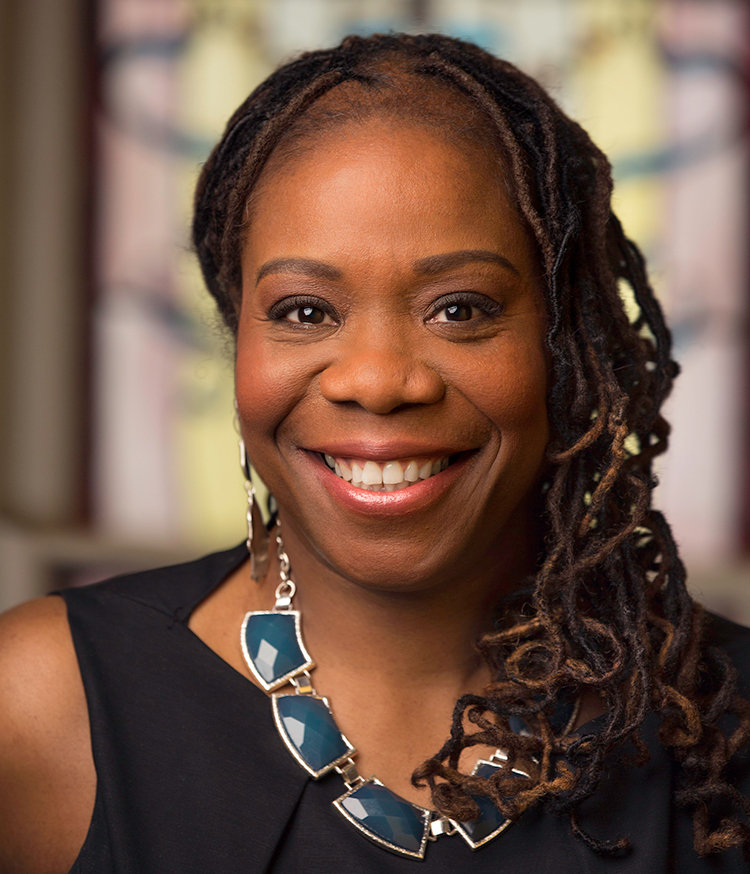 "It became really clear to me that I loved events way more than accounting," she says.
Jackson's personality—determined and driven with an acute eye for detail and a propensity for order—is a natural fit for event planning. Planners also need the flexibility to turn on a dime, she says, to be ready when it rains the morning of an outdoor wedding or when the guest speaker at a meeting gets stuck in traffic. Planners learn to improvise while remaining firmly in control in order to satisfy their clients, she adds. Jackson, who is married and has six children, sought to exercise similar control in her own life. And the Philadelphia resident largely succeeded until a colorectal cancer diagnosis shattered the illusion.
Persistence Leads to a Diagnosis
In January 2008, Jackson, then 44, noticed a bloody discharge from her rectum. She called her gynecologist, a family friend who pointed out that African-Americans have a higher risk for developing colorectal cancer than whites and urged her to get a colonoscopy. Her primary care physician examined her for hemorrhoids and for a tear in the tissue of her lower rectum. Although she found nothing, she advised Jackson to make an appointment with a gastroenterologist, just to be sure.
Months passed between appointments. Because Jackson hadn't seen the blood again since January, she wasn't overly concerned, but she wanted to determine the cause. In November 2008, she underwent a colonoscopy and other testing. Her gastroenterologist found a stage I tumor in her rectum.
"It's like an out-of-body experience," she says of her cancer diagnosis. "You hear it, but you don't. You're present, but you're not there. There's a lot of fear. I really wanted to know everything. I had this overwhelming need to be informed."
A Cancer Screening Outreach to African-Americans
A program at the University of Pennsylvania strives to break down barriers to getting screened among African-Americans.
African-Americans have an increased risk of being diagnosed with and dying from colorectal cancer compared with other racial and ethnic groups. The percentage of African-Americans who get screened for colorectal cancer is lower than that for whites, 56 percent and 62 percent, respectively, and when cancer is found, it's often at a later stage.
A lack of access to health care and higher rates of obesity—about one in two blacks are obese and about one in three whites—may contribute to the disparity. The American Cancer Society recommends that average-risk people be screened for colorectal cancer starting at age 50, while the American College of Gastroenterology advises that African-Americans get screened beginning at age 45.
Carmen Guerra, an internist and an associate professor of medicine at the University of Pennsylvania in Philadelphia, says socioeconomic factors along with a lack of knowledge and negative beliefs about colonoscopies may contribute to lower rates of screening among African-Americans. For example, some African-Americans may have jobs that don't allow time off from work to get the test, or they may not be able to afford child care or materials to prepare for it. Guerra says some African-Americans don't trust the health care system. One of the greatest barriers to getting screened, she says, is fear.
A program at the University of Pennsylvania strives to break down these barriers. Guerra co-leads the West Philadelphia Gastrointestinal Health Outreach and Access Program, a patient navigation initiative that began in 2012 and aims to improve colorectal cancer screening rates. Roughly 75 percent of residents living in West Philadelphia are black. The program reaches out to people served by Penn's health system who are eligible for colonoscopies and have received orders but haven't followed through. On average, she says, patients canceled two to three appointments for colonoscopies. The program provides navigators for patients to interact with one-on-one, offers easy-to-understand information about colonoscopies and covers the cost of preparation and transportation.
So far, Guerra says, the program has helped 300 patients get screened for colorectal cancer; about 100 of these patients had precancerous polyps and three had cancer. She says 99 percent of participants agreed that they wouldn't have had a colonoscopy without a navigator's help.
Guerra adds that colonoscopies are underutilized and that timely and regular screening can prevent more than 90 percent of colorectal cancers.
"This program tries to close that gap of people who haven't been screened," she says. "I'm most proud that it does the right thing for a population that has historically been underserved and disparaged."
Changes in Plans
Jackson met with David Stein, a surgeon and chief of colorectal surgery at Drexel University College of Medicine in Philadelphia, in December 2008. Stein explained that, in addition to having her tumor and rectum removed, she would need a temporary ileostomy, an opening in the lower abdominal wall, so that waste could exit her body through the small intestine into an external bag to allow her bowel to heal. She and her husband, Jeffrey Jackson, a mental health professional who works in therapeutic staff support at an elementary school, held a family meeting to tell their children, who ranged in age from 13 to 27. Jackson says that telling them she had cancer was more painful than receiving the diagnosis.
"As a mother, it was the worst news I ever had to say to my kids," she says.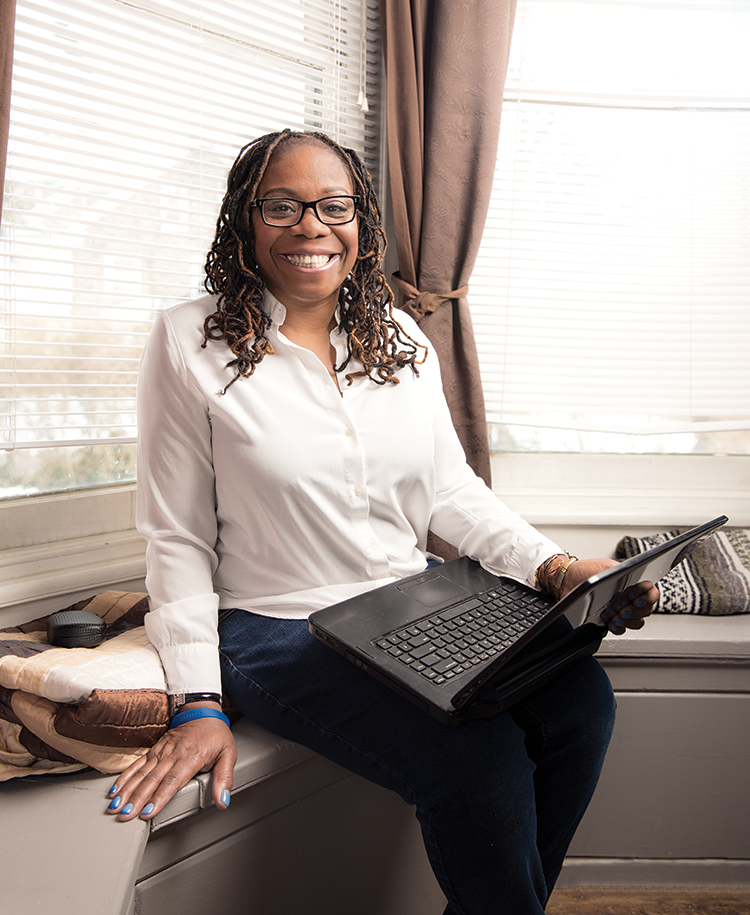 Jackson sought a few more opinions and researched the disease. In February 2009, Stein removed Jackson's rectum and surrounding tissue and attached the healthy part of her colon to her anal muscles in a minimally invasive robotic surgery. Then he performed the ileostomy. Until Jackson could resume normal bowel function in 12 weeks, she would have to use the external bag, but she believed cancer would soon be a part of her past. During her two-week checkup with Stein, everything changed.
The pathology report of her tumor showed that her cancer was actually stage III. She would need chemotherapy and radiation. After interviewing oncologists at four cancer centers, she decided to seek treatment at the Abramson Cancer Center of the University of Pennsylvania in Philadelphia.
​Before starting treatment, she stocked up on groceries for her family, organized her finances and made sure she filled out any necessary paperwork at her job. Meanwhile, she struggled with having to use the ileostomy bag, a constant reminder of her cancer and the disruption of her normal life. She cried when it had to be changed, so her husband often did it for her. And although doctors commonly advise patients to keep the ileostomy until after they've finished radiation treatment—as the rays can scar the colon, preventing it from fully healing, and the bag can minimize side effects like diarrhea—Jackson pushed to have the ileostomy reversed. Stein agreed after determining she had healed completely from the surgery.
"That's the event planner in me," Jackson says. "Things need to happen in a sequential order. I needed to complete that sequence and then begin the next step."
Ursina Teitelbaum, a medical oncologist who specializes in gastrointestinal malignancies at the Abramson Cancer Center, says Jackson received the most aggressive treatment. In May 2009, she started receiving chemotherapy every other week for eight weeks. She then had radiation to her pelvis combined with a low dose of chemotherapy five days a week for six weeks, followed by another round of chemotherapy. She worked full time during treatment, coping with nausea, diarrhea and exhaustion.
Struggle Toward Acceptance
Jackson felt intense fear and sadness as she went through her treatment. She recalls waking up in the middle of the night crying and asking her husband, "Is it true? Do I really have cancer? Was I dreaming?"
Jeffrey says the diagnosis was devastating for his wife.
"It contributes to feelings of depression, fear and anxiety, as well as making everyday function really difficult," he says. "Kim is attentive to detail and wants to, as much as possible, have a level of control. When you're faced with that situation, it's totally beyond your control."
Jeffrey researched Kim's condition and handled many of the details of her treatment so she could focus on the emotional challenges of cancer. He talked with her and held her hand. They prayed together and tried to stay in the present moment.
To help her cope, Jackson sought support through a buddy program, hoping to find a colorectal cancer survivor who was like her: female, middle-aged and African-American. She says the organization sponsoring the program had no one registered who met those criteria.
"I felt it was important to connect with somebody that had some cultural connectedness to myself and how I felt, because I think the way African-Americans process things sometimes is different," she says. She also wanted the support of another patient who might have experienced discrimination and could understand the distrust some African-Americans feel toward the health care system.
Though her friends and family were there for her, without the support of someone else like her who had shared some of her experiences, she often felt isolated.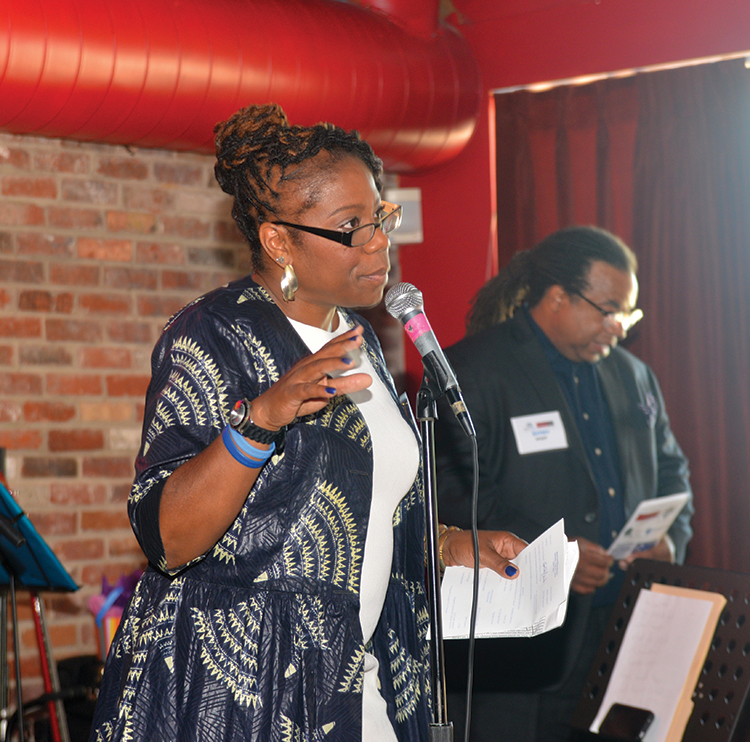 Finding Her Voice
Toward the end of her treatment in 2009, Jackson met Verna Cox, a two-time colon cancer survivor and patient advocate, at a colon cancer awareness conference at the University of Pennsylvania. Cox, who is also African-American, invited her to a monthly networking group for colorectal cancer survivors sponsored by Cancer Support Community and called her each month until Jackson eventually attended. Cox, 65, encouraged her to share her story.
"I told her it was very important for her to have a voice," Cox says. "Unfortunately, in the black community, so many people are very secretive about their cancer diagnosis, and they feel cancer is a death sentence."
​ That lack of openness—sharing family history and talking about screening—by many African-Americans is one factor contributing to worse outcomes for some preventable cancers, such as colorectal cancer. Colorectal cancer incidence and mortality are about 25 percent and 50 percent higher, respectively, in blacks than whites, partly because African-Americans are less likely to be screened and more likely to be diagnosed later than whites. And while the gap in mortality between blacks and whites has begun to shrink in recent years, the death rate from colorectal cancer for African-Americans remains substantially higher than for whites.
When Jackson learned about these disparities, she knew she had to do something to help change them. She started talking to friends and family about screening. In 2010, she spoke about her diagnosis at the Undy Run/Walk sponsored by the Colon Cancer Alliance (CCA). The following year, with encouragement from Cox, she signed up and was selected to be a model for the Colon Club's 2012 calendar, featuring colorectal cancer survivors who are younger than 50. In 2014, she attended Fight Colorectal Cancer's Call-on Congress, which focused on increasing funding for colorectal cancer research and on drawing attention to a Medicare provision that covers colonoscopies but bills patients if they need to get a polyp removed. She also participates in the CCA's Buddy Program—which provides peer-to-peer support—and is a member of the University of Pennsylvania's community advisory board on genomics in cancer prevention and treatment.
Jackson hit her stride as an advocate in 2014, incorporating her natural talent as an event planner into her advocacy. The year before, she started thinking about a free event that would offer food, entertainment and information to raise awareness among African-Americans who had never been screened for colorectal cancer. She was awarded an $8,400 grant from the Pennsylvania Department of Health's Colorectal Cancer Control Program, which is funded by the U.S. Centers for Disease Control and Prevention.
In June 2014, she held the first Black & Blues Brunch at Warmdaddy's, a soul food restaurant in Philadelphia. Doctors spoke to nearly 100 attendees about the importance of knowing their family history and about what to expect during a colonoscopy. Kitt Shapiro, the daughter of actress and singer Eartha Kitt—who played Catwoman in the Batman TV series and died of colon cancer in 2008—spoke about her mother. Jackson distributed fecal immunochemical tests, which enable people to screen for colorectal cancer at home without the fasting, bowel cleansing and possible time off from work needed for a colonoscopy. At the end of the event, participants pledged to be screened for colorectal cancer. Jackson followed up with attendees in the months after the event and says a small number of them were screened. She plans to hold the event again in June 2015 in Philadelphia and hopes to eventually offer it in other major U.S. cities.
Loosening the Reins
Jackson has shown no evidence of cancer since finishing her treatment in December 2009. However, she deals with lingering effects from the disease every day. She has lower anterior resection syndrome, which includes having unexpected bowel movements six to 10 times on a good day. To help manage it, she alters her diet, limiting foods that exacerbate it, such as salads and Cheerios—two of her favorites. She'll fast for several hours if she has to work at an event. She jokes that she has become a connoisseur of public bathrooms.
Teitelbaum, Jackson's oncologist, says she's impressed with how Jackson manages the aftereffects of treatment. "You wouldn't know day to day what her life looks and feels like," she says. "But she knows every day that it's not like it was before."
Mentally, Jackson says, cancer is never very far away. She still deals with occasional depression. In 2013, she lost her job and felt as if she had let her family down. She also experiences survivor guilt when thinking about the people she met who died from the disease. And then there is "scanxiety," fear leading up to any medical test.
"Nothing is routine to me now," Jackson says. "It probably won't ever be again."
Advocating for others, she says, helps her cope with her own cancer experience. Had she not had a colonoscopy when she did, she might have been diagnosed at a later stage. She hopes that by informing others about colorectal cancer screening and sharing her experiences, more people will get screened.
"I just feel that if you can do something about it, you should," she says. "Why die because of fear of taking a test?"
In early 2015, Jackson was busy planning for her upcoming Black & Blues Brunch and trying to find sponsors. While she says she's probably just as meticulous about her life after cancer as she was before, she appreciates the good times, such as family traditions and time with her husband.
"I'm always grateful," she says. "I know that it can change in a second."
Cancer Today magazine is free to cancer patients, survivors and caregivers who live in the U.S. Subscribe here to receive four issues per year.