On the morning of June 18, 1983, Sally Ride took the ride of her life. Not long after the sun had risen over the horizon, Ride and four male astronauts blasted off from Cape Canaveral, Fla., aboard the space shuttle Challenger. The five-member crew spent six days in space circling Earth. They launched two satellites and performed a number of science experiments. But it was Ride who made the mission historic: At the age of 32, she became the first American woman to fly in space.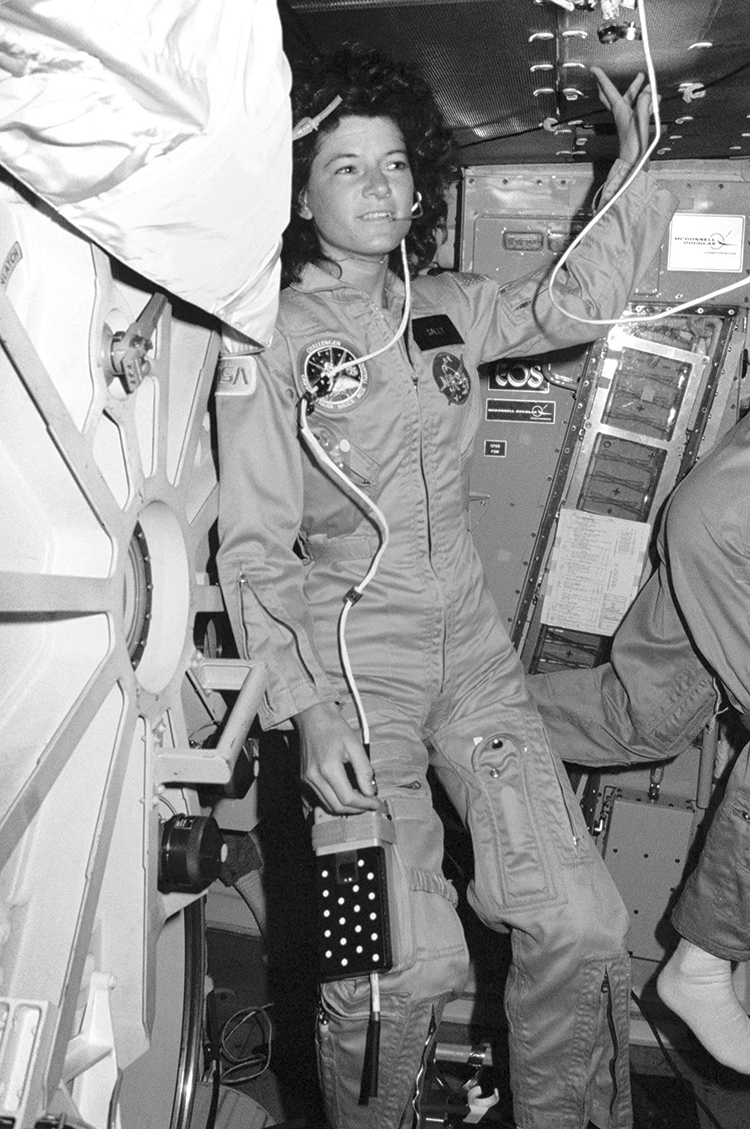 It was an unparalleled experience. "The view of Earth is absolutely spectacular, and the feeling of looking back and seeing your planet as a planet is just an amazing feeling," Ride said in a 2006 interview for the Academy of Achievement, based in Washington, D.C. "It s a totally different perspective, and it makes you appreciate, actually, how fragile our existence is." The experience transformed Ride, and the country. She instantly became an iconic figure and a role model a symbol of the new opportunities opening up for women, not just in space flight, but in science and engineering. A very private individual, Ride took time to adjust to the spotlight, according to Carolyn Huntoon, a former Johnson Space Center director. Huntoon was a life sciences researcher at the NASA center in Houston when Ride joined the astronaut program. She became an adviser and friend to Ride and the other female astronauts during their training. "I think perhaps at the start of her career she thought that once [NASA] started flying other women, her notoriety wouldn t continue," says Huntoon. "I don t think she realized that it would follow her for the rest of her life." Fame did follow Ride, and eventually it led her to devote her life to educating and inspiring young girls in science. It was a new type of mission for the astronaut, and one that she pursued until July 23, 2012, when she died of pancreatic cancer at the age of 61. Ride s death came as a shock to the public and even to colleagues and friends who knew her well. She had kept her diagnosis a secret for 17 months, sharing her condition only with her long-time partner, Tam O Shaughnessy, fellow family members and a few close friends.
A Trailblazer
Sally Ride was born in 1951 in Encino, Calif., outside of Los Angeles. Her mother, Carol Joyce, was a volunteer counselor at a women s correctional facility; her father, Dale Burdell Ride, taught political science at Santa Monica College. Ride s parents were active in their Presbyterian church and her younger sister, Karen "Bear" Ride, went on to become a Presbyterian minister. From a young age, Ride had a keen interest in science: She grew up playing with a chemistry set and a telescope, and she was fascinated with stars and planets. A sports fan and a natural athlete, Ride often played baseball in the streets with other kids in her Los Angeles suburb. Around the age of 11, she developed a knack for tennis, which earned her a scholarship to the elite, private Westlake School for Girls. Not only did the school propel her into the world of tennis she was ranked 18th on the national junior tennis circuit by the time she graduated from high school in 1968 but it was there that she met Elizabeth Mommaerts, one of the teachers who inspired her to study science. Ride s first book, To Space and Back, published in 1986 and co-authored with longtime friend Susan Okie, is dedicated to Mommaerts and the seven astronauts who died in the Challenger disaster that year.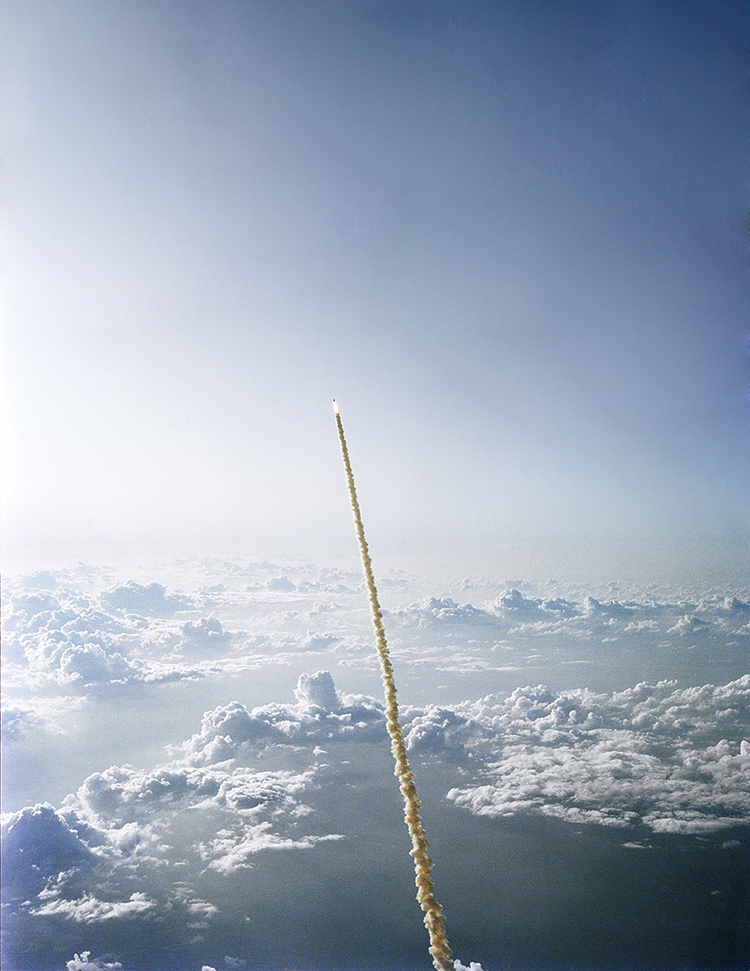 After high school, Ride enrolled at Swarthmore College, near Philadelphia. She left during her sophomore year to return to Southern California to pursue tennis full time a decision that did not go over well with her parents, she said in her Academy of Achievement interview. However, three months into her training, Ride, as she put it, "saw the light. I took a long, hard look at my forehand and realized that I was not going to make a fortune with that forehand." She enrolled at Stanford University, in Palo Alto, Calif., where she would go on to earn her doctorate in physics. In July 1977, Ride saw an advertisement in the Stanford student newspaper: NASA was seeking applicants both men and women for its astronaut training program. It marked the first time the agency had recruited women to become astronauts, and Ride quickly applied. "There was no reason why women could not fly in space," says Huntoon, who served on the astronaut selection board at the time. "The country was changing and NASA was changing." The agency had decided to reach beyond its traditional recruitment pool male pilots who were trained in high-performance aircraft to identify scientists and engineers who would become mission specialists. "So that s how we were able to open it up to women," says Huntoon. Of the more than 8,000 applicants more than 1,000 of whom were women NASA selected just 35. The group included six women, and Ride was one of them. "We were part of a very unique time at the dawn of the space shuttle program," recalls Kathryn Sullivan, who was also in that first class of female astronauts. "It was an extraordinary group to be a part of." Any one of them could have ended up being the first woman to go up into space, but for that groundbreaking mission, NASA picked Ride. "Sally was an outstanding choice," says Sullivan, who is now the Acting Under Secretary of Commerce for Oceans and Atmospheres for the National Oceanic and Atmospheric Administration.
Pancreatic Cancer Patients Find Hope in Clinical Trials
Clinical trials are often recommended for patients with metastatic pancreatic cancer.

Since there are no effective treatments for metastatic pancreatic cancer, doctors routinely recommend that patients enroll in clinical trials. In fact, the National Comprehensive Cancer Network, an alliance of 23 cancer institutions across the United States that issues treatment guidelines for most cancers, recommends a clinical trial as the first line of therapy for patients with metastatic pancreatic cancer who are relatively active and exhibit minimal disease symptoms. Current, available treatments for metastatic pancreatic cancer are palliative, says Gregory L. Beatty, an oncologist at the University of Pennsylvania s Abramson Cancer Center in Philadelphia. So it is to the patient s advantage to seek out new treatments available in clinical trials to find the next generation of therapy that may provide more benefit. Advocacy groups such as the Pancreatic Cancer Action Network (PanCAN), based in Manhattan Beach, Calif., have recently boosted their efforts to raise awareness of the benefits of clinical trial participation. PanCAN encourages all pancreatic cancer patients not just those with metastatic disease to consider trials. It offers a free personalized service through its website to help patients identify trials close to their homes that match their diagnoses and treatment histories. To find a trial through this service, go to

www.pancan.org

and click on Facing Pancreatic Cancer. Next, click on Clinical Trials. Patients can also search the National Cancer Institute s listings of clinical trials by going to

www.cancer.gov/clinicaltrials/search

and selecting pancreatic cancer from the drop-down menu.
A Difficult Diagnosis
Ride s sudden diagnosis and the short time until her death are all-too-common hallmarks of pancreatic cancer, which will be diagnosed in an estimated 45,000 women and men this year, according to the National Cancer Institute (NCI). It is one of the deadliest cancers the five-year survival rate for all stages of the disease combined is about 6 percent. Typically, people with pancreatic cancer do not display symptoms until the cancer has spread beyond the pancreas to the liver or the abdomen. That s why NCI statistics show that 80 percent of patients have a late-stage diagnosis, and that half of these patients survive less than 10 months. For one out of five patients, the cancer is detected when it still remains only in the pancreas. Although patients with early stage pancreatic cancer often have surgery to remove the tumor, or in some cases the entire pancreas, their prognosis also remains poor, with only about 20 percent of those receiving the surgery expected to live at least five years. "And that means the remaining 80 percent are relapsing," says Gregory L. Beatty, an oncologist at the University of Pennsylvania s Abramson Cancer Center in Philadelphia. "The median overall survival" the time at which half of patients are still alive "even with that surgery is about 18 months." Pancreatic cancer spreads quickly and, because it is relatively resistant to chemotherapy and radiation, it is notoriously difficult to treat. In fact, says Beatty, until the 1990s, palliative care, aimed solely at relieving pain and discomfort, was the only option for metastatic patients. In 1996, the chemotherapy drug Gemzar (gemcitabine) was approved by the U.S. Food and Drug Administration for pancreatic cancer. Yet, even though Gemzar has been shown to increase survival by a couple of months on average, it is primarily given to patients to lessen pain and relieve symptoms, according to Beatty. Since Gemzar s introduction, very little has changed in terms of new treatments. Although a number of different chemotherapies have been tested either alone or in various combinations, for the most part, the drugs have had little if any impact on disease progression and survival. Patient advocates expect the Recalcitrant Cancer Research Act, which President Barack Obama signed into law in January, to improve this picture. The legislation requires the NCI to evaluate and improve its efforts to develop early detection methods and new therapies for cancers with low survival rates, such as pancreatic cancer. Recent findings also have begun offering doctors and patients hope that progress is on the horizon. In October 2012, an international team of scientists published in the journal Nature a comprehensive comparative analysis of 99 pancreatic tumors, revealing key genetic changes in the disease that could inspire the development of new drugs as well as methods for early detection. On a different front, two new chemotherapy regimens have shown some benefit in patients with metastatic disease. One is FOLFIRINOX, a combination of four different already-approved drugs. In a phase III study published in 2011, the regimen was shown to increase median overall survival by four months compared with Gemzar alone (although the treatment is relatively toxic). The other is Abraxane (albumin-stabilized nanoparticle paclitaxel) in combination with Gemzar. Results released in January from a phase III trial showed it increased overall survival by almost two months compared with Gemzar alone. The field of immunotherapy, which centers on boosting a patient s immune system to attack tumor cells, may be generating the most excitement. Beatty s lab, for instance, has developed a method that uses an experimental antibody a protein called a CD40 agonist to stimulate antitumor activity of cells called macrophages. These cells break down the tough scar tissue that typically surrounds pancreatic tumors, which may allow the body s immune cells and chemotherapy drugs to gain access to the cancerous cells. "The biology of pancreatic cancer is pretty different from that of other types of cancer, and that s because of the scar tissue," says Beatty. Together with University of Pennsylvania immunologist Carl June, Beatty also is developing a way to remove a patient s immune cells, engineer them to recognize pancreatic cancer cells and then re-infuse them into the body, where they train the immune system to attack the cancer. The technique, which June developed, is currently being studied in patients with advanced leukemia. June and Beatty are adapting the method for pancreatic cancer, and hope to open a phase I trial for metastatic patients this year. At the Johns Hopkins Sidney Kimmel Comprehensive Cancer Center in Baltimore, oncologist Elizabeth Jaffee and her colleagues have several pancreatic cancer vaccines in development in phase I and II clinical trials for treating early stage and metastatic patients. And at University Hospitals Seidman Cancer Center in Cleveland, surgical oncologist Jeffery Hardacre has helped launch a phase III trial investigating a vaccine designed to help prevent recurrence in patients whose pancreatic cancer was caught early and could be surgically removed. "Nobody is under the misconception that this vaccine is going to be a cure," says Hardacre. "But hopefully it will prolong survival for some of these patients."
Ride s Legacy
Today, due to the increasing number of new therapies in development, more and more pancreatic cancer patients are choosing to enroll in a clinical trial. Whether Ride participated in a trial or received one of the approved pancreatic cancer treatments isn t publicly known. According to Huntoon, one of Ride s doctors spoke at her memorial service. "He talked about her courage and her thirst for knowledge," says Huntoon. "She wanted to know all the details [about her disease and treatment], as you would expect, being a scientist."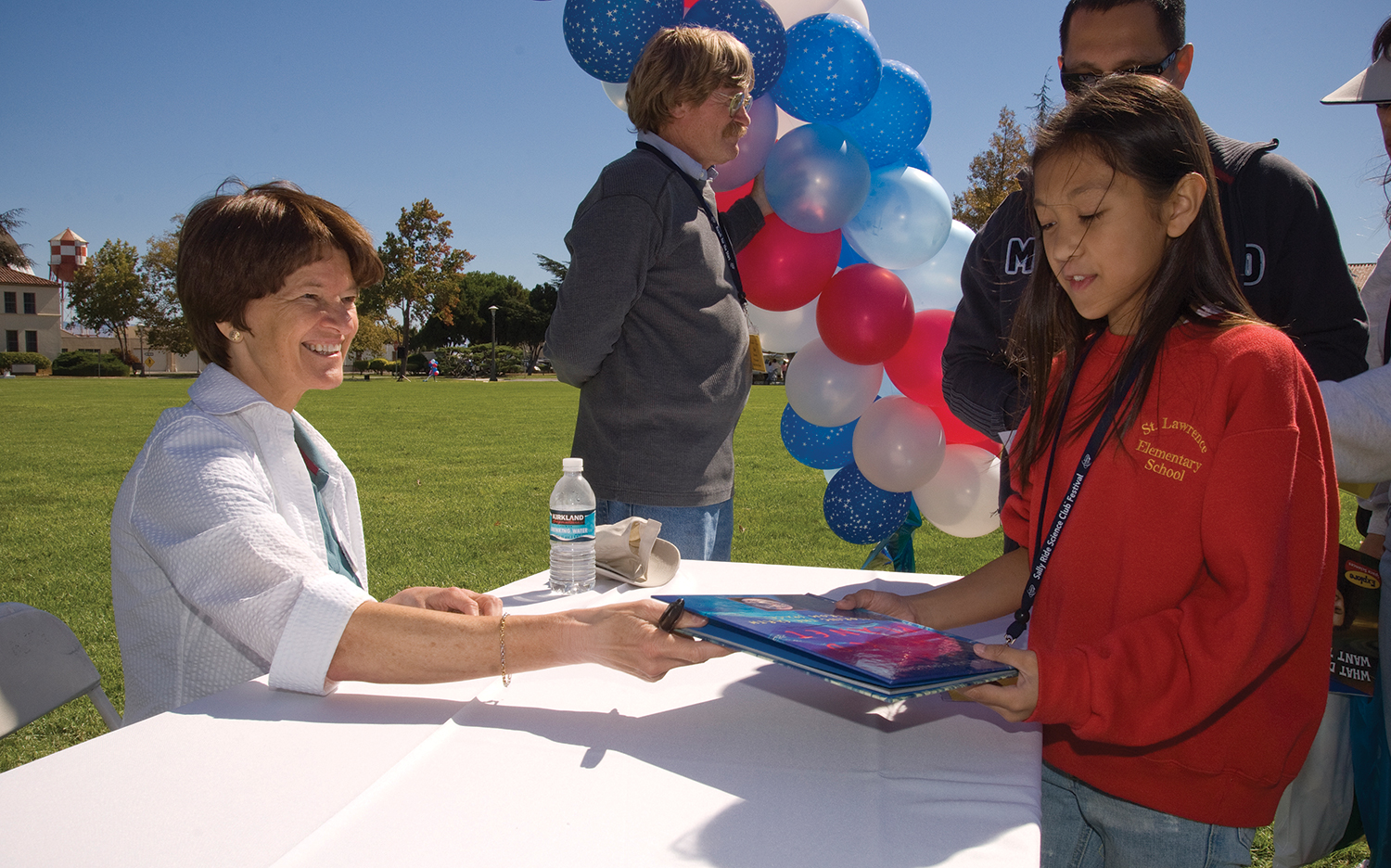 Before retiring from NASA in 1987, Ride produced the agency s widely cited report Leadership and America s Future in Space. By that time, she had flown on a second space shuttle mission in 1984 and had been appointed to the presidential commission investigating the Challenger disaster. (She also served on the commission that investigated the space shuttle Columbia disaster in 2003.) In 1989, she became a professor of physics at the University of California, San Diego, where she encouraged young women who were studying math and science. And in 1995, she initiated EarthKam, a NASA program that gives middle school students a crack at taking and analyzing pictures of Earth from a camera on the International Space Station. In 1992, she and O Shaughnessy co-authored Voyager, the first of the six books they would write on the solar system and climate change. The couple went on to help co-found Sally Ride Science in 2001. The organization, based in San Diego, offers educational materials and programs for students in fourth through eighth grade nationwide. "I have no doubt that there are women in their early college years right now who, as a result of Sally Ride, are thinking about science differently who are better equipped, better prepared and more confident," says Sullivan. Ultimately, that was Ride s goal: to inspire kids to pursue their passions, take risks and, like her, reach for the stars. In her book To Space and Back, Ride wrote, "All adventures especially into new territory are scary, and there has always been an element of danger in space flight. I wanted to be an astronaut because I thought it would be a challenging opportunity. It was; it was also an experience that I shall never forget."

Cancer Today magazine is free to cancer patients, survivors and caregivers who live in the U.S. Subscribe here to receive four issues per year.