WHEN KARL PRITCHARD noticed blood in his urine one morning in February 2014, he made an appointment with his primary care d​octor. The doctor told Pritchard, who was 76 years old at the time, that if he didn't have a bladder infection, the blood was probably a sign of cancer.
When a course of antibiotics didn't resolve the issue, the doctor ordered a CT scan and had his office schedule an appointment with a urologist near Pritchard's home in Edenton, North Carolina. The urologist performed a cystoscopy, threading a small tube with a light and lens through the urethra and into the bladder, which revealed a tumor. The specialist surgically removed a sample of tumor tissue that included the inner wall of the bladder and its underlying muscle. The biopsy results and CT scan indicated the cancer was boring its way into the muscle layer of the bladder wall.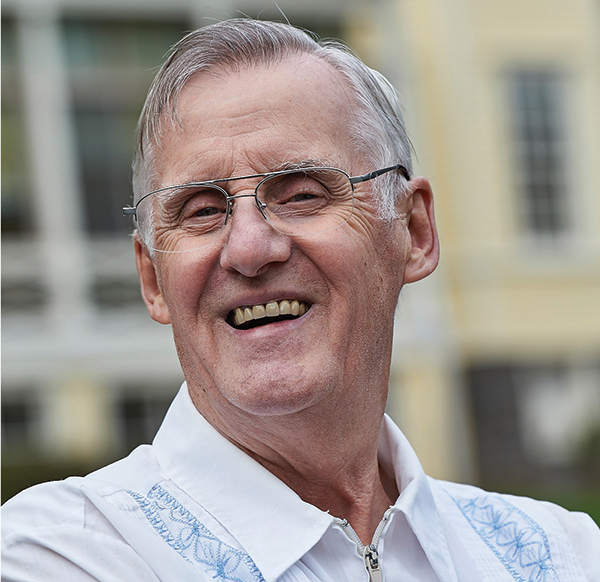 Within weeks, Pritchard had robotic surgery to remove his bladder. After pathology reports came back, he was diagnosed with stage III urothelial carcinoma. Urothelial cancer is the most common type of bladder cancer in the U.S., and the standard treatment for Pritchard's type of cancer includes surgery and the chemotherapy drug cisplatin. However, during Pritchard's operation, the surgeon discovered the tumor had damaged his left kidney by blocking blood flow to the ureter, a duct that transports urine from the kidney to the bladder. His right kidney was also damaged due to a complication from surgery.
The compromised kidney function made Pritchard ineligible for chemotherapy, which for decades had been the only drug option approved by the U.S. Food and Drug Administration (FDA) for invasive bladder cancer. The kidneys are essential for ridding the body of waste products, including chemotherapy drugs. While the treatment might have helped keep the cancer at bay, it would have almost certainly done further damage to the kidneys. It wasn't worth the risk.
At the time, "the only thing I knew about cancer was how to spell it," Pritchard says. He resolved to pore over everything he could find about bladder cancer. In an internet search, he stumbled across what sounded like a promising experimental option: immunotherapy drugs known as checkpoint inhibitors.
Immunotherapy treatments enlist the immune system in the fight against cancer. In 2011, the checkpoint inhibitor Yervoy (ipilimumab), which inhibits a protein known as CTLA-4, was approved to treat patients with metastatic melanoma. In the same year that Pritchard received his diagnosis, two immunotherapy treatments, which are part of a class of drugs known as PD-1 and PD-L1 inhibitors, received FDA approval for metastatic melanoma. PD-1 is found at the surface of immune cells, and PD-L1 can be found in abundance in some types of cancer. When these two proteins bind, the immune cells are unable to attack the cancer cells. By blocking either PD-1 or PD-L1 and thereby preventing the interaction between them, this class of checkpoint inhibitor releases the "brakes" on the immune system, allowing the body to go full throttle against cancer.
But these drugs were years away from approval for treating bladder cancer when Pritchard asked in May 2014, soon after his operation, whether immunotherapy might be an option for him. His surgeon responded that he should get his affairs in order. Despite the surgical removal of Pritchard's bladder, a PET scan later showed cancer in his pelvis and lymph nodes in his abdomen, glowing "like headlights in a dark room," Pritchard says.
Overcoming the Odds
In the U.S., about 80,000 people will receive a diagnosis of bladder cancer this year, and more than 700,000 people are now living with the disease. About 75 percent of people diagnosed with bladder cancer live at least five years after their diagnosis. That's because most bladder cancers are caught in the early stages, when the cancer is only in the inner lining of the bladder. Once the cancer invades the surrounding deep muscle or spreads to nearby lymph nodes, the patient's chances of survival drop precipitously. Pritchard's inability to undergo treatment left him in an even more tenuous position.
Despite the long odds, Pritchard wasn't ready to give up. He asked his oncologist the same question he had asked the surgeon: What about immunotherapy? As luck would have it, his oncologist's office was affiliated with another office based in Norfolk, Virginia, that was recruiting patients for a clinical trial to analyze a checkpoint inhibitor called Tecentriq (atezolizumab) for advanced bladder cancer. Pritchard visited the Norfolk office and had a sample of his previously frozen bladder tissue sent off for analysis for the study. Because his tumor expressed high levels of PD-L1 and he was not a candidate for chemotherapy, he was eligible to enroll in the trial.
He received his first infusion of Tecentriq in February 2015, joining the study along with 118 other patients with locally advanced or metastatic bladder cancer for whom chemotherapy wasn't an option. He began receiving infusions of the drug every three weeks at the Norfolk clinic, 70 miles from his home. Scans, taken every other month, first showed the tumors shrinking dramatically and then indicated no evidence of cancer.
Pritchard was fortunate. The study results from the trial arm he participated in showed that just about 20 percent of patients with otherwise untreatable bladder tumors responded to the immunotherapy treatment. About 25 percent of patients whose tumors had high levels of PD-L1 expression responded. In May 2016, the FDA approved Tecentriq to treat advanced or metastatic urothelial carcinoma that hasn't responded to platinum-based chemotherapy, making it the first PD-1 or PD-L1 inhibitor approved to treat the disease. In April 2017, the FDA extended the drug's approval as a first-line treatment for people with locally advanced or metastatic urothelial carcinoma who aren't eligible for treatment with cisplatin.
The FDA has now approved four additional checkpoint inhibitors for bladder cancer: Bavencio (avelumab), Imfinzi (durvalumab), Keytruda (pembrolizumab) and Opdivo (nivolumab). Surgery and chemotherapy are still considered the standard of care for bladder cancer. However, patients on chemotherapy whose cancer progresses or who, like Pritchard, are unable to receive chemotherapy for other reasons now have viable treatment alternatives. ​​
Detecting Bladder Cancer
Researchers explore using urine tests to monitor patients for signs of recurrence.
There is no standard or widely accepted screening test for bladder cancer, says Stephanie Chisolm, director of education and research for the Bladder Cancer Advocacy Network, based in Bethesda, Maryland. This can be a problem, because the warning signs—including increased urgency to urinate and blood in the urine—can be ambiguous. As a result, some bladder cancers aren't caught until after they've begun to invade muscle in the bladder wall, making them more difficult to treat.
However, scientists are working to develop noninvasive urine tests that might detect early bladder cancer and perhaps help to distinguish slow-growing cancers from more aggressive ones, says David McConkey, a research scientist and director of the Johns Hopkins Greenberg Bladder Cancer Institute in Baltimore.
As an example, an international team led by George Netto recently reported on a urine test called UroSeek, which searches for the presence of 11 gene mutations and gene duplications frequently found in bladder cancer. The
study​
analyzed 570 patients considered at risk for bladder cancer and found that the UroSeek test was positive in 83 percent of people who ended up developing cancer after a median follow-up of 18 months. Such a test might also be useful in monitoring patients who have already been treated for bladder cancer for signs of a recurrence. Several other urine tests to monitor or detect bladder cancer are also available or in development.
Research on the Rise
The number of clinical trials in bladder cancer has grown since the time of Pritchard's diagnosis in 2014. For example, a recent search using ClinicalTrials.gov, an online repository of research trials, shows more than 260 studies are enrolling patients with bladder cancer.
Researchers are exploring the use of combinations of immunotherapies or immunotherapy plus chemotherapy. For instance, a team led by researchers at the Icahn School of Medicine at Mount Sinai in New York City recently reported the results of a phase II clinical trial showing that metastatic bladder cancer patients, especially those whose tumors carry DNA repair defects, may benefit from receiving the chemotherapy drugs gemcitabine and cisplatin together with Yervoy. A phase II tr​ial set to begin in September 2018 is analyzing this chemotherapy combination plus Opdivo in patients with muscle-invasive bladder cancer.
There is also interest in combining existing checkpoint inhibitors with IDO inhibitors, which target other proteins shown to help cancer escape the immune system. (Of note, however, a phase III clinical trial testing​ this combination approach in melanoma recently ended in failure.) In March 2018, the FDA granted breakthrough therapy designation to a drug called enfortumab vedotin, which means the agency is expediting its development and review, for use in patients with locally advanced or metastatic bladder cancer who have previously received checkpoint inhibitors. The treatment, while not an immunotherapy, targets a protein called nectin-4 that's highly expressed in most metastatic bladder cancers. One study found that about 50 percent of patients with metastatic urothelial carcinoma responded to the treatment.
Researchers are also looking into combining chemotherapy with drugs targeting a blood vessel growth factor called VEGF. In addition, a phase II​​ clinical​ trial recently showed that about 40 percent of patients whose metastatic urothelial cancers carry mutations in the FGFR3 gene respond to treatment with an oral drug called erdafitinib, which also received the FDA's breakthrough therapy designation for metastatic bladder cancer in March 2018. The drug targets all FGFR proteins, including the mutated FGFR3 found in as much as 20 percent of metastatic bladder cancers. Researchers are also exploring whether epigenetic drugs, some of which can chemically alter the surface of DNA to influence gene expression, might reinvigorate a response to immunotherapy after it stops working.
"As a urologist who has been involved in clinical trial research for the last 20 years, it's been very rewarding to see in the last two to three years, and certainly now, a renewed awakening in the bladder cancer clinical trials landscape," says Neal Shore, a urologic oncologist and director of the Carolina Urologic Research Center in Myrtle Beach, South Carolina. "For almost three decades, we didn't have a lot to be excited about, and now we have a lot of really interesting clinical trials with different molecules targeting different molecular pathways."
Matching Treatments to Patients
With all the emerging choices, researchers also are focusing on finding biomarkers to couple the most promising treatment option with a patient's unique tumor genetics. With a better understanding of how specific markers make the cancer behave, "you could not only detect the cancer, but pinpoint how to treat it," says David McConkey, a research scientist and director of the Johns Hopkins Greenberg Bladder Cancer Institute in Baltimore. "My vision is that some patients will be assigned pre-surgical chemotherapy and some pre-surgical immunotherapy—maybe some will be assigned to receive both at same time," McConkey says.
The Cancer Genome Atlas, a comprehensive project by the National Cancer Institute to categorize the DNA changes in various cancer types, recently analyzed tissue samples of more than 400 muscle-invasive bladder tumors, McConkey notes. This research has uncovered 58 significantly mutated genes and five distinct molecular subtypes of bladder cancer, which could aid in pairing treatments with the genetics of a patient's tumor. But there's more work to be done.
"In the future, we're going to have to learn about the biology of a tumor and make decisions based on that biology, and everybody will be different," says Matthew Milowsky, a urologic oncologist at the University of North Carolina at Chapel Hill. Milowsky is leading a study sponsored by the Bladder Cancer Advocacy Network that provides free genomic testing to patients with metastatic bladder cancer to help identify the most promising clinical trials and to develop a tissue repository for future research.
In many cases, this kind of molecular characterization is already guiding treatment choices for patients with bladder cancer, but it's not being used everywhere, Milowsky cautions. An important question will be "how do we translate such efforts" to reach more people, the majority of whom receive care in community health care settings.
Fortunately, Pritchard asked about immunotherapy and found a path to a clinical trial that would ultimately extend his life. He still goes in for regular blood draws and infusions of Tecentriq every three weeks as part of the ongoing clinical trial. There is no evidence of cancer in his body, but he continues to search the web daily to learn about new treatments. And even though Pritchard is unable to lift more than 25 pounds because of his surgery and he tires easily—a common side effect of immunotherapy treatment—he says his quality of life is "still very good."​
For others who find themselves in a similar position, he has some advice: "Doctors see so many patients each day and can't remember all the details. As a patient, you need to speak up for yourself." Ask questions, he says, and, if you aren't satisfied with the response, keep asking until you are.
Cancer Today magazine is free to cancer patients, survivors and caregivers who live in the U.S. Subscribe here to receive four issues per year.