INTRAVESICAL BACILLUS CALMETTE-GUERIN (BCG), a form of immunotherapy delivered directly to the bladder via a catheter, is the standard of care for patients with high-risk non-muscle-invasive bladder cancer (NMIBC). For patients who don't respond to intravesical BCG, another treatment option is intravesical delivery of gemcitabine, a chemotherapy drug.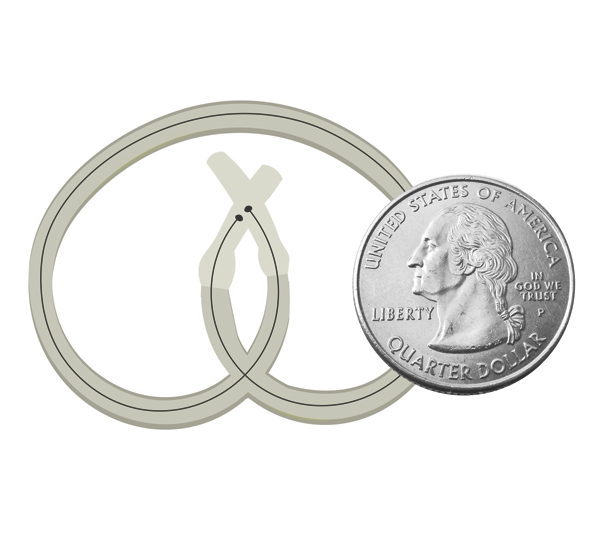 A small study presented at the American Urological Association Annual Meeting 2023 showed that almost three-quarters of patients with BCG-unresponsive, high-risk NMIBC had a complete disease response to treatment with a gemcitabine drug delivery system called TAR-200. The delivery system is a pretzel-shaped device that is inserted into the bladder via a urinary placement catheter and floats there, releasing gemcitabine pellets that dissolve over time. Tests show that TAR-200 provides sustained delivery of gemcitabine for seven days, while standard intravesical therapy stays in the bladder for about an hour. Studies have shown that a longer "dwell time," or time inside the bladder, may provide more effective treatment.
The study tested TAR-200 in 22 patients with NMIBC. The device was placed in each patient's bladder and replaced every three weeks for six months and then every three months during a maintenance phase. Seventy-three percent of patients responded to treatment with no evidence of disease. With a median follow-up of about 11 months, the majority of responses were still ongoing.
"The response rate is much higher than what we have seen in the past with novel drugs," says Siamak Daneshmand, director of urologic oncology at the University of Southern California Norris Comprehensive Cancer Center in Los Angeles and the study presenter. "To see 73% response rates in this setting was a huge stride in furthering the management of this disease."
Daneshmand says the device was well-tolerated by patients. Only one patient needed to have the device removed. Side effects are minor, and patients are still able to void in the toilet normally. There is no concern about coming in contact with family members while the device is implanted, as is sometimes the case with other treatments.
A new clinical trial will test the delivery system using a targeted therapy, Balversa (erdafitinib). The Balversa delivery system, called TAR-210, will be tested in patients with NMIBC and with muscle-invasive bladder cancer with FGFR mutations or fusions.
"In the future, we hope to have multiple types of devices with different drugs in it," Daneshmand says. "The device is just the delivery mechanism. As long as it can successfully deliver different types of medicine, the options are limitless."
Cancer Today magazine is free to cancer patients, survivors and caregivers who live in the U.S. Subscribe here to receive four issues per year.