Jan Manarite has made a career out of listening. For more than 15 years, she has been the calm voice on the other end of the line for caregivers and patients trying to make sense of a prostate cancer diagnosis. Manarite has always been composed under pressure, she says, but it was her experience over 13 years of searching for treatments for her husband that gave rise to a calling as a patient advocate.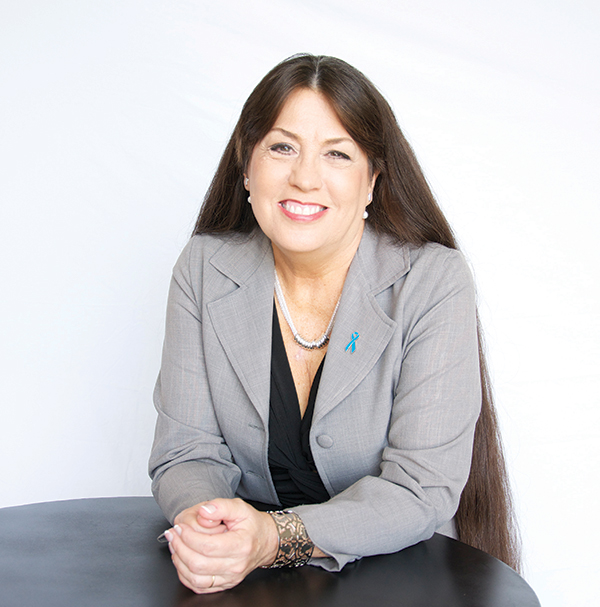 "I have this thing where I can handle a crisis. I can break it all down," says Manarite. She was a restaurant manager when her 58-year-old husband, Dominic, was diagnosed with metastatic prostate cancer in 2000.
Manarite still recalls the day she suggested a treatment that the doctor hadn't thought of. Over the course of Dominic's illness, Manarite kept a running log of her husband's medications, 23 pages of detailed information that she revisited hundreds of times to try to find patterns that might provide options to ultimately extend his life. "I did it for my son's sake. He was only 9 years old when my husband was diagnosed. I wanted my son to have a father for as long as possible," she says.
Over the years of treatments, Dominic continued to work as a fishing guide. He also saw some of his dreams fulfilled: watching his son run onto the field to play on the high school football team and later attending his son's high school graduation. Dominic died in 2013.
During the dizzying days of helping her husband through treatment, Manarite found comfort and support from the Prostate Cancer Research Institute, an educational organization that works to increase awareness of research and treatments for patients. In 2001, she started working for PCRI, responding to patient emails and eventually answering calls for the organization's patient help line.
Today, Manarite, who lives in Fort Myers, Florida, continues to spend time talking to patients and caregivers in her role as the executive vice president of a small nonprofit called Prostate Cancer International (PCI). She also organizes patient conferences and helps manage PCI's online community. Recently, Manarite spoke with Cancer Today about some steps that patients can take to make informed decisions.
CT: What are some of the common questions patients have about prostate cancer?
Manarite: Most people just want to understand what they have. They don't really have an understanding of what kind of cancer they have because every prostate cancer is different. For a lot of them, that is really all they need to know.
CT: How can people start to understand more about their cancer?
Manarite: The first step is getting your medical records. You have to know your pathology, your Gleason score and PSA [prostate-specific antigen] levels, which all help you to determine the type of prostate cancer you have, and that's in your medical records. Until you know what you have, you're not ready to ask questions. If you know you are low risk, for example, you can focus your research on low-risk prostate cancer. I have a phrase I say all the time: "Medical records speak. Listen to what they are saying to you."
CT: How does one understand what medical records are saying?
Manarite: Look at the records and continue to revisit them. Circle five or 10 big words and Google them. I invented a five-step program for the newly diagnosed which breaks everything down. You might see lymphadenopathy, for example, which is a fancy word for an enlarged lymph node. If you Google it, you'll get it right away. Medical records provide the foundation for your decisions. The more you know, the more empowered you become. And that leads to shared decision making with your doctor.
CT: What other steps can patients take to become more informed?
Manarite: Go online and find people who are going through [the same thing you are]. Now you are finding people who are talking about their treatments and you can plug into existing social networks. You can ask questions.
CT: Given that your husband lived for 13 years with metastatic cancer, what are your thoughts about survival statistics?
Manarite: The problem is that the statistics are outdated because it takes so long to measure them. You can be looking at data that's five or 10 years old. And when doctors talk about these statistics and underquote people, they steal the patient's involvement in shared decision making. That's because [unfavorable survival statistics] can discourage patients from even bothering to do research or seek further treatment. There are always examples of people living well beyond what they are told. None of us really know how long we have, and that's important to remember no matter what the numbers say.
Cancer Today magazine is free to cancer patients, survivors and caregivers who live in the U.S. Subscribe here to receive four issues per year.