PRIOR TO MAKING a more formal presentation to hundreds of scientists and other attendees at the American Association for Cancer Research Annual Meeting on April 16, Norman "Ned" Sharpless, the director of​ the National Cancer Institute (NCI) stopped by to introduce himself to a group of cancer patient advocates and cancer survivors in a smaller classroom setting​.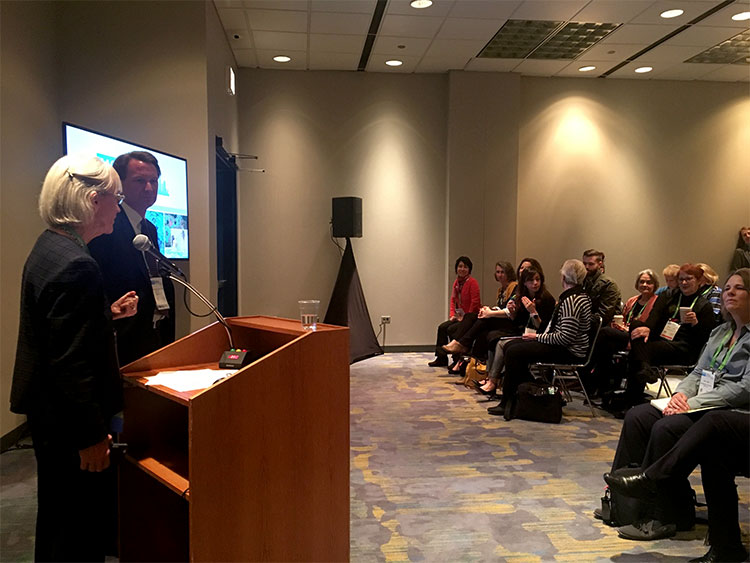 The advocates and survivors were taking part in the Scientist↔Survivor Program, an advocacy training initiative that gives participants an opportunity to learn from scientists, and vice versa. In his talk to the advocates and survivors, Sharpless noted that it was the awareness that he couldn't effectively treat many of his patients that informed his work in the lab. When he was doing research on mice, he would recall the patient he saw the day before: "I would have that person in my mind, and I would say, what are we doing for that individual and how can we do it more quickly?"
Prior to assuming the role of NCI director in October 2017, Sharpless was the director of Lineberger Comprehensive Cancer Center University of North Carolina School of Medicine in Chapel Hill. He said his new role was an opportunity to impact both patients and scientists. For his first six months as the NCI director, Sharpless took what he called a "listening and learning tour" to soak in as much about the agency that he could.
"I didn't know, but I've been pleasantly surprised by the support from Congress, which I didn't know would be extraordinary, [but] it has been," he said, pointing out that Congress has increased the NCI's budget for the last four years. In addition, the NCI will receive $275 million in funds in 2018, $100 million more than expected, Sharpless said.
During the advocacy session, Kelly Shanahan, an advocate with MET UP, a metastatic breast cancer advocacy organization, asked the NCI director how he plans to increase engagement with advocates and patients. Sharpless answered by noting the history of the NCI's commitment to advocacy, including its Office of Advocacy Relations, which helps to ensure cancer research advocates shape NCI-related research and activities.
As a physician and a scientist, Sharpless felt close to many of the issues that survivors shared during the advocacy session. "As a physician, I get that [survivor/advocate] perspective probably better than many people in science because I understand what it's like if your kid has cancer and the progress is slower than it ought to be," Sharpless said.
"I think the National Cancer Institute has gotten that message [about patient advocates] too, for a number of reasons," he said. "Some of which are laudable: We want to hear better from the community. And some of which are less laudable: Because we appreciate that your voice to Congress is really important to how much funding we do."
During his talks to advocates and the larger research community attending the AACR Annual Meeting, Sharpless outlined four of his key focus areas at the NCI: investment in the training of scientists, a commitment to basic research, the use of big data, and the modernization of clinical trials with an eye on precision medicine.
When advocates asked about funding for specific cancer types, Sharpless took the long view. ​"First off, I feel like we can't work on [just] some of the cancers, the cancers with the best idea or the most patients or the loudest advocates. We have to make progress for everybody, that's part of the deal," he said. "At the NCI, we understand that cancer is actually many diseases. We've got to work on all of them."
After speaking with the advocates, Sharpless addressed researchers and others attending the AACR Annual Meeting and detailed his vision for developing a robust work force, particularly emphasizing supporting early-career scientists. After his address, Sharpless fielded questions from AACR president Elizabeth M. Jaffee, deputy director of the Sidney Kimmel Comprehensive Cancer Center at Johns Hopkins in Baltimore and associate director of the Bloomberg Kimmel Institute for Cancer Immunotherapy, and Michael Caligiuri, immediate past-president of the AACR and the president of the City of Hope National Medical Center in Duarte, California.​
Cancer Today magazine is free to cancer patients, survivors and caregivers who live in the U.S. Subscribe here to receive four issues per year.