WHILE AFRICAN HEADS OF STATE ​gathered in Niamey, capital of Niger, for a summit of African Union nations in July 2019, the Organization of African First Ladies for Development (OAFLAD) simultaneously held a Symposium on Cancer in Africa. Now in its 17th year, OAFLAD is an advocacy organization led by 37 wives of African presidents who leverage their positions to promote access to health care services and empowerment of women and youth on the continent.
OAFLAD was established in 2002 and initially dedicated its energies to the challenge of HIV/AIDS in Africa. Its flagship effort, Free to Shine, is a campaign to end AIDS among children, adolescents and young people and to keep mothers healthy. The campaign has now been launched in 15 countries across Africa.
In February 2019, as part of its 2019-2023 strategic plan, OAFLAD expanded its efforts to address issues beyond communicable disease, including cancer; reproductive, maternal, newborn and child health; gender equality; women and youth empowerment; and poverty reduction.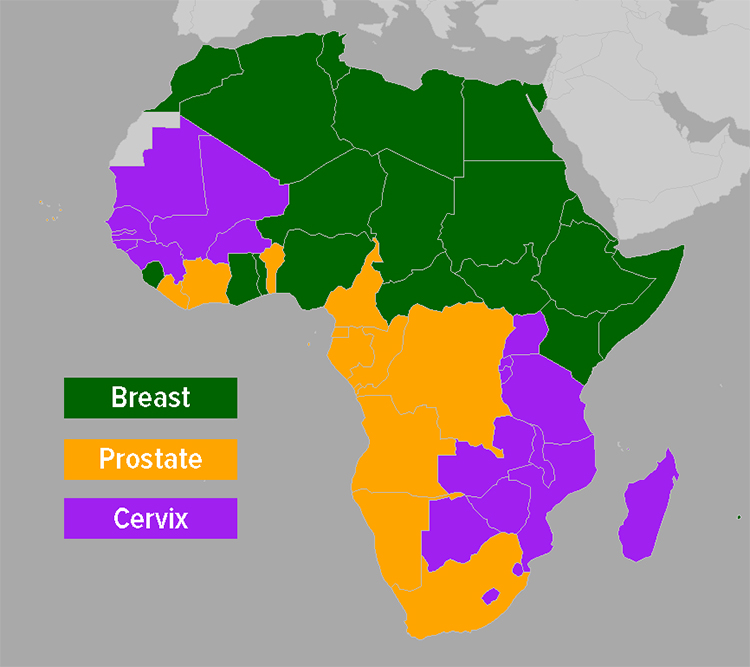 In 2018 in Africa, there were an estimated 1,055,172 new cases of cancer and 693,487 cancer deaths, a mortality-to-incidence ratio of 0.66, compared with a ratio of 0.46 in Europe. By 2040, the number of annual cancer deaths in Africa is expected to double. Efforts are being made to improve the accuracy of cancer statistics in Africa, despite challenges faced in maintaining health information systems and cancer registries in the region.
​Cervical cancer presents a significant public health threat to women in Africa. It accounts for 20% of all cancers in African women, making it the second most common cancer in women behind breast cancer. In Africa, 28 out of every 100,000 women are diagnosed with cervical cancer and 20 out of every 100,000 women die from the disease every year. By comparison, in North America, six out of every 100,000 women are diagnosed with cervical cancer and two out of every 100,000 women die of the disease. In Africa, most women diagnosed with cervical cancer are at an advanced stage, which is associated with poor outcomes. But cervical cancer is controllable. Almost all cases are caused by infection with human papillomavirus (HPV), and HPV vaccination​ has shown promise as a cervical cancer prevention strategy in Africa.
The OAFLAD members issued a joint appeal for more effective measures to fight cancer, including taxing tobacco, alcohol and other carcinogenic products; using innovative technologies for cancer screening, diagnosis, treatment and palliative care; and investing in cancer control and treatment as part of national strategic planning efforts.
The OAFLAD event in Niamey drew participants from around the world, including diplomats, health ministers, policymakers and cancer researchers. The gathering "provided a remarkable opportunity to collectively advance our understanding and pathway forward to address as a continent the cancer burden in Africa," said Sika Kaboré, first lady of Burkina Faso and official host of the symposium, after the event. Kaboré is the president of OAFLAD.
Her husband, Burkina Faso President Christian Kaboré, spoke to attendees, saying, "It is only by acting in solidarity that we can achieve progress. If Africa unites, we can make progress on cancer."
Matshidiso Moeti, WHO regional director for Africa, said at the symposium, "Cancer screening and early detection are essential to optimize the investment being made by countries to address cancer."
Elizabeth M. Jaffee, a medical oncologist at the Sidney Kimmel Comprehensive Cancer Center in Baltimore, past president of the American Association for Cancer Research (AACR) and current chair of the AACR International Affairs Committee, praised the meeting, saying that "by calling attention to the burden of cancer we all face, irrespective of national boundaries, the African First Ladies for Development 2019 cancer in Africa symposium in Niamey served to enrich the global spectrum of cancer science."
"Internationally, women are often the driving force in coordinating health care needs for the entire family," added Lisa A. Newman, a surgical oncologist at NewYork-Presbyterian/Weill Cornell Medical Center and chair of the AACR Africa Advisory Group. "This cancer in Africa symposium is an example of smart, empowered women advocating on behalf of public health and oncology resources on a global basis."
Dr. Jaffee and Dr. Newman did not attend the conference in Niamey.
Cancer Today magazine is free to cancer patients, survivors and caregivers who live in the U.S. Subscribe here to receive four issues per year.