MY CANCER JOURNEY—it's still so surreal to say this—started right after I turned the big 5-0! To celebrate this milestone birthday, I went to Mexico with my boyfriend Rob, daughter Lily, and her boyfriend Cole. We had a blast. I even beat other swimmers racing laps in the swimming pool. I felt good.
We returned from our vacation in March 2020. The timing coincided with the official declaration of COVID-19 as a pandemic and the resulting precautionary measures. Within days of my return, I developed a fever, abdominal pain and nausea. My belly was bloated.
The pain came in waves and was severe enough that I knew something was wrong. I wondered if I'd developed a foodborne illness, picked up a parasite or caught COVID. I asked Rob to take me to Emergency Department (ED) of AtlantiCare Regional Medical Center (ARMC) in Atlantic City, New Jersey. The ED team shared my concerns, then ruled them out.
A CT scan showed a blood clot in my spleen, swelling in my intestines, and a benign-looking ovarian cyst. The ED team admitted me to the hospital. I had a full workup on the blood clot and started taking blood thinners.
As AtlantiCare's oncology breast nurse navigator' I'm part of the team that cares for breast cancer patients. So, I knew one of my colleagues would be consulting with me. Loreta Garretson, a hematologist-oncologist, visited me the next day. She examined me, and we talked about my health and family history.
I told her paternal grandmother Evelyn, for whom I was named, died two months before I was born. She was in her early 50s. I was always told she was a smoker and died of lung cancer. Before my grandfather died, I had a moment alone with him. He said, "Evie, your Grandma died of a female cancer. We told everyone it was lung cancer and that it had spread, but it started in one of her female organs. I think it's important you know this."
He was right! In 1969 when Evelyn passed, people didn't talk about menses, sex or any topic they considered "embarrassing" or private concerns. I thought about this for years after that poignant conversation with my grandfather. I later learned my grandmother's sister died of ovarian cancer.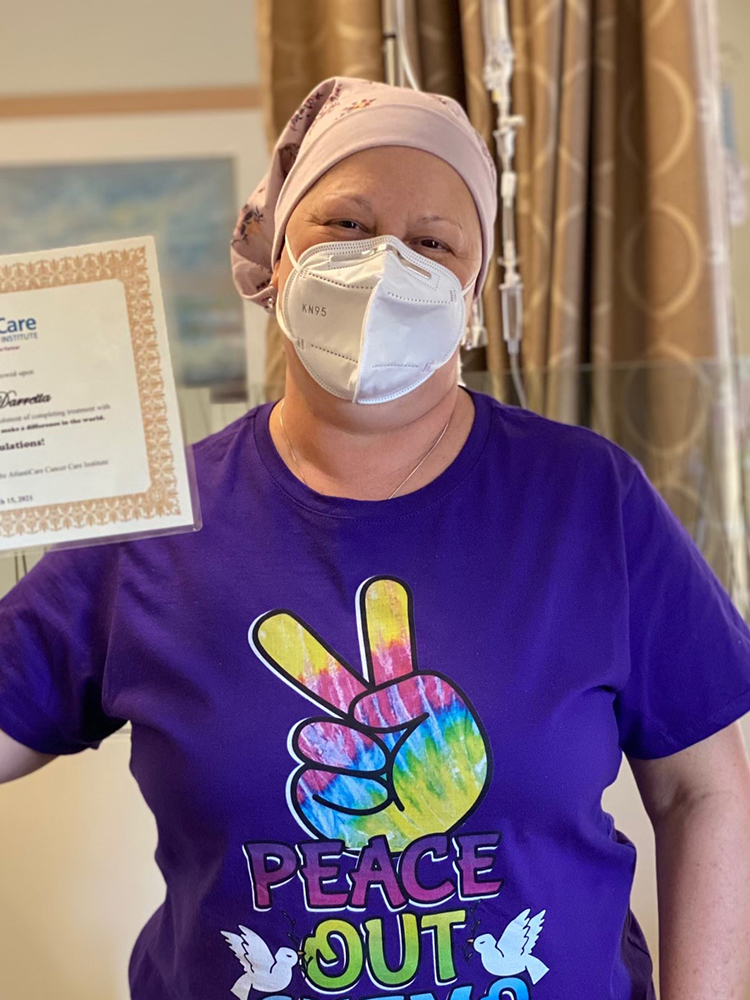 Garretson and I discussed this family history, what testing I'd have, and how we would determine why this clot occurred and why I had the swelling in my intestines. Though no issues were found after extensive bloodwork, Garretson had a gut feeling. She cautioned me, "We have to watch you very closely. The blood clot is a significant occurrence, and I am concerned it could be a symptom of a greater cause."
We discussed how cancer puts a person at higher risk for clots and that this could be a possible finding for me, even though it was not rearing its head at this point or showing in my CT scans. Then I developed post-menopausal bleeding for two months in a row. Garretson ordered a transvaginal ultrasound and follow-up with my gynecologist. This test revealed the same ovarian cyst had grown slightly. Garretson said I should have a follow-up ultrasound in another six weeks.
This test result said "suspicious for neoplasm"—or cancer. My benign cyst had become complex and was measuring 4 to 5 centimeters. I visited Robin Wilson-Smith, a gynecologic oncologist I knew and worked with at AtlantiCare. We scheduled a minimally invasive gynecologic surgery for her to remove my ovaries, fallopian tubes, uterus and cervix.
The samples Wilson-Smith sent to the lab revealed that I had stage IIB ovarian cancer and endometrial hyperplasia, a precancerous condition in which there is an irregular thickening of the uterine lining. My doctors recommended chemotherapy. This was my moment of realization. I was the oncology nurse turned oncology patient. I had my port inserted at ARMC, where I had helped so many patients before their own surgeries and procedures. Then I started my chemotherapy at AtlantiCare's Cancer Care Institute—where I care for patients.
During and after my treatment I needed to start living my new life. And I did. In the midst of my treatment, my son bought his first home in North Carolina. My daughter married Cole. I had hair for the wedding! I welcomed a grandson. Rob proposed to me on New Year's Day 2022. We married in March, after I celebrated two years being cancer free. Rob's beautiful family—his three sons with their wives and their children—is now my family too.
Ovarian cancer is known as a "silent killer" because symptoms can be vague or similar to symptoms of other health care issues. That's why most ovarian cancers are diagnosed at later stages. Symptoms can include:
Abdominal or pelvic pain
Bloating
Difficulty eating or feeling full quickly
Frequent urination
Constipation or changes in bowel habits
Unexplained weight loss
Fatigue
Back pain
Women might experience any or all of these symptoms and dismiss them or attribute them to something else. That's why it's important to know and talk about your family history with your family and your health care providers. Get age-based and risk-based screenings and understand your body. If something doesn't feel right, get it checked out.
I'm grateful for so much: that conversation with my Pop-pop Walt, Garretson's diligence in following her "gut feeling" to uncover my cancer, and the support and love of Rob and our family. My teammates became my caregivers. And I continue to have the privilege of helping other patients prevent, detect and survive cancer through my role at AtlantiCare and through sharing my story.
Cancer Today magazine is free to cancer patients, survivors and caregivers who live in the U.S. Subscribe here to receive four issues per year.