IN 2016, at age 44, the Rev. Thurselle C. Williams began feeling lightheaded and fatigued going up flights of stairs. When she preached at church, she struggled to make it through the service, once removing her high-heeled shoes for fear she would faint unless she put her feet flat on the floor. She hid her shoes under the pulpit because she was hiding her symptoms from those around her.
"I was like, how am I going to explain this? At the time, I was still trying to assert that I was healthy," says Williams, executive pastor at New Hope Baptist Church of East Orange in New Jersey, where she lives. "I was becoming sicker and sicker. I was gaining a bunch of weight."
Her maternal aunt had survived thyroid cancer, and her paternal grandmother had died of complications from a thyroidectomy. Williams sensed her ill health might be related to her thyroid gland, too.
Initially she was told nothing seemed to be wrong with her thyroid, but then she found a doctor who listened to her concerns. After undergoing an ultrasound of her thyroid, followed by a biopsy, she was told to stop by her endocrinologist's office for paperwork. Williams thought everything was fine, so she went to the office alone and was ushered into an examination room, where the doctor told her she had papillary thyroid carcinoma.
"But this is fine," Williams recalls the doctor saying. "You've got a better chance of leaving here and having a car accident and dying from that than you will from thyroid cancer."
Williams told the doctor he had no idea what her relationship to cancer was and how difficult it was for her to hear the diagnosis. Thyroid cancer is sometimes called a "good cancer" because of its high survival rate, but the situation didn't strike Williams as good.
​"So many people don't realize what the thyroid does," she says. The thyroid produces hormones that regulate metabolism throughout the body. "I get it. There are not as many fatalities from thyroid cancer. However, I don't think that people are well-versed enough … about how much the thyroid controls your body."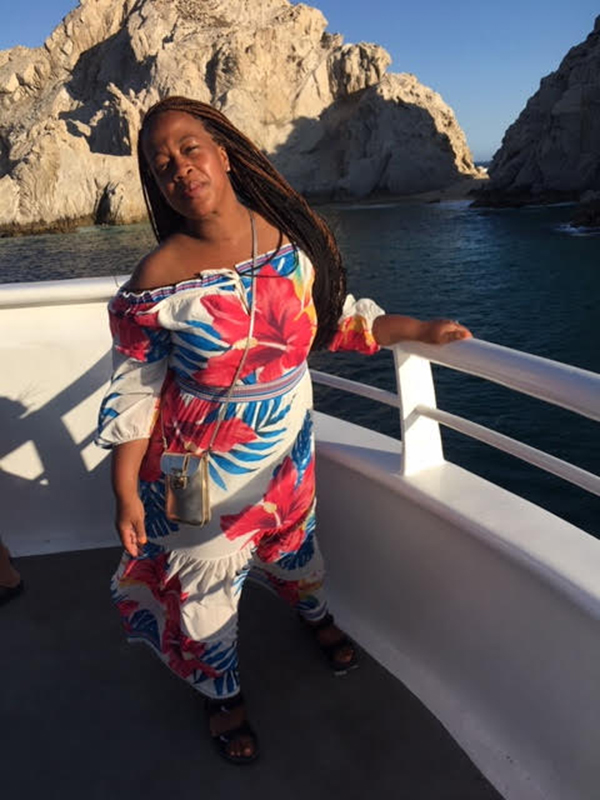 It was in this moment that Williams' advocacy and speaking about thyroid cancer began. Since then, she has shared information about cancer symptoms and screenings with others by speaking at events and to her congregation, family and friends.
Williams underwent surgery in January 2017 to have part of her thyroid removed. Although she is now in remission, she has experienced many changes, including physical ones, in the aftermath. Her body doesn't regulate heat as well as it did before the surgery, so she overheats easily, she says. Losing weight has been a challenge, and she has significantly changed her diet with a goal of reducing her risk of future cancer.
This summer, Williams took part in a "boot camp" experience to feel strong again, and in June, she traveled to Cabo San Lucas, Mexico for a vacation. "I did everything there," she says. "Everything I could think of active to do, I did it." The trip contrasted with her vacation to Jamaica in 2017, right after her thyroid surgery, when she felt devastated both mentally and physically.
Williams told her congregation about her cancer after her surgery. Now, when she sits with sick church members, she shares wit​h them at a deeper level by drawing on personal experience. Before her illness, Williams would tell people to read the Bible and eat well if they wanted to be healthy. Now, she also stresses the need to be proactive as patients and to seek out screenings and doctors who listen, especially as people living in communities of color. Black women have a 13% higher risk​ than white women of dying of cancer.
"As an African American woman, I know that people of color sometimes are marginalized with health care," she says. "However, I encourage them to seek out health care to have the proper test taken."
Cancer Today magazine is free to cancer patients, survivors and caregivers who live in the U.S. Subscribe here to receive four issues per year.