Every year, Mother's Day is bittersweet. I am lucky enough to live close by my parents in Houston and can celebrate the holiday with my mother. This past Mother's Day, a quote popped up on social media that pulled at my heartstrings: "Parenthood requires love, not DNA." I know I am not the only cancer survivor who needs to hear this quote.
My story starts when I was a little girl. I dreamed of getting married and having at least four children. I am one of four siblings, and I loved growing up in a big family. Even though we are spread across the globe—in Texas, California, New York and Tokyo—my brother and sisters are always there when I need them.
Through the years, I've had many good relationships, but I was never truly ready to settle down. At the beginning of 2012, after I turned 32, I came to realize that I was finally willing to try to find a good guy and live out my childhood dreams. Sadly, the universe had something else in mind. On June 7, 2012, after months of experiencing unexplained health issues, I was diagnosed with stage II colorectal cancer. At the time, I was working in a cancer research lab as a lab manager. I never would have predicted that the field I was working in would become my new reality.
I didn't immediately realize how cancer treatment would affect my fertility. Luckily, a good friend told me to ask about it at my first oncology appointment at the University of Texas MD Anderson Cancer Center in Houston. Pelvic radiation was going to be part of my treatment, and sadly, this most certainly would make me infertile, my oncologist told me. I had a long discussion with my care team and decided to delay treatment by three weeks in order to harvest and freeze my eggs.
I attended a required class on in vitro fertilization and saw a fertility specialist at a separate clinic in the area. The night before I was to start preparations to have my eggs harvested, I became very ill. Without going into the gory details, it was a bloodbath. This episode alarmed my oncology providers. In what was one of the hardest decisions of my life, I decided, in close consultation with my team, to begin my cancer treatment the next day. What good would my eggs be if I wasn't around to use them? Eight years later, I still get emotional writing about this topic and decision.
The next year was a blur of chemotherapy, radiation, procedures and multiple surgeries. After I was declared to have no evidence of disease (NED), I decided to visit a fertility specialist. At this point, MD Anderson had a doctor, Terri Woodard, who dealt specifically with fertility of cancer patients. I had been so laser-focused on successfully completing my cancer treatment that I had not let myself think about my new reality and what my future had in store.
After an ultrasound, blood tests and various other tests, the result was exactly as I had expected: The radiation had destroyed any chance for me to bear children. In that moment, I had another choice to make. I could crawl into a corner and spiral into a deep depression, or I could talk to the doctor about my options and learn how to help others facing the possibility of infertility from cancer treatment. ​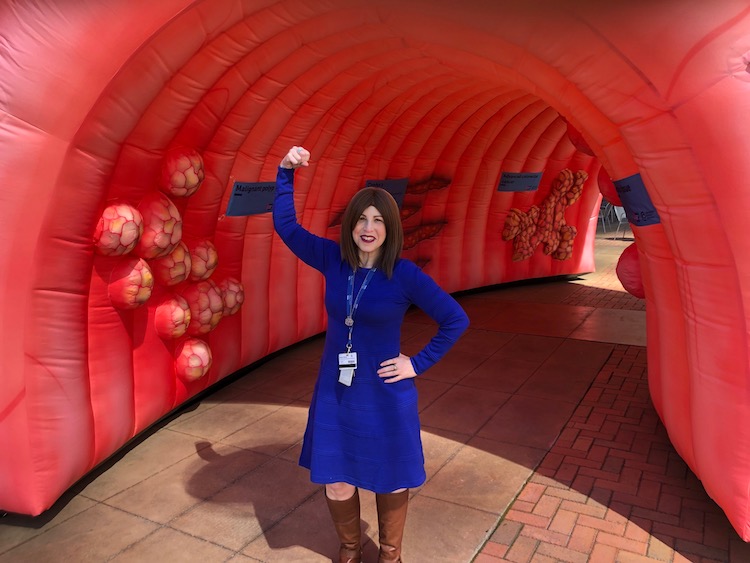 I have become friends with Woodard, the fertility specialist who had to deliver the devastating news of my infertility. Along with her, I help moderate group discussions about fertility via MD Anderson's Lunch & Learn program. I have also become active in government policy initiatives to support affordable access to fertility preservation services. I advocate for state-regulated individual and group health benefit plans in Texas to cover fertility preservation services for patients who will receive medically necessary treatments that may directly or indirectly cause impaired fertility. Without insurance coverage, fertility treatments are unaffordable for many patients.
Finally, I provide one-on-one support via the MD Anderson program myCancerConnection​, which matches patients, caregivers and survivors with volunteers who have had similar experiences. This is where I turned when I needed someone who understood what I was going through. In a way, helping others has become a way for me to heal. Fertility is a topic I always bring up. One point I make is that even though you might not be able to have children biologically, you can have a family in other ways, including adoption or foster care.
I hope one day to have a child. It won't be the way I once imagined​. However, just being a mother, no matter how it happens, would be an amazing privilege for me.
Cancer Today magazine is free to cancer patients, survivors and caregivers who live in the U.S. Subscribe here to receive four issues per year.