JONATHAN SOMMERS REMEMBERS ​many nights spent alone in a hospital room after he had numerous complications from his surgery for testicular cancer in 2012. The coronavirus pandemic brings many of the same fears to the surface for the 36-year-old writer, filmmaker and producer who lives in Santa Monica, California.​​
For More Information
Read more coverage here​ from Ca​ncer Today on the various impacts of the coronavirus on people with​ cancer.
​"With COVID-19, it feels like being told you have cancer," he says. "There's something out there that may kill you. You don't know what it is. You didn't do anything to cause it. And we have guidelines and suggestions that could help to prevent or minimize the effect. Now with the stay-at-home aspect, it's very isolating."
​Since recovering from his surgeries, Sommers spends a great deal of time talking with newly diagnosed young people with cancer to let them know they aren't alone in their experiences. In fact, Sommers' oncologist often asks Sommers to connect with his younger patients. As a volunteer for the digital engagement committee of the SWOG Cancer Research Network, Somers has also produced videos promoting clinical trials.​
His desire to help others only intensified when California became the first state in the country to issue a stay-at-home order on March 19. Sommers immediately worried about all the people he knew who were in treatment. How would his friend who was a leukemia survivor and immuno​compromised get to the grocery store? Who would not get to see their doctor?
Not Going Anywhere for a While?
Virtual programming can help cancer patients and survivors get help while staying at home.​
At the start of her April 7 art therapy workshop, licensed clinical professional counselor Jacqueline Carmody provided a verbal prompt to get the creativity flowing: She asked students to think about places where they have felt safe. Then she encouraged them to draw or write about what they saw in their minds. She pulled out a stack of old magazines and describes how she will create a mosaic, but she encouraged participants to use supplies they had on hand.
These sessions, called Twistshops, are typically offered in person through Twist Out Cancer, a national nonprofit that provides art programming to cancer patients and survivors. But now, Carmody offers the classes from her apartment in Chicago via videoconferencing. After sketching, drawing and creating, participants can share their artwork via their computers' video cameras.
"We wanted to connect with individuals so they could discuss what it's like being quarantined and in isolation," says Carmody. "That is something that a lot of individuals who have been touched by cancer have been affected by in the past, so we wanted people to have a safe space for how to cope with that."
These sentiments are echoed by other patient advocates who work to stay connected and engaged with people who have cancer by providing a creative avenue to show support. Here are some online opportunities for art, meditation and movement.
Color the world. Register for a virtual Twistshop art therapy session guided by Carmody. Twistshops are held Tuesdays at 2 p.m. ET through May 12, and more sessions are planned. Twist Out Cancer has posted a past session on YouTube.
Quiet your mind. UCSF Osher Center for Integrative Medicine, based in San Francisco, provides guided imagery and meditation exercises for managing stress and cancer treatment-related symptoms.
Reflect on camera. Twist Out Cancer is asking people who've been affected by cancer to record video statements as part of its resilience campaign. The website features videos from cancer survivors, including Twist Out Cancer's founder, Jenna Benn Shersher.
Step to the beat. Moving for Life, a New York City-based nonprofit, offers free online dance classes for cancer patients and older people.
Channel your inner musician. Teen Cancer America features Play It Back, a program that gives adolescents and young adults the opportunity to make their own music. In addition, the organization is hosting online game nights to build connections among young adults.
Strike a pose. Tigerlily Foundation, a nonprofit organization that focuses on supporting young people affected by breast cancer, is providing a number of fitness activities, including yoga classes, Zumba, dance parties and pajama parties,​ through the Pure Cat Initiat​​ive.​​​​
Pick Up the Phone
Sommers decided to call and check in with cancer patients and survivors he knew. He asked these people to reach out to others they knew who had cancer. He also worked with a patient advocacy organization for adolescents and young adults, Teen Cancer America, to work through their database of young patients and survivors.
"The call tree was a nice, simple idea," says Simon Davies, the executive director of Teen Cancer America, which has worked with Sommers in the past, "but it has a clear result, which is to reach people and let them know that they are thought ​about and cared for, to just extend that community. People making connections is really important at this time."
The pandemic brings additional fears for cancer patients, who may worry about treatment delays and potential exposure to the virus. They may also be undergoing treatments, such as chemotherapy, that compromise their immune system. They may be sitting in infusion rooms alone for the first time, as cancer centers adopt no-visitor policies to slow transmission of the virus and protect patients and staff.
"We are getting so many calls from patients who are incredibly anxious and scared and worried during this time. They are really struggling," says Kim Thiboldeaux, the chief executive officer of Cancer Support Community (CSC), which provides a range of support services through 50 national affiliates. In response to overwhelming need, CSC extended its help line hours (888-793-9355) to include weekends so people with concerns have more opportunities to talk to trained social workers. Noting that many patients had lost their jobs and were worried about paying their bills, CSC also launched an emergency fund so people experiencing difficulties could apply for financial assistance in the form of a $250 gift card.
Despite their struggles, many people affected by cancer are also looking for ways to give back. Cancer survivors who had previously volunteered and were trained to answer calls on peer-to-peer help lines at SHARE (844-ASK-SHARE), a national nonprofit group that supports patients with ovarian and breast cancer, have reached out to SHARE to get involved again, says Victoria Rego, SHARE's breast cancer help line coordinator. "Usually, at this time, I'm emailing volunteers to see if they can fill empty slots, but we're fully covered through June," she says.
Rego, who was diagnosed with stage IIB triple-negative breast cancer in 2017, lives in Queens in New York City. As she coordinates volunteers' schedules and sometimes handles calls from her own home, she hears the sound of sirens as ambulances race by her home to nearby Elmhurst Hospital Center, which serves a large population of immigrants and has been characterized in the news as the "epicenter of the epicenter" of the coronavirus in the U.S.
Still, she is heartened by the number of people who are lending a hand to SHARE. "Helping others in a way helps you heal yourself," she says. "It helps shift your feelings to help somebody else."
Let's Take This Online
​Even before COVID-19, cancer patients were connecting over wider geographic distances through Facebook groups, regular Twitter chats, and online communities designed for patients and survivors, such as MyLifeLine.org and Inspire. These groups are now providing a space for cancer patients and survivors to talk about the coronavirus and how it affects them. Meanwhile, advocacy groups have sponsored webinars, created web pages and held teleconferences to educate patients about the coronavirus.​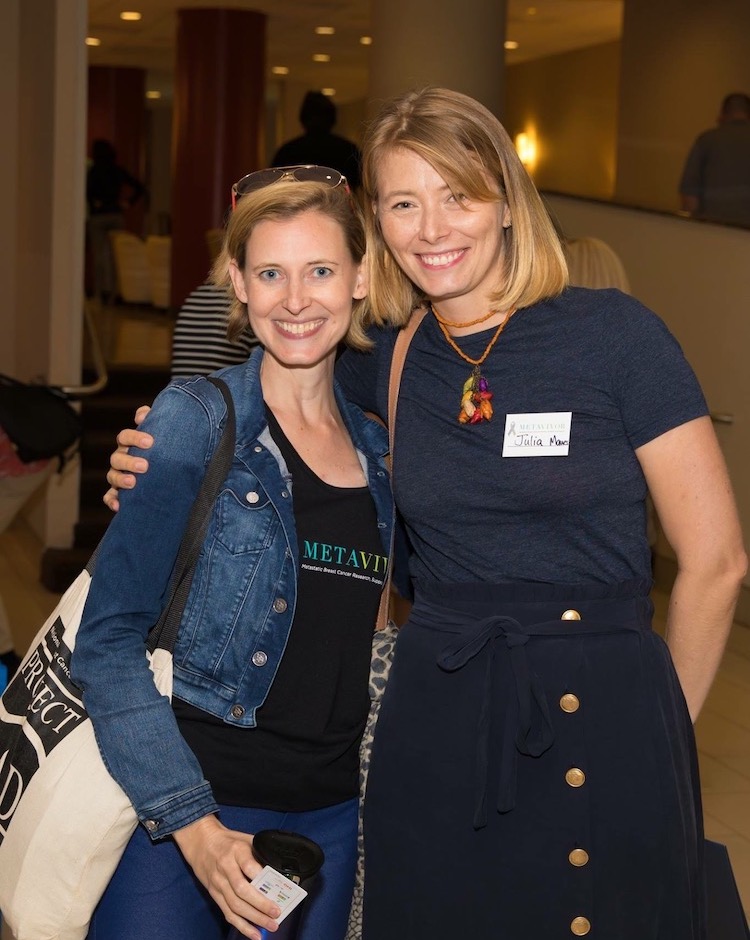 Still, not being able to reach out to people in person has been difficult for patient advocates Christine Hodgdon​ and Julia Maues, who have metastatic breast cancer and are active on social media. Cancelled spring conferences, including Living Beyond Breast Cancer's conference for patients with metastatic breast cancer, meant Maues and Hodgdon won't be able to see friends they've connected with via social media. Particularly difficult, says Maues, is the realization that people they miss this year may not be alive next year.
"That's the hard part. We're sort of dealing with two epidemics," says Hodgdon, who mentioned that two people in their tight-knit metastatic breast cancer community had died in the past week. "We are still losing our friends. And these poor families, I don't know what they're going to do about a funeral [with directives that prohibit gathering in groups]. We don't get to hug our friends and support each other in the same way."
While processing their own emotions, Hodgdon and Maues are also focusing their efforts on providing new opportunities for connection. The two were planning to offer their grassroots patient initiative, called Guiding Researchers & Advocates to Scientific Partnerships (GRASP), in person at the American Society of Clinical Oncology (ASCO) Annual Meeting, which was scheduled to take place in Chicago between May 29 and June 2. When ASCO announced that their meeting would be a virtual one, Hodgdon and Maues decided to take the GRASP program virtual as well. The first eGRASP was held on April 9 and brought together nine patient advocates to talk online with two researchers about a poster on the Metastatic Breast Cancer Project, an initiative in which patients provide tissue samples and health information to advance cancer research. "We can't just sit and wait and hope that people will get the information. We know we have to bring the information to the people," Maues says.
Despite these challenging times, Maues, who lives in Washington, D.C., and Hodgdon, who lives in Baltimore, describe feeling somehow suited to cope with these challenges as cancer survivors. "To be honest, [the COVID-19 crisis] is different in one big way from what we already deal with, and that is, this will pass. You look at the calendar and maybe it's not June, maybe it's not August, but at some point, it will be over," says Maues. "But with [metastatic] cancer, we know it will only end when we die, and we will forever deal with our disease."
Relying on the Familiar
For many cancer patients, the coronavirus brings back emotions from the days when they first heard they had cancer, says Dianne Shumay, a psychologist who is the director of the Psycho-Oncology Program at the UCSF Helen Diller Family Comprehensive Cancer Center in San Francisco. Some cancer patients may have isolated themselves from others if they were at risk of infection while undergoing treatment. Now, people everywhere are being asked to separate themselves from others.
"People all around us are having health anxiety, maybe for the first time. But the cancer patients and survivors are actually the experts in managing this," says Shumay, who provides psychotherapy to her patients from a room in her house via videoconferencing technology.
"I normally, in a stressful situation, tell people to come in and make friends in all of our programs," Shumay says, referring to the programs offered at UCSF. Now, she is recommending that patients do this virtually, including through UCSF's online support services.
The lack of physical connection is still difficult, especially for those who live alone, but Shumay also reminds her patients that they may be better equipped to handle these situations than they realize. Cancer survivors typically have already overcome numerous challenges associated with their disease.
"You've been down this road and you know how to handle this," she assures many of her patients. "Of course, it does feel different. It feels scary. But I say, 'Go back and use some of those strategies you've been using all along.'"
Cancer Today magazine is free to cancer patients, survivors and caregivers who live in the U.S. Subscribe here to receive four issues per year.