A LOT HAS CHANGED SINCE 1993, when Sandi Stanford of San Antonio was diagnosed with stage III breast cancer at age 50. After completing treatment, Stanford began volunteering for the Alamo Breast Cancer Foundation (ABCF), a local nonprofit organization that supports patients. At the time, volunteering for ABCF meant holding support group meetings at people's houses or the local American Cancer Society office.
The organization's role expanded when a few advocates, including Dale Eastman, a breast cancer survivor who co-founded ABCF in 1993, started attending a symposium that highlighted research for local oncologists. The organizing physicians took note and invited them to develop an advocacy program. Since 1997, ABCF has been bringing breast cancer patient advocates from around the world to San Antonio each December to participate in the San Antonio Breast Cancer Symposium (SABCS), now a large scientific conference where physicians and researchers present and learn about the latest findings in breast cancer research and treatment. At this year's conference, held Dec. 10-14, ABCF provided 28 scholarships to advocates. But the number of patient advocates attending the conference far exceeded that, with approximately 300 present in San Antonio for the event.
"Originally, we would just have a helpline. We just had a support group, and the thought was, we don't need to do something else to accomplish what we need," said Stanford, the current program chair of the Advocate Program at SABCS and an ABCF board member. "Now we know we need to be talking to the researchers. We need to be a part of their grants. We need to understand the science. We need to be able to talk to them face to face so we can understand what they are saying, and they can understand us. There's a respect there now."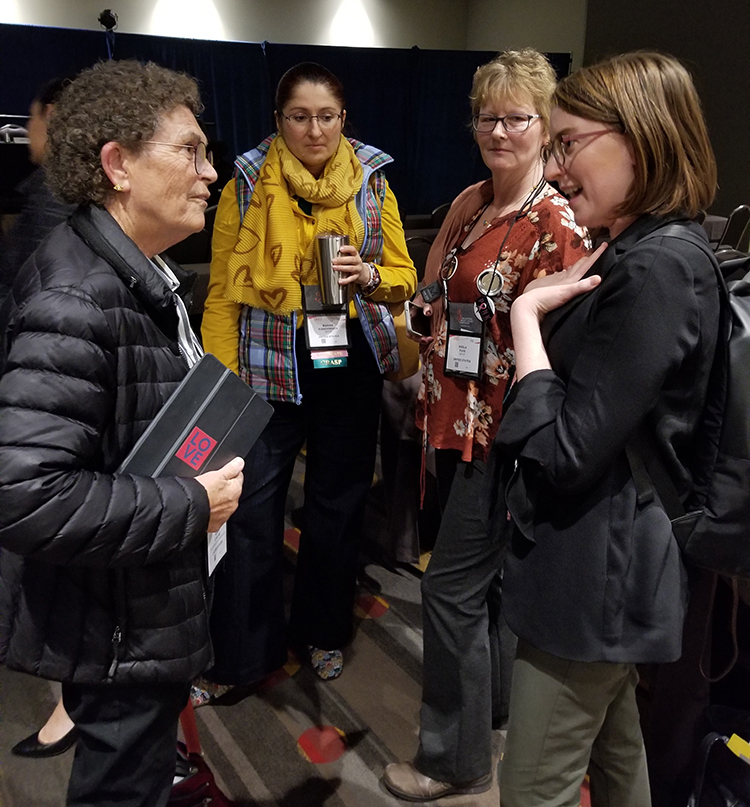 As usual, this year ABCF hosted ​educational sessions open to all patient advocates, including a meeting with representatives from the U.S. Food and Drug Administration (FDA) and a special session sponsored by the American Association for Cancer Research (AACR) that highlighted advances in treatment with breast medical oncologist Julie Gralow of Seattle Cancer Care Alliance. (The AACR publishes Cancer Today.) ABCF also hosted two hot-topic mentor sessions, featuring panels of oncologists and scientists who explained research findings and answered advocate questions. The National Breast Cancer Coalition offered an educational session for patient advocates who graduated from the Project LEAD program, an intensive breast cancer advocacy training program.
In addition, two patient-led advocacy initiatives debuted at this year's SABCS. The Tigerlily Foundation, a nonprofit that supports young women before, during after a breast cancer diagnosis, hosted a Young Women's Metastatic Breast Cancer Disparities Fireside Chat. Another initiative, called Guiding Researchers & Advocates to Scientific Partnerships (GRASP), paired new patient advocates with more experienced advocate mentors, scientists and clinicians to navigate the conference poster sessions together.
More Seats at the Table
The goal of the Tigerlily chat, held the morning of Dec. 10, was to create an honest and open environment where advocates and researchers could discuss disparities in cancer care and outcomes—as well as think about practical solutions. Tigerlily offered 20 scholarships, covering the cost of SABCS attendance, travel and lodging, to women of color, who were selected from those U.S. cities with the highest breast cancer mortality rates among African Americans.
The seeds of the Fireside Chat were planted at SABCS in 2015, when Maimah Karmo, the founder of the Tigerlily Foundation, met Beth Caldwell, who was diagnosed with metastatic breast cancer in 2014 at age 37. The encounter got Karmo, who was diagnosed with stage II breast cancer in 2006 at age 32, wondering about how to improve the conversation around metastatic breast cancer—a term she didn't even want to think about when she was first diagnosed with cancer. (Caldwell died in 2017. Her husband, J Caldwell, discussed the challenge of caregiving and the need for support at the Fireside Chat.)
Karmo, who came to the U.S. as a ​refugee from Liberia when she was 15 years old, also wanted to take steps to reduce cancer health disparities for African American women, who die at higher rates from breast cancer than white women.
As a patient in treatment, Karmo remembers attending medical conferences and being the only black person in the room. People would ask her if she was a medical student or researcher. At the Tigerlily event, she shared how intimidating that was. "I kept showing up," she said. "We can talk about wanting a place at the table, or we can become our own table."
Sheila McGlown, one of the patient advocates who told her story as part of the chat, was 49 when she was diagnosed with metastatic breast cancer in 2009. "I didn't know what metastatic breast cancer even was or that metastatic meant stage IV," said McGlown, who is African American and whose mother died of breast cancer in 2004. "I just think it was up to me to be a voice for the voiceless because my mom didn't talk about it. Culturally, we don't talk about it, and we need to talk about it."
And that's what approximately 125 people, most of whom were women of color, did in a packed room. Presenters discussed challenging the status quo and not accepting that "it's too complicated" to provide quality care and support for all breast cancer patients, including underserved populations. Speakers and attendees worked on action items, including pledging that they wouldn't serve as speakers at medical conferences unless panels included women of color and those who had metastatic breast cancer.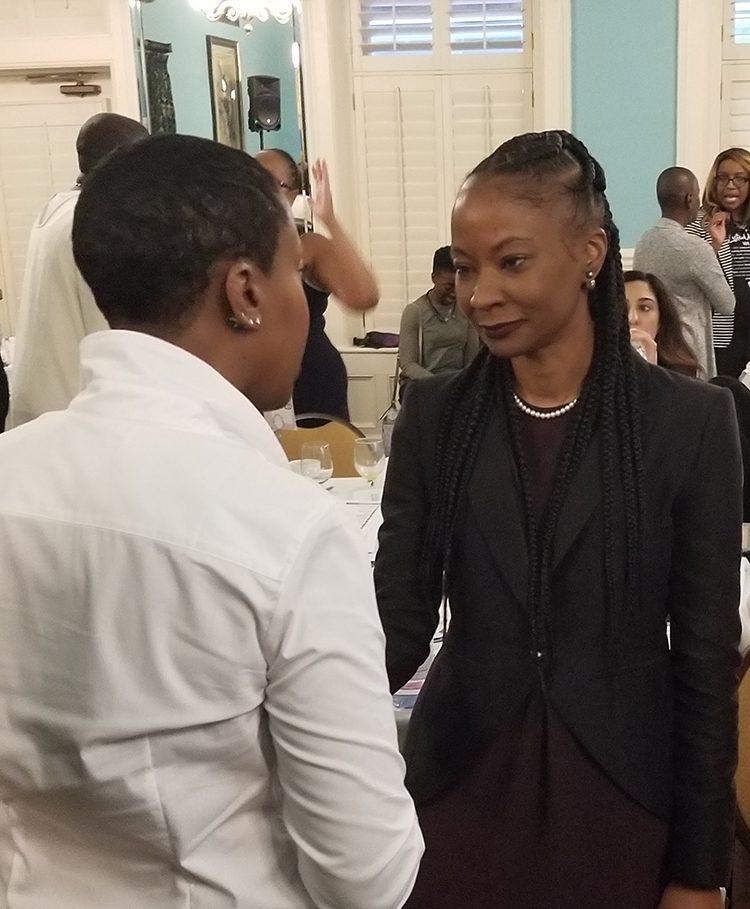 Lori Wilson presented her perspectives as a metastatic breast cancer patient, a woman of color and a surgical oncologist at Howard University Cancer Center in Washington, D.C. Wilson was first diagnosed with breast cancer in 2013 and learned she had metastatic breast cancer in January 2019.
Wilson noted that one in three people who have breast cancer will go on to have metastatic breast cancer. She also pointed out that African American women are more likely to be diagnosed with breast cancer in their late 50s, while white women are more likely to be diagnosed in their early 60s. She stressed the importance of finding a doctor who can see a patient as a whole person and not just see a terminal diagnosis.
"My second opinion was devastating," she said of her appointment with a second doctor after she was diagnosed with metastatic cancer. "Within 20 minutes of being in the conversation, the doctor was telling me, 'You know we are going to have to decide when we are going to stop the treatment.' … [As a surgical oncologist,] I understand what the endpoint is, but what she needed to understand is that I have a 7-year old, I have a husband who I love and I want to spend the rest of my days with, I have a family and a group of friends who are amazing people and who make my life rich. She never even asked about them."
Presenters at the Tigerlily event also highlighted factors that can get in the way of access to care for women of color. For instance, more than three-quarters of African American women are single mothers, which makes navigating cancer treatment even more challenging, noted breast cancer survivor and advocate Ricki Fairley, who works to increase awareness of breast cancer in African American communities as a staff member at the nonprofit organization Sisters Network Inc.
"I was stunned to hear this statistic," said another panelist, Tatiana M. Prowell, a medical oncologist at the Johns Hopkins Kimmel Cancer Center in Baltimore and a breast cancer scientific liaison to the FDA's Oncology Center of Excellence. "When I see patients, the first thing I do is ask about their home situation. … But I don't think I've ever stepped back and realized what a systemic issue this is and how much black women have to care for themselves and care for others without a spouse there."​
A Better GRASP of Science
On the mornings of Dec. 12 and Dec. 13, patient advocates met for another patient-led program, GRASP. Participants were assigned to small groups consisting of one or two novice patient advocates, an experienced advocate mentor and a scientist or clinician. The groups walked through the poster sessions together to learn about research findings and to talk with the presenters. The advocate mentors took the lead.​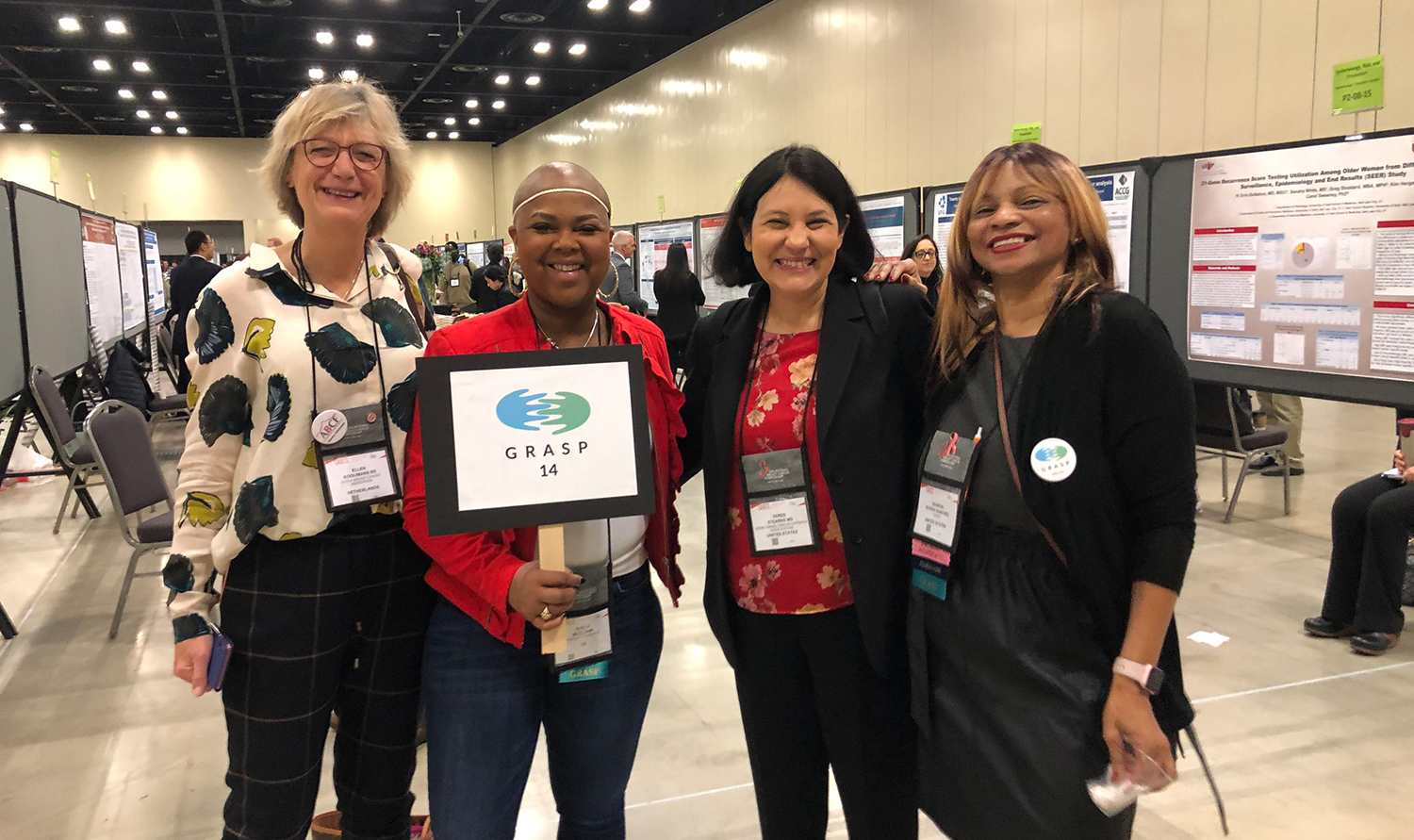 T​he inspiration for GRASP came during the 2018 SABCS, and later at the American Society of Clinical Oncology (ASCO) annual meeting in 2019 when a few advocates met Corrie Painter, the associate director of operations and scientific outreach for the Broad Cancer Program in Cambridge, Massachusetts, and the associate director of Count Me In, a patient-driven research project for multiple cancer types. Together, Painter and the advocates went from poster to poster, talked about the findings and engaged with the researchers. One of those advocates was Christine Hodgdon, a metastatic breast cancer survivor who designed a clinical trial finder for metastatic breast cancer patients. When she tweeted about her experiences after the ASCO meeting, the responses came pouring in. People wanted to know how to sign up for a program that didn't exist, so Hodgdon and Julia Maues, also a metastatic breast cancer patient, approached Stanford from ABCF and submitted a proposal to the SABCS review committee. They got approval in September.
"We thought this was going to be a few of our friends and we were going to promote it and it would grow from there," said Hodgdon. But it quickly morphed into something bigger, with 125 people participating. Through her work with the Metastatic Breast Cancer Alliance, Hodgdon learned about the Tigerlily Foundation and Karmo's desire to bring advocates from underserved areas to SABCS. So Hodgdon, Maues and Karmo decided to work together to send the scholarship recipients from Tigerlily to participate in GRASP.
Hodgdon was also able to arrange for additional travel grant support thanks to a donation from the family of her late friend, Amanda Lynn de Fiebre, who died of metastatic breast cancer on Aug. 30, 2019. Because of her efforts, 12 advocates who received scholarships to attend the Tigerlily Fireside Chat were able to extend their stay to participate in GRASP and attend the final days of SABCS.
"Amanda would have loved that, because we used to love to [look at] posters together," said Hodgdon. Stickers that had a picture of Amanda were placed on the GRASP posters. "It's like she's still here," said Hodgdon.
The Current of Change
Today, patient advocates at SABCS have no qualms standing up to ask questions during scientific talks. Patients, growing in numbers but ever mindful of those who are no longer there, are pushing researchers to include more diverse groups of patients in clinical trials, expand research into metastatic breast cancer and do a better job of taking patients' quality of life into account as they plan and conduct their studies.
"We're the ones who they are talking about. We are the ones who are participating in these clinical trials," said McGlown, describing why patients should be a part of the discussion. McGlown, who served as an advocate mentor for GRASP, first attended SABCS in 2016 as an ABCF scholarship winner. This year, she was awarded a scholarship through the Tigerlily Foundation. McGlown, who has HER2-positive metastatic breast cancer, is on her fourth line of therapy, an experimental treatment called trastuzumab deruxtecan (DS-8201), which coincidentally was the topic of a presentation at SABCS. She was impressed to see researchers at the conference looking into disparities and metastatic breast cancer. "Sometimes we feel like we're forgotten," McGlown said, "but they are doing a lot. It's nice to see, and now I can bring that back to my community."
Over the years, the role of advocates has expanded, and social media may be one equalizing factor, said Kelly Shanahan, a retired obstetrician/gynecologist with metastatic breast cancer who attended SABCS this year. In fact, four cancer survivors who are patient advocates, tweeting under the hashtag #SABCS19, made a list of the top 10 Twitter influencers for the entire duration of conference.
"I think social media has made dissemination of this information a lot easier," Shanahan said. "It's also led people who have been marginalized to have a voice. It doesn't matter whether you can't afford to fly to a conference. You can use your voice on social media platforms."
Although different in some ways, the call for more research and better access is a reminder of those first ABCF advocates who attended meetings meant for oncologists and opened a door to collaboration so many years ago.
"In many ways, we paved the way [for today's advocates]," Stanford says, when asked about how advocacy has evolved over the years. "There's a lot of information out there that wasn't there in the past. … I, for one, am so happy to see so many of these younger ladies, and even older ones, men and women included, becoming advocates because they are going to take huge steps that we weren't able to take in the past—or maybe we just didn't know how."
Cancer Today magazine is free to cancer patients, survivors and caregivers who live in the U.S. Subscribe here to receive four issues per year.