CHILDREN CAN BE many things. Joyful, energetic and exasperating. Curious, playful and sad. For P.J. Lukac, who is finishing his pediatrics residency at Chicago's Rush University Medical Center, children are also a source of inspiration and hope.
"They're a joy to work with, and they make me laugh," says the 30-year-old pediatrician of the children under his care. "Even when they're sick, they can put a smile on your face."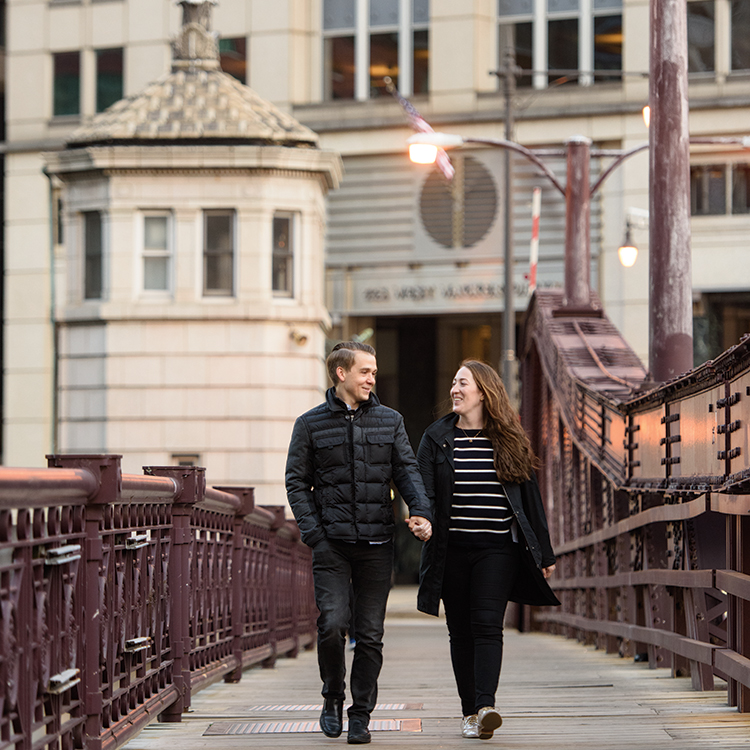 Now that his residency is nearly over, Lukac says he plans to work as a pediatric hospitalist—a doctor who treats children and babies in a variety of hospital settings, from the emergency room to the intensive care unit.
"I like seeing them get better in the hospital, and I like sending them home," he says.
It's not only his fondness for children that caused Lukac to specialize in pediatrics. He also has firsthand experience of a serious illness that led him to want to work with families. In winter 2008, during his second year in medical school, Lukac, then 24, was diagnosed with a rare and aggressive form of cancer called glioblastoma, a brain cancer that is notoriously difficult to treat. The five-year survival rate is less than 10 percent, and despite recent treatment advances, the median survival for adults diagnosed with glioblastoma is about 15 months. Like many patients, Lukac found his life with cancer had taken on a new and different meaning.
"When you come close to dying at a young age, that really opens your eyes," he says. "I was really rejuvenated. Medicine is a field where you can channel those feelings and do your best to help other people in the same situation."
Lukac's wife, Sarah Adams, adds that, despite the difficulties her husband faced throughout his diagnosis and treatment, "he identifies it as a pivotal moment that changed his entire life, and he likes the person who he became after the diagnosis more than who he was before." Adams also is a doctor and is about halfway through her dermatology residency.
A Horrible Day
In fall 2008, Lukac had just begun his second year of medical school at Columbia University's College of Physicians and Surgeons in New York City when he began to experience symptoms that, at first, he dismissed as signs of stress. He woke up with occasional morning headaches and became depressed as the semester wore on. He sometimes found himself searching for words. Every few days, he felt anxious when a tune got stuck in his head that he couldn't shake. "I felt like I was going crazy," he says.
Brain Tumor Resources
To learn more about brain tumors, visit the following websites:
Lukac had mentioned his symptoms to his mother, and she noticed he wasn't acting normally during a visit home for winter break in St. Charles, Illinois, a Chicago suburb. At her urging, he saw a neurologist and described his symptoms, including the tune in his head. The neurologist suspected Lukac was having temporal lobe seizures, which can produce strange sensory hallucinations, and ordered an MRI and an electroencephalogram, a test that detects electrical activity in the brain. Before Lukac had even left the imaging facility, the neurologist called with the results.
The MRI showed Lukac had a brain tumor that was likely bumping up against the amygdala and the hippocampus, parts of the brain that play critical roles in learning, emotion and memory. But getting a more precise diagnosis required surgery. Lukac underwent brain surgery to remove the tumor in January 2009. A biopsy showed he had glioblastoma. The young medical student was familiar with the disease thanks to his training. "I had just taken a class called neuropathology, and brain tumors were included," he says. "I knew glioblastomas were the worst kind of brain tumor."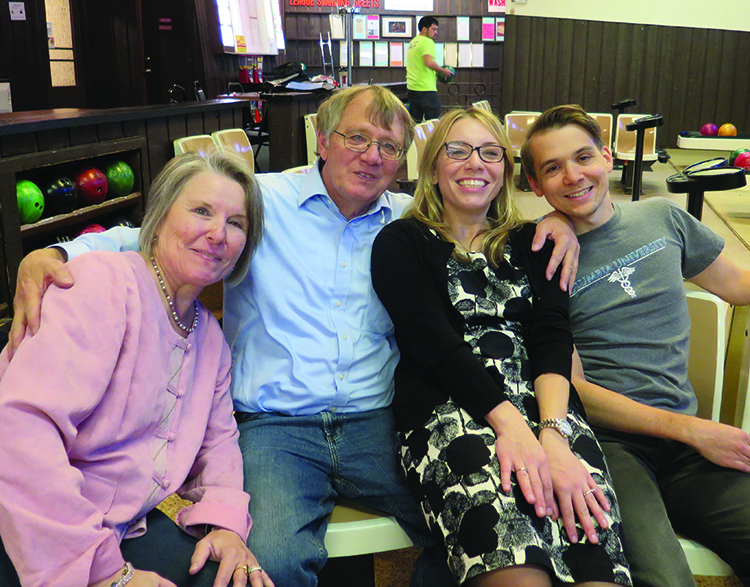 The National Cancer Institute estimates that nearly 23,000 people in the United States will be diagnosed with brain tumors or other nervous system cancers in 2015, and more than 15,000 people with these cancers will die. Tumors called gliomas account for more than one-third of brain tumors and arise from glial cells, which help protect and support neurons and regulate fluids in the brain. Physicians grade these tumors from I to IV. Grade I brain tumors grow slowly and usually aren't malignant. Grade II tumors contain a large number of non-malignant cells that almost always transform into higher-grade tumors. Grade III tumors are malignant and have many cells undergoing cell division. Grade IV tumors—glioblastomas—contain cells that are dividing, blood vessels that support the rapidly growing tumor, and necrosis, dead tissue that indicates tumor growth is happening faster than blood vessels can develop.
More than half of newly diagnosed gliomas are glioblastomas, the most common and deadliest type of malignant brain tumors. Despite recent advances in the genetic understanding of glioblastomas, doctors still don't know what causes them or how to cure the condition.
Lukac's family was with him for his diagnosis. His sister, Beth, says she barely remembers the specific events. "To be honest, it was a blur," she says. "It was kind of a horrible day."
Strength in Numbers
After surgery, Lukac underwent almost daily radiation treatment to his head for a month, followed by a two-year course of the chemotherapy drug Temodar (temozolomide). His hair fell out, and he decided to take a year off from medical school to focus on his treatment and recovery.
"I wasn't sure I was going to go back," he says. "I didn't know if I'd have the energy." But soon his strength began to return, his follow-up scans were clear of cancer, and he looked for a way to continue his studies. While he was still recovering from radiation and undergoing chemotherapy, he contacted Markus Bredel, who at the time was a neuro-oncologist leading the research program at the Northwestern Brain Tumor Institute in Chicago. Bredel was conducting research on genetic variations associated with glioblastomas. Lukac joined the lab for four months as a research assistant, helping to look for mutations connected to his disease. He contributed to a study published in 2011 in the New England Journal of Medicine.
Once the shock of the initial diagnosis wore off, says Beth, the Lukac family began to search for ways to help P.J. and raise awareness about brain tumors. That's when they connected with the American Brain Tumor Association (ABTA).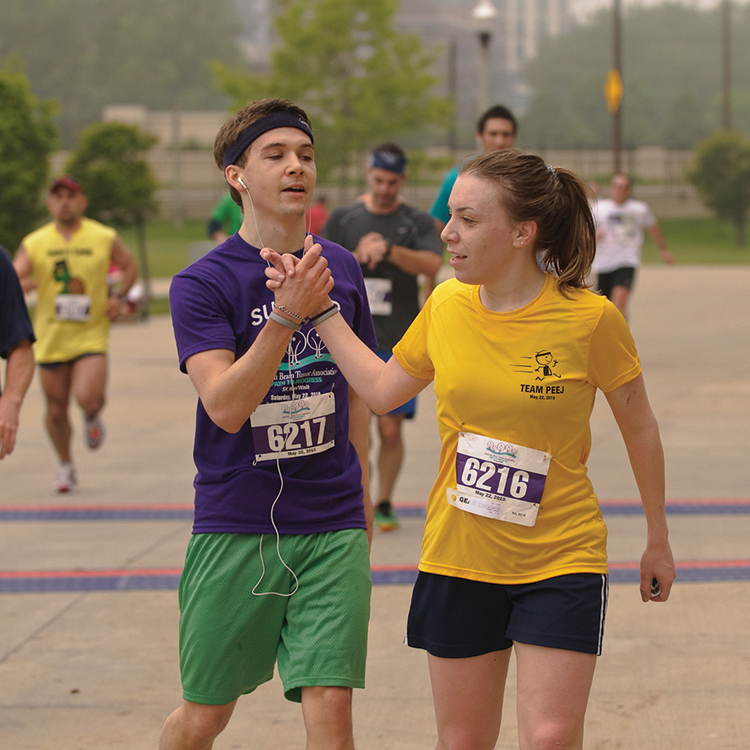 Founded more than 40 years ago by the mothers of two children diagnosed with glioblastomas, the ABTA spent more than $3 million in 2014 to fund research grants, patient support programs and efforts to increase glioblastoma awareness. ABTA sponsors 5K walks/runs in cities throughout the United States to raise awareness and money for research. For the 2009 event in Chicago, the Lukacs recruited more than 100 friends, family members, former classmates, co-workers and colleagues to walk with them in the 5K.
"That first year, we raised over $70,000—only in one year," says Lukac. "It was crazy." He and his family have participated in the 5K every year since then, raising more than $100,000 since their efforts began.
The family stays involved with the ABTA in other ways. P.J. and Beth have worked together on an ABTA fundraiser called Brain Games, a trivia night at a Chicago bar. Beth, a 32-year-old marketing manager who lives in Highland Park, Illinois, a Chicago suburb, says those early experiences with the ABTA changed her life. She began serving on the organization's event committees and developed a passion for nonprofit fundraising. Her commitment led her to earn a master's degree in public service management.
In the wake of P.J.'s diagnosis, Beth says her already-close family tries to spend more time together than before. "We really learned to take life as it comes and appreciate the moments we have with our friends and family," she says. "It could be worse, and the diagnosis was a hard thing to go through. So now we look at things differently."
Reaching Out to Those in Need
In January 2010, after nearly a year of clean scans and while still on chemotherapy, Lukac returned to Columbia to continue medical school, although he knew only a few classmates because of his absence. But they knew him. "Everyone in the medical school and faculty had heard about him and knew his story, including me," says Adams, then in her second year in medical school.
The instructor in a class they took together paired Lukac and Adams as a team. Over the course of the semester, they became friends and started dating later that year. They married in Montreal in May 2013 in the backyard of Adams' parents' home. The couple now lives in Chicago.
Lukac says that after he returned to medical school, his test grades weren't as high, but he found he had a better rapport with his patients. After he completed a rotation in pediatrics, he knew he had found a home. He grew close to his patients and their families, including a family from Ireland whose daughter, Megan, was treated for and later died from brain cancer. Adams says Lukac easily forges connections with families.
"He's very supportive with the parents. He's there for them, and he talks them through" difficult times, she says.
Lukac has also grown close to people who reach out to him, including Diana Giraldo, a secretary at Seton Hall University in South Orange, New Jersey. In fall 2008, her 17-year-old son, Christopher, a high school football player, was diagnosed with a brain tumor after vomiting and complaining of back and neck pain after a game. In 2009, she saw a televised interview with Lukac, who at the time was researching glioblastoma. She sent him an email.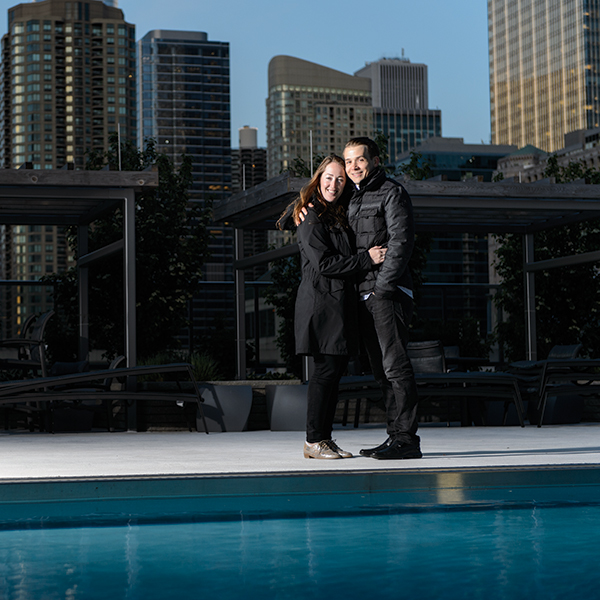 "P.J. helped me look at my son's pathology and was very knowledgeable about the tumor," she says. "He was full of information and helped a great deal." Despite multiple treatments at different cancer centers, however, Christopher died in November 2011. Like Lukac, Giraldo has become active in fundraising and promoting awareness of brain cancer research. Lukac went to Christopher's funeral, and two years later, Giraldo went to Lukac's wedding.
Lukac continues to share his experiences and reach out to people. "He still gets emails from people newly diagnosed with gliomas, and he's always very good about communicating back, giving medical and nonmedical advice," Adams says. "He takes that very seriously and feels like it's a responsibility he has to do."
Neuro-oncologist Jeffrey Raizer at the Northwestern Memorial Hospital in Chicago, who treated Lukac, says he was not a typical patient—because of his medical school training, his resolve to keep living his life productively and the fact that he has lived much longer than the typical glioblastoma patient.
"He has a higher knowledge about his disease than the average person does, and he knows glioblastomas are bad tumors," Raizer says. "But the thing that stood out to me about P.J. is his attitude. He didn't say, 'I'm going to go to Hawaii and hang out on the beach.' It was more like, 'I'm going to go do research in a lab and go back to ​school to get my MD.' " He wanted to dive into researching his own tumor and help others in some way, Raizer adds.
Lukac says his cancer diagnosis and treatment were terrible experiences, but they left him more mature and taught him the value of connecting with other people. "I'm closer with everyone I was already close with, and I've found new people to be close with," he says. "You can't get through it by yourself."
Cancer Today magazine is free to cancer patients, survivors and caregivers who live in the U.S. Subscribe here to receive four issues per year.