WHEN DINA MIRED married Prince Mired bin Raad of Jordan in 1992, she became a princess. Five years later, in November 1997, their son, Rakan, was diagnosed with acute lymphoblastic leukemia (ALL) a few days before his second birthday. That's when Mired gained a new title: cancer caregiver.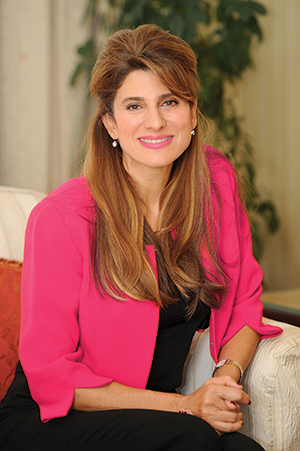 At the time, the family was living in England. Through the country's National Health Service, Rakan began to receive treatment, but his cancer relapsed after 18 months of chemotherapy. The family traveled to Boston, where Rakan received a bone marrow transplant at the Dana-Farber/Boston Children's Cancer and Blood Disorders Center.
Then, Jordanians had few, if any, treatment options at home. Around the time of his diagnosis, the Al-Amal Center (in Arabic, amal means hope)—the first center for cancer care in Jordan—was just opening. Back then, cancer was so taboo, Mired says, that the word was intentionally omitted from the center's name. Later, the name was changed to the King Hussein Cancer Center.
The family moved back to Jordan in 2000. Mired began working for the foundation associated with the cancer center in 2002. "I knew then," she says, "this was the reason why God put me on this path." For the next 14 years, Mired served as director of the foundation, raising both money and awareness. She stepped down from that position in June 2016.
Now, Mired is preparing to broaden the scope of her efforts. In November 2016, she was elected president of the Union for International Cancer Control (UICC). Based in Geneva, Switzerland, the UICC works to keep cancer at the forefront of the world health and development agenda. When she moves into the position in October 2018, Mired will be the first Arab and the first nonmedical professional to be president of the UICC.
Rakan is now 21. When Cancer Today spoke with Mired, she was preparing to travel to Switzerland to attend his college graduation.
CT: In 2002, the Al-Amal Center was renamed the King Hussein Cancer Center. Why?
MIRED: We had people going there who didn't even know they had cancer. That was how strong the taboo was. Our late King Hussein [he died in 1999] was the first public hero to say he had cancer. He appeared without his traditional head-dress to show his bald head. He was treated at the Mayo Clinic [in Rochester, Minnesota], but it was his dream to have a great cancer center in Jordan.
CT: What were your goals as foundation director?
MIRED: When I started, we had no programs, nothing. I started with one secretary. I would write grants and then I'd go put a dress on and go into princess mode. The foundation now raises $30 million annually. We have about 4,000 new cancer patients each year.
CT: Does the center see patients from outside Jordan?
MIRED: We see people from Palestine, Syria, Yemen, Sudan, Egypt and Iraq. So many people knock at the door because they either have no proper cancer care in their country or their country is decimated by war. We recently raised money to build a new center next to the original one. The expansion will allow us to treat more patients from other countries. We were at capacity.
CT: How do patients pay for care?
MIRED: We fundraise to do many things, from providing therapeutic and supportive programs to offering financial support for patients. We started a fund called the Goodwill Fund. It is Islamic custom to always give a percentage of your income to help poor people, and we use those donations for people who can't afford treatment. We started a transportation fund after a child who had leukemia stopped coming to treatment because his father could not afford a taxi to go back and forth. After we heard about a Palestinian woman who was receiving treatment through the Goodwill Fund and sleeping on the floor of mosques, we made an agreement with nearby hotels so that our patients can get a clean place to stay near the center.
CT: Why did you want to be president of the UICC?
MIRED: I felt that my next chapter should be to share what we've done at the foundation. I've heard people at UICC conferences say, if Jordan could do this, we can do it too. I know that you have to roll up your sleeves, know what you want and don't want, and know your obstacles.
Cancer Today magazine is free to cancer patients, survivors and caregivers who live in the U.S. Subscribe here to receive four issues per year.