IN 2003, MARLENE NUSBAUM LEARNED FIRSTHAND how differently the world can appear to someone undergoing cancer treatment. Diagnosed with stage II breast cancer, the 54-year-old business executive–turned–French teacher dutifully reported to the Dana-Farber Cancer Institute in Boston, near her home in Newton, Mass. "I had the best care and the best providers in the world," she recalls, but the mundane aspects of her experience left something to be desired.
"When I started out, I had to go to the 10th floor of the building to have my vitals taken and blood drawn, then down to another floor for my doctor's exam, then back to the 10th floor for infusion," she says. "It may not sound like a big deal, but when you're sick and taking chemo, and having to wait each time to check in and out, and make separate appointments for follow-up visits, the process seems very inefficient."
Nusbaum's business acumen kicked in: She'd identified a problem, and surely there could be a solution. She discussed the labyrinthine process with her oncology and infusion nurses, and they directed her to the hospital's Patient and Family Advisory Council, a primarily volunteer committee that had been established seven years earlier. She signed on in early 2005—a year after completing treatment, as stipulated at the time in the council's guidelines. Soon, she was talking to other patients and getting their feedback on the process, delivering her findings directly to hospital administrators. In less than a year, she'd gone from wanting a voice to being the voice. She hadn't helped fix the convoluted procedure—at least, not yet—but she was going to be part of the solution.
Nusbaum is not alone. She is one of many survivors whose opinions and actions are influencing cancer care in many areas, from routine treatment to clinical trials and beyond, as part of a nationwide movement toward patient-centered health care. These efforts have led to the establishment of programs like Dana-Farber's advisory council, which gives survivors the chance to play critical roles when decisions are made about hospital policies, the development of clinical trials, or how patients will receive treatment.
"Researchers are understanding how important it is to hear from survivors and are reaching out more and more, and asking [them] to be involved," says social worker Jane Kennedy, who runs the patient advocacy program at the Vanderbilt-Ingram Cancer Center in Nashville, Tenn.
The benefits, Kennedy points out, go both ways: Health care providers and researchers improve their services and become more efficient by acting on the advice of the people most affected, and patients who get involved say they feel empowered being part of the solution and making real change.
"Some people talk about being so grateful for being alive and getting through what they've gone through, and they want to find some way to make a difference for others," Kennedy says. "And a lot of folks are called to this work because they've had some kind of experience, either positive or negative, that makes them feel like they want to help change things."
Myth Busters in Nashville
Change can take many forms. When Patty Lee, a medical librarian and single mother in Nashville, got involved with Kennedy's office, she had no idea she'd end up impersonating Alex Trebek, the host of TV's Jeopardy!
Diagnosed with stage II breast cancer in 1999, Lee finished chemotherapy and radiation in 2000. Her treatment may have been over, but her volunteer work had just begun.
"Cancer changes you forever. It changed me," she says. "I've been to a lot of funerals, and I felt like I needed to do something to give back." She began counseling women about breast reconstruction surgery and then went through a program of the Livestrong organization that trained her in how to help patients. A surgical oncologist at Vanderbilt saw the work Lee was doing, and, in 2005, he asked her to share her thoughts on research, treatment and the cancer center itself as a member of various committees. She jumped at the chance.
What It Takes
Get involved at your local hospital.
Many survivors who have gone on to influence cancer care at their local hospitals or cancer centers started out by volunteering and slowly assuming more responsibility. To get involved, you can start by checking in with the volunteer office or the patient advocate program at your facility to see if an opportunity fits into your schedule. Many councils, like the one at Dana-Farber Cancer Institute in Boston, expect members to attend regular meetings and join committees or task forces at the institution.
Survivors who don't live close to a major cancer center can also take steps to improve patient care by getting involved with local support and advocacy groups. Start by looking for an affiliate of the Cancer Support Community, which brings together people in the cancer community. (Gilda's Clubs are affiliates of the Cancer Support Community, and these are located in many cities across the country.) If no affiliate exists in your area, consider contacting the Cancer Support Community about starting one.
Over time, Lee became troubled by a sobering statistic: According to the National Cancer Institute, only 3 to 5 percent of adult cancer patients enroll in clinical trials. Lee had not been informed about potential trials during her own treatment, and she suspected patient awareness of trials was lacking.
So she and a band of fellow volunteers got together and wrote a short script for a skit, inspired by Saturday Night Live's parody of Jeopardy! Their play, Mythbusters: Cancer research in jeopardy, introduced myths about clinical trials—like that they're only a last resort for patients with no other treatment options—and corrected the misinformation using videotaped messages from cancer researchers. At the inaugural performance, at Nashville's Gilda's Club location in 2009, Lee transformed into "Alexandra Trebek" and the crowd went wild.
The audience also learned something: In a study presented at the American Association for Cancer Research's annual meeting in 2010, Kennedy and her colleagues reported that, according to quizzes administered before and after the performance, audience knowledge increased by 20 percent after the show. In addition, more than 40 of the 50 people in attendance said they would discuss clinical trials with their loved ones.
After working on the show, Lee's interest in clinical trials continued. Along with about 20 other volunteers at Vanderbilt, she now frequently advises researchers who are developing trials. She is also pushing for more research, "not just on primary treatment but also on metastatic disease." Her volunteer work has given her an inside look at the complexity of cancer care and research, yet Lee says she remains hopeful. "I certainly want this disease to be conquered."
A Building in Boston
More than 1,000 miles away, in Boston, a similar group of survivors is also celebrating success. There, the change wrought by survivors now has a physical presence.
Patients and their families banded together to establish Dana-Farber's advisory council in 1998, out of fear that their voices would be drowned out as the cancer center underwent a major overhaul. Since then, members of the council have been involved—largely as unpaid consultants—in major changes the hospital has undertaken, including the planning and development of the new Yawkey Center for Cancer Care, which opened in January 2011. The 14-story building focuses on patient care, and sky bridges connect it to a research facility across the street. As a result of the involvement of these volunteers, the Yawkey Center—from its floor layouts to the bright and colorful chapel and the parking procedures—bears the imprint of people who know what it's like to be a cancer patient.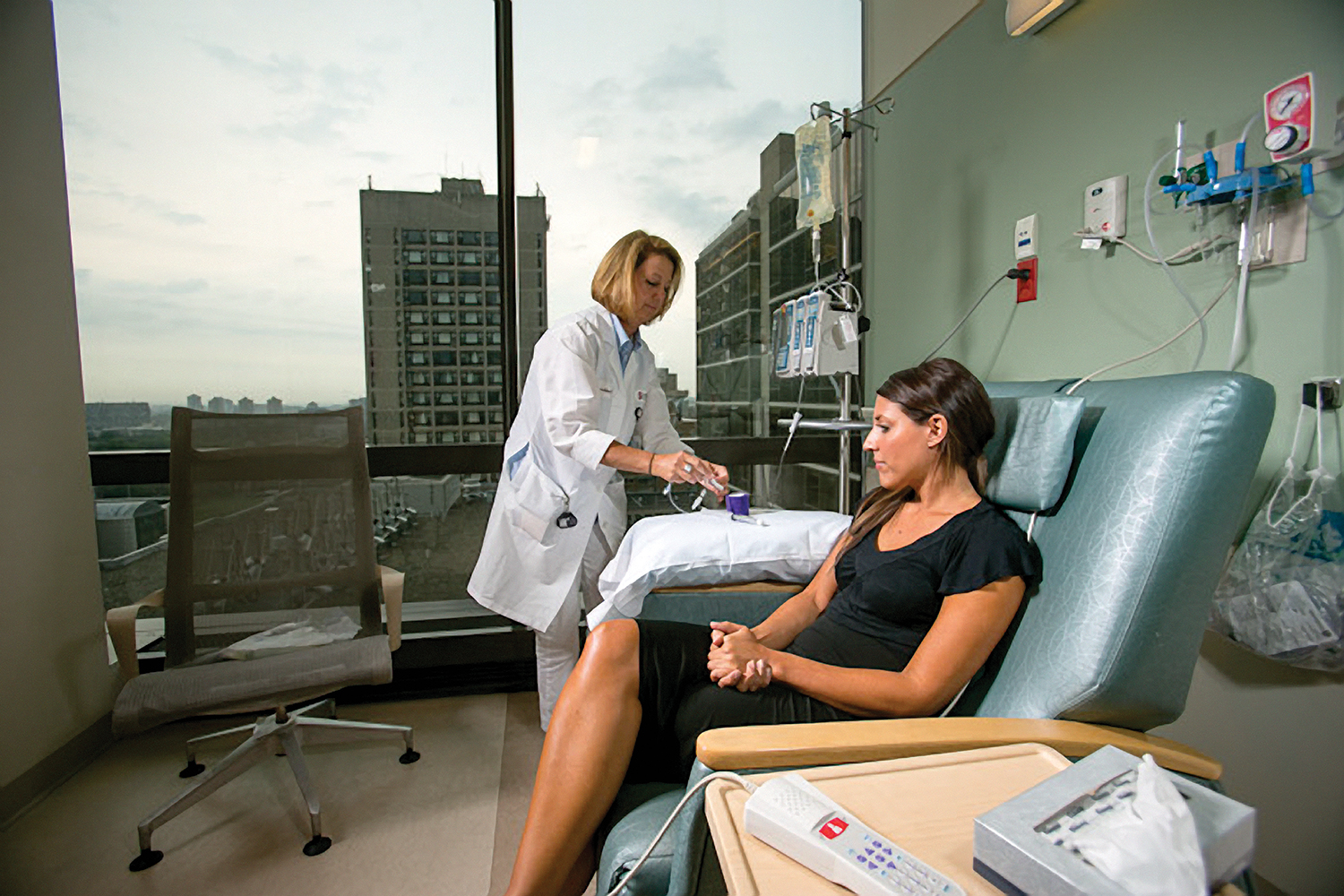 "[Participating] was the most incredible experience," says Nusbaum, who sat on a committee that helped design floor plans for the new center. "The architects and the designers and facilities people really listened to what I had to say."
"We were involved in choosing the colors on the walls, the flooring, the way the furniture is placed, the kinds of chairs," adds Anne Tonachel, who was diagnosed with stage III ovarian cancer in 2005 and joined the advisory council when the Yawkey Center was just a seven-story-deep hole in the ground. "We knew sometimes patients might want to be by themselves, and other times be snuggled up to someone else. That led to the decision to have a combination of single chairs and little sofas."
An early version of the plans called for exam rooms to be on the outside of the building and the infusion rooms to be interior and windowless. But the former patients said no. "We spend most of our time in infusion or waiting rooms, and we don't spend that much time in the exam rooms," says Tonachel, a retired preschool teacher. "We wanted the infusion areas to be flooded with light." Nusbaum also finally found a way to get her original problem solved. During a meeting that involved advisory council volunteers and the center's planners, "I said it would be great if everything pertaining to your disease, whether having your vitals taken or seeing your doctor or getting your infusion, were all on the same floor," she recalls. "That was not their original plan, [but] that's what we have today. We really changed the whole way they thought about the building."
Getting Involved
Crossing the Quality Chasm, a 2001 Institute of Medicine (IOM) report, stressed the importance of patient-centered care, a model of health care in which institutions consider the experiences of patients, like Nusbaum, Lee and Tonachel. The IOM criticized the American health care system for being "overly devoted to dealing with acute, episodic care needs" instead of focusing on the long-term needs of patients. Patient and family advisory councils can help large medical facilities treat people more like patients, rather than "cases"—or collections of symptoms.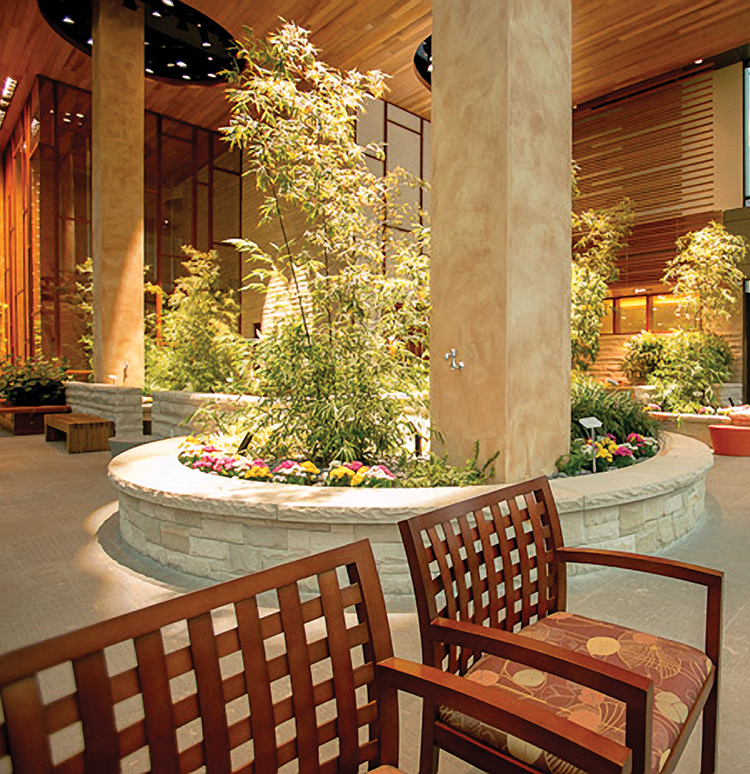 Most major cancer centers have such councils in place. But, says Nusbaum, even if your hospital doesn't have one, there are still ways to get involved and push for change.
"Pick one area that you feel passionately about," she says. "Start small on just one project and pull together a core group of people and try to find a way to work with staff who are receptive to listening to patients and family members."
Being part of the process can be life-changing, Nusbaum says. "It's so empowering to know you can really make a difference in the lives of other cancer patients. I've done a lot of things in my life, but [my work on the advisory council] is the most powerful, important work I've ever done. It's made me an activist."
Adds Tonachel: "Every week, I come into contact with people who are not going to get better, and that's sad and hard, but I have confidence that they're going to be helped to manage whatever comes their way as the disease progresses, and I didn't know that before. As a society, cancer is probably one of the scariest words we know. But because of my experience … I'm not afraid of cancer anymore."
Cancer Today magazine is free to cancer patients, survivors and caregivers who live in the U.S. Subscribe here to receive four issues per year.