A warm glow ​​dances shadows across the wall just outside our bedroom door, and I hear the sounds of the classic video game Minecraft coming through our bedroom wall from the living room.
What time is it? It feels early.
It is May 5. The sights and sounds tell me that our three boys, 8, 6 and 4, are already up, or at least the older two who share a room and have a tendency to wake each other. Our family struggled to settle into a routine after school closures were implemented to slow the spread of the novel coronavirus.
I close my eyes, and I wake to hear my wife's phone alarm sound. The gurgle of the coffee maker is next. Unhurried, I slide from beneath the covers and creep through the shadows toward the kitchen.
Whitney pours herself a cup of coffee and leans in for a kiss on her way out the door. Embarrassed by my morning breath, I offer my head; she kisses my cheek.
Good luck today.
My wife is an inpatient occupational therapist in a busy county hospital that serves a large metropolitan area. No longer serving only in her primary role as an "OT," Whitney's job has evolved into a fluid role that helps other clinicians throughout the hospital as they care for patients affected by COVID-19. I have brain cancer, which has heightened our concern about the virus.
After lunch she calls. "Well, I have been exposed," she reports in her matter-of-fact way. "A patient I saw last week tested positive."
Our phones carry our silence.
That day, consistent with her hospital's policy, Whitney receives a test for the coronavirus. Two days later, we learn she has tested positive. COVID-19 has come home with my wife. We suspected as much. Symptoms began the day she was tested: Body aches, chills and a loss of the senses of taste and smell were the earliest warnings.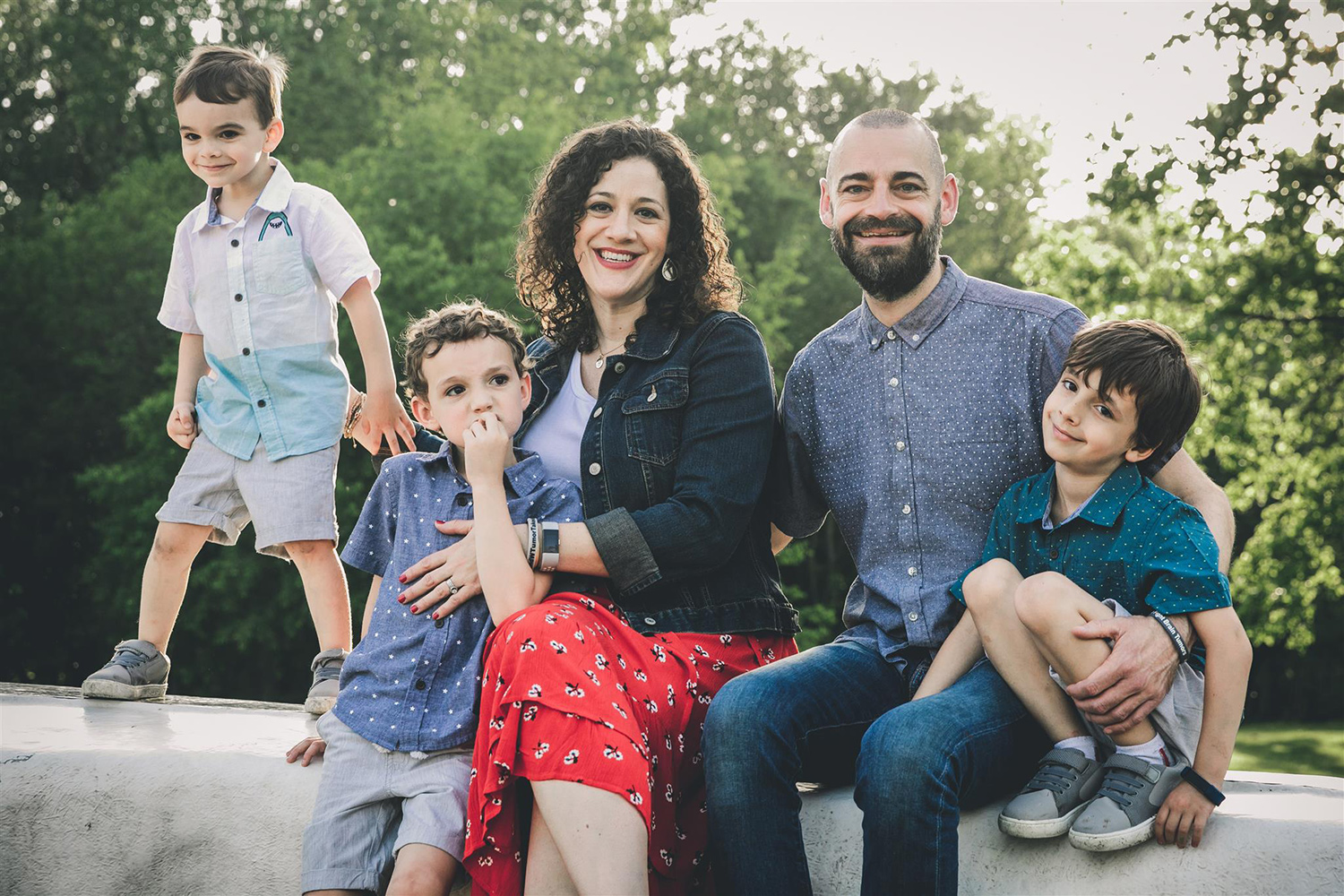 Our social lives have already been irrevocably reshaped by the novel coronavirus. Within months, the pandemic accelerated from a mysterious phenomenon in China to a global threat to our lives and now a threat to our family. The dizzying spread brought the abstract to the everyday.
Cancer is just such a threat: a disease that for many brings to mind pink ribbons, walk-runs and fundraisers. The abstract is brought down to earth when we hear the feared words of a cancer diagnosis. This was true for our family in June 2016, when we learned of my glioblastoma. This is true again as we try to formulate a plan for dealing with Whitney's COVID-19 diagnosis.
For More Information
​Read more coverage here​ from Ca​ncer Today on the various impacts of the co​ronavirus ​​on people with​ cancer.
​With Whitney working on the front lines, our family anticipated that we might face this situation. We sent a message to my oncologist's nurse navigator in late March. He explained that there is a decrease in immune function associated with my tumor. I was at an elevated risk from COVID-19 that was "poorly understood," he said. He encouraged that I "be careful" and "take every precaution." We were left with little specific instruction.
The Centers for Disease Control and Prevention (CDC) has a web page explaining steps to take for people who get sick with COVID-19 or who are caring for a family member with COVID-19, and you should ask your clinicians for guidance on your particular situation. I am an experienced patient advocate, but I have no medical training and the following should not be taken as medical advice. That being said, here are some questions we've had to consider.
Who will self-isolate and where? This question was "in the air" (excuse the pun) for several weeks, especially after we heard the response from the nurse urging caution. Whitney and I entertained a few scenarios, but when we learned that Whitney had tested positive for COVID-19, we were pressed to decide whether she or I should stay somewhere outside the home. I am the primary at-home parent for our kids with Whitney ill, so the idea that I would go made little sense. A friend offered Whitney her vacant Airbnb to stay in, but I was concerned about her being alone with an active infection. Also, because my brain cancer presents with tumor-associated epilepsy, I do not drive. Isolating Whitney alone without a clear path to get to her felt risky. We decided she would stay at home.
If isolating in your home, how will you minimize spread of the virus? Acting with an abundance of caution has defined our strategy. Whitney took up residence in our bedroom, where she has access to her own bathroom and shower, while I stay in our living room. I bring food and essential items to her door. We have a kids' playroom above the garage that offers the most seclusion, but it would require steps through the home to access the bathroom or kitchen. We considered not only where Whitney would be at any given moment, but where her steps, coughs and fingers could touch while navigating our home. I acknowledge that this form of distancing is not available to all families, but the idea is to be mindful of both the person and where they've been within the residence.
What supplies do you have and how will you use them? Like many families, and especially families like ours that have a loved one diagnosed with cancer, we have plenty of sanitizer and disinfectant supplies on hand because a weakened immune system is a side effect of cancer treatment. We began taking stock of our supplies around the middle of March when early cases and, sadly, the first deaths were reported in our state. We found that several bottles of sanitizer had expired and that some other products did not seem to meet criteria for killing the coronavirus that causes COVID-19.
Cloth masks do not expire, but we've learned they can be uncomfortable. Though it is easy to adjust masks by pinching the front and sliding them up or down, this can contaminate the mask. We've trained ourselves to wear masks properly: Completely cover the nose and mouth and be sure the size is appropriate to minimize excess space that may create a gap around the sides of the face. And we've realized it's important to have enough masks to wash cloth masks after each use and use disposable masks just once.
How can you prepare your kids and other family members? Our kids are notorious for donning a mask to give Mom an "air hug" through the doorway, quickly tossing them aside to the floor and then grabbing them later to put back on. This has required coaching on proper mask use. We have also developed hand-washing routines. Our oldest son times his hand-washing to singing the ABCs: 26 seconds. We've established a habit in our home that when we wash our hands, we shout "ABC wash!" This simple comment reminds our kids to wash their hands thoroughly, and it serves as a mental note for Whitney and me to reinforce proper and timely hand-washing. We found that thorough hand-washing encouraged more disciplined hygiene generally by elevating its visibility in our minds.
​Where will you look for trusted information? I co-facilitate a monthly virtual support group for the brain tumor community that is hosted by the National Brain Tumor Society (NBTS). COVID-19 was a hot topic at our March 2020 meeting, and my facilitating partner and I were both surprised that many of our attendees lacked specific instructions for staying safe from infection. NBTS quickly created a site, COVID-19: What the Brain Tumor Community Needs to Know​. Facebook groups, Twitter chats and personal blogs are all terrific peer-to-peer resources to connect with others who understand our unique experiences, but these are not ideal sources of public health information. We have benefited from checking with the CDC, our medical team, the state Department of Health website, and nonprofit patient advocacy organizations to stay current on COVID-19 news and information.
May 13, one week after Whitney received her test results, was the first day she didn't have nausea. She continues to struggle with fatigue and headaches. She hasn't spent any significant time out of bed, and her throat is sore on and off. We are both happy and relieved that she does not appear to have a more severe case. And yet, if this is a mild-to-moderate case, it should be clear that this virus is no joke!
I note for younger readers that Whitney is under 40, and I cannot recall a time in our 10 years of marriage that she has been this sick for this long. You do not want an infection in your home, but if it happens, it will help to have a plan in place for how you will respond.
Cancer Today magazine is free to cancer patients, survivors and caregivers who live in the U.S. Subscribe here to receive four issues per year.