IN MAY 2016, 34-year-old Adam Hayden underwent brain surgery that led to a diagnosis of glioblastoma, an aggressive form of brain cancer. Hayden's mobility was limited as he recovered from surgery to remove the tumor, and the Greenwood, Indiana, resident was unable to drive due to his frequent seizures. Looking for support from other people with experience in brain cancer, he turned to the internet.
Hayden started a blog, called Glioblastology, that has become a destination for people with glioblastoma, their loved ones and anyone else interested in the graduate-trained philosopher's unique take on his condition. But he blogged for a year before anyone took notice, he says. One exception was Jessica Morris of New York City, a self-confessed "Adam Hayden fan" who had been diagnosed with glioblastoma at age 52 in January 2016.
"When I was first diagnosed, I actually found it quite difficult to talk to people, because it would be acknowledging that I'm now somebody with a brain tumor," says Morris, a communications consultant who had started her own blog after her diagnosis. "But after I'd been able to come to terms with the diagnosis, I did find it—and I do find it—very important to make those connections." Morris and Hayden shared a mutual appreciation for one another's writing and soon struck up a friendship. Now, they're to try to push forward research into their disease.
Morris is founder of a nonprofit startup called OurBrainBank, which on March 13 launched an app that allows individuals with glioblastoma to keep track of their symptoms. Hayden is a member of the OurBrainBank board.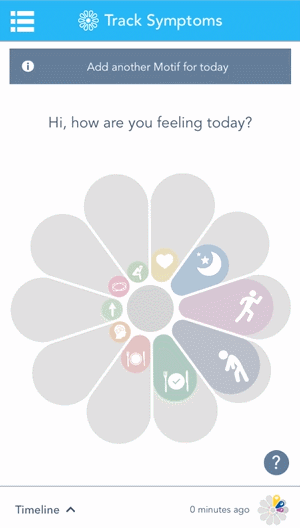 Using OurBrainBank, patients can note when they experience symptoms such as fatigue, anxiety or dizziness. The information logged into the app can be used to create charts that show how symptoms change over time. Upon signing up for the app, users give consent that their data will be aggregated and used anonymously for research purposes.
"I use the OurBrainBank App every day," wrote Hayden in an email to Cancer Today. "It's become part of my daily self-monitoring." In March, he shared screenshots of his usage via the OurBrainBank Twitter account, highlighting how he used the app to track the way his self-reported anxiety corresponded with spells of increased dizziness.
Hayden is quick to point out that his informal analysis of his own data can't demonstrate causality or even statistical correlation—but on a personal level, it offers valuable insight. He says the app gives him the ability to track aspects of his life that he has some control over, like diet, exercise regimen and sleep quality, and see their impact on his symptoms. If he feels the need to raise these issues with his oncologist, he has concrete examples he can refer to.
Hayden notes that glioblastoma patients often experience cognitive impairment that impacts their ability to read and write, so an intuitive interface for OurBrainBank was essential. techniques developed originally to provide accessibility to people with Parkinson's disease and arthritis. Users log their symptoms using a set of sliders rather than typing in information. The app also offers an optional diary feature that allows users to write about their experiences.​​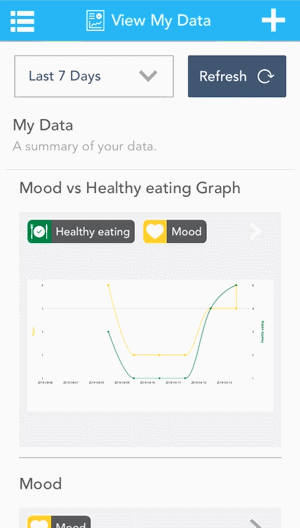 The data logged in OurBrainBank can be useful on an individual basis, but the OurBrainBank team hopes that pooling all the data recorded by users will contribute to a better understanding of how to glioblastoma. The OurBrainBank team is asking glioblastoma patients and their caregivers to sign up for an initial 100-day study​. As well as logging regular updates, users will complete questionnaires at the beginning, middle and end of the study covering how glioblastoma affects their day-to-day lives, whether they have problems such as headaches and double vision, and what treatments they are receiving.
A research team led by Fabio Iwamoto, a neuro-oncologist at Columbia University in New York City, and Lakshmi Nayak, a neuro-oncologist at Dana-Farber Cancer Institute in Boston, will analyze data generated using the app. The data will also be made available to other glioblastoma researchers who want to use it.
OurBrainBank aims to supply researchers with a means of making connections between patients' treatments, activities and subjective experiences of their symptoms and well-being. In the future, the OurBrainBank team plans to give researchers access to its user base so they can recruit for clinical trials, with the user's permission.
"When I use the app, I get that immediate benefit—it helps me understand my symptoms and manage them better, so it helps me live today in a better way," says Morris. "But it also, at the same time, allows me to play an active role in accelerating research and treatments, and ultimately a cure."
To Hayden, it seems like common sense that every individual patient experiences illness differently, and that those experiences could help health care providers improve day-to-day life for their patients with glioblastoma. "My perspective is that quality of life means something different to different people," he explains. As a relatively young patient and a father to three young children, quality of life to him means "the ability to get up and down off the floor" to play. But to someone else, quality of life might be enjoying a day without a headache.
"I'd say, measuring quality of life is a difficult metric, but the app connects to a larger goal—the of OurBrainBank—which is a grassroots movement to allow people with [glioblastoma] to see themselves as vitally important to the research process," he says.
Cancer Today magazine is free to cancer patients, survivors and caregivers who live in the U.S. Subscribe here to receive four issues per year.