THE AMERICAN ASSOCIATION FOR CANCER RESEARCH (AACR) Annual Meeting 2017 brought some of the world's greatest scientific minds to Washington, D.C., to address research challenges in cancer. But significant findings also came from cancer patient advocates and survivors who attended the meeting.​​​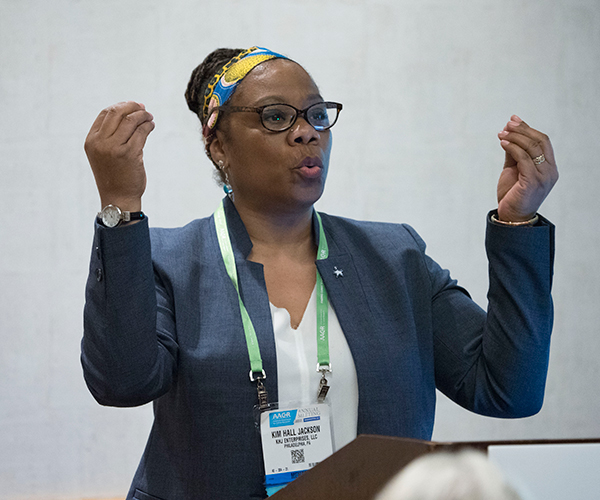 Every year, the Scientist↔Survivor Program (SSP) brings patient advocates and survivors to the AACR Annual Meeting. Through the program, they attend scientific presentations alongside cancer researchers and also participate in special sessions where researchers give talks tailored to them.
"It's been so amazing for me," said Aki Smith, an SSP participant from Los Angeles. The founding director of the Stomach Cancer Awareness Network, Smith quit her job to take care of her father, who underwent surgery to remove his stomach after his stomach cancer diagnosis in 2014. "All the leading GI [gastrointestinal] scientists are right here."
Jan Manarite, a first-time SSP participant from Fort Myers, Florida, whose husband lived with metastatic prostate cancer for 13 years, educates patients about how making treatment choices stems first from understanding their medical records. "I've never been to a conference like this where the people are discovering so many things," she said, noting that physician conferences often focus on the standard of care. "It is so much information, and I get excited about this because there's so much imagination here."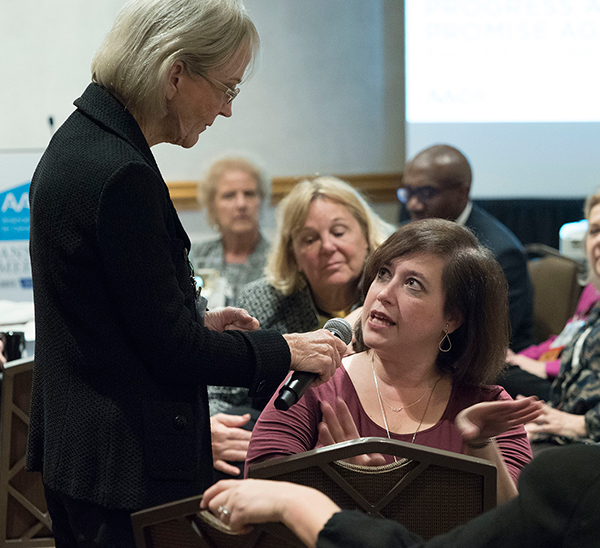 Ivy Elkins, a stage IV lung cancer survivor from Buffalo Grove, Illinois, who also participated in SSP, discussed the role the program has played in opening her mind to a common theme of the meeting: the spirit of collaboration, not only among scientists, but also among advocates.
"I have gotten out of my cancer silo. I am interacting with people in all the other cancer types," said Elkins. "I am finding that there are so many similarities. We're all talking about biomarkers. We're all talking about immunotherapies. We're all talking about targeted therapy. I think it has just been fantastic for us all to be in a room together."
The patient advocates aren't the only ones who come away from SSP with greater knowledge. Laundette P. Jones, a cancer biologist at the University of Maryland School of Medicine in Baltimore, acted as a scientific mentor in training for SSP. She admitted that her graduate and post-doctorate training didn't include interaction with cancer patients. "Cancer survivors are amazing," she said. "Their stories and passion for advocacy bring meaning to my research and motivation to continue when things get tough."
Jerry S.H. Lee, who was appointed the Deputy Director for Cancer Research and Technology for the White House Cancer Moonshot Task Force in 2016, spoke at the closing dinner for SSP on April 4. Lee, who works at the National Institutes of Health and has served as a scientist mentor in the program for five years, told the assembled advocates that he hung a photograph of the 2016 SSP group in his White House office to remind him of the people he is working for. "Every one of you has taught me," he said, addressing the advocates at their final dinner. "Thank you so much."
Cancer Today magazine is free to cancer patients, survivors and caregivers who live in the U.S. Subscribe here to receive four issues per year.